Sushma Swaraj, a tea-set. Image: Wikimedia Commons
The External Affairs Ministry on April 5 put out a tender on the Government of India's eProcurement Portal, for a 24-person dinner set, described as "Handmade crystal glassware, crested with seal," for a contract of Rs. 22 lakhs.
Since the tender opened on May 2, VICE checked in with dozens of crockery suppliers in New Delhi. We failed to find a single shopkeeper who had heard of "handmade crystal glassware", let alone heard of the product. Ashwini Gupta, who manages Clay Craft India, told VICE, " Aisi cheez Hindustan mein nahi hoti. Aapko dauda rahein hain aise." (A thing like this doesn't exist in India. They're giving you the run-around.)
Online too, we couldn't find anything matching that description. Admitting defeat, we reached out to the office of Aruna Tirkey at the Ministry of External Affairs, the Administrative Officer who signed the tender.
We were directed by her towards two people in her office who didn't want to tell us their names, but said there had in fact been an error in the tender. "There is a small clarification. It wasn't 'handmade crystal glass'." They told us that anyone in the industry would have understood the tender as meant for simple crockery. "We made a minor mistake in one place."
They said they'd fix the tender, but as of April 30th, it still said "Handmade crystal glassware". So if the ministry wasn't looking for some obscure crystal, then what kind of dinnerware costs Rs. 22 lakhs?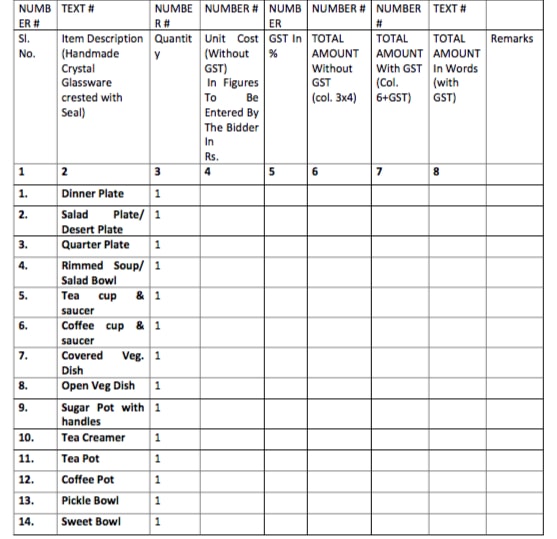 At Oma Living in Khan Market, we were told the most expensive 24-person porcelain set they could provide cost Rs. 87,000. Fancy Trading in Azad Market told us they could provide a set of toughened glass, not crystal, of Rs. 48,000. And, on the other end of incredulity, Nikhil Kumar Saini, owner of New Krishna Ceramic Industries in Bundelkhand, insisted he could provide a bone china one for as little as Rs. 204.
Even the most expensive dinnerware in the world shouldn't set anyone that far back. Unless Swaraj wants to eat off Catherine the Great's plate, rare Ming Dynasty porcelain or a set belonging to William Tubman, the president of Liberia in 1951!
On May 31, Tirkey's office told us that ultimately no one had bid for the tender. Just as well, but it still leaves us wondering what they were hoping for.
Follow Parthshri Arora on Twitter.