Photo by Nick Turchiaro-USA TODAY Sports
Over the last few seasons, the Toronto Raptors have dedicated the backend of their roster to young, developing players. While other contenders and pseudo-contenders will look for ring-chasers on veteran minimum deals or employ a less top-heavy salary structure, Masai Ujiri and company have opted to keep a handful, and sometimes more, of youthful pieces. This past year, the Raptors took that to the extreme, employing seven players who were on their first contracts.
The logic is strong, assuming the organization's ability to identify and grow talent is as good as it believes. Operating this way accomplishes three main objectives: It increases upside, since at least some of the unproven prospects would ostensibly have higher ceilings than known veteran commodities; it provides an inexpensive source of minutes (the seven youngsters and the No. 23 pick will combine to make just $15.6 million next year, or an estimated 15.5 percent of the salary cap to take up 53.3 percent of the roster spots); and it provides a pivot foot if the Raptors opt to change course entirely and tear things down, creating a base of young talent to begin rebuilding with.
The different purposes the youth could serve can confuse just how important each piece may be in 2017-18. If the Raptors roll things back, most of the youngsters stand to provide inexpensive depth and continue on their individual development paths, some with D-League time with Raptors 905. If the Raptors go the other direction and take a step or two back, all seven—plus the No. 23 pick—could see heavy minutes in the rotation out of the gate. Yes, even Bruno Caboclo. Regardless of direction, this offseason stands to be a big one for the crop of development pieces.
That holds especially true for two who figure to be major pieces in either build-or-break scenario next year.
---
Watch more from VICE Sports: Raptors' DeMarre Carroll on Defense and Fashion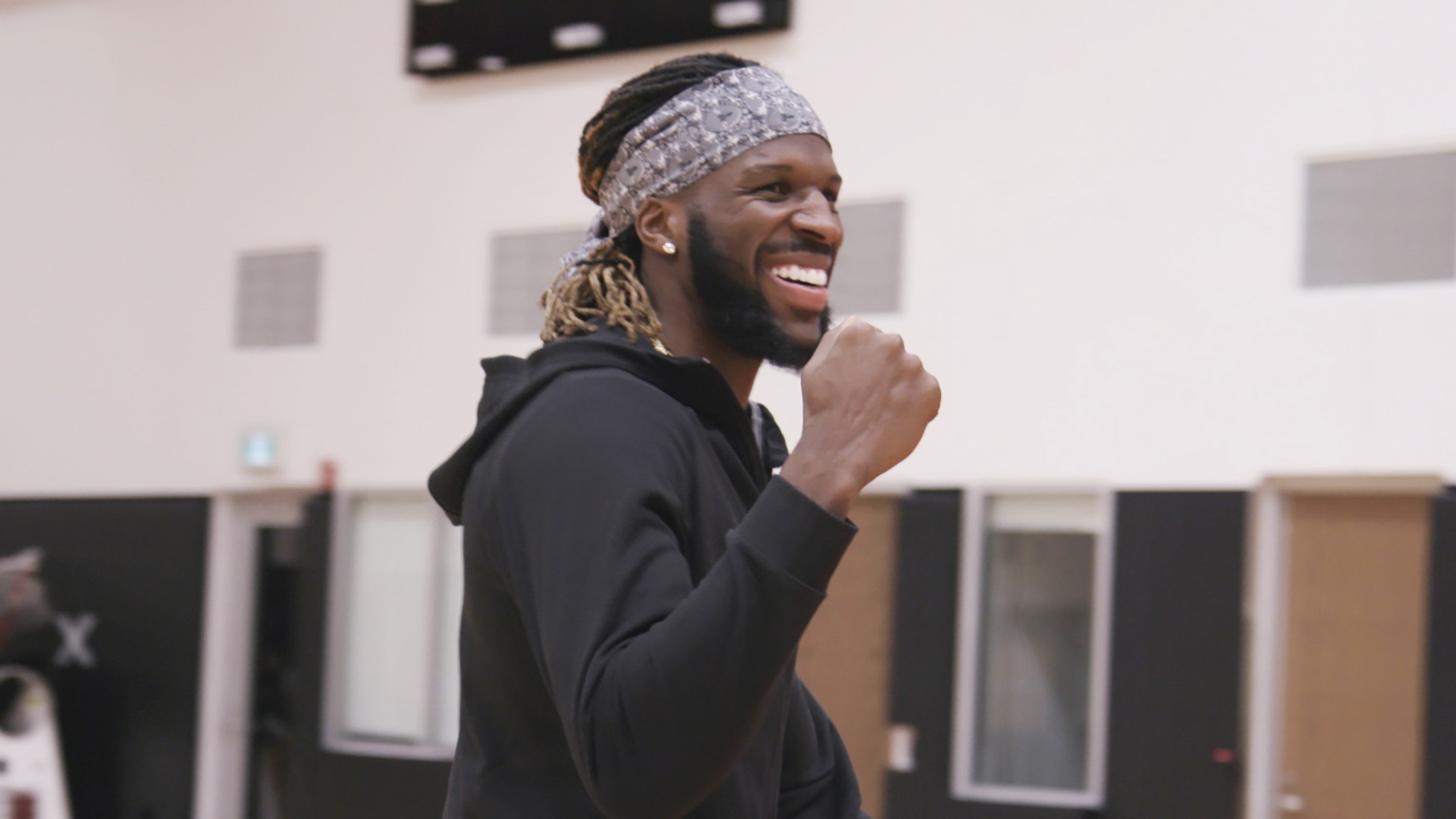 ---
The 2015 second-round pick has ascended beyond break-glass-in-case-of-emergency utility player. In whatever the Raptors do this offseason, Powell stands to figure prominently. If the team was to aggressively tear everything down, there's a scenario in which Powell winds up Toronto's best player and offensive focal point. More realistic—and optimistic, if you're inclined—scenarios still see Powell's role expanding.
While the recently-turned 24-year-old struggled at times this year (by his own admission), Powell's long since proven too good to be the fourth wing in a rotation. He struggled to maintain a high level of defensive intensity as his offensive role grew, and a consistent change in role description made finding the right balance tough. By year's end, he began to rediscover the form that made him a popular spot-starter, and for the second year in a row, head coach Dwane Casey turned to Powell to fundamentally swing a playoff series.
Powell is by no means a finished product. The search for offense and defense at the same time will continue, and his offseason will likely focus on sharpening some of the offensive tools he'll need if his usage is going to continue to climb. As a fulcrum of units that don't include DeMar DeRozan, Powell needs to continue to grow as a playmaker off the bounce—his assist percentage actually declined this season, and because he's not an elite passer, opponents try to cut him off on his way to the rim (his finishing improved slightly but is still an area that needs work, too).
The other primary tool Powell could grow that would help open up his driving game is his 3-point shot, something pretty much every Raptor should be focused on this year. Coming out of UCLA having hit just 31.4 percent of 354 total 3-point attempts from the shorter line, Powell worked tirelessly as a rookie to retool his jumper, shortening his ascent and simplifying his mechanics. The returns have been encouraging—across Summer League, preseason, the D-League, NBA regular season, and NBA playoffs, Powell has now shot 405 threes, making 35.8 percent of them. The stabilization point for threes is very high (around 750 attempts), but there's now more evidence that Powell's a more capable NBA 3-point shooter than he is an incapable NCAA 3-point shooter.
That's encouraging, and if that shot continues to improve, Powell will be a more dangerous weapon either leading younger lineups or spotting up alongside the team's stars. Whatever the case, his defense and play as a secondary attacker are such that Powell should be a prominent member of the rotation next year, even if he still comes off the bench. Same goes for…
Poeltl, the No. 9 pick in the 2016 draft, impressed in a limited audition as a rookie this past season. He was not initially expected to figure into the team's short-term plans, but a late training camp injury to Lucas Nogueira opened the door, and the pair traded the backup center spot from there. Nogueira had a larger impact overall, but Poeltl took advantage of an ill-timed Nogueira slump around the All-Star break and never gave the job back. Given the difference in investment and years of control involved, Poeltl will probably have the inside track on the backup spot entering camp this year.
In fact, Poeltl may figure to play an even bigger role than that if the Raptors move Jonas Valanciunas for salary relief. That's probably only a consideration in the scenario in which Serge Ibaka stays, as Ibaka's better suited at the five at this point, and employing four intriguing centers, two of them with a large salary and one who was a lottery pick, would seem like a poor allocation of resources.
As a rookie, Poeltl protected the rim fairly well despite his slender frame (opponents shot 48.3 percent at the rim when he was defending there), was an elite offensive rebounder, and showed some really nice instincts at both ends of the floor. He reads the game exceptionally well, and depending on the metric you prefer, he graded out pretty well overall (he had the most Win Shares per-48 minutes of any rookie who played at least 500 minutes, though Real Plus-Minus was down on him). Young bigs usually take some time to develop, and if Poeltl can come back as a sophomore having added strength in his lower half and improved his ball skill some, he should at least be able to provide steady-to-good backup minutes.
The 24-year-old Brazilian remains an incredibly intriguing prospect in his own right. He had some of the best advanced statistics on the team, or of any big man in the league, with his ability to protect the rim, finish on the roll, and pass the ball standing out as unique on this roster. He has some range, too. Nogueira is still young and, if not in Toronto, deserves a longer look somewhere. If he gets it, the biggest thing he'll need to show is consistency, and his focus this offseason will likely be on functional strength and conditioning.
Behind Nogueira and Poeltl is Pascal Siakam, whose role is completely dependent on the team's direction. Retain Ibaka, and it's hard to figure where Siakam may get more than spot minutes around larger and smaller configurations. If Ibaka walks, though, Siakam could find himself starting again. He started 38 games as a rookie, showing some encouraging skills but proving to be overmatched, as one would expect from a somewhat raw rookie thrust into that spot.
The biggest thing Siakam has to improve is his feel for the game, both in terms of pace and space. His rookie errors were crimes of commission, which is encouraging. He's an active rebounder, runs the floor extremely well, and flashed range out to the 3-point line in his time in the D-League. Siakam needs more time and more reps, and he'll probably be the most interesting of the group to watch at Summer League in July.
Like Siakam, Caboclo remains in the "keep improving everything" stage of development. It's been three years, sure, but Caboclo still only has roughly the experience of a college sophomore, and under the radar, he's taken some nice strides. Continuing to fill out a tantalizing frame and turn a pretty 3-point stroke into actual success will be his primary focuses, and he'll likely agree to take a fourth turn at Summer League (teams can only require a player to go three times).
Joining Siakam, Poeltl, and Caboclo in Las Vegas (Powell would seem unlikely to attend) should be point guards Fred VanVleet and Wright, both of whom also have roles up in the air for next year. If Kyle Lowry and Cory Joseph are both back, it will be a disappointing turn for a pair of interesting prospects who have had success in limited opportunity. Whatever happens with the team's two lead guards, Wright and VanVleet will continue fighting for the third-string spot, back-up minutes, or, in a long-shot scenario, the starting spot.
---
---
The biggest thing either can do might be to continue to show they can play in two-point guard lineups. VanVleet might be the best non-Lowry shooter on the roster but needs to add strength to improve his finishing and make him more versatile defensively. Wright, meanwhile, needs to continue developing his 3-point shot, while also adding enough size to make the Raptors question whether he could actually slot in as a two-guard regularly, as he did at times down the stretch.
Whichever direction the Raptors go, this figures to be a monumental offseason for some of their development pieces. That's kind of self-evident—every offseason is a big one for young players. But with the Raptors at a serious fork in the road, the back half of the roster needs to approach their work with the mentality that they'll be fighting for scraps in the rotation or fighting for their long-term place as a building block moving forward. In either case, there's too much interesting young talent for there not to be tough competition of some sort.