Photo by Ed Mulholland-USA TODAY Sports
There is no worse term in hockey than awards "conversation," an imagined thing taking place in your head because you are screaming something into the void and the echo is reverberating into your face (Twitter). I have been in the "conversation" to be Heidi Klum's boyfriend much the way Patrice Bergeron is a Hart Trophy favorite because they heard Douchey and the Nozzle have a conversation about it on Boston sports talk radio once a day.
With fewer than 20 games remaining in the regular season, most NHL awards discussions are pointless because they've usually been decided. This year is different, as there are a lot of players having exceptional seasons on borderline playoff teams and one player having an outstanding season on a dominant team. Still, there's no need to write a "Blake Wheeler should be in the Hart conversation" argument unless your audience is the 100 people in Winnipeg with functional wi-fi.
We prefer to deal in reality and offer unbiased insights into the surprisingly interesting Hart race without pandering to various markets with second-tier candidates. So let's start by doing Hack Writing 101 and define the terms of the Hart Trophy, which is "awarded to the player judged most valuable to his team." It's not a "best player" award. There is a difference sometimes.
---
Listen to the latest episode of Biscuits, VICE Sports' hockey podcast
---
Reflexively awarding the Hart to the guy with the most points or close to it every year is like assuming someone with the most money is the smartest person without considering how they came about having all that money. It doesn't mean that person isn't smart but it's important to consider if they are an incredibly talented human or one of Donald Trump's children.
Am I saying Nikita Kucherov is the Eric Trump of hockey? No, but Jake Guentzel was during last year's Stanley Cup Playoffs and he nearly stumbled his way into a Conn Smythe Trophy because nobody thought critically about how he was scoring all his goals. I think that makes Sidney Crosby the Donald Trump of this metaphor but I've lost the plot.
With all that in mind, here are all the players being tossed around in "conversations" and why they should all lose the MVP race to Taylor Hall.
11. Johnny Gaudreau, Calgary Flames
What's working in his favor: Nothing, he's not winning the Hart, stop having conversations about him.
What's working against him: He's not Taylor Hall.
10. Eric Staal, Minnesota Wild
What's working in his favor: A lot of us feel bad that we wrote him off after his disastrous end in Carolina and then New York, and if guilt can get Drew Doughty a Norris Trophy, it can do anything.
What's working against him: He's not Taylor Hall.
---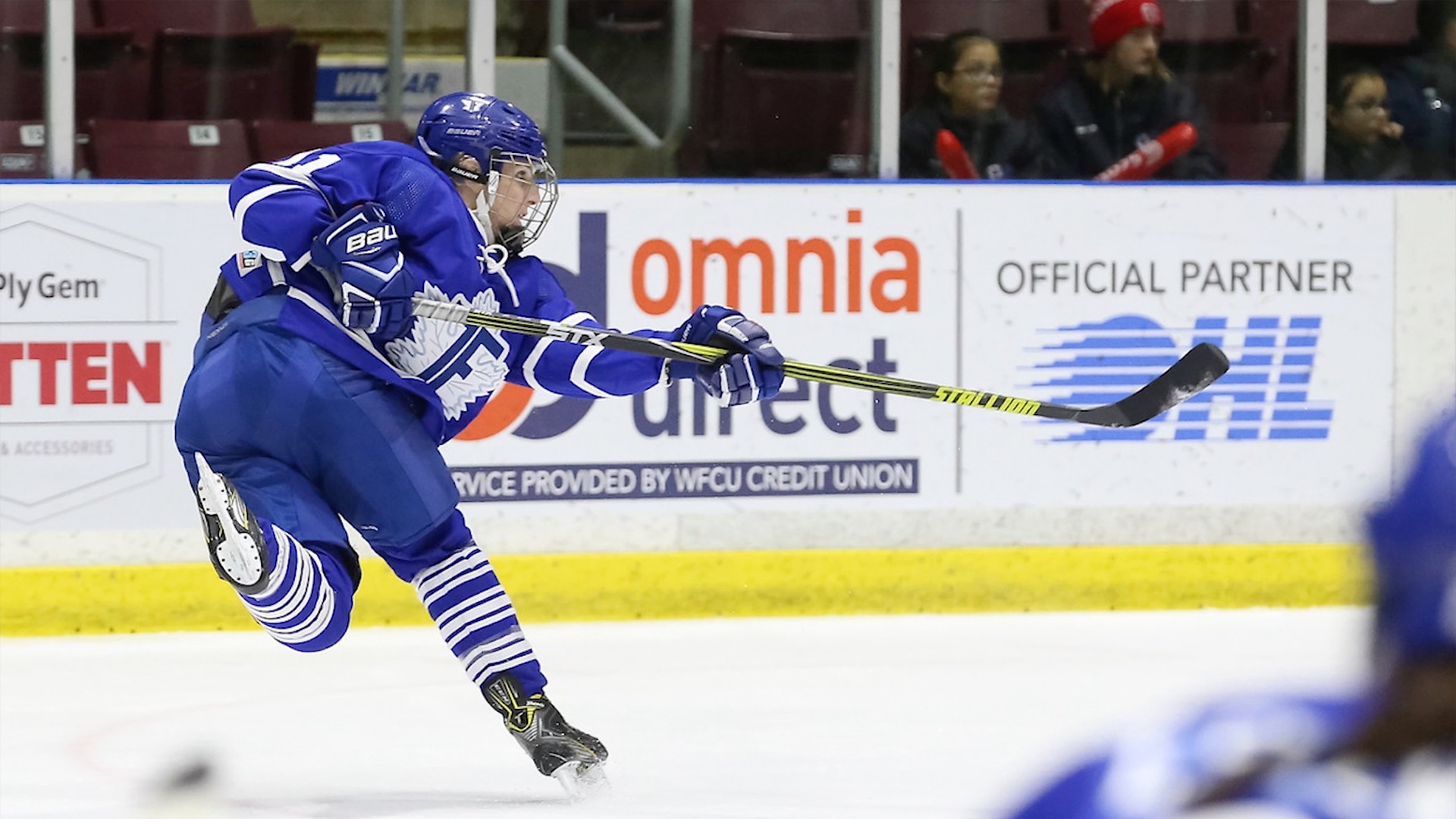 ---
9. Patrice Bergeron, Boston Bruins
What's working in his favor: People hate Brad Marchand to the point they're willing to ignore the fact that Bergeron isn't even the most valuable player on his line. Saying "Patrice Bergeron" to old hockey men has the same effect as oysters and Viagra. Bergeron is the Doughty of forwards, that player nobody appreciates because DEFENSE and NOT A LOT OF POINTS but LEADER.
What's working against him: Besides not being Taylor Hall, he's tied for 47th in scoring and is still set to miss at least another week with a foot injury. Yeah, points aren't everything but people say the same thing about size and we all know it matters a little. It's also abundantly clear he's not Taylor Hall.
8. Connor McDavid, Edmonton Oilers
What's working in his favor: He's the best player in hockey and most voters aren't bright enough to look past that and think about what exactly McDavid's value has been to his team. WAR is the worst stat ever created and it's why Mike Trout will win a dozen MVPs in baseball despite his team barely cracking 80 wins every year. McDavid is hockey's poster boy for best player = MVP.
What's working against him: No one is saying you have to make the playoffs to deserve an MVP; what I'm saying is you need to finish with 200 points if your team is eliminated from postseason contention in November. Who gives an arena concourse full of urine if McDavid is the reason the Oilers have 68 points instead of 61 points? Connor McDavid is not Taylor Hall, but I bet he wishes Milan Lucic was.
7. Brad Marchand, Boston Bruins
What's working in his favor: He's fourth in points per game, something any voter could find by clicking on the category at NHL.com.
What's working against him: Expecting anyone to figure out how to navigate the stats page on NHL.com is a big ask. Also, Marchand is not Taylor Hall.
6. Alex Ovechkin, Washington Capitals
What's working in his favor: The people that scream "shooting percentage!" when someone has a sudden increase in goals are now the people condescendingly muttering "hmmm maybe we shouldn't have written off Ovi hmmmm?" Ovechkin is the first to 40 goals this season and if he gets to 50, that's a psychologically satisfying number for young and old alike. Throw in the fact we all thought the Capitals would suck a little this year and there's hope.
What's working against him: Seriously, he's shooting 14.2 percent this season, which is two points higher than his career average, the highest it's been in five seasons, and third highest of his career. His 72 points are two fewer than Taylor Hall, who has played four fewer games. You've certainly figured out by now that Ovechkin is not Taylor Hall.
5. Evgeni Malkin, Pittsburgh Penguins
What's working in his favor: Honestly, is there anything? He'll probably finish within a couple points of the league lead or win the Art Ross Trophy with a strong final five weeks but it feels like he's an afterthought. Being a Russian on a loaded team is like a cloak of invisibility.
What's working against him: It's hard enough to win a Hart when Sidney Crosby is your teammate but Phil Kessel was doing most of the heavy lifting early in the season when the Penguins were crapping themselves. It also probably doesn't help that a panel of dipshits last year decided Jonathan Toews was a better hockey player than Malkin and that dipshit panel votes on things like the Hart Trophy. It also doesn't help that Malkin isn't Taylor Hall.
4. Anze Kopitar, Los Angeles Kings
What's working in his favor: Nothing. He has no chance at winning. He's trapped in this hockey phantom zone where his numbers aren't as impressive as everyone near the top of the leaderboard and everyone with similar numbers is on a team with less talent, thus making them stronger candidates. He also plays in Los Angeles, which exists in a time zone you feel like the NHL wished it could ignore like it did the Olympics. I bet Gary Bettman hates the fact we sent Lewis & Clark west to discover all the cities that would eventually become homes to teams people don't watch.
What's working against him: Oh, right, he's not Taylor Hall.
3. Nathan MacKinnon, Colorado Avalanche
What's working in his favor: He is first in points per game and has done most of his work since locker room cancer Matt Duchene was banished to Ottawa. The Avalanche weren't picked by anyone to make the playoffs this year and that outlook became bleaker after Duchene was traded. He's having a great season on a bad Avs team and if they get to the playoffs, MacKinnon should finish no worse than second in voting.
What's working against him: If the Avs miss the playoffs, the fact MacKinnon isn't Taylor Hall will hurt if the Devils make the playoffs. If those scenarios are reversed, we can talk. I know that won't satisfy whiny Avs fans that feel they aren't getting enough respect one season after [adjusts glasses] the worst NHL regular season in two decades and one playoff trip over the past [rubs lenses with my t-shirt and readjusts the glasses] seven seasons and zero playoff series wins since [blinks rapidly while opening my eyes as wide as I can] 2008, but oh well.
2. Nikita Kucherov, Tampa Bay Lightning
What's working in his favor: He's having the best season on the best team. Voters gravitate toward that. He leads the league in points, which grants him the Too Lazy To Look Beyond Points vote, which is like 48 percent of registered voters.
What's working against him: The same way McDavid's value is hurt by playing in a pot hole filled with horse semen, Kucherov's is hurt by playing on a line with Steven Stamkos for the league's deepest team. Also, he's Russian. I wouldn't even be writing this if his name was Nick Coocher and he was from Moose Balls, Ontario, because the award would already be in the bag. While not being Taylor Hall isn't hurting Kucherov, it's not helping, either.
1. Taylor Hall, New Jersey Devils
Let's scrap that format we've been using for the first 10 players because it's easier to make the case for the deserving guy this way.
Hall is tied for ninth in scoring with 30 goals and 74 points, which puts him behind almost everyone on this list. But he's sixth in points per game, which puts him behind only five players on the list. Kucherov will finish with more points than Hall but it seems unfair to blindly cast your vote with Kucherov when he's averaging 1.34 points per game on a god destroyer while Hall is averaging 1.19 points per game on a team that doesn't have a second 20-goal scorer yet and may only get one more by season's end.
Hall has THIRTY-THREE more points than the Devils' second-leading scorer Nico Hischier. THIRTY-THREE! Holy shit! THAT'S AN ENTIRE TYLER BOZAK OR JONATHAN DROUIN SEASON'S WORTH OF POINTS! Hall is Tecmo Bowl Bo Jackson and you're over here trying to convince me Christian Okoye is more valuable.
Maybe you're thinking, "Dave, this is the Devils we're talking about, so of course some credit has to go to the goaltenders." No! Idiot! Cory Schneider (.912) missed a lot of time with a groin injury. That left Keith Kinkaid (.903) and Eddie freaking Lack (.903) to shit the bed in Schneider's absence.
Without Kucherov, the Lightning are what? Fighting for second in the Atlantic instead of first? Without Hall, the Devils are in a tank battle with Ottawa and Arizona while ownership finishes plans on relocating to Quebec.
This is why MacKinnon's case isn't as strong as Hall's despite the former's stronger numbers in a similar situation—MacKinnon has Mikko Rantanen (64 points), Gabriel Landeskog (48 points) and Tyson Barrie (43 points) offering some semblance of offensive support while Jonathan Bernier (.914) and Semyon Varlamov (.914) stop a league-average number of shots. Hall is basically Kelly Leak without Amanda Whurlitzer.
Going by value—which is what the 'V' in MVP stands for—Hall is lapping the field. If the Devils puke on themselves and miss the playoffs, fine, let's reassess. Until then, throw away your Bergeron for MVP takes and stop writing the Tyler Seguin for MVP take you're halfway through right now.
Honorable mention: Claude Giroux, Philadelphia Flyers: I sort of forgot to put him with the other candidates but I don't want to make this any longer or bump anyone out but just know he's not winning the Hart, either, and also he's not Taylor Hall.