Photos by author.
This story originally appeared on VICE Quebec.
The Northern Guard, a new conservative ultranationalist group, intends to protest against what they falsely call "illegal immigration" on September 30 in Lacolle, Quebec alongside the Storm Alliance, and in Ottawa, in front of the federal Parliament. Formed by a number of former members of Soldiers of Odin, this men-only group claims they want to "defend the country against its internal enemies."
I met two members of the Northern Guard at a tavern in Gatineau, Le Petit Canot, which also serves as a regular meeting place for the group. Nationally, they have about 300 members, according to the Facebook page of the group founded in June in Moncton by Nick Gallant, former provincial president of the Soldiers of Odin for New Brunswick.
Last spring, the anti-immigration group Soldiers of Odin (SOO) splintered, as the Quebec chapter left the national organization, saying they wanted to distance themselves from the racist positions of the founder of the group, Finland's Mika Ranta. From this schism was born Storm Alliance and The Northern Guard.
Brian Wallingford, a heavy machinery operator in Maniwaki and former provincial vice president of SOO, is a national recruiter for The Northern Guard. "In Finland, SOO is a group of skinheads," the 43-year-old man, arms covered with tattoos, told me. "We always ended up being treated as racists. So we founded a group with Canadian values. "
However, the group, like many other ultra right organizations such as the 3%ers, are vehemently anti-Islam and have rallied against the thousands of migrants, mostly Haitians, who have crossed the US border since early summer. On the group's Facebook page, there are countless links and comments that associate Islam with terrorism or predict the introduction of Sharia in the country.
The Northern Guard argues that Canada should simply close the door to any form of immigration until further notice. "There are too many," says Eric Brazeau, a resident of Aylmer who is the group's spokesperson for Quebec and Ontario. "We are not able to support our veterans and the homeless. We will not pay for the Haitians. In addition, many are criminals. If they do crimes in our community, we will be there to protect and educate our neighbors."
Last month, the RCMP claimed that less than one percent of migrants who crossed the border since November 2016 were detained because of a criminal record.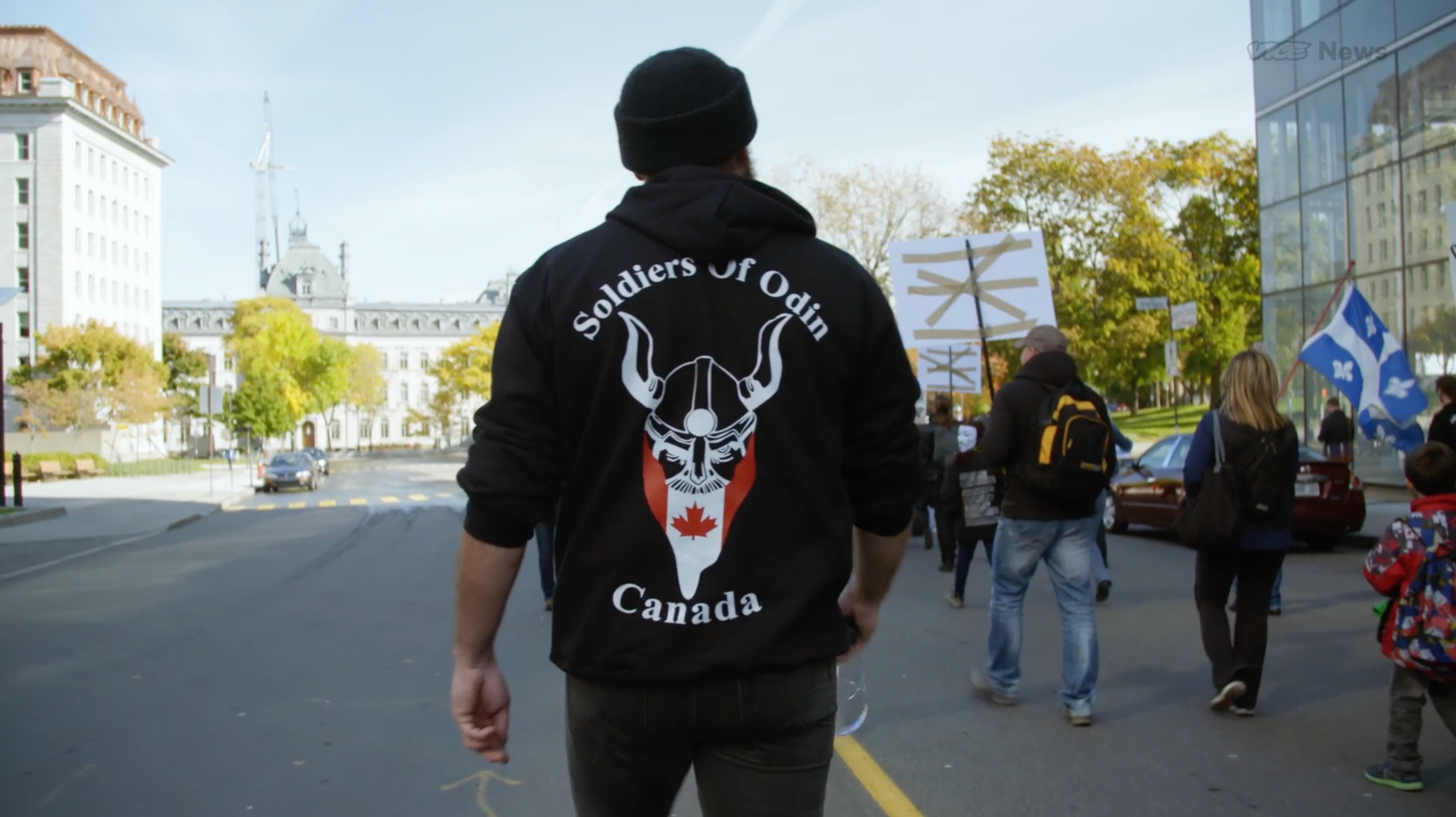 Brian Wallingford is currently the moderator of the Three Percent Quebec page , a group of armed anti-Islam "patriots." He hopes that the Northern Guard might adopt a similar approach. "I am pro-arms and I will not hide from it," he said. "If a person has to defend himself for his safety, I want him to be educated in the use of firearms. We want responsible people. If one day we have to defend our country, we must know how. "
Like American groups such as the Minutemen, an armed militia that "patrols" the border with Mexico (not to be confused with the 80s punk band), The Northern Guard would like to do the same to track down Haitians who want to enter Canada. "Our members are ready," said Brazeau. "But we respect the laws, so we will not do it if we are forbidden. "
Listening to both men, you would think North America is in danger of a civil war in the near future. And they want to be ready, with their few dozen members on Facebook.
"The Liberal government is in great collusion with [the Hungarian-American billionaire] George Soros and the Clintons," Éric Brazeau told me, citing a common far right conspiracy theory. "It is a plan that is destroying our free Canada. We are afraid of being Christians. If the government continues to flout our rights, it may be a civil war. Charlottesville, it's just the beginning. "
And for now, The Northern Guard is a real boys club, in the worst sense of the phrase. Women are not admitted into their ranks. But the group will eventually found a female faction to be named The Northern Maidens.
"We're a brotherhood . In SOO, when Katy Latulippe became president, people did not want to be led by a woman and that divided people. A man who runs a women's gang, or the opposite, does not work," Brazeau said.
The September 30 demonstration is the first official public appearance of The Northern Alliance, which has just embroidered the jackets in the colors of the group. Until now, members were limited to discussions through social networks or around a BBQ. But we expect more from them.
"We do not want keyboard warriors," says Wallingford. "I've seen it too much with SOO and La Meute. We want people to move to help. "
Follow Simon Coutu on Twitter.