For the white people who make up 80 percent of the population of the small New Hampshire city of Manchester, life since Donald Trump took office has gone on mostly as normal. Despite the constant rumble of weird news from CNN, white residents get out of bed, put their kids on the bus to school, and drive in to work, just like always.
For people in the city's Latino communities—particularly those without documents and their families—this has been a season of dry-mouthed terror. Trump began his campaign referring to Mexican immigrants as drug dealers and rapists; since, his inauguration rumors of ICE raids have run through neighborhoods. Some people skip work and keep their kids home from school for days at a time, worried that they might be snatched up on the streets. Things weren't easy even in the Obama years, but now ICE's official orders are to bring in everyone they can, no matter how harmless.
Within Trump's first 100 days, the agency said it detained 58 percent more "suspected illegal immigrants" in New England than it had over the same part of 2016. One of them was Josefina Rejino. She and her husband had lived and worked in Manchester for more than 20 years. Their kids went to the local schools and played on the soccer teams. Before she was detained, Rejino had been spending her days cooking, cleaning, and caring for her kids and her five-month-old granddaughter while her daughter Karen worked.
When her mom went to jail, 22-year-old Karen took a leave of absence to be there for the baby, her father, and her three younger brothers. The youngest is a four-year-old with a global developmental language disorder.
"He doesn't have a way of expressing 'Hey, what's going on?' or 'Where's mom?'" Karen Rejino said. "How do you explain that to someone who doesn't talk?"
In May, Manchester residents Oscar and Mirna Gutierrez and their four-year-old son were at the beach when Oscar was stopped for fishing without a license. ICE was called, and he was locked up. Mirna was nine months pregnant. She's an American-born citizen, but her epilepsy makes it impossible for her to drive or hold a job. The family lives on Oscar's income as a construction worker. Without him, she didn't know what she'd do. She wasn't even sure how she'd get to her doctor's appointments.
Looking for help, the Rejino and Gutierrez families turned to a man known to almost everyone as Father Joe. The brown-robed, white-bearded Capuchin friar, full name Reverend Joseph Gurdak, is the pastor of Rejino and Gutierez's parish, Saint Anne-Saint Augustin. He grew up in Yonkers, New York, in the years after World War II. His family was part of a parish led by Capuchins, priests who commit themselves to serving the poor and living in poverty themselves. By the time he decided he would become one of them, it was the 1960s, and he quickly joined with his fellow seminary students protesting the war in Vietnam and supporting the United Farm Workers' grape boycott.
Starting in 1975, Father Joe spent two decades in Honduras. That was when Catholic churches espousing care for the poor and hope for democracy in Latin America became targets for military and paramilitary forces, sometimes backed by the US government.
"It was a very hard time because we never learned any of this stuff in the seminary," Father Joe said. "We were trying to teach people things like human rights… and several of them died because of their stances. People that I knew. Not only knew, but I loved."
When Father Joe got to Manchester in 2006, he found himself leading a parish occupying the gap between the city's immigrant and refugee communities and its white natives. Formed from two churches that had served Irish and French Canadian communities since the middle of the 19th century, Saint Anne-Saint Augustin now holds masses in Spanish, English, and Vietnamese each week, as well as a monthly African mass with drumming and prayers in Arabic.
Before he got there, others at the church had begun the slow, hard work of bridging the gap. Deacon Ramón Andrade, a short, dark-skinned, impeccably dressed man from Puerto Rico, was among the first Latinos to join what was then an overwhelmingly white Saint Anne parish in the 1990s. "We were not very welcome," Andrade recalls. "It's normal. They didn't know about us."
Sandy Proulx is a no-nonsense middle-aged white woman who has been a member of Saint Anne's since 1966. She didn't know any immigrants before they started coming to her church. But she quickly made friends among the Latinos, and then the Vietnamese and Africans who began joining the church a few years later. Proulx also jumped into citywide efforts to support their communities. Over the years, she's helped the church hold meetings with the local police chief to curb racial profiling and worked to help free parishioners detained by ICE. Though she didn't really know Rejino and Gutierrez personally, after they were detained, she joined the rallies and protests organized by immigrant rights groups calling for undocumented people like them to be reunited with their families. (Disclosure: I'm involved in an interfaith group that Proulx is part of.)
I asked her why she is so involved in these causes and her answer was simple. "I didn't do it as a political thing," she said. "Jesus told us to love our neighbors. These are our neighbors."
---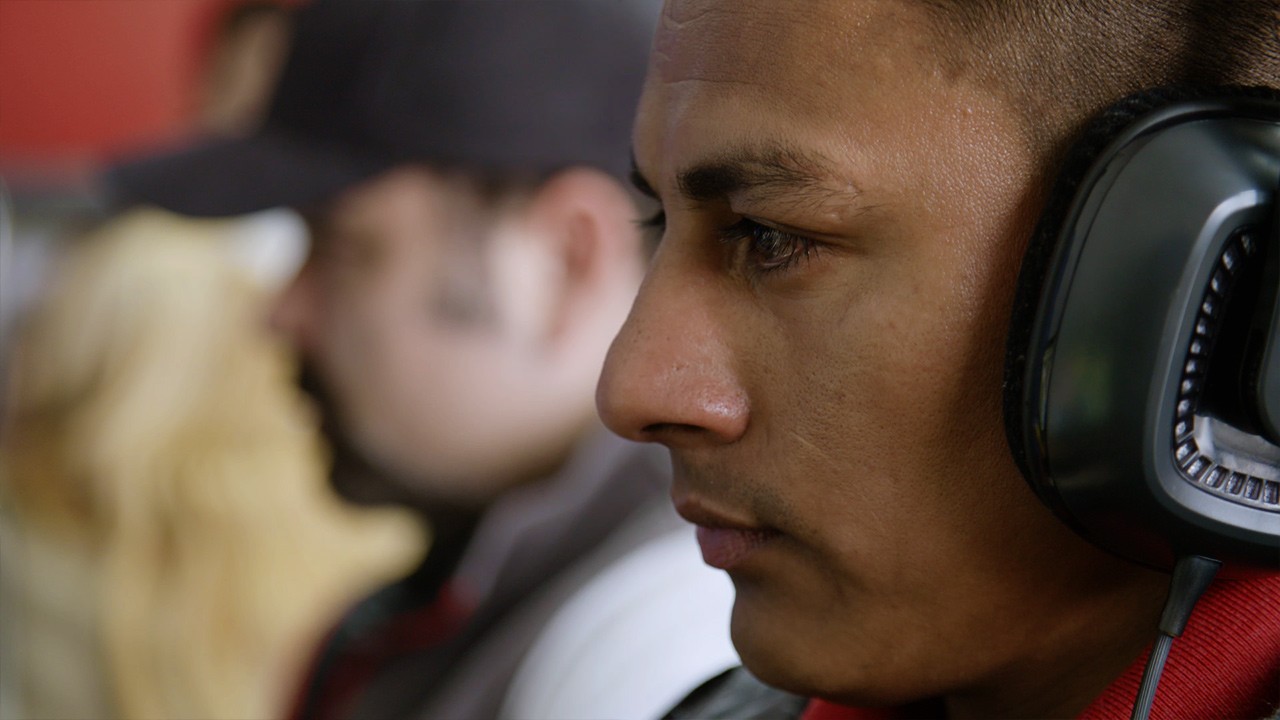 ---
In his time in Manchester, Father Joe has accompanied many undocumented parishioners to court dates and supported families whose loved ones had been detained. But after the election, he decided he needed to do more.
After the detentions of Rejino and Gutierrez, he began telling their stories all the time, at rallies, in conversations with authorities, from the pulpit. In April, with the approval of a majority of the church's white members and overwhelming support from the Latino parishioners, he declared Saint Anne-Saint Augustin a sanctuary church, willing to take in undocumented people to protect them from unjust deportation.
But Bishop Peter Libasci of the Diocese of Manchester, like his counterparts in many other parts of the country, rejected the idea of sanctuary. He quickly sent a letter to his clergy expressing support for undocumented immigrants, but insisting that they could not take refuge in the Catholic churches. Father Joe obediently rescinded the declaration of sanctuary, but he kept talking about immigrant rights, despite pushback from some of his white parishioners. A few sent him letters complaining he was becoming too political.
"It was because I was saying what Pope Francis said, that we shouldn't be building walls, we should be building bridges and connecting with each other," he said. "That really struck them as if I was talking against Trump. I knew that was a possible interpretation, but it was the orientation that I think the Holy Father gave us."
The difference between the two sides of Manchester, the two sides of the church, is vast. For many white American Catholics, undocumented immigrants' rights are not a priority issue. Nationwide, white Catholics voted overwhelmingly for Trump. Manchester as a city backed Hillary Clinton, but even at Saint Anne-Saint Augustin, Sandy Proulx's enthusiastic embrace of immigrant rights work is the exception, not the rule. The total number of white parishioners at the church has declined over the years.
But Father Joe is also welcoming a slow trickle of new white members into the church. For some of them, this means a transformation—imperfect, and happening in fits and starts—of the way they look at race and immigration.
At a multicultural service one Sunday, I sat in a pew next to a young guy in a Celtics shirt and a leg brace who gave his name as Big John. His real name is John Pratt, but he went by Big Bad John for years, when he was a drug user, a dealer, a pimp, and a bookie. About 15 years ago, he overdosed on cocaine. Two strokes and a brain aneurism left him with his leg in a brace but convinced him to get clean, and drop the "Bad" from his moniker. One day, he decided to go to church with a friend from AA.
When he first met Father Joe, Big John said, the two of them bonded over their similar bushy beards—John's is brown while Father Joe's is white.
"He's hilarious," Big John said. "I said, 'I'm going to call you Father Pork Chops.' He said, 'That's OK. I'm going to call you Lamb Chops.'"
John started going to the Sunday service in English and the Wednesday afternoon multicultural service every week. Almost immediately, he was surprised to find himself forming friendships with people of other races.
"Before I came to this church, I kind of looked at everything 'white is right,'" he said. "I was kind of a bit of a racist."
When he went to take communion, limping through the crowd on his bad leg, Big John paused to shake hands and talk with just about everyone—well-dressed, elderly Hispanic men, young African women, immigrant kids who switch fluidly from one language to another. As we sat watching the service, he gestured toward a man standing near Father Joe in the sanctuary speaking in Arabic.
"That guy in the blue shirt, colored guy, he speaks like six different languages," he told me. "He's an amazing man."
A retired temp worker named Fran, who asked that I not use her last name, started going to the church a few years back and has a similar story of being changed by it. After switching from her old parish, she started going with Sandy Proulx to meetings about immigrant rights, though she hadn't been interested in the issue before. At one meeting after the election, a Latina church member described giving her five-year-old instructions for what to do if she didn't show up to pick her up after school because ICE had gotten her. Fran had had no idea the woman, or anyone at the church, was undocumented, but the injustice struck her right away. Her own grandparents came from Poland, after all, and she's not sure if their legal status was entirely clear.
"It costs a ton of money to get legal, which is not fair," she said. "I could never do it. I don't have the money to do it. I'm sure these people don't."
---
The problem for Latino parishioners isn't just a fear of ICE, but the way Trump's election emboldened some of their white neighbors.
As 2017 went on, everyone Father Joe talked to seemed to have a story about hearing comments at the grocery store or the Dunkin' Donuts about speaking English or going back to Mexico.
"There's almost a hatred against illegal immigrants," he said. "It was probably always there, but now it's much more open."
Manchester's immigrant and refugee population has grown significantly over the past two decades, but the city is still 80 percent white. It's hard to know how many of those white people might be hostile toward immigrants. When immigrant rights groups hold a vigil for detainees, a few drivers inevitably roll down their windows as they roll by and yell something about terrorists and "build a wall" and "fuck you." When the local paper runs an article about immigrants, it gets flooded with hostile online comments. It's easy to dismiss them as the work of trolls, but one immigrant activist told me just reading through them makes her feel like she's in Nazi Germany.
At a May Day rally for immigrant rights in downtown Manchester, Karen Rejino broke down in tears as she talked about caring for her six-month-old child and her younger siblings in her mother's absence. Then Father Joe addressed the crowd, describing the desperation he saw in Central America among people fleeing violence, and the impossible situations that face them when they enter the US without legal permission to work or drive.
"We force them to use fake documents, and they're called criminals because they use fake documents," he said. "We've got to change this. We've got to let people know that they are welcome and that we give them what they need to work and to live in this country and to realize the dreams that they had when they came here."
Just beyond the audience of 150, a small group stood in black and camouflage clothes: one woman and a six men, all white, all carrying guns. They wouldn't say who they were, but they told me there's "always violence" at rallies like this, and they're here to "back the blue."
Toward the end of May, in a show of support for Manchester's immigrant Catholics, Bishop Libasci visited Saint Anne-Saint Augustin to celebrate mass in Spanish. Afterward, Karen Rejino and Mirna Gutierrez—wearing a "Preggers" T-shirt over her big belly—told him their families' stories. Moved by what he had heard, Libasci made the hour-long drive to visit Oscar Gutierrez in prison.
A few days later, Oscar Gutierrez Jr. was born. Mark Hayward, a local newspaper columnist who's also a parishioner at Saint Anne-Saint Augustin, wrote a sympathetic story describing Mirna's despair at the idea of raising her two boys alone.
Then, surprisingly, something went right. In late June, the regional head of ICE used his discretion to free Gutierrez, giving him a year to apply for a visa without fear of deportation. Gutierrez's lawyer said he believes the bishop's visit was part of the reason for the unexpected news, though Libasci gives more of the credit to Hayward's writing.
The following Sunday, Oscar returned to church with tiny son and the rest of his family. "When they walked in, everybody stood up and clapped," Father Joe said.
But Josefina Rejino remained in jail. Hayward said Father Joe suggested that he write another newspaper column about her situation, but he couldn't do it, at least not right away. His mostly white readership would end up bored. "As a journalist, I can't be going to this well all the time," he said. "These things are happening all the time. Unfortunately, it becomes the same story."
In the months since Gutierrez was freed, two more of the church's parishioners have been detained. In a recent column, Hayward wrote about one of them: a 40-year-old father who had the police called on him while he was changing a tire. The paper has now shut down comments after years of nastiness, but people responding on Facebook called the man a criminal and declared that they had no sympathy for his wife and children. Meanwhile, Josefina Rejino has now been in jail for four months and faces almost certain deportation.
Hayward thinks Gutierrez was freed mostly because of his family's unique situation—Mirna's epilepsy and their two young children. ICE isn't forthcoming with its reasoning, so it's hard to know what might work to help other people being detained, short of a mass transformation among the white voters who allow the agency to function as it does.
For Father Joe, that transformation is part of his long-term mission. And Catholics in Manchester took one more small step toward fulfilling it in May, when Bishop Libasci made Saint-Anne-Saint Augustin's Deacon Andrade the diocese's first cabinet secretary for multicultural ministry. Andrade said he hopes to bring what he learned at the church to parishes across the state beginning to see Spanish speakers show up for mass. As parishioners get to know people from other backgrounds, he has faith that friendships will grow.
"It's not something that you have to go to the street and start proclaiming, 'You have to change your mind,'" he said. "Little by little with our actions, we can do it, and we need to be patient."
Andrade and Father Joe know what they're up against. In the months since Gutierrez was freed, two more of the church's parishioners have been detained. Josefina Rejino has now been in jail for four months, and faces almost certain deportation.
"It wears on you, this whole thing, because these are people you know and love," Father Joe said.
He keeps going to rallies, celebrating mass, sharing stories with anyone who will listen. If white people can just see what's happening in front of their faces, he said, he thinks things will change.
"It's the stories that are going to make things real," he said.
Follow Livia Gershon on Twitter.