Having missed his first release date, Manson has been whetting fans' appetites for new material via a series of cryptic videos on Instagram featuring the Cross of Lorraine (‡), a symbol rumored to be associated with the Knights Templar and Freemasonry and one that Manson frequently uses in his stage shows and merchandise. In five posts beginning February 11, Manson has released videos of the symbol emblazoned in white light accompanied by cabalistic descriptions ranging from a biblical passage from Revelations to a Goya painting title.
The Cross of Lorraine appears as an animated white sketch on Manson's torso and is accompanied by Revelations passage 13:7 about the mark of the beast.
The Cross of Lorraine is again depicted in glowing white light. The descriptions 6:19 could be an allusion to another biblical verse or a potential release date for the album that no longer stands.
Depicts the Cross of Lorraine on a building that's speculated to be a church with a description that references the Francisco Goya painting The Sleep of Reason Produces Monsters accompanied by the sound of an air raid siren.
Another Cross of Lorraine emblazoned in white light again accompanied by the sound of a siren with a caption that reads "Mercury Retrograde" (lol).
The final clip features a POV account of someone driving while hyperventilating. The driver exits the car and we see another Cross of Lorraine emblazoned in white light. The driver turns back around and we see a cloaked figure as the sounds of an air raid intensifies.
So what's it all mean?
Only time will tell but this is just the latest example of Manson's career-long use of Christianity and its symbols as a critique of American culture at large. This album arrives at a time when political tensions within the U.S. are at an all-time high and the GOP's evangelical base is running amok seemingly basing many of their policy decisions on issues like health care, birth control and abortion, on Christian-held religious beliefs rather than the desires of their constituents. Here's a look at how Manson has made Christianity a focal point of his censure of America during the course of his early career.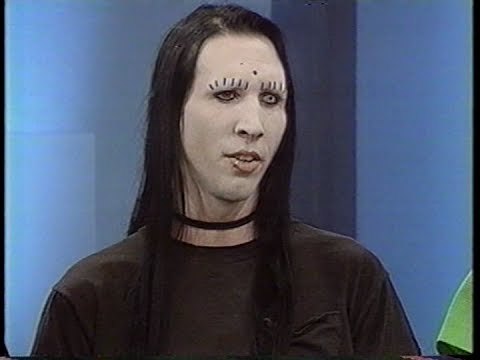 Following the Satanic panic that swept America in the 1980s, Manson's first run-in with the Christian morality police came in October 1994 shortly after the release of his debut album, Portrait of an American Family, while touring as an opening act for Nine Inch Nails. Manson was prohibited from taking the stage in Salt Lake City after the venue owner took serious offense to tour merchandise emblazoned with the message,
"Warning, Heavy Metal Music contains satanic messages that will kill God in your impressionable teenage minds. As a result, you will be convinced to kill your mom and dad, and eventually, in all act of hopeless, suicidal, 'rock and roll' behaviour [sic], you will kill yourself. Please, burn your records while there is still hope."
Manson responded with a statement saying this was
"… simply a sardonic look at the level of absurdity political correctness has reached and right-wing Christian America's attempt to scapegoat rock 'n' roll for problems that originate within its own masochistic family structure. In short, it is a mirror. Sometimes your own reflection is the hardest thing to face."
Nine Inch Nails frontman Trent Reznor, who signed Manson to his own vanity label Nothing Records, invited Manson onstage during his set to make a couple of remarks and Manson used the stage time to rip up the Book of Mormon and threw it into the audience asking, "Do you let Him [God] run your lives?"
When asked about what had transpired at the Salt Lake City show a month later on MTV's Headbangers Ball by host Riki Rachtman, Manson seemed very sheepish about the incident, declining to go into detail and instead citing the band's wish to "promote free thinking and individuality and the right to do what you want to do" as the source of the trouble.
Shortly thereafter, Manson and bandmates Twiggy Ramirez and Madonna Wayne Gacy appeared on The Phil Donahue Show in a segment that aired in February 1995 about the dangers of stage diving and moshing. The ever articulate Manson made multiple points about the role of parental supervision and how the media blames teen suicide on movies and music, which surprisingly garnered applause from the audience. However, a question again surfaced about satanic imagery and Manson delicately sidestepped the issue.
In 1995, Manson released the EP Smells Like Children, a reference to the Child Catcher villain from the '60s musical Chitty Chitty Bang Bang, which Reznor produced. The album went certified platinum lead by the success of its only single, a down-tempo cover of the Eurythmics 1983 classic "Sweet Dreams (Are Made of This)."
The unsettling video for the song, which features grotesque imagery of Manson and bandmates in what appears to be an abandoned building, went into heavy rotation on MTV giving the band its first foray into mainstream consciousness. The video would go on to be nominated for Best Rock Video at the 1996 MTV Video Music Awards and cemented the band's commitment to a surreal horror aesthetic.
Bolstered by the success of the "Sweet Dreams" cover and perhaps the fact that mainstream America had taken note of a gruesome-looking gaggle of South Florida rockers, Manson and his bandmates hunkered down in Reznor's Nothing Studios to record the album that would become Antichrist Superstar. In the full year between the release of Smells Like Children and Antichrist Superstar, Manson seemingly became very comfortable with invoking anti-Christian imagery in the name of satire. It should be noted that at this time Manson self-reports developing a close friendship with the founder and high priest of the Church of Satan, Anton LaVey, in his memoir The Long Hard Road Out of Hell. Here he is speaking about his relationship with LaVey and the Church of Satan in an interview from November 1995.
Antichrist Superstar was released in October of 1996 as a concept album separated into three acts with a narrative arc revolving around a supernatural being who seizes power in order to initiate the apocalypse as told by the album's intricate liner notes.
The front (left) and back cover (right) of Antichrist Superstar
Antichrist Superstar's liner notes
By January 1997, Manson was on the cover of Rolling Stone having been freshly minted the year's Best New Artist by the publication. The cover story included a dream that Manson had regarding the creation of the album's titular character.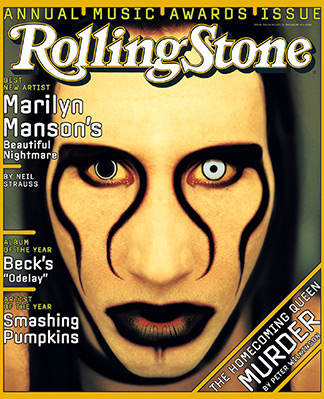 A few years ago, I started having dreams and visions of the world being destroyed, and me being the only one left. It was like an ultimate retribution for all of the things that have happened to me growing up. One dream took place sometime in the future – it may even have been in Fort Lauderdale. Entertainment had gone to such an extreme that they had taken people and made them into zombies almost just for entertainment's sake. And I had this strange vision of these women who were completely brain dead – they were just dancing in cages, and their jaws were wired shut so that they wouldn't bite off the dicks of all these guys that were around them masturbating. It was a complete Sodom and Gomorrah. And then somehow I was there and I was like either presenting the whole event or performing in it or something. That was probably the first appearance of what will be Antichrist Superstar rearing its head."
The video for the album's first single, "The Beautiful People" again employed the grimy, grotesque, slightly steampunk look established in "Sweet Dreams" but upped the ante adding dancing nightmarish ghouls who were able to shapeshift their proportions. The video went into heavy rotation on MTV and the song began to chart on Billboard's Modern Rock Tracks eventually peaking at #26. The video garnered another MTV Video Music Award nomination for Best Rock Video and the band was invited to perform the track live on the award show broadcast.
The 1997 MTV Music Video Awards aired on September 4, 1997. The broadcast included performances from 10 other acts including Jewel, U2, Beck and the Spice Girls. Marilyn Manson was the final act to perform closing out the show.
Taking to the stage as a marching band played "Hail to the Chief", Manson approached a podium which featured the words ANTICHRIST SVPERSTAR along with his Superstar Shock logo (a riff off a European fascist symbol) wearing a black fur coat. He directly addressed the audience of Hollywood elites with:
"My fellow Americans, we will no longer be oppressed by the fascism of Christianity. And we will no longer be oppressed by the fascism of beauty. As I see you all sitting out there trying your hardest not to be ugly, trying your hardest not to fit in, trying your hardest to earn your way into Heaven, but let me ask you—do you want to be in a place that's filled with a bunch of assholes?"
He then launched into a high energy performance of the song losing the fur coat midway through revealing bare buttocks, a corset, knee-high stockings, a garter belt and little else. Striking rigid poses as he choked out the track's vocals, the performance came to its climax and then devolved into the band smashing their instruments. The broadcast then went to a wide shot of the audience, who trepidatiously applauded.
November 1997, Manson found himself the target of a congressional hearing titled "Music Violence: How Does It Affect Our Children" led by Senator Joseph Lieberman which heard testimony from Raymond Kuntz, a North Dakota father who blamed his son Richard's suicide on Antichrist Superstar. Many of the tour dates on the "Dead to the World Tour" were picketed by religious organizations, however, the album would go on to spawn six more music videos over the course of the next two-year period, two of which would never see release.
"Tourniquet" was the second and final official radio single off Antichrist Superstar. Its video's premise is based on Manson's childhood obsession with building a living girl out of prosthetic parts.
The "Cryptorchid" video splices scenes from Elias Merhige's 1991 experimental horror film Begotten in with footage of Manson. Because of its realistic depiction of death and decay it was subsequently banned from MTV.
The video for "Man That You Fear" is based off a Shirley Jackson short story called "The Lottery" and depicts all the events of a man who was chosen to die by his community on his last day on earth leading up to his death by stoning. There are certain Christlike elements to Manson's portrayal including having his feet washed and his seeming acceptance of death at the hands of his peers.
The video for "Long Hard Road Out Of Hell" features perversions of Christian iconography, notably a blood-soaked Virgin Mary.
The "Apple of Sodom" video was never officially released due to female nudity and its low production value but the song was featured on the Lost Highway soundtrack.
The "Antichrist Superstar" video was again directed by Elias Merhige but was never officially released as management at Interscope Records felt that its depiction of various wars and fascist regimes cut with footage of Manson and the American flag was wholly inappropriate. The video was shelved but was leaked in its entirety online in June of 2010.
Though his career has been shrouded in controversy ever since, most notably being (falsely) fingered as a cause of The Columbine School Massacre of 1999 by right-wing pundits, Manson would go on to release seven more studio albums. His latest, 2015's The Pale Emperor was well-received by critics who hailed it a lush yet heavy alt-rock record, but it failed to capture the spirit of the zeitgeist like his earlier works had.
But looking ahead to the July's Heaven Upside Down release, there's reason to be hopeful as today's acrimonious political climate provides the fertile ground Manson needs to do what he does best—hold a mirror up to the absurdity of American culture and make it take a long, hard, unflinching look at itself. A teaser video for the album's first single "Say10" was released the morning of Election Day 2016 and featured the beheading of Donald Trump, who would later that evening go on to become the President Elect.
In an interview with the Daily Beast, Manson said of the work,
"It's about the desperate acts of people who believe something that is preached by an unbeliever. Right now we're in such a state of confusion when it comes to religion, politics, sexuality, and how they all tie together, and it's being turned into a circus and a sideshow—and that's something that I've been described as a ringleader of. It seems like a time for me as an artist, and as an American artist, to make something that causes a new set of questions to arise that aren't simply statements."
And from the looks of the breadcrumb trail he's left on Instagram, Manson still has a major bone to pick with Christianity at a time when every GOP Senator identifies as Christian, while fewer and fewer Americans do.
So as it stands, the stage is set for a comeback. All Manson need do now is to tap into his natural gift for satire as the stars have aligned to give the God of Fuck something actually worthy of screaming about. Here's hoping he's up to the challenge.
Alexandra Serio is a Brooklyn-based freelance writer and Capricorn. Follow her on Twitter.