Michelle Carter in court on Tuesday. Photo by Pat Greenhouse/The Boston Globe via AP, Pool)/Art by Lia Kantrowitz
Michelle Carter shuffled her white pumps under the defense bench as a photo of her ex-boyfriend, head sunk back and lifeless, was projected onto a wall of the courtroom. Conrad Roy III's corpse lay perched in the front seat of a truck parked outside a Kmart, where prosecutors say he rolled up the windows, turned on the engine, and waited for the carbon monoxide to kill him.
Roy's family burst into tears at first sight of the image. Carter's father, seated behind her, stared straight out the window at a purple beech tree rocking in the wind. Carter, with her dirty blond hair, paisley top, and coral blazer, simply looked down at the papers on her desk.
On Tuesday in Massachusetts, a woman not yet old enough to drink went to trial for telling her boyfriend to commit suicide.
Twenty-year-old Carter is charged with involuntary manslaughter for text and phone exchanges that took place when she was 17 and Roy was 18. Among other things, prosecutors say, Carter instructed Roy to "get back in" when he called her from the parking lot on the night of his death, questioning the decision to take his own life.
Civil liberties advocates are outraged at what they call the potential criminalization of routine speech, with the ACLU filing a brief encouraging dismissal of the case with the state's highest court. But because Carter is said by prosecutors to have ordered Roy back into the car (and listened for 20 minutes to his last gasping breaths), the Massachusetts Supreme Judicial Court decided her words may have constituted "wanton or reckless conduct," the standard for manslaughter charges in the state. (There are no laws for assisted suicide on the books in Massachusetts.)
---
A look inside America's for-profit bail system: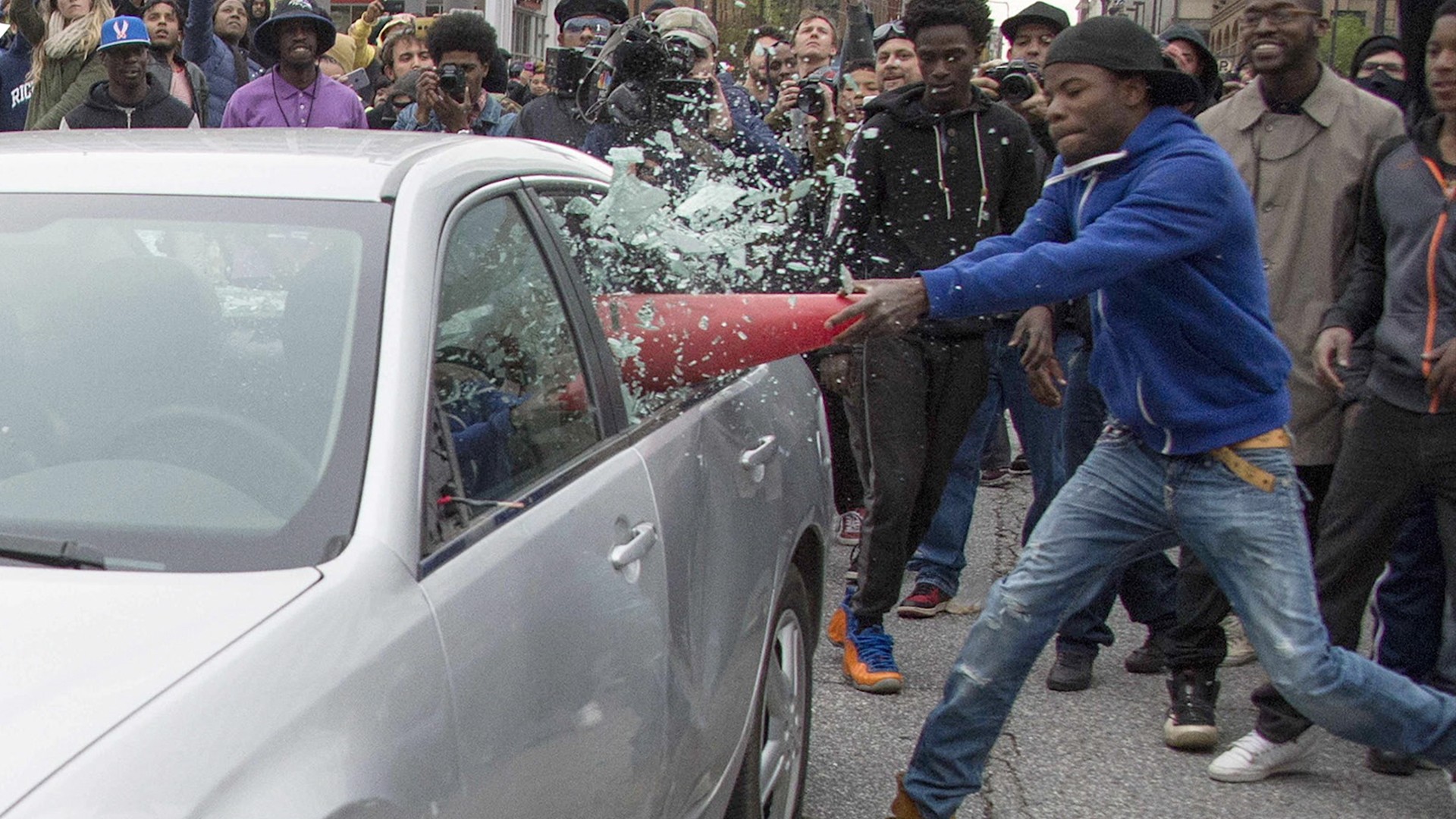 ---
There is precedent for charges like these, with perhaps the most sensational case centering on a man handing his drunken wife a loaded rifle and telling her to how to fire it with her feet. But what is deeply unusual in Carter case is that calls and texts are being treated essentially as weapons by the prosecution—the rough "equivalent of a gun or a knife," as veteran Boston defense attorney Martin G. Weinberg put it.
Also impossible to miss in the few hours I spent in court Tuesday: prosecutors putting Carter's personality on trial.
The state seems determined to cast the young woman as a social media siren—a murderous mean girl who seduced Roy into relying on her then coaxed him to his death. All so she could play the role of the "grieving girlfriend" and grab the attention of the popular crowd she so desperately sought, as Assistant District Attorney MaryClare Flynn argued in her opening statement.
"I'm not going to sleep until you're in the car with the generator on," Flynn said, reciting one of many horrific texts Clark sent Roy. Flynn also repeatedly flashed images of the teenager's corpse, described by the officer who discovered it as warm from the heat of the car but already suffering from the initial phases of rigor mortis.
For extra dramatic effect, the prosecution paired texts Carter sent to Roy telling him to kill himself with messages she sent to another friend in the same time period, announcing she was not wearing a bra.
But even if playing the emotional keys in a case this macabre might normally turn a panel of Carter's peers against her, the 20-year-old is not being tried by a jury. Her fate instead belongs to one man: Judge Lawrence Moniz.
Carter announced her plan to take the unusual legal route in a surprise move on Monday, her eyes red with tears, after potential jurors had already been called to the courthouse. With opening arguments the next day, the decision left prosecutors little time to revamp their strategy. (The smart money says judges are less swayed by emotional appeals since they are used to "being bound by the rules of evidence," as Weinberg put it.)
Carter and Roy met on vacation in Florida about three years before his death, and though they lived an hour away from each other in Massachusetts, had only met in person three times. The majority of their relationship was conducted via text and calls, which means prosecutors have access to an unusually robust amount of correspondence.
In many of the messages, Carter urged Roy to his death.
"Take your life?" she asked, according to a reading by Flynn in Court. "You think I should?" Roy replied.
Then there's the anti-suicide baseball game fundraiser Carter held, seemingly on Roy's behalf, after his death—a move the prosecution claims was done solely for attention, which they describe as her chief motive.
On the first day of arguments, the court was also presented with a thesis-length stream of cloying texts sent from Carter to Roy's mother, Lynn, after her son's death. (Lynn Roy was the state's first witness.)
"You did not fail him," Carter wrote. "Instead of crying when you think of him… smile," she suggested.
Flynn had Lynn Roy begin reading these texts on the stand. But Judge Moniz interrupted.
"Are these exhibits on the record?" he asked.
"Yes they are your honor," Flynn replied.
"Well if they are on the record, why are they being read to me now?" Moniz asked.
Flynn moved her questioning along.
For Carter's part, her attorney Joseph Cataldo argued that Roy's death "is a suicide, and it is a tragic suicide, but it is not a homicide"
He said that his defendant had her own problems, and struggled with an eating disorder since her early years in elementary school. Cataldo added that Roy was already struggling with mental health issues, and was abused at the hands of his father—violence he claimed got so bad the teenager had to be hospitalized for a concussion in 2014.
The defense argued the couple's correspondence actually began in earnest after that first suicide attempt by Roy. At first, Carter tried to help Roy get help, the story goes, before suggesting they get institutionalized as a pair. "We could get through our issues together," reads one message Carter sent Roy.
But according to Clark's attorney, when she learned how resistant he was to psychiatric care, and Roy began to suggest they kill themselves together, Romeo and Juliet style, she instead encouraged the 18-year-old to go ahead and leave her out of it.
Above all, Cataldo pleaded with Moniz to turn to reason and review the evidence "methodically."
If the first day in court was any indication, the judge seems capable of doing exactly that.
If you are feeling suicidal, visit the website of the National Suicide Prevention Lifeline or call toll free 1-800-273-TALK (8255) at any time. A listing of similar helplines in other countries can be found here.
Follow Susan Zalkind on Twitter.