Young rebel fighters in civil war-stricken Syria are using Snapchat as their social media platform of choice for selling, buying, and boasting about weapons and equipment for the battlefield.
Snapchat messages received by Motherboard itself, as well as screenshots provided to Motherboard of accounts posting items such as consumer drones and thermal scopes for sale, show that the ephemeral messaging app provides the perfect mix of instantaneous and direct storytelling for a mobile-only, millennial generation of fighters.
Snapchat, which this week expanded sales of its Spectacles eyewear device to the general public, is most popular amongst 18 to 24-year-olds in the US. The story, Motherboard is told, is no different in Syria.
"For the most part, rebel fighters use Snapchat like kids in the West," John Arterbury, a Washington DC-based security analyst, told Motherboard in an email. "They show off what they're doing, they document light-hearted moments, and they cultivate and project a stylized image of themselves. When they do use it as a weapons market, it's to showcase items that maybe aren't normally found in the real-world arms markets of Idlib and its surroundings."
Arterbury showed Motherboard two documented cases of items put up for sale over Snapchat in the past couple of months. The first item was a Phantom 4 consumer drone, with the seller noting it had been used to film a Jabhat al-Nusra battle scene. Another instance, this one of an actual arms sales listing, pertained a thermal riflescope, which was being sold to raise funds for Haya-at Tahrir al-Sham, a Jihadist and Salafist group involved in the Syrian Civil War.
"I've also seen them sell expensive falcons [live birds] on Snapchat. Again, since Snapchat is mostly used for friends to communicate with friends, this is maybe a way to show your friends that you've got something exceptional to sell and hope it spreads by word of mouth," Arterbury told Motherboard.
Motherboard also spoke with a weapons tracker on Twitter who had previously documented cases of weapons for sale over Snapchat. @LostWeapons told Motherboard via Twitter DM, "I actually just follow YouTube accounts that upload rebel Snapchats, not as awkward Screenshotting it."
LostWeapons sent Motherboard the URL of a YouTube account that was uploading the Snapchat stories of rebels in Syria. The Snapchat stories included weapons for sale and images of heavier weapons such as shells and mortars.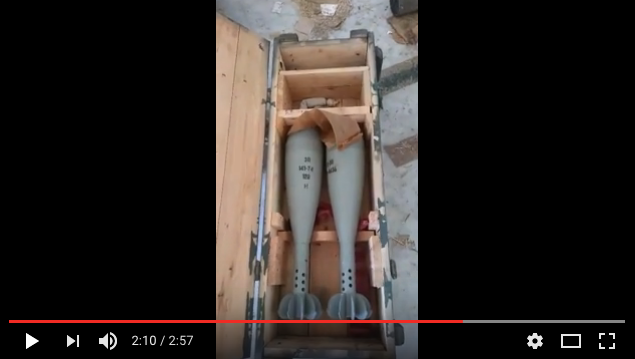 Motherboard's own foray into weapons sales on Snapchat yielded instant results. We created a dummy account under a pseudonym without any images, and passively followed accounts of purported Syrian rebels. Several were sending out Snapchat stories that included calls for donations for weapon accessories, including a thermal optic riflescope.
"Thermal sight for Mujahideen (those involved in Jihad), you can connect via this id on Telegram @ash551," the message above reads. Another Snapchat story (below) is a call for donations for thermal binoculars.
"A lot of these Snapchat ones are 'asking for donations to buy the weapons' too," LostWeapons told Motherboard.
Further Snapchat stories from account associated with the sale of weapons and weapon accessories, seen by Motherboard, contain montages of Syrian rebel snipers taking down unidentified targets and other war propaganda.
"It's one of the many platforms we've seen being used," said N.R. Jenzen-Jones, director of Armament Research Services (ARES), regarding Snapchat. "We've documented either advertisements or direct sales via a pretty wide range of social media and messaging apps. Facebook, Twitter DMs, Instagram, Snapchat, Kik, Whatsapp, and Telegram, among others.
Motherboard contacted Snapchat for comment on this story. A Snapchat representative flagged the company's Trust and Safety guidelines and terms of service, and said it will investigate and take appropriate action.
Indeed, even with Snapchat's apparent popularity amongst young fighters, Arterbury said most arms probably occur off the platform, thanks to the overall proliferation of small arms in Syria. "It's not difficult to purchase guns or ammo in rebel-held northern Syria," he said.
Arterbury pointed to the ongoing private sales of arms on Facebook, too, a practice that Facebook itself vowed to clamp down on in 2016. However, an April 2016 report by the Small Arms Survey, using research conducted by Armament Research Services, highlighted the problem of weapons sales via social media channel such as Facebook still exists. Another report examining arms sales via social media in Libya, which Jenzen-Jones co-authored, is being released by the Small Arms Survey in the coming weeks.
"When it comes to digital sales, I presume that lots of arms brokers use WhatsApp. While I've seen no direct evidence of this, WhatsApp is used for all sorts of commercial endeavors in Idlib—from cars to diesel to celebratory sheep for Eid—that I assume it extends to weapons," Arterbury told Motherboard. He also added that to his knowledge, Facebook arms markets based out of Iraq are still in operation. Arterbury did provide Motherboard with examples of weapon sales adverts from a Facebook-hosted Idlib arms market in Syria.
Jenzen-Jones agreed, saying:
I think part of it, with Facebook for example, is we tend to see broader, kind of classified-style advertisements, where people put up a picture and say 'look, here's what I'm selling, here's what I want for it'.
Platforms like Snapchat, and some of the other direct messaging apps, tend to be, in our experience so far, more follow ups. So that might be someone responding to somebody, and using Snapchat as a purportedly discreet way to exchange more details including serial numbers and other details.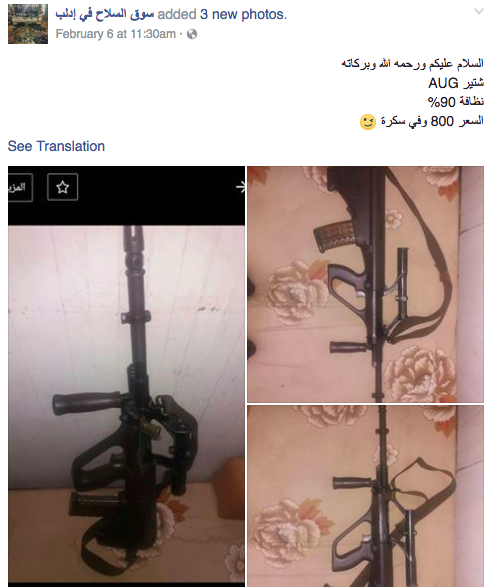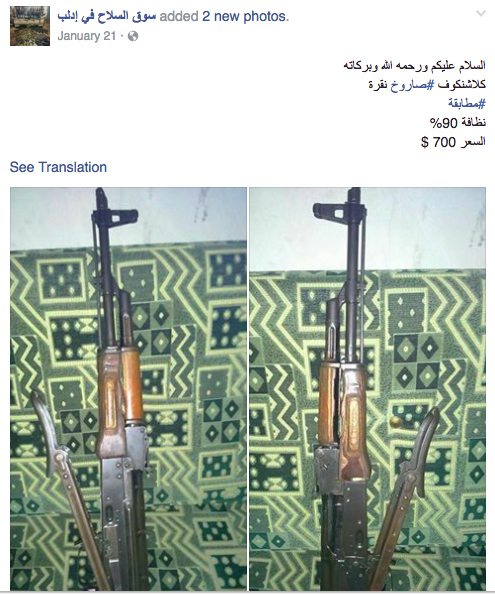 LostWeapons also told Motherboard, "People say Facebook is still #1 for weapons. A few articles came out last year and [Facebook] cracked down on it for a few days but nothing's changed. Facebook told Motherboard in an email this week, "The purchase/sale of firearms is not allowed on Facebook," adding that its community standards also prohibit the sale of firearms.
Instead, while arms sales have almost certainly  occurred via Snapchat, it's clear the app is being used more successfully to boast, show off, and send propaganda. And to that that end, Snapchat is the perfect platform. It's quick, users have complete control over who is seeing their messages, and most importantly, it provides a mobile-first means of communication amongst friends on the frontline.