Walk into any Brooklyn or San Francisco restaurant before sunset, and you're likely to be handed a "Brunch Menu."
While lots of ink has been spilled over whether or not "brunch culture" is another example of overblown, millennials-driven trends, it's hard to dismiss its takeover of metropolitan food scenes in the past decade or so.
I call it: the Brunch Industrial Complex. That's right, Big Brunch is out to get us, one Bloody Mary at a time, and the first victim of its aggressive expansion is Yelp. You'll go to the site to check out some pictures of entrées at a new spot you want to try for dinner, but you're met with a wall of brunch plates: French toast, omelets, and other fine foods that I'm sure are delicious but that tell me little about what a restaurant has to offer for dinner or lunch.
Yelp said it couldn't provide me with hard data of how dominant brunch pictures are on its site, but during my recent online survey of 40 Brooklyn restaurants in the span of two weeks—which all offer brunch as well as breakfast and dinner services—I found an overwhelming portion of the small business' Yelp pages flooded with brunch photography.
On average, about a third of each page (at least) was dominated by eggs, French toast, Benedicts and so on. Even for a seasoned diner like myself, I found the lack of representation of other meals (or even cocktails) offered disturbing…considering the list included a wine tasting room and several coffee shops.
Here's a list of Brooklyn restaurants and the number of brunch pics each one has on Yelp's first page of images (number represents photos out of 30 per page):
Traditionally, there are three meals in the day: breakfast, lunch, and dinner. And now a new, in-between meal culturally constructed by coastal elites—brunch—is taking up a third of Yelp's image real estate? This is a problem.
Williamsburg's Delaware and Hudson is a prime example of this issue's effect, chef and owner Patti Jackson told me by phone. Jackson's brunch menu features prominently on Yelp, with the restaurant's images page currently flooded with 12 brunch-like dishes, like the crab cake with poached eggs. In short, if I hadn't happen to have eaten at the restaurant myself in the past, I wouldn't necessarily know they offer a large range of dinner options by looking at Yelp.
When I asked Jackson how this lopsidedness has affected the business, she explained that while it's boosted the brunch rush, it hasn't necessarily promoted Delaware and Hudson's lauded dinner options.
"A lot of aspects of Yelp are frustrating for most businesses due to its unorganized nature," Jackson said. "It would be great for them to find a way showcase more meals."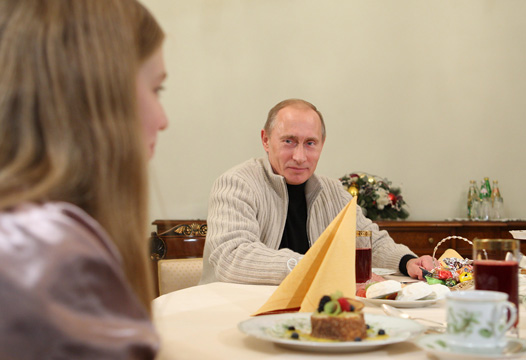 And Jackson isn't the only business owner who feels this way.
"It's a tricky situation, because we want the Yelp reviews obviously, given that we're at four stars and want to keep that up," Daron Pearce, general manager at Brooklyn's Le Barricou, told me by phone.
Le Barricou has been categorized mainly as a brunch establishment online, "which has pigeonholed us over the years," he continued. "This also leads to issues like people coming in for pancakes and Bloody Marys at night, which we can't accommodate."
This isn't just annoying to the staff, but it also affects the restaurant's bottom line. "Our brunch already stretches the limit of what we can do. We can't push our hours and resources more than we already do," Pearce said.
Brunch's explosive popularity in the age of Instagram rides on the daytime meal's appeal on digital platforms, which begs the question: why exactly are brunch photos taking over the image section of services like Foursquare and Yelp?
"One thing with brunch's popularity in general is that its food items are cognizant to the average diner," food writer Pelin Keskin, who covers brunch culture for Eater, told me by email. The reason for this is that usually customers know what something will taste like since brunch options tend to be more formulaic, Keskin said. Not to mention brunch is a lot cheaper than a dinner menu.
"People take pictures of things that will appeal to most of their followers and get them the most likes, but this isn't usually the case with Yelp," Keskin explained. "With brunch, diners tend to go out with friends, either in large groups or another person, so they're comfortable snapping photos around them."
Then there's the fact that in the daytime, the lighting is good and the orders are colourful, which makes table spreads more appealing.
"A lot of it is about lighting. When you've got good light, a runny egg, and some sort of avocado situation—you kind of have to take a photo and post it," Rachel Karten, who manages Bon Appétit's social media feed and constantly analyses what makes for great food photography on social, told me by email. "At least more than you have to post a candle-lit pork chop sitting on top of some unrecognizable mashed vegetable. It just isn't asking for it in the same way, and frankly won't get as many likes."
"The very thing that restaurants try and sell in terms of ambience, like candlelit dinners is what's making it harder to showcase their complete work [dinner and lunch services] online," Keskin said. "I've seen some restaurants push for brunch menus because they know it's profitable."
In other words: brunch is eating lunch's…lunch.
While Yelp hasn't done anything specific to address this issue on the backend, Keskin believes there are things the company can do to help out small business owners.
Although Yelp's service relies on user-uploaded images, there are ways to organize a restaurant's photos in order to promote more than just its daytime menu, thus further perpetuating the Brunch Industrial Complex.
"I'd say they have to vet pictures being uploaded, which they already do to ensure no one is uploading anything explicit," Keskin advised. "But another thing they could do is separately categorized galleries for each meal, such as breakfast, brunch, dinner, drinks, etc."
According to Yelp, the order in which photos appear on a restaurant's business page is determined by different factors, "including votes from the community and how recently the photo was taken," Yelp spokesperson Brenae Leary told me by email. "Our Photo Understanding team works to identify high quality photos contributed by users to help give the best representation of a restaurant's offerings."
At the end of the day, with so many options available to diners in cities across the country, there is no reason why platforms can't step up and address representation—especially when it's affecting both patrons and business owners.
Pearce agreed, saying the current categorizations are frustrating. "Having 50 pictures of the same brunch item definitely isn't helpful," he said. "Sectioning foods would help expose more types of dishes that we're known for, than just brunch that we do."
As Keskin said, Yelpers probably want other users to know what is being served at their favorite places, so they'd be more inclined to take pictures of dinner and other non-brunch options to upload them for fellow Yelpers, if they're encouraged to by the platform. I hope Yelp takes this advice. It's the only way to take down Big Brunch.