Photo by ​Michael Shroyer-USA TODAY Sports​
Dozens of people gathered at A & G Pizza in Franklin, Ohio, last Saturday night to watch Duke play North Carolina in the ACC tournament final. The restaurant's Facebook page makes it clear everyone was rooting for the Blue Devils, and for good reason.
It is not hyperbole to say Duke sophomore guard Luke Kennard is a legendary figure in Franklin, a town of 11,000 residents halfway between Dayton and Cincinnati. Around town, there are "Home of Luke Kennard" signs, which first appeared when he was named the state's player of the year as a junior at Franklin High School.
When Duke defeated North Carolina for the ACC title and became the first conference champion to win four games in four days, those in Franklin were overjoyed. When Kennard was named the tournament's Most Valuable Player, they were even happier.
Read More: Before Conquering the Big East, Villanova's Josh Hart Earned Scouting's Highest Honor
Even more than promoting its menu items, A & G Pizza's Facebook account has become a shrine of sorts to Kennard, asking people to watch games there, showing enthusiasm for him and Duke with numerous exclamation points, and even sharing his pizza topping preferences (for the record, it's sausage and cheese).
"We knew it in Franklin, now the rest of the world knows it!!," one post read on Monday. "Go Luke! Congrats on MVP, hometown proud!!!!"
Neither Kennard's performance nor the reaction in Franklin should be particularly surprising. They have become the norm this season as Kennard has emerged as the most consistent player on a talented Blue Devils team that struggled at times after ranking first in the Associated Press and USA Today preseason polls. Entering Friday's first-round NCAA tournament game against Troy, Kennard is leading the Blue Devils with 20.1 points per game, shooting 44.3 percent on three-pointers, and averaging a team-high 35.9 minutes per game. Not bad for someone who many thought would have a lesser role this season with Duke returning preseason national player of the year candidate Grayson Allen, and welcoming a freshman class that featured four McDonald's All-Americans.
"He's carried us a lot," said Duke freshman forward Jayson Tatum, a projected lottery pick in June's NBA draft. "The rest of us are just trying to get up to his play because he's set the bar high. He's been playing great all year."
Although Kennard has been a revelation for the Blue Devils this season, he had enrolled at Duke with impressive credentials. His father, Mark Kennard, grew up in Franklin and played basketball at Georgetown College, an NAIA program in Kentucky. After graduating, Mark returned to Franklin. Soon after Luke was born in 1996, Mark introduced him to basketball, baseball, and football. He realized his son was a natural athlete, but it was hard to gauge how good he was considering he was so young and living in a small town.
Things changed the summer before Kennard's freshman year at Franklin High School when the team attended the University of Michigan's basketball camp. After watching Kennard play, Michigan offered him a scholarship, the first of dozens to come.
Kennard started on the varsity squad at Franklin for all four years. Franklin coach Brian Bales, whom Mark Kennard had coached in junior high school basketball, inserted Luke as the point guard as a freshman even though he was the tallest player on the team. He thought it was best for Luke to have the ball in his hands and that it would help his college prospects. Back then, though, Bales didn't realize how much attention Kennard would receive.
"We had LeBron James come through our state," Bales said. "By no means am I saying [Kennard] was LeBron James, but as far as popularity and kind of the craze, I think he was the next thing to LeBron James."
Michael Roe, the director at Kingdom Sports Center in Franklin where Kennard played as a kid, recalls one high school game where Michigan State's Tom Izzo, Louisville's Rick Pitino, and other college coaches were in attendance.
"I remember Izzo turned around after Luke dunked the ball," Roe said. "He said, 'You better get your popcorn ready because it's a show.' I thought, Man, this is so much fun just watching this kid."
Fans flocked to see Franklin games, too. Bales said the team sometimes received police escorts into gyms. Afterward, kids lined up to get Kennard's autograph.
"Everywhere we would go, we would sell out gyms," Bales said. "Chick-fil-A would joke around. At the end of the year, they actually said, 'Is there anything we can do for your banquet or your party? We want to give back to you guys. Every school you played at, we would have the highest amount of Chick-fil-A sandwiches sold of anywhere in the area because Franklin was coming to their school.'"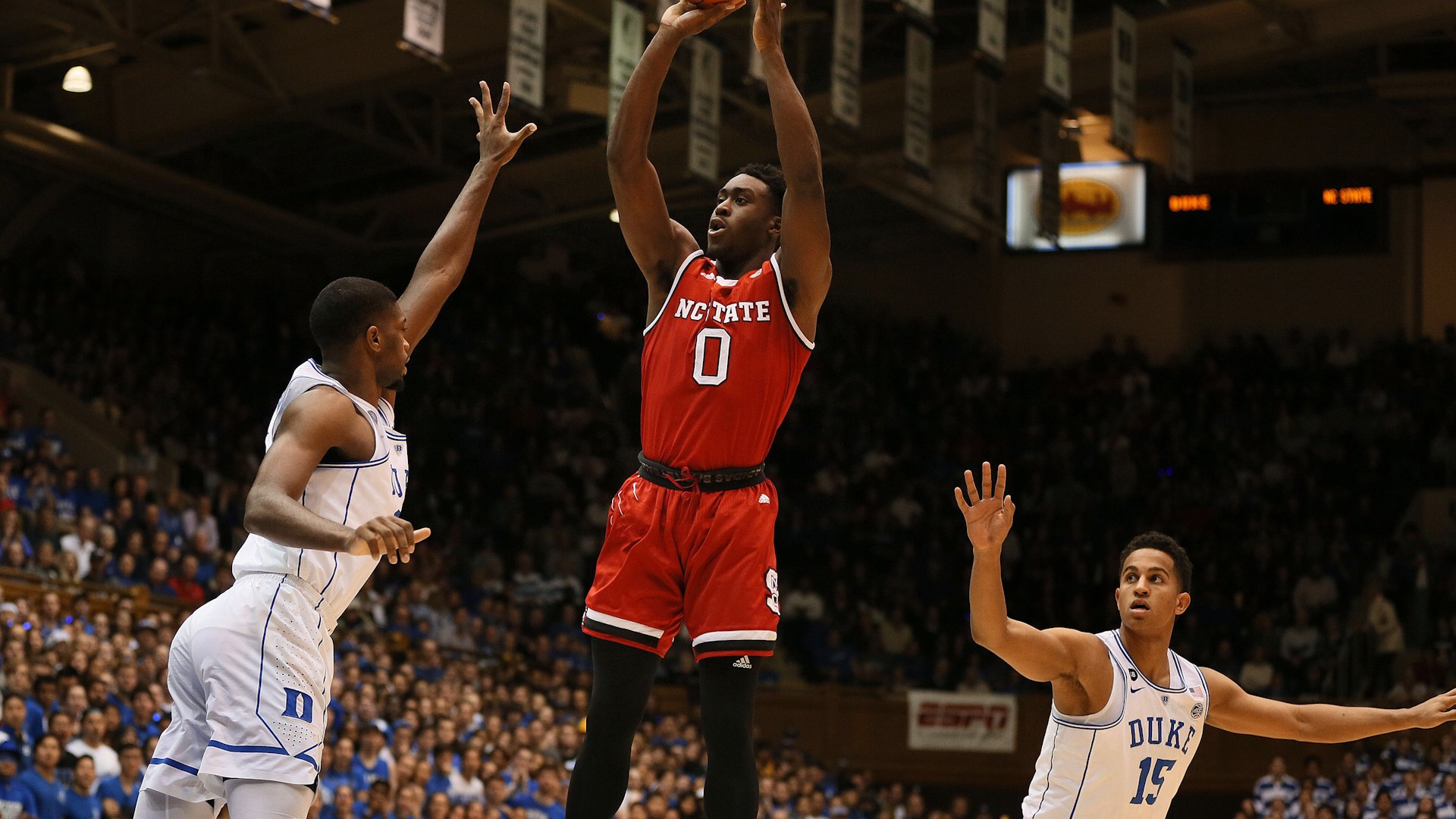 Kennard finished his high school career second on Ohio's all-time scoring list with 2,977 points (behind Jon Diebler, who scored 3,208 points; James is fifth, with 2,646) and became just the sixth player to win the state's Mr. Basketball award twice. He also starred for the King James AAU team, which LeBron James sponsored, although Kennard only met James once at his summer camp.
Growing up, Kennard rooted for Kentucky and attended a few Wildcats games with his father, who was also a fan. Still, when it came time to choose a college, he turned down a scholarship offer from them. After taking an official visit to Duke during his junior year and attending a Duke-North Carolina game, Kennard canceled all other visits and committed to the Blue Devils. His father encouraged him to take more visits, but Kennard was convinced Duke was best for him and didn't want to string along the other colleges.
"His exact words were 'I'd be wasting their money,'" Mark Kennard said. "He really just enjoyed the Duke campus. Duke's kind of an intimate campus. I think it kind of also reminded him of where he's from. Franklin's a small, intimate place."
Before leaving for college, Kennard had a chance to throw out a first pitch at a Cincinnati Reds game, a dream come true for a longtime baseball fan. But when he arrived at Duke, he knew he wasn't the big man on campus anymore. On August 19, 2015, shortly before his freshman year, Kennard sent a message via Twitter to Duke guard Grayson Allen telling he was on his way to pick up Allen, one year his senior, at the airport.
"Don't be late freshie," Allen responded.
Kennard had to adjust to being a complementary player for the first time in his life. He put up solid numbers for a freshman last season, averaging 11.8 points (third on the team) in 26.7 minutes per game. Still, he wasn't as consistent as he would have liked. This past summer, he worked on getting stronger and becoming a more well-rounded player.
"The thing that we would hear is he's a shooter," Mark Kennard said. "I think that kind of motivated Luke, saying 'I'm more than a shooter. Coach K recruited me to be a playmaker and a scorer.' Our favorite saying was, 'Play with a chip on your shoulder. Go there and play with a chip and just play hard and compete and the chips will fall where they may.' I think he's done that."
With Duke freshmen forwards Tatum and Harry Giles hurt to start this season, Kennard took advantage of the opportunity to play more. The Blue Devils also had to endure the ongoing saga of Allen tripping opponents, coach Mike Krzyzewski missing seven games after undergoing back surgery, and losses in four of their first seven ACC regular-season games (a performance that inspired Krzyzewski to ban the team from the locker room until they got their act together).
Through it all, Kennard has been Duke's single most reliable player, and the only Blue Devil named to the first-team All-ACC squad.
"He makes huge plays for us, night in and night out, every game," Duke senior forward Amile Jefferson said. "He's one of those guys, you know what you can expect. He's going to take big shots and he's going to make big shots. He's a dynamic player. He's been great all year."
During last week's ACC tournament, Kennard helped Duke overcome second-half deficits against Louisville, North Carolina, and Notre Dame to secure its 20th conference tournament title. After Kennard scored 18 points in the final 13 minutes to erase a 12-point Louisville lead, Cardinals coach Rick Pitino said Kennard was an underrated NBA prospect and Duke's first- or second-best prospect along with Tatum. As of Thursday, the respected DraftExpress website projects Kennard as the 20th pick in June's draft, while ESPN's Chad Ford has Kennard ranked 31st to 35th among draft prospects.
Still, it's no certainty that Kennard declares for the draft. Mark Kennard said last week that his son planned on coming home to Franklin in May when classes end. He's looking forward to spending five or six weeks at home before summer school starts at Duke.
"Franklin is such a special place to me," Kennard said. "I keep in contact with people from there all the time. When I have a chance to go home, I cannot wait. It's a special place. I love it."
The people in Franklin love him, too. They'll be rooting for Kennard and Duke throughout the NCAA tournament, starting with Friday night's game against Troy. On Tuesday night, A & G Pizza shared a post on Facebook in anticipation of the game, and of the town's beloved basketball hero.
"Yes!!" the A & G Pizza account wrote. "Go Duke, Go Luke!! A&G will be rockin!!!!"
Want to read more stories like this from VICE Sports? Subscribe to our daily newsletter.