Up 22 points, and 12 minutes away from taking a 1-0 lead in the Eastern Conference Finals, Cleveland Cavaliers head coach Ty Lue opened the fourth quarter with LeBron James, Deron Williams, Richard Jefferson, Kyle Korver, and Iman Shumpert on the floor. Lue hadn't used this lineup at all during the playoffs, and the group had only played together 29 minutes in five games during the regular season.
After about 30 seconds, Boston Celtics head coach Brad Stevens subbed in Jae Crowder and Isaiah Thomas in for Al Horford and Marcus Smart. But Stevens eventually realized that no team really has an answer for when James moonlights at the five.
The Cavs outscored the Celtics by three points in just under five minutes before Lue inserted Tristan Thompson and Kevin Love back into the game. Stevens exhaled, looked at the scoreboard, and realized it probably doesn't matter which position James plays. Stopping him at this stage of his career is one of the hardest tasks in professional sports—and it's impossible when he's also the biggest guy on the floor.
"It was very clear that he was trying to get to the rim on us, no matter who was on him," Stevens said after Game 1. "He's a physical guy who's got some physical advantages on people, but we need to do a better job in a lot of ways. I don't always think it's the guy that's guarding him, necessarily, it's what guys are doing around him—being active, being long, being deceptive in help, all those other things. This is easier said than done because those guys are all guarding shooters, so who do you help off of, who do you come off of?"
---
Check out some more video from VICE Sports: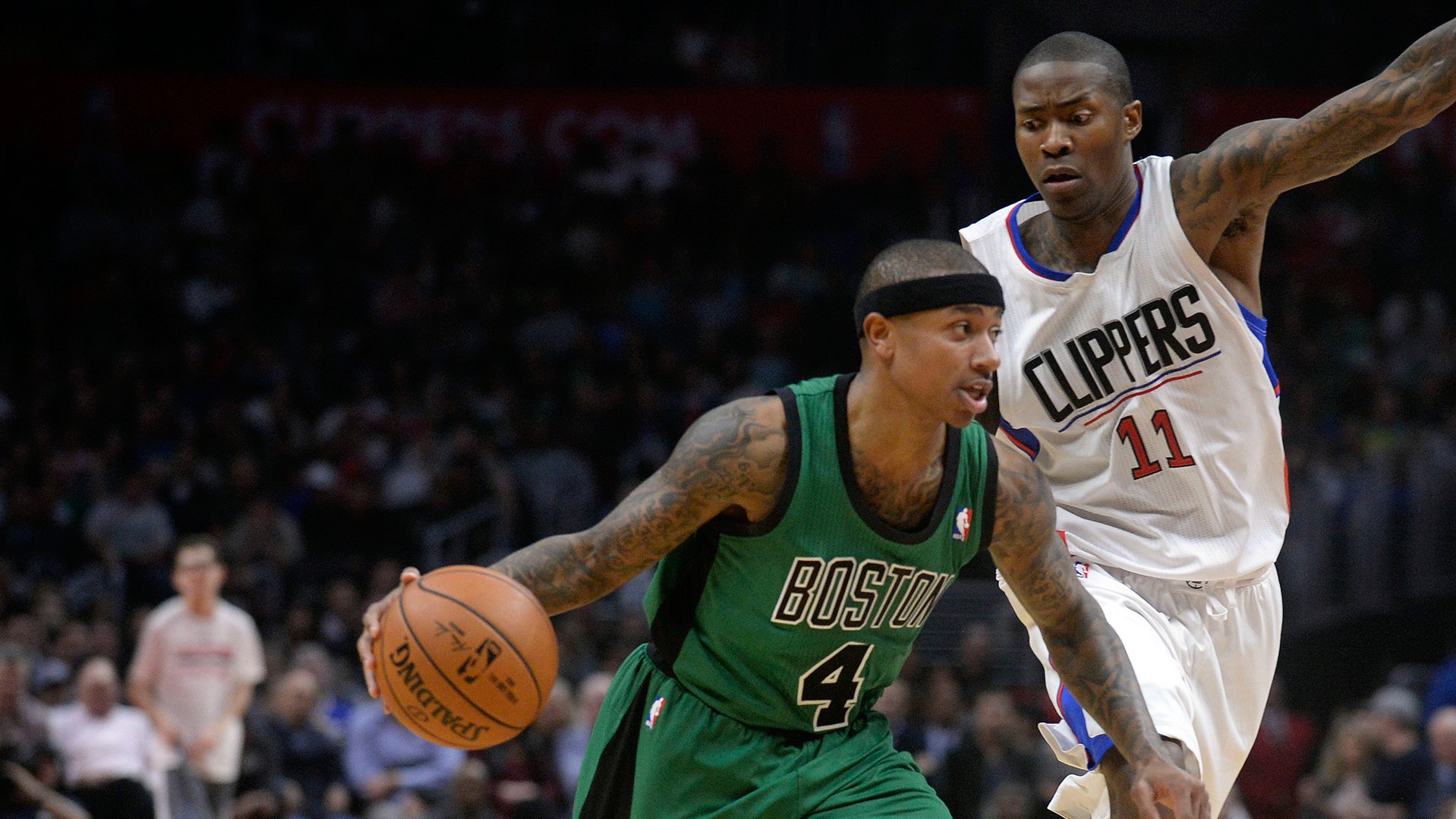 ---
The 32-year-old James is arguably playing the best basketball of his life right now. He's averaging 35 points, nine rebounds, and seven assists per game, with a PER, True Shooting percentage, and Win Shares per 48 minutes that all rank as the second highest of his playoff career. He's never been less interested with long twos, or more productive at the basket, and he is shooting 43.4 percent from beyond the arc on 5.9 attempts per game. His team has never been more dominant with him on the floor (+14.7 points per 100 possessions) and his on-off point differential has never been higher. And he's never been more versatile.When James transforms into a center, there are two important side effects: 1) for better or worse, Thompson, Love, and Channing Frye are on the sideline; and 2) the opposing team is forced to downsize, which is never ideal considering how lethal James can be when there's zero rim protection.
With no shot blockers near the basket on Wednesday, James relentlessly attacked the rim on almost every touch. First, he nearly crippled Thomas at the rim. Then a couple minutes later, after Cleveland used Korver, Thomas's man, to set a ball screen and force a switch, James calmly turned the two-time All-Star into a 5'9" speed bump, tore through Jaylen Brown's late rotation from the strong-side corner (which also left Jefferson wide open), and banked home a left-handed layup.
When the Celtics put two or three bodies in his path, James whipped passes out to open shooters and then sprinted into the paint to battle for rebounding position. It all looked flawless, but there's also some downside, of course, to leaning on this type of lineup for too long. For starters, it's incredibly taxing on James, who has to crash the glass, set screens, roll to the hoop, initiate offense, attack the hoop, and protect the rim.
James is only one man, and in general Cleveland doesn't usually perform that well in critical defensive areas when he has to do everything. (This is likely why Stevens subbed Thomas in for Smart as quickly as he did.) According to NBAWowy, the Cavaliers scored 1.26 points per possession—an absurd number—in the 113 minutes James played center this season; 82.7 percent of their shots were dunks, layups, or threes.
These units also coughed up 1.09 points per possession, a really bad number that could've been a lot worse if opponents didn't shoot so poorly from beyond the arc. But James was masterful in these sequences, even by his own legendary standards. He recorded an ungodly 69.8 True Shooting percentage despite only making a third of his threes.
Whenever he's the largest and strongest player on the floor, it looks as strange and dangerous as a great white in a swimming pool. The only real defense is to pray he misses or makes the wrong decision, which is sort of like hoping the sun won't rise tomorrow morning.
None if this is new. James has always had the size, intelligence, technical skill, brawn, and endurance to move up or down at whatever position his team needed him. His career is a never-ending experiment that continues to yield humiliating results for his opposition.
The Miami Heat were forced down this path during their first championship run five years ago, when Chris Bosh was sidelined with an abdominal strain. James had to slide up a position, and wound up playing meaningful minutes at center, in small units that featured Shane Battier, Mario Chalmers, Mike Miller, and Dwyane Wade.
Here's what NBA Hall of Fame center Bill Walton said at the time:
"Picture how the center plays. He's not only in the low post; he's also at the pinch post [the elbow area around the foul line] and the high post. This plays right into LeBron's hands. He's an outstanding passer and has outstanding footwork, which are two things you look for in a center. One thing all the great centers had in common was mobility—Bill Russell, Wilt Chamberlain, Cowens, David Robinson, Hakeem Olajuwon, even Shaq. And obviously LeBron is one of the most mobile players in the league."
Heat head coach Erik Spoelstra used to call James "One Through Five," a nickname that was as accurate as it was clunky. It's also the primary characteristic that should one day separate him from every other Hall of Fame icon in arguments about who the best player of all time actually is.
Nothing a coach does this late in the season is random, and Lue didn't dust off this five-man unit—which hadn't played together since Cleveland's deflating overtime loss against the Atlanta Hawks back in early April—just because he was bored. This lineup is unguardable, but it also needs reps.
Here's what Lue had to say about unleashing James at center right before the playoffs began:
"My thing is just touch on it and see how it looks so we can have a feel for how to play that way. In the playoffs it's a game of adjustments, and what you can do best and you throw the other team off. So we just tried a lot of things this season, just see what works best, a lot of different lineups. And it could play a role, it could play a factor in the playoffs. Just a game of chicken and you gotta see what happens."
The Cavaliers know that the Eastern Conference Finals won't be their last series of the season. It's more likely than not the Golden State Warriors will be next. Thanks to Draymond Green's transcendent help defense and Andre Iguodala's timeless two-way value, the Warriors have redefined small ball's limitations over the past few seasons, and are more than ready to utilize it in games that matter most.
Cleveland knows they have to shrink in order to match up. The Cavs' fourth-most common lineup in last year's finals was James, Kyrie Irving, Jefferson, Shumpert, and J.R. Smith. They were outscored by 16 points in 14 minutes, but it's hard to extrapolate too much from such a small sample size. The Cavs turned it over nine times and missed eight of their nine three-point attempts during that stretch, while the Warriors canned six on the same number of tries, and had five fewer turnovers.
Cleveland did not play James at the five for a single second against Golden State during the regular season, but if their offense stalls and they want to alter the game's tempo or draw a couple cheap fouls by torpedoing LeBron toward rotating defenders at the hoop, they now possess an improved crew of shooters to pull it off. Helping off Korver or Smith won't work, Williams has made over 40 percent of his threes since the Dallas Mavericks waived him, and Jefferson is a legit threat from the corner.
A spread floor also plays into James' hands as a devastating cutter. When all his teammates are capable passers with a well-respected outside shot, he can use his quickness to barrel into open space, trigger widespread panic in every defender on the other team, and create an opportunity for himself or someone else.
One NBA Western Conference coach told VICE Sports that he doesn't think playing James at the five is a worthwhile strategy for lengthy stretches, partly due to how the roster is constructed, defensive concerns, and how physically exhausting it can be—but that when deployed in a timely fashion, it can wind up being the difference in a competitive game.
James is older, wiser, and armed with more complementary pieces on his team than ever before; Irving has only run point for 50 minutes all season with James at the five. When he played center during the regular season, James would stand at the high post with his back to the basket while four teammates spread out in each corner, the opposite wing, and dunker's spot.
If no help came—it rarely does, since he's the hardest player to double team who's ever lived—James would patiently back his man down to the block and kiss a turnaround off the glass. Or draw a foul. Or muscle in for a point-blank bunny.
Magic Johnson comes to mind as the only comparison, but James' physical profile is far more imposing in an era that guarantees enough time and space for him to crack open the other team's chest, dunk the ball, then sew it back together.
He was one of 28 players in the league to use at least 200 post-up possessions this season, and only seven guys were more efficient, according to Synergy Sports. Kawhi Leonard is the one person alive who can singlehandedly keep LeBron at bay with reasonable success from various spots on the floor.
Trying to stop James has already been so difficult. Doing so when he's a nominal center, operating in space, is unfathomable. His passing chops are otherworldly, but he's also one of only a handful of players who consistently makes good things happen without a screen. He'll isolate from the mid-post or pick up a head of steam and plow downhill. When he wants to attack a mismatch, the Cavs can just send whomever they want to set a pick, and he'll either force a switch or take off for the basket. It's all a nightmare, and makes slowing James down feel much more like an individual effort than something team-oriented.
Over a seven-game series, Green may be too slow, Kevin Durant may be too delicate, and Iguodala may be too hobbled. Putting either of those first two on James draws them away from the basket, and may leave the rim too vulnerable for his drives. That said, if anyone can deter these lineups and punish them on the other end, it's Golden State.
Even though we're still a couple weeks away from a possible three-match, it's clear the Cavaliers and the Warriors already have each other on their minds. One side added an All-NBA wing, while the other is steadily rediscovering how to accentuate the best player alive even more than it already is.
Want to read more stories like this from VICE Sports? Subscribe to our daily newsletter.