Through the narrow void between the doors of the broken wardrobe in which she was hiding, Anne* could see the three men with guns who had broken into the dingy flat where she was staying. The 14-year-old, almost too afraid to breathe for fear of being heard, knew they were after only one thing: the sizeable stash of heroin and crack cocaine that she was selling on the streets to fund her own addiction.
This was a turf war being played out before her eyes, and she did not know how to end it. She managed to make it out alive that day more than a decade ago, but how had it got to be like this? This existence – living each day on the edge of a knife, swinging from dicing with death to the numbness of drug use that brings her momentary relief from her problems – betrayed her pleasant, middle-class upbringing in a small English town. "I had everything a child could need," says Anne now. "Love, stability, kindness."
A year earlier she had been raped. The man who committed the crime that would change the course of her life forever was jailed for six years, but Anne, it seems, is still serving time, caged in by acute mental illness and an unyielding addiction to drugs. Being too young a child at the time to come to terms with the gravity of the trauma she had endured, she instead ran away from her emotions and her family – her only reliable support network. The indignity and self-loathing triggered by one man's heinous act saw her desperately searching for ways to elude the suffering that persisted.
Ultimately, she found solace in heroin and crack; it seemed like the only way to cease the profound psychological pain, even if only for a short while. "When you're depressed like that you'd do anything to escape your feelings," Anne says. "Taking drugs stopped me feeling sad. It was easy to fall into addiction, and selling drugs became part of normal life. It meant I could make sure I had enough to take myself to prevent me from having to deal with my thoughts. In my mind, the idea of dealing with my feelings was scarier than the dangers that came with dealing drugs."
Anne's life began to unravel, causing her trajectory into the criminal underworld and ill health – she was hospitalised on a number of occasions with respiratory failure – to accelerate at an alarming rate. Now, 11 years later, as a mother of two – although one child was removed from her care – and with another due this month, as well as the physical and emotional scars that come from a string of abusive relationships, she still struggles to remain on a positive track, but is on a methadone programme.
---
WATCH: The Opioid Effect – A Family Rebuilds After Addiction
---
Anne's story is tragically all too typical. Women who experience physical and sexual violence are eight times more likely to be addicted to drugs than women who have not, according to research by Agenda, an alliance of organisations that campaign for change for women and girls at risk. It recognises that drug and alcohol use among women who have been abused is likely to be a form of self-medication to alleviate distress and negative thoughts. "Drug use is often a symptom of a range of problems rather than the cause," a report from the charity, called Hidden Hurt, says. "Unlike their peers who choose to use drugs recreationally, women with addictions often feel they are using drugs out of necessity."
This link between experiences of violence and addiction in women was acknowledged by the government in its 2017 Drug Strategy, published in July. It promises to look at the relationship between intimate partner abuse and drugs use to "support innovative approaches to working with victims and perpetrators, and achieve sustainable reductions in repeat offending and misuse".
Katharine Sacks-Jones, the director of Agenda, welcomes the move. "It's vital that there's this understanding of how gendered addiction is and how very different it looks for men and women," she says. "In the government recognising that women do need a different approach and that it wants to support 'innovative approaches', we hope that will mean thinking about how we can better encourage and fund services that have that specialist knowledge that enables them to work for women."
Perhaps the sharp rise in the number of women dying from drugs misuse – which has been growing at a staggering rate in the UK, to now hit the highest level since records began – is symbolic of these differences. Such deaths almost doubled in England and Wales in the past decade, while drugs-misuse deaths among men rose by 48 percent over the same period. Yet these figures pale in comparison to the situation in Scotland, where all drug-related deaths among women rose by more than 216 percent between 2006 and 2016. For men, the increase was 77 percent.
"Any death related to the misuse of drugs is a tragedy, and while drug misuse is lower than ten years ago, we are absolutely committed to reducing it and the harm it causes," a government spokesperson says. "That's why, in July, the government released a comprehensive new drugs strategy, setting out a balanced approach which brings together police, health, community and global partners to tackle the illicit drug trade, protect the most vulnerable and help those with drug dependency to recover and turn their lives around."
But the drugs-death data is all the more difficult to comprehend when it becomes clear that it cannot be blamed on more women consuming drugs. Puzzlingly, it appears that fewer are using, yet more are dying as a result of substance misuse. Almost 12 percent of men aged between 16 and 59 had taken an illegal drug, the Crime Survey for England and Wales 2015 to 2016 found, compared with just 5 percent of women. Women are, however, understood to accelerate from their first encounter with drugs to problematic use faster than men. This phenomenon, referred to as "telescoping", is thought to be a result of the physical and psychological susceptibility to the effects of drugs and alcohol on women.
The government blames the increase in drug-related deaths on what it says are multiple and complex reasons, including the "cumulative physical and mental health conditions" that make an ageing cohort of heroin users more susceptible to overdose.
"The absence of support often ends in tragedy, as the recent rise in female drug-related deaths in England and Wales and then in Scotland bear testament to."
Aileen Campbell, Scotland's minister for public health, also says the overall rise in drug deaths can be "directly linked to those who began using drugs several decades ago", but insists that drug taking as a whole is falling, following "significant reductions in treatment times" and an investment of more than £689 million to tackle alcohol and drug use in her country since 2008. Nevertheless, she told VICE that the Scottish government has specifically commissioned work that will examine the increase in drug-related deaths among women, "looking at reasons for it and considering what actions can be taken".
Ian Hamilton, a substance use researcher at the University of York, suggests the dramatic rise in the number of women dying from drugs misuse is indicative of the way an inadequate system often lets them down when they most need help. "The absence of support often ends in tragedy, as the recent rise in female drug-related deaths in England and Wales and then in Scotland bear testament to," he says. "The government and Public Health England suggest the rise in deaths of males and females is due to an ageing cohort of heroin users, but this conveniently distracts attention from the reduced funding of treatment and support, which Anne's story typifies. Drug treatment in the UK needs a radical overhaul if the needs of women are to be met and deaths reduced."
But where is support for women trying to get help to overcome addiction going wrong? Although men are twice as likely as women to use drugs, the ratio for all people attending specialist services is more than three males for every female. Alarmingly, this suggests that many women are not accessing treatment. Additionally, this can make the drug and alcohol treatment environment intimidating for women who have faced abuse at the hands of men, potentially stopping them from seeking help in the first place or attending appointments with drug workers.
Anne says she once encountered a violent ex-boyfriend – from whom she had fled months before, ending up in a women's refuge – at a drug treatment centre. "You're caught up in such a world, it's crazy," she explains. "You sometimes can't avoid people you don't want to see when you're going to these places." Both Sacks-Jones and Hamilton recognise this factor too and agree that many women are put off going into treatment as they know "they are dominated by men, many are perpetrators of violence and abuse towards women". "This is compounded by a lack of skill and expertise among the health workforce in addressing the trauma these women have experienced," Hamilton adds.
Sacks-Jones believes gender-specific facilities are vital to allow women suffering addiction to heal properly. "It's really important that there are women-only services where women can go, where they are in a safe physical and emotional environment so they can start trying to unpick some of the problems they face," she says. "Without that kind of women-only support that understands the unique issues around abuse and trauma, and the fact that many women will be mothers, for example, and the additional shame and stigma that comes with being a woman suffering drug addiction you are never getting to the root of it. Services need to recognise and respond to that. At the moment they don't."
Similarly, Jane Slater, project manager for Anyone's Child: Families for Safer Drug Control, says the introduction of treatment that is specifically geared towards women is critical, and insists the absence of such services is essentially denying women their fundamental rights. She also calls for progressive, decriminalisation-based policies that she claims will free up funds that can be invested into more effective recovery programmes.
"Women suffer disproportionately and specifically, which means that drug services have to cater for their specific needs," she explains. "Very often they don't, and because of this lack, women are effectively abandoned to suffer, and sometimes to die. It is nothing short of an obscenity that the government still spends the majority of its drugs budget on enforcing drug laws that only serve to marginalise and violate women further. As a matter of urgency the government must stop criminalising all drug users and reallocate money to providing gender-specific services that uphold women's rights and ensure their basic healthcare. Anything less constitutes a failure to protect some of the most marginalised people in our society."
---
WATCH: How to Use Cocaine in the Safest Way Possible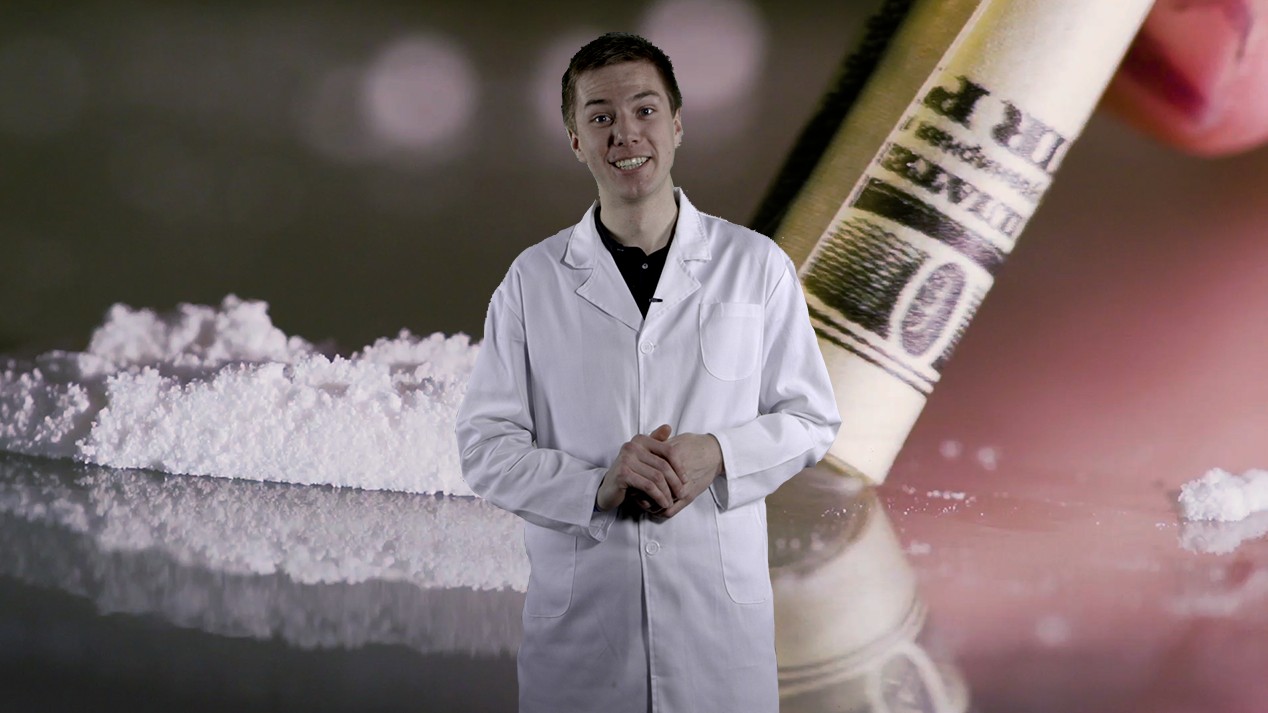 ---
A government spokesperson reiterates that there are no plans to decriminalise drug misuse because, it says, "there is a substantial body of scientific and medical evidence to show that controlled drugs are harmful and can damage people's mental and physical health, and our wider communities".
An additional barrier to treatment for women is the fear of being deemed an unfit parent. Many avoid seeking help and instead suffer in silence because they worry that admitting they have a problem will result in their children being taken in to care. Anne herself knows the heartbreak of having a child removed as a result drug addiction and mental illness. Her first-born, now six years old, was legally put in the care of her parents when he was two-and-a-half because the local authority ruled that he would be at risk if he remained with his mother. And since her second baby was born 18 months ago, social services have been monitoring her closely, with this son being the subject of a child protection order and legal planning order. Regular "core group" meetings and child protection conferences are held, where needs are assessed and to check if Anne is coping, as well as complying with a set of legal expectations.
Anne's drug use "got really bad" when her youngest son was about four months old and she came perilously close to losing custody of him too. She was prepared to do anything to keep him and pleaded with social services to send her to a mother-and-baby rehab unit so she could get clean, but the necessary funding was refused. Instead, Anne's parents had to step in to provide round-the-clock support – the only other option was foster care. With the rest of the family making sure that Anne was not left to care for the baby alone, the local authority was satisfied and he was able to stay with her. She started the methadone programme that she is still on today and has weekly drugs tests to prove she is trying hard to get free from the clutches of addiction. She doesn't know what will happen when her daughter is born in a few weeks.
Rosanna O'Connor, director of drugs, alcohol and tobacco at Public Health England, says drug treatment guidelines recognise the need for services to provide support for issues that are common for women who are addicted to drugs, including abuse and trauma. "Local authorities are responsible for assessing local need and commissioning a range of alcohol and drug treatment services to meet these needs," she adds. "This may include services for parents and children, and women-only support if that is considered to be a local need or priority. Local authorities have their own assessment criteria for residential rehab services to determine who should get funding."
A spokesperson at the local authority that has been handling Anne's case says it is unable to comment on individual situations but that protecting and supporting those who have been victims of abuse is an absolute priority: "We have developed a strong multi-agency approach, where we work closely with the police and other agencies to ensure that we can respond quickly and in the most appropriate way to concerns and provide a holistic approach to victim support and advice. In terms of supporting families who are experiencing difficulties, we assess each and every case individually and wherever possible work with the whole family to keep parents and children together where it is safe to do so."
Anne is desperate to recover and hopes that one day she will be able to look after all three of her children. She has made huge progress and has been gradually reducing her methadone dose with the help of a drug worker. But her journey is far from over and she worries that treatment that involves relying on a heroin substitute is nothing more than a sticking plaster as the root causes of her addiction are left untreated. "I still need proper therapy and help to get through the years of trauma and drug use, but I'm at a place now where I've had enough and I know I can change," she says. "I want to give my children the best life that I know I can. I can't live without them and I know they can't live without me."
* Name changed to protect identity