Photo by Dan Hamilton-USA TODAY Sports
It was as far back as Masai Ujiri's playing days that he knew Nick Nurse was different. Nurse, having previously spent time in the British Basketball League as a player-coach, was at the helm of the Birmingham Bullets, coaching opposite Ujiri, a player with the Derby Storm at the time, Nurse's former team. The specifics are fuzzy—Nurse says Ujiri "played really hard" with a wry smile—but the Toronto Raptors president recalls Nurse's Birmingham team being the talk of the league for their unique approach up against the league's deeper-pocketed London teams.
"His teams were tough. I remember there was always something about the Birmingham team that was different from the whole league," Ujiri recalled Thursday as he introduced Nurse as the new head coach of the Raptors at the Air Canada Centre. "I remember that. People would talk about them that way. Birmingham was one of those teams that you just talked about and the way they played."
It's that same ingenuity that defined the bulk of Nurse's introductory press conference. Innovation was the buzz word of choice, and the way Nurse thinks outside the box as a general problem solving approach largely sounds like the factor that earned him the job over Ettore Messina, who was in the mix as late as this past weekend. The Raptors looked long and hard at a number of candidates with fresh, untested perspectives at the NBA level, ultimately deciding on the man they've had in-house for the last five years as an assistant.
This is where Nurse's largest initial challenge may come: The optics here are not tremendous at first glance. Dwane Casey was a beloved head coach, the best and winningest coach in franchise history, and he'll likely be named Coach of the Year on June 25. He immediately landed a job with the Detroit Pistons, where he'll make far more (a reported $35 million over five years) than Nurse (three years, $10 million) and will be put in a position to quickly lead an underperforming (if fiscally bloated) Pistons squad back to the playoffs.
Nurse is trying to step into shoes that for two-plus decades only Casey seemed able to fill with any consistency and upward mobility. In hiring Nurse, the Raptors have also lost their G League head coach in Jerry Stackhouse (Grizzlies) and lead assistant Rex Kalamian (Clippers), leaving three big holes on the staff Nurse will try to fill with experienced hands (Nurse has a wide network of coaching contacts and is said to be a collaborative problem-solver in general; this should actually be pretty fun to see unfold). That there have been leaks and rumblings about an unfriendly disconnect among the staff this past season only furthers the awkwardness.
What's more, the Raptors will probably be hard-pressed to repeat their 59-win performance and earn the top seed in the Eastern Conference again. They were remarkably healthy a year ago, had nearly an across-the-board best-case scenario for the development of their young players on the fly, and are probably due some regression right as some teams around them in the East improve. Nurse is promising experimentation and warning of potential growing pains, too, and so it seems likely that even if he does a good job, comparing regular seasons won't show the same upward trend to which Raptors fans may have grown accustomed the last few years.
The best way to shift the optics, though, is to change the picture entirely, and Nurse said nothing but the right things Thursday in promising a new, creative, and dynamic approach to ascend the hill the Raptors keep stumbling upon: The playoffs.
Nurse's answers all afternoon were lined with a focus on the postseason, and it's clear the Raptors have moved beyond using the regular season as their measuring stick. It's still important, of course—consistently winning 50 games, earning home-court advantage, and establishing yourself as a perennial winner is paramount to long-term organizational equity—but the Raptors have run into LeBron James and the Cleveland Cavaliers three times in a row and come up short. For years, they struggled to score once the playoffs came around, and handing more offensive responsibility to Nurse this year helped stem that trend.
---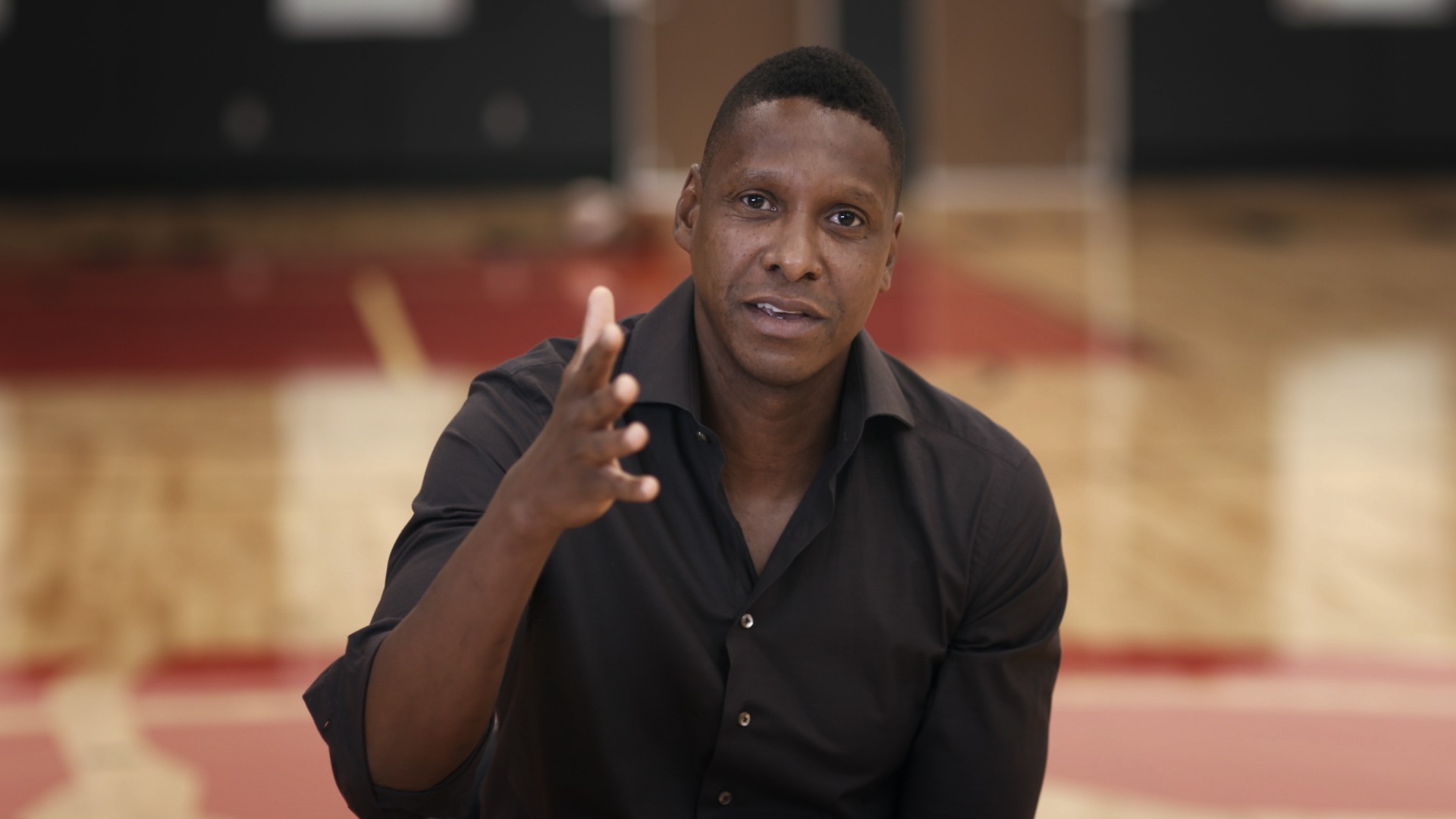 ---
Now, the focus seems to be falling primarily on the defensive end, where the Raptors were too dogmatic about their system even as matchups dictated they change. This is where Nurse's desire to experiment comes in. The Raptors are going to try some things rather than sticking to the same game plan for 82 games, and that's going to introduce some unfamiliarity and possibly some struggles. The Raptors have the depth and talent base to play around with new modes and still win around 50 games, and those in-season sacrifices in the name of learning about themselves and innovating will, the hope is, be worthwhile when they are more multi-faceted come the postseason.
"I think the game in general is changing so fast right before our eyes. I think it's changed so much in the last five years, it's changed so much in the last three years," Nurse said. "So I think the leadership that I'm bringing and the coaching staff that we'll eventually hire, we've gotta be innovative, we've gotta be trying to think of what's coming next before it comes next if we want to stay ahead of the game."
There will be other tweaks, as well, though Nurse obviously wasn't giving them away just yet. Leaning on more of his playbook this past season saw a spike in ball movement, and he figures to try to introduce a lot more off-ball movement now. Kyle Lowry figures to take back a larger share of the playmaking responsibilities—Lowry is a big Nurse fan, by the way, a not-unimportant consideration given his history with coaches—as he's the team's best pick-and-roll operator, best playmaker, and most efficient non-center scorer. What that means for DeMar DeRozan, who is less of a threat without the ball in his hands, is unclear, but Nurse will likely be creative in running the All-Star guard off the ball to create advantages, something he is already adept at. Nurse and Jonas Valanciunas have a strong relationship (Nurse has traveled to Lithuania for offseason workouts with him in the past), and the talk Thursday was about maximizing what Valanciunas is capable of—a steadily growing list—and perhaps no longer asking him to do the things he can't.
There was also a heavy emphasis on end-game execution and in-game strategy, an area of perceived weakness for the Raptors the past few years. Former players and coaches have talked up Nurse's ability to think and create on the fly, and he lights up talking about the chess-match thinking that goes into those scenarios. With as many tight games as there are in the modern NBA, especially in the playoffs when the leverage is ratcheted up, a small improvement there could mean the world at the margins.
"It's a really super-important part of the game," Nurse said. "And that's one of the things I tried to sell, is that we may not run the right play. We may not call the right guy's number, but we're going to leave that huddle on the same page. And that, to me, is the most important thing."
Nurse faces a few tough challenges in implementing all this change, and he's well aware of them. He's spent his career as a coaching journeyman seeking out new opportunities and perspectives and pushing to try new things as he developed a coaching philosophy. That philosophy is somewhat hard to pin down, because the philosophy is predicated almost entirely on constant change and staying ahead. The NBA is a Roddy Piper league, where right as you think you have the answers, the league changes the questions, and the Raptors want to be one of the teams ahead of the curve, or even dictating it, rather than trailing behind it.
"I think Nick has only shown us some of the things he's going to bring to us. I think his history with the team, his thought process, his creativity, a strategist, I think, in the game, we're really excited—communicator, motivator, innovative. Everything is something really exciting for us with our program," Ujiri said.
Next month's Summer League in Las Vegas could tip Nurse's hand as to what sort of defensive experiments he's considering (that roster figures to have an embarrassment of positional size and versatility to play around with). And Ujiri would not have handed the reins to Nurse if he didn't believe he could sell the roster on this evolving vision.
"I think if you're going to be a little bit innovative or risk taking sometimes you're going to be wrong and it's going to look bad. I understand that," Nurse said. "There are some things, some ideas that I have that I want to try, and do and we gotta try them. If they don't work, I'll stand in front of you guys, take the heat. I've already talked to some players about being more open-minded about things we want to do and we'll go from there."
Selling it to the general public is less important and a bit more difficult. That the Raptors could take a step back in the regular season is easy enough to understand. Withholding judgment through some failed experiments and some growing pains will be tougher, and the fact that Nurse, Ujiri (who sounded like everything is on the table from a roster shake-up perspective), and the Raptors as a whole won't really be evaluated until the postseason—really, what's left to show in the regular season?—means the optics of the move may not sit well with some a while longer. That's an understandable perspective, though it misses the point.
Nurse is not his former boss, and for all the valuable institutional memory choosing an in-house candidate retains, Nurse was not hired to stay the course.
This hire is about continuing down the same path with a different approach to it, and it's hard to come away from Thursday's presser thinking Nurse isn't a good voice to lead that change. Put the optics of hiring Casey's assistant aside—flip the negatives of the image, as it were—and Nurse seems like a good step in a fresh direction.