Bird scooters in San Francisco. Image: Sarah Emerson
When electric scooter startups Bird, Lime, and Spin zipped through San Francisco, they split the city in two. "Scootergeddon" has become a proxy war for the fight between The People and the kind of disruptive tech startups that have come to define the city—mostly resulting in the tactical destruction of scooters, and a few ad hoc rules meant to keep the companies in line.
The beef boils down to this: Rent-by-the-minute wheels seem harmless, even beneficial; able to serve transportation deserts, and carbon friendlier than taxis. Yet many San Franciscans perceive them as a nuisance, even a physical threat. Meanwhile, the trio of startups (plus their poorly behaved riders) has done little to engender the community's good will.
But as sides jockey for dominance, one group has gone largely unnoticed: the gig economy laborers.
This type of workforce promises people freedom while denying them rights to minimum wage, freedom from discrimination, or reimbursement for expenses. Technically, they're not employees—Bird, for example, classifies these workers as independent contractors—but without them, scooter ridesharing in its current state would cease to exist.
Each company pays independent contractors to charge and repair their thousands of scooters. (In San Francisco, Bird alone has more than 1,600 scooters.) They advertise on employment websites like Craigslist and WayUp, and require people to rescue low-battery scooters, re-up them with special chargers, and replace them in select locations. "If you know how to charge your phone, you can make money charging Birds," the company says on its website, but chargers who I spoke to claim it's not so simple, and that Bird, in particular, has woefully neglected those doing its most vital work.
"In one case, the scooter was in an open driveway, about five feet away, easily accessible to the public," one Bird charger told me, asking to remain anonymous because of the startup's rules against chargers disclosing non-public information.
"So I walked up, and as I reached for the scooter, a neighbor pops his head out the window and shouts, 'What are you stealing!' It happens almost all the time."
They'd tracked the scooter's location through the app, which uses GPS to broadcast which are ready for "capture." Often the scooters are parked on private property, and several Bird chargers told me the company has zero guidance on what to do in these situations.
When this person reported the incident to Bird's help desk, asking for a shirt or hat to identify themselves in the future, "[Bird] simply said that they are working on getting us 'swagged out.'" (Bird declined to comment on the matter.)
Bird told me that it doesn't ask chargers to enter private property. But according to chargers, the company doesn't ask them not to, either, since the app shows all scooters that are ready to be charged, regardless of location.
Another Bird charger who I spoke to, who also requested anonymity, twice had their home entered by other chargers who took the scooters they had inside.
"First a guy came to the door and coerced my elderly father into letting him in," they said. "Apparently, the guy told him he had the right to come in and get scooters, and it sounds like he threatened to call the police."
The second time, a charger had possibly followed a "ghost image," or lagging GPS signal for a scooter that had already been charged and released, making it appear as if the scooter was still inside the house.
When they contacted Bird's help desk, a representative simply said to remove the pilfered scooters from their app. (Bird chargers get access to additional app features that itemize the scooters they're servicing, and log information such as battery life and barcode.)
"I was really shocked by the whole thing," they told me. "I work jobs that involve going onto private property. There's a lot of effort into getting permission first, and even then there are close calls. I'm really afraid at some point [a Bird charger is] going to get hurt."
When I raised these issues to Bird, the company seemed unconcerned, and attributed the "bugs" to the service's popularity.
"We're a young, small company and there may be minor bugs as seen with any new, highly used, GPS-powered app, and we're regularly working to fix any glitches," Bird spokesperson Kenneth Baer told me in an email.
Bird has raised $115 million in funding, and was founded by Travis VanderZanden, Uber's former VP of Global Driver Growth. It currently employs more than one hundred people, according to Baer, and recently claimed to have clocked 95,418 rides in thirty days in San Francisco. The company continues to expand, and has also launched in Los Angeles, San Diego, Austin, Nashville, Atlanta, and Scottsdale.
Bird offers its chargers $5 to $20 per scooter. Bounties depend on their location (harder-to-retrieve ones are worth more), and how many scooters are available at that moment. Contractors can make $20 to $30 per hour, says Harry Campbell, founder of The Rideshare Guy website who reviewed the pros and cons of being a Bird charger. (Bird claims that it personally meets all of its chargers. But some chargers who I spoke to said they were only vetted over the phone. "Basically, 'Are you interested?' Great, here's your charger," one said.)
Whether this ends up being a profitable trade depends on a few things—it helps to have a car, for instance, since Bird lets people charge up to 20 scooters, and it's better to be in the general vicinity of "nests," or designated drop-off points, as Bird prefers chargers to distribute scooters early in the morning.
The Pokémon Go-style approach of finding and capturing scooters has essentially pitted contractors against each other, several told me, prompting awkward and sometimes hostile showdowns.
"The 'Bird hoarder' problem is out of control," another charger who also requested anonymity told me. "They stash them and wait for other chargers to mark them as missing, and wait until the bounties increase. It is unfair for other chargers who waste a lot of time and gas trying to find the Birds that are still on the map."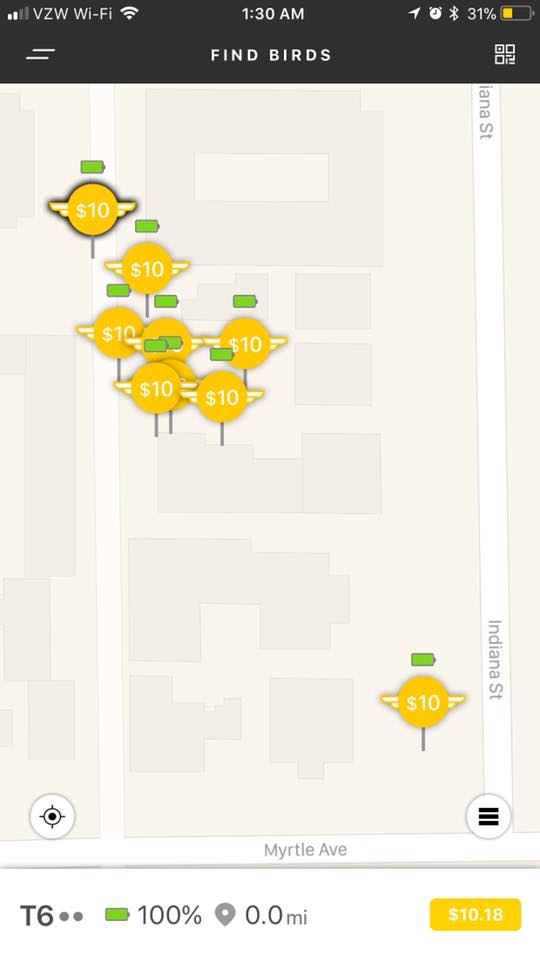 On the "Bird Scooter Chargers" Facebook page, which claims to be community-run, there are many more examples of charger-on-charger rivalry.
Even Bird riders are hoarding scooters—in their homes, at work, in classrooms—not knowing they're GPS tracked.
"We have heard some reports of this," Baer told me. "It is very important to us that scooters are available to customers who want to use them. We're working hard to ensure scooters are available and not being removed from the streets when they shouldn't be."
The chargers who I spoke to claim that Bird's help desk is insufficiently dealing with these problems, with one person describing their responsiveness as "selective." Some are also frustrated by the cutesy nicknames used by support representatives: Tweety Bird, Owl, Parakeet, Penguin, Dorsal Finch.
"There is no accountability," a charger told me. "They know who we are and we chargers have no idea who we are talking with."
"It's the basic tech support desk," another charger said. "They're great for tech support. Beyond that, eh."
Right now, Bird and other scooter companies represent just a tiny percentage of the gig economy, but that doesn't exempt them from criticism. On-demand ridesharing is known for often relying on an exploitative labor model—one that was recently litigated in the California Supreme Court, but remains the beating heart of companies like Uber and Lyft.
Bird exemplifies the "weird binary state of gig workers," Aleksandr Felstiner, a labor lawyer with the firm Levy Ratner, P.C., told me in an email. "[The workers] are often totally free to do what they want, including work or not work, as much or as little as they want, until they activate the app, at which point they often have specific duties and not much flexibility in how to do them."
Things like stolen and destroyed scooters are probably a loss that these companies can afford to absorb. Chargers may come and go, but as one of them put it: "Without us, they could not function."