Martine Landry is a 73-year-old grandmother from Menton, a small town that borders Italy in the southeast of France. On July 31, 2017, she met two 15-year-old Guinean refugees on the French side of the border and walked them to the closest police station.
Under the UN Convention on the Rights of the Child, which France signed in 1990, the two minors had to be placed in the care of child welfare services. It also meant that they could legally stay in the country. "They had documents proving that they had the right to be cared for," Landry explains, "I just applied the law and anyone can do that in France."
The next day, she received a summons to appear at a criminal court for allegedly "having aided the entry of two foreign minors in an irregular situation", Al-Jazeera reported.
The International Organization for Migration says that 26,026 migrants and refugees entered Europe by sea through the first 136 days of 2018, with about 41 percent arriving in Italy and 38 percent to Greece and the remainder arriving in Spain. At the time of writing, its Missing Migrants Project estimates that the minimum number of deaths in the Mediterranean this year is 635. Once on dry land, those lucky enough to survive the crossing usually head north, where they face many obstacles to seeking safety—including on the border between France and Italy.
---
Watch: This Is a Political Occupation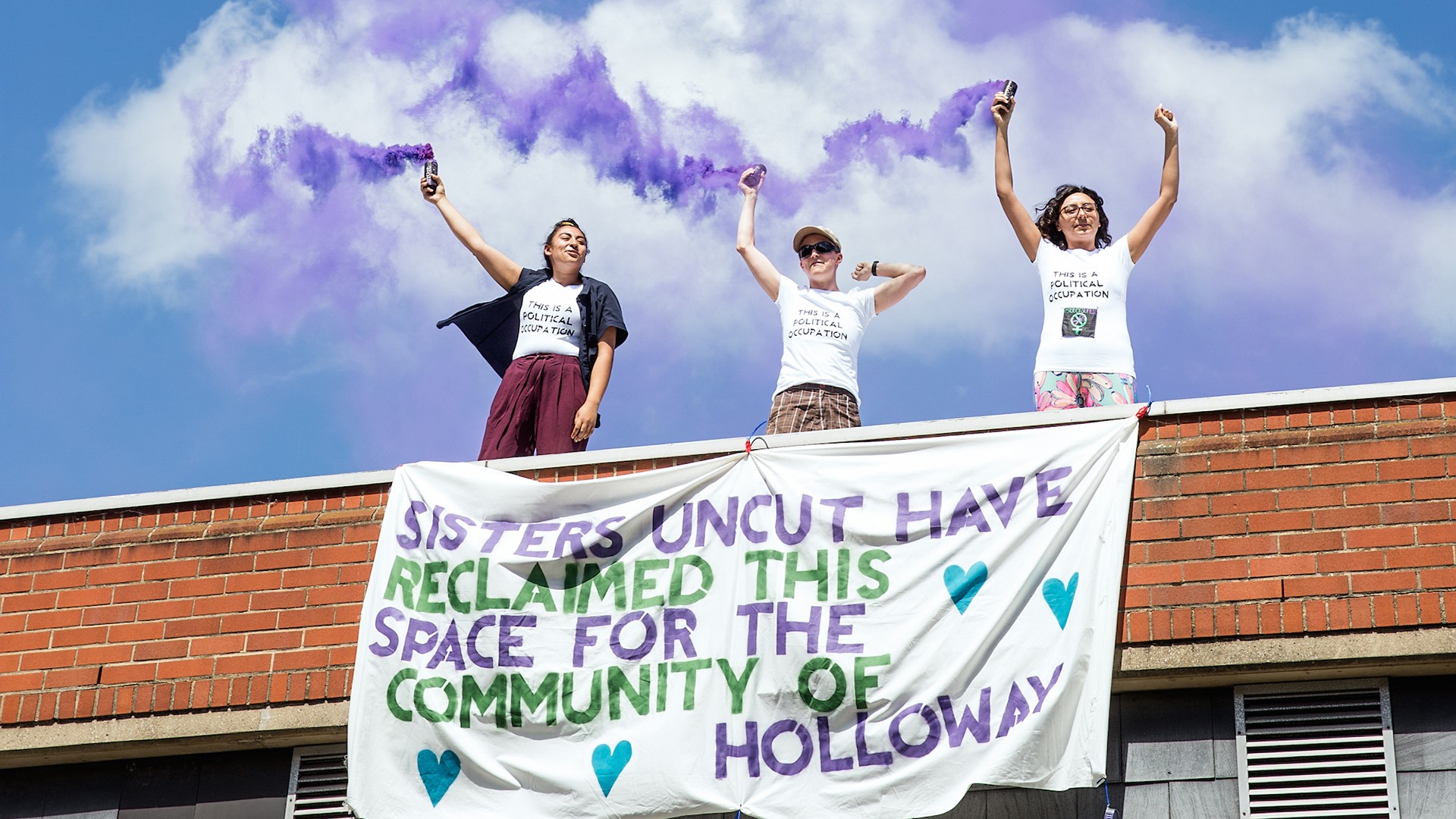 Landry joined Amnesty International in 2002 and volunteers as an observer in the border, monitoring incidents between migrants and the police. She also works with lawyers to provide counseling and legal advice to asylum seekers. Her direct intervention to help the two Guinean teenagers was a rare one-off—and she now faces five years in prison and a 30,000 euro (approximately $35,365) fine for it. Her trial took place on 30 May, and she must now wait for the court's decision on 13 July.
Her story, however, is not an isolated case. In recent times, activists along the French and Italian border have been charged and sentenced for similar types of offenses. Until last year, anyone providing food or water to a migrant in the Italian town of Ventimiglia was punished with a 200 euro ($236) fine. In March, a former ski patroller was even arrested for driving an eight-month pregnant migrant woman to the hospital. According to FranceSoir, the Nigerian woman was walking the snow-covered roads near Briançon in southeastern France to avoid border control.
Further afield in Morocco, Spanish journalist and human rights advocate Helena Maleno Garzón faces a life sentence over accusations that she colluded with human traffickers; she is thought to have saved hundreds of lives by alerting the Spanish coastguard to the distress calls of migrants crossing the Mediterranean.
Maleno Garzón's plight is not unfamiliar to Spanish lifeguard Anabel Montes Mier. In March 2018, Montes Mier was the mission chief for the Open Arms, a search-and-rescue ship run by the charity Proactiva Open Arms, when she was accused of human trafficking and criminal association—a charge that is usually applied to members of the Italian mafia.
The ship was seized in a Sicilian port and Montes Mier and two of her colleagues were put under investigation. The Italian authorities claim that the crew enabled illegal immigration by refusing to cooperate with the Libyan coastguard to hand over a group of 101 migrants. Earlier that day, the ship had picked up another 117 migrants from an overcrowded dinghy.
Montes Mier says that isn't the full picture. The Italian Maritime Rescue and Coordination Centre (MRCC) in Rome—which coordinates sea rescues and provides location details of distressed boats to charities—informed the Open Arms of a boat in distress 73 nautical miles off the coast of Libya. Halfway through the rescue operation, the Libyan patrol arrived and threatened the crew for refusing to hand over the migrants.
"According to the international law of the sea," Montes Mier explains, "a ship has the obligation to rescue another vessel in danger, and we were there already."
In addition, returning migrants to Libya would have been equivalent to an illegal pushback because they would be put at risk while having a legitimate claim to protection. The Libyan Coast Guard is not internationally recognised, Montes Mier says, and several advocacy groups have accused them of endangering refugee lives over the past years. According to Amnesty International, it colludes with smugglers networks and Libyan detention center guards who torture and extort money from migrants in exchange for passage to Europe.
Italian prosecutors dropped the criminal association charge against Montes Mier and her colleagues at the end of March, and the Open Arms was allowed to set sail again as of 16 April. "Basically what the judge said," Montes Mier explains, "is that what we were doing was due to a state of necessity; that we had followed all the laws regarding helping people in danger." On 7 June, Italian courts dropped all charges against Montes Mier and her colleague.
"We've been working in the Mediterranean since July 2016 and we have noted a radical change in the behavior towards NGOs," Montes Mier adds. "Both on the part of Libya—due to the money deal—and on part of Italy as well, particularly since the [anti-immigration political party] Five Star Movement won the elections."
Meanwhile, new data from the International Organization for Migration shows that the proportion of migrant deaths has increased even though there has been a drop in the number of arrivals.
Though many refugees are fleeing armed conflict, others can not return home due to other types of violence. "Women's rights, children's rights, LGBTQ rights need to be protected," Martine Landry argues. "These people can seek asylum even if they don't come from war-torn countries."
The physical labor entailed in rescuing or assisting migrants isn't the only contribution that activists make in the ongoing migration crisis. The visibility that they bring is just as crucial to the fight. Migrants have been crossing the sea in overcrowded, unsafe boats, years before the death toll reached a peak in April 2015. "If we stop working, this is going to continue but no one will see it so it won't exist," Montes Mier told Broadly.
Michel Forst, the UN Special Rapporteur on the situation of human rights defenders published in February, a report highlighting numerous examples of criminalization. "There's a global trend of harassment on those who are trying to protect migrants and people on the move," he told Broadly.
According to Forst, European countries aren't just looking to criminalize volunteers and activists like Landry and Montes Mier. Their media outlets, too, are responsible for anti-immigrant messaging that shape how the population sees those helping migrants. "There is an increased power of nationalist parties and political actors that know how to activate hatred in the population against those who are providing support to people who are in need," he says.
Before hanging up, Martine Landry recalls something that people usually say to her after hearing of her volunteer work. "[They] often tell me,'My poor lady, how do you want us to do, we can't take care of all world's misery!'" she says, "I tell them that we could if only we took our share—each European country."