Photo courtesy of Tanzania Development Trust
Cutting season takes place every other December in the Serengeti. Around 15 percent of Tanzanian girls and women have endured female genital mutilation (FGM)—a severe form of sexual violence in which part or all of the clitoris and external genitalia is removed. But women in rural regions are at greatest risk.
Last cutting season the Tanzania Development Trust, which works with some of the country's poorest communities, received a tipoff that two girls had run away from their families to escape the cutters. Aid workers have to move fast in these situations, but the volunteer team got lost en route in the countryside.
After numerous wrong turns, the volunteers finally reached the girls. The pair had been hiding in the bushes, and were ushered into the car to head to a safe house funded by the charity. What happened next is an all too common occurrence.
"The car ran out of fuel and broke down," Rhobi Samwelly, 45, tells me. As the director of the safe house, Samwelly and her team operate on a shoestring. They literally can't afford to get lost. "The villagers came and took the girls back to be cut." She doesn't know what happened to them after that.
Read more: How a Humble Soap Opera Could Help Stop Female Genital Mutilation
"It's hard to believe, but maps simply don't exist for these areas," says Janet Chapman of the Tanzania Development Trust. Chapman, a 55-year-old Brit, is part of Missing Maps, a humanitarian project that maps parts of the world that are "missing" from any map and vulnerable to disasters.
"I've always been interested in technology," Chapman says, "so every time I've gone to Tanzania I've tried to create maps with local help, but it's very difficult because Google Maps is blank and you're hampered by having poor mobile signal."
Even in our technological times, filling in the blanks and putting whole villages and roads on the map for the first time isn't easy. "I printed out bits of the maps that existed and tried to work with people there to ask them, 'Where are all the villages?'" Chapman says. "But people generally didn't have a good idea, because if you've never had a map then actually trying to construct one from a blank piece of paper is quite difficult."
---
Watch: The Land of No Men: Inside Kenya's Women-Only Village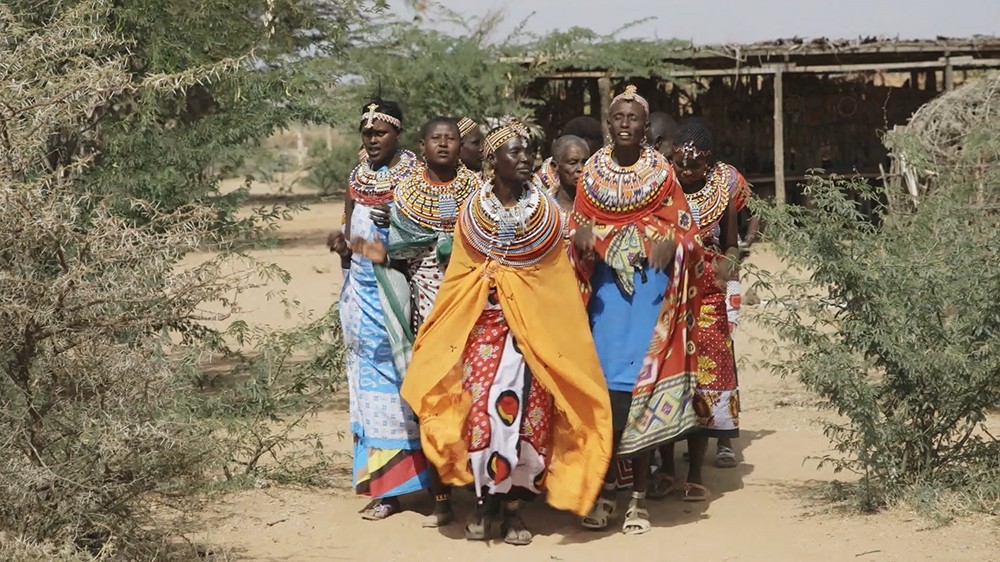 ---
Meanwhile, volunteers on the ground struggled to get to the girls most at risk in time to help them, and the cutting continued.
But Chapman didn't give up. "In October 2015, I went to a conference and met Egle Ramanauskaite, who was speaking about citizen science. She was talking about camera traps and how to track animals in different locations."
Together, Chapman and Ramanauskaite launched a global crowdsourcing project called Crowd2Map Tanzania. They discovered that where maps don't exist, satellite images do. Rather than starting from scratch and relying on locals to remember where villages and the roads were, a team of 1,300 online volunteers from as far afield as Australia, the US, and India traced satellite images of the Serengeti, sketching over roads and buildings and filling in the gaps directly onto existing maps.
Then people on the ground in Tanzania who are mapping on smartphones–using a mapping app that works offline—add in details such as the name of villages. They've also developed a Swahili version. "When I'm in Tanzania," Chapman tells me, "I run mapping parties wherever I go; basically teaching people like local officials, district education officers, and district medical officers about the value of mapping for development." The team use any open government data, such as school locations, to build up as detailed a picture as possible.
Like many other Tanzanian women, Samwelly is also a victim of FGM herself—in fact, she almost died during her ordeal due to blood loss."Mapping is supporting us to prepare ourselves," she explains. "It tells us how much fuel we need to go to a certain village and which roads are safe for us."
This, Samwelly tells me, allows the Tanzania Development Trust to help girls like Leah Johannes, 17, who received vocational training while living in the safe house. The charity was able to reconcile Johannes with her parents after cutting season was over and she now runs a local shop in her village, as well as educating other girls about the dangers of FGM.
In rural Tanzania, FGM is an economic issue. "These are rituals," Samwelly explains. "Traditionally men would only marry women who have been cut. So parents want their daughters to be cut so that they can be married."
Even after Johannes returned to the village, these traditions threatened her newfound freedom. "Some of the men in Leah's village, they took some cows to her family to pressurize them into getting her married," Samwelly tells me.
Leah's village is one of 175 in Tanzania that have now been mapped by Crowd2Map volunteers, along with over a million buildings, and 64,000 km of roads and tracks. Importantly, these maps can be downloaded while the volunteers have data access, and then used offline. "You basically download the app, download the map of Tanzania, and then you don't need connectivity at all," Chapman says. "So you can go around mapping and when you come back to somewhere with connectivity you can upload what you've done."
But access to smartphones remains a limiting factor in Tanzania. "In the areas where we work generally they are a very prized commodity and few people have them," Chapman tells me. So the team are working on a much more lo-fi option too. "We're looking to start producing paper maps as well," she says. "The idea is to produce maps for each village so that girls can see where the safe house is and where the activists who might be able to help them live, so eventually the girls can get to a place of safety by themselves."
I ask Chapman how she's managed to fund all this work. "To be honest, we haven't really had any funding until very recently," she replies. "I mean, we've had tiny amounts of funding from me personally and a couple of very small donations but that's it—it's all been done on pretty much zero budget, really—just through volunteers."
Meanwhile, another cutting season rolls around again, and the team's work continues apace. And while Chapman and her team's work enables volunteers to locate at risk girls in the short term, Samwelly is focusing on the long term.
The root of change, she tells me, is in education. "[It's about] educating young boys about the effects of FGM so they will not marry girls who have been victims of FGM, and educating girls with vocational skills so they can support themselves, their families and the community. Only then will this gender-based violence end."