Image via Lane Murdock
When 13 people lost their lives at the hands of two teenage gunmen at Columbine High School in 1999, 16-year-old Lane Murdock wasn't even a spec on the global population radar. Now, 19 years later, the Connecticut high school sophomore has organized and executed a 50-state, day-long student walkout with one mission: end mass gun violence, and turn up civic engagement among young people along the way.
"I was done with being powerless. I was tired of watching decision being made by the older generation hurting you people who never agreed to these conditions," Murdock told VICE Impact. "And I think for me, it was just the awareness that I was desensitized and the country was desensitized."
Murdock is the brains behinds the April 20th National Student Walkout, an idea that started with a Change.org petition and continues on with more than 200 associated high school chapters. Murdock penned the petition from her suburban home in Ridgefield, Connecticut, less than half an hour away from Newtown, Connecticut, where 20 elementary school children and six educators were shot and killed by a single shooter in 2012. At the time, Murdock was only ten years old. Murdock and her peers' preteen and teenage years have been marked with more than 300 school shootings since the Sandy Hook Elementary shooting -- a number so high that victim names and tragic narratives have begun to blur in the public conscious. But that all changed when a former student shot and killed 17 people at Marjory Stoneman Douglas High School in Parkland, Florida.
"We're trying to create a long-term strategy to get young people really, really involved and to demystify how politics move in the United States."
The Parkland massacre, largely recognized as the most deadly school shooting since Columbine, sparked student protests around the country, with Marjory Stoneman students at the forefront. On March 14, exactly one month after the shooting in Parkland, thousand of students and teachers walked out of their classrooms to protest gun violence, with many protests lasting for 17 minutes to commemorate the the number of lives lost. Last week's National School Walkout and the network of high school chapters it created, hopes to build alongside the groundwork laid by last month's nationwide action.
"Momentum, regardless of the movement's strategy or focus, is always something any activist is weary of," Murdock said. "It's something we have to fight against, because it's part of human nature to kind of want to forget. So for us, it's all about the civil engagement."
---
Check out more videos from VICE: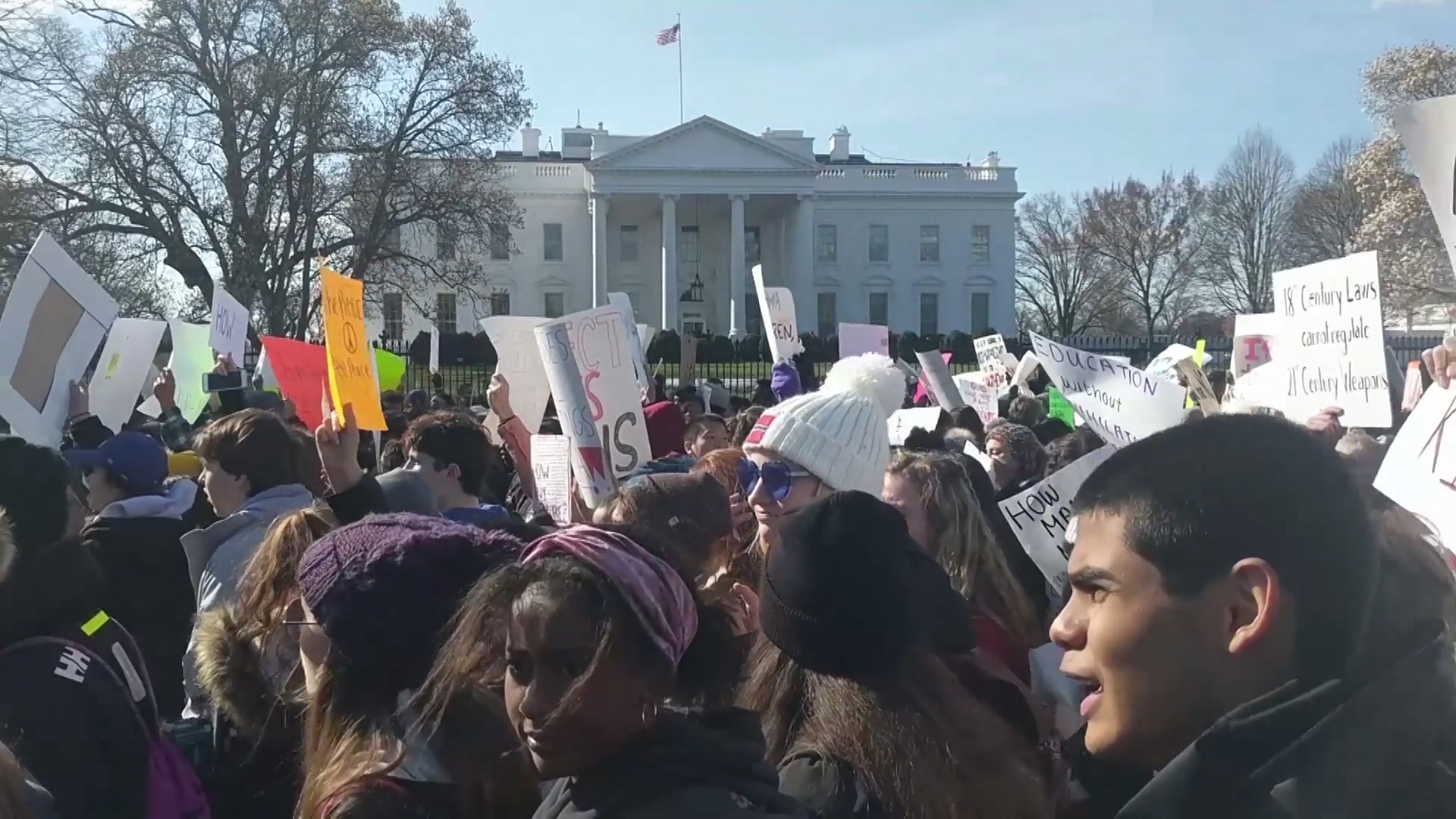 ---
Civil engagement, Murdock says, is the next step. Beyond thoughts and prayers, and in addition to public and online action. With the actual day-long action behind her, Murdock wants to keep the National School Walkout vision alive by increasing an understanding of the political system, and the power that citizen voices wield, in high school communities across the country.
It's an ambitious goal, and it's lead almost completely by students. A letter from Murdock on the movement website reads: "Adults have failed us, so we've taking things into our own hands. But the walkouts aren't the end, they are just beginning". To Murdock, this "grown-ups on the sidelines" approach is imperative to the movement's success. She advises adults to respect the student-grown identity of the movement. "As a student activist you always want to make sure that no one's controlling you," Murdock said. "Be an ally. Don't be a commander, don't even be a teacher, just be an ally and let this movement grow and let it bloom."
In the coming weeks, Murdock and her peer organizers plan to launch new events, new organizing tools, and new opportunities for nationwide collaboration, all focused around increasing the voices of pre-voting age citizens in the fight against gun violence. Currently, they're working with the support of Indivisible, a national progressive advocacy organization started in response to the 2016 presidential election.
"Adults have failed us, so we've taking things into our own hands."
"Over the coming weeks, we're going to be trying to lead an effort to crowdsource the most ambitious gun violence prevention platform we've ever seen by using and talking to kids from all over the country," Murdock said. "We're trying to create a long-term strategy to get young people really, really involved and to demystify how politics move in the United States."
Murdock couldn't give too many details on what's next for the National Student Walkout movement, but promises another mass national engagement event in the coming weeks. "it's one that's going to have long term effects," she said. But for now, Murdock and her co-organizers are focusing on empowering students to join the NSW chapter movement, especially in communities where conversations about gun violence are underrepresented.
If you're in a position where you don't have family support, you don't have community support, that doesn't mean you're wrong… History has shown that individuals where the odds may be against them but they have a message that matters, the truth is the truth," Murdock said. "Time is on our side. We're going to grow up to take office and vote…. Young people have always been at the forefront of social change, and you are a piece of that and you are a part of that history."
The initial National School Walkout may have passed, but it's not too late for high school students to start their own chapter or contact your congressperson. Students who participated on April 20th can also share their story and experience through the NSW online reporting form . Already secured that high school diploma? Find opportunities to speak out against gun violence with one of the nation's many multi-generational anti-gun violence advocacy groups such as the like the Brady Campaign to Prevent Gun Violence or Moms Demand Gun Violence .