All photos by the author.
Spend any time around the boroughs of New York, especially the Bronx and Harlem, and you'll spot cyclists who spend more time on one wheel than two. A ride that starts with a couple riders can snowball into an impromptu jam session of wheelies, with riders hopping on and off the pegs, jumping between the seat and the handlebars, and sometimes even standing on the frame with no hands (aka "surfing").
How do these groups form? "We make our signal call, which is 'EEEEEER'," explains cyclist Tyron Robinson, emitting a sound that resembles a sticky bike tire braking. "And then they come join our pack."
These days, you can find examples of these acrobatics on Instagram, where some riders have racked up hundreds of thousands of followers with their clips. Some riders will roll down the street without a wheel in the front fork, flaunting its utter uselessness for athletes of their caliber. Another, more controversial trick is the "swerve," which involves moving towards a lamppost or an oncoming bus, then swerving at the last moment—all on one wheel.
In recent years, street trick cyclists in the city have been gravitating overwhelmingly to one bike: the Big Ripper, a particularly chunky-looking adaptation of a model that hit the market in the late 1970s. The Big Ripper is a sensible option for New York. Its single gear allows for a quick start off the line, and its oversized wheels minimize the risks of being swallowed by a pothole.
Riders customize them with oversized tires, multicolor spokes, foam frame covers, and even patterned grip tape for the pegs. But no matter how it's dressed, it's the Big Ripper's lightweight BMX frame that makes it the perfect trick bike. Still, to attribute the skills of these riders to the Big Ripper would be akin to crediting a Dixon Ticonderoga with a perfect score on the SATs.
"I get on a bike, I wheelie it—that's it," said Robinson, a 17-year-old known on Instagram as CCS_TYYY. With over 48,000 followers, Robinson is one of New York's notable Big Ripper riders. He's also the founder of Caution Cycle Squad (CCS), a group for young riders affiliated with the Cycle Squad Maniaccs, a more adult-centric crew that has been around since 2007. "It's all unity, and everyone respects one another," Robinson said. "Everybody has different talents at what they do."
Both crews are part of a larger movement: Bike Life. It's an informal coalition of street riders from diverse backgrounds and skill levels, one that welcomes riders of all ages and is completely agnostic of bike brands. To join, you "simply grab your bike and ride," said Mohammed Trawally, a rider from Cycle Squad Maniaccs also known as MoBlocks. "It's a bunch of kids, a bunch of adults. You got MTA employees, Crips and Bloods and Latin Kings that ride together. It's brotherhood."
Trawally is one of four Cycle Squad Maniaccs now sponsored by SE Bikes, the Big Ripper's manufacturer. According to Trawally, it all started with Dblocks, a Cycle Squad Maniaccs member widely regarded as the originator of many of the street riding tricks you see in New York today.
"I used to be a videographer back then, and the person posting up on YouTube," Trawally said. "So we was just recording videos, and next thing you know, [SE brand manager] Todd Lyons seen Dblocks and said, 'Oh, snap, that's cool.' Todd Lyons flew Dblocks out to Cali, and I guess from there it was on."
Trawally said the Big Ripper's popularity has a lot to do with the Maniaccs' early adoption of the bike. "We created this mess," he said, laughing. Still, he's glad the Maniaccs have inspired other groups to form and carry the Bike Life message to younger age groups.
Despite ongoing tensions with police and motorists alike (Robinson calmly mentioned a ride where one driver attempted to run one of his friends off the road), riding offers NYC youths a sense of community both online and on the street, as well as a sense of purpose. "I don't know what I'd be doing if I was not riding bikes," said Christian Green, another CCS rider.
The Big Ripper is an adaptation of the PK Ripper, an iconic bike in BMX culture. Scot Breithaupt, the late founder of SE Bikes, had a penchant for naming his bikes after their riders. One of those riders was Perry Kramer, the hall-of-fame BMX rider who rode for his company in the late 70s and early 80s. When Jeff Utterback, another rider, left SE to start another BMX bike company, SE modified and adapted Utterback's model, the JU6, for Kramer. The year it launched, Kramer won a national BMX title on this bike—dubbed the PK Ripper—as did his teammates Stu Thomsen and Rod Beckering.
In a conversation with VICE, Kramer attributed the PK Ripper's popularity to its initial victories on the track, though the name probably also has something to do with it. "Even though it's got my initials on it, it just sounds cool," he said, adding that Breithaupt "was a brilliant guy as far as naming things." "There was never just a bike called a PK Ripper in red. It was always 'Rippin' Red,' or 'Blazing Blue,' or 'Winning White.' The forks on the bike were never just SE Racing forks; they were 'Landing Gear' forks."
There's also the bike's distinct "floval" frame: flat on the sides and oval on the top and bottom part of the frame tubing. The PK Ripper was one of the first BMX frames to use aluminum instead of steel, resulting in a frame that looks large and bulky but is surprisingly light. "That bike helped elevate me as much as I helped elevate that bike," Kramer said.
Still, Kramer said he's surprised by the bike's continued popularity. "There [were] other bikes that were named after other riders, so I never thought in my wildest dreams that this bike would live on like it did," he said. Though not everyone who is familiar with the PK Ripper and the Big Ripper will know who Kramer is, both models have certainly left their mark on pop culture: Over the years, SE Bikes has made special-edition rippers in collaboration with Public Enemy, Marshawn Lynch, and the streetwear brand The Hundreds. In 2017, Tyler, the Creator even shouted out the PK Ripper in Frank Ocean's "Biking." (Tyler also collaborated with SE bikes for a special "Golf Wang Flyer.")
The Big Ripper, which SE put into production in 2009, has an even larger frame than the PK Ripper and even larger tires (it basically looks like someone photoshopped a BMX bike to be bigger). SE created the bike in 2008 to accommodate the size of Christopher Boykin, the late co-star of TV show Rob & Big.
Though it's been a while since he's frequented the dirt courses of his youth, Kramer is still an avid street rider. Based on the West Coast, he often attends the 4130 Subway series, a monthly rideout from Hollywood to Downtown Los Angeles. In some ways, these giant organized cruises, which happen all over the world, aren't that far off from Critical Mass, another cyclist-led movement where riders reclaim the streets while benefiting from safety in numbers. Trawally and both CCS riders cite this rationale as part of the impetus for riding in large groups; after all, solo riders are more susceptible to falling into a car's blind spot or getting run off the road by aggressive drivers.
Just a few years ago, Trawally said, it was a big deal to get 30 riders together in New York. He estimates that the latest rideout, which took place on September 15 and was aptly named "EverybodysRideout19," was roughly 1,500 deep. But as the movement gains traction, these mass rides seem to be attracting attention from law enforcement.
On September 15, a location was shared on Instagram, prompting thousands of riders to begin trickling south from Fort George to Times Square. I hopped on a Citi Bike in Harlem, hoping to intersect the group on its way downtown, and spotted several officers on bicycles yelling at a traffic guard: "Which way did the bikes go?!" Later, I'd see one pink Ripper loaded into a police car, on Amsterdam Avenue and Martin Luther King Boulevard, though the rider was nowhere in sight. Reached via email, the NYPD could not confirm whether this was the result of a crash or an arrest.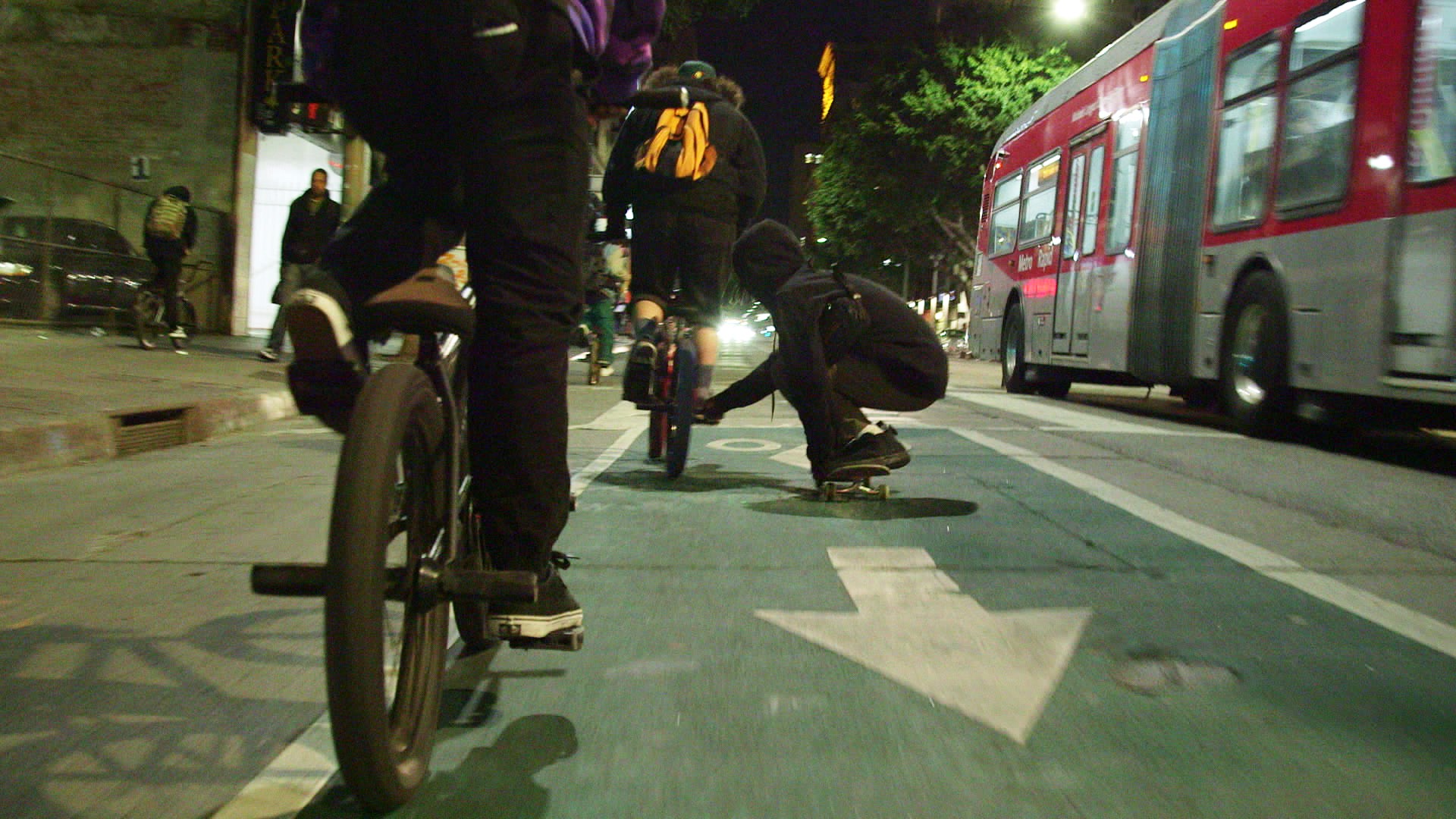 The laws around cycling in the city are complex. "The most important concept is that, generally, the laws that govern motorists also govern bicyclists, according to Scott Charnas, a lawyer who often represents New York cyclists. "There are exceptions, but that is the general rule." One law specific to cyclists states that where there is a visible and usable bike lane, riders must use it. They're are also prohibited from traveling "more than two abreast" on shoulders, bike lanes, or shared-use pathways, and must ride single file when overtaking or passing pedestrians, vehicles, or other cyclists.
"Given the above," Charnas said, "a group of, say, 50 bicyclists riding 10 abreast down the street would be in violation of several of these laws." Still, Charnas stressed that the degree to which these laws are actually enforced across the different boroughs can vary. "I can say that much of enforcement is dependent on the judgment, some might say whims, of individual police officers—unless the mayor or some other politician pushes for enforcement of some law or other because someone just got killed and it was all over the media."
In the past couple years, the Maniaccs have noticed officers attending their rideouts, some of whom seem to know individual riders by name. "You got cops at these rideouts trying to grab these kids and cutting them off or sometimes even tackling them off their bikes," Trawally said. "They get close to you. They will hurt you just to get you," he said. The NYPD did not respond to a request for comment from VICE asking if such tactics were consistent with how the department deals with rideouts.
Robinson expressed a similar concern about the police attention. "I feel like that gets unsafe, because we gotta panic, and then there's other cars that we might run into," he said.
Police in Harlem, with an apparently confiscated BMX bike
Recently, a video that surfaced showing an NYPD officer attempting to break the back spokes of a Big Ripper caused a great deal of frustration in the New York biking community. Green, one of the CCS riders, claims to have witnessed the incident. After the group was asked to leave the Bronx Terminal mall, Green said, they relocated nearby, deciding where to go next. At this time, he said, the officer told them to leave the second area. "And then he took out his baton and did all that in the video," he said. In a statement to VICE, the NYPD said the incident is under internal review.
Bike safety advocates admit that trick riding and mass rideouts can be dangerous. "As a teacher of safe cycling, I don't encourage the particular style of riding they do—with the wheelies and cutting through traffic and all," said Courtney Williams, a New York-based bicycle advocacy consultant behind The Brown Bike Girl. Still, Williams laments the fact that "the well-being of the Big Ripper / 'ride out kids' are not part of the conversation in safety." The problem, Williams said, fits in with "a greater American societal tradition of disregard for black and brown POC until they pose a nuisance to mainstream society's sense of order or goals. Then suddenly there is 'concern.'"
And then there are issues specific to New York. New York is often mentioned on national "most bikeable" city lists for new additions like bike-first stoplights, miles of bike lanes, and the Central Park car ban. But clumping all the Boroughs together paints an incomplete picture. PeopleForBikes, a nonprofit that ranks cities by their bike friendliness, placed New York City at #11 last year. In 2019, the organization split the city into its individual Boroughs, and only Manhattan and Brooklyn made the list. In a comment to Streetsblog, PeopleForBikes noted "a lack of progress being made in the Bronx and Staten Island and … parts of Queens."
Both Green and Robinson mentioned the dearth of bike lanes in their neighborhood as a reason why they have to ride on the street. Many of these young cyclists ride on the road out of necessity, not just for fun—and where else can they ride if the sidewalk is off-limits, and the bike lanes—if they even exist—are often obstructed by parked vehicles?
Despite this lose-lose situation, Green said he's noticed that when crashes do happen in the city, it's often the rider who gets the blame. Commenting on a bike messenger who was killed by a truck driver earlier this year, NYPD officer Carlos Negron told Gothamist, "Maybe if she had been on the bike lane, she'd still be alive."
For supporters of the movement, though, the presence of these riders is a public reminder that streets are not just a place for cars.
"Obviously nobody's advocating for swerving in front of buses or violating pedestrian space, but more than anything, bike advocates want to reclaim city streets from cars so everybody has access to them," said Eben Weiss, a writer and bike advocate who often writes under the name The Bike Snob. "While in a perfect world we'd all be a bunch of law-abiding Dudley Do-Rights, I can't help rooting for anything and anybody that undermines driver complacency and entitlement and gets people in the city out there riding."
As of the time of writing this article, 23 people have died while cycling in New York City this year. Green and Robinson are used to hearing about bike fatalities, but they seem largely unfazed. "We basically risk our lives to ride bikes," said Robinson.
After all, once you're able to hold a wheelie indefinitely, you don't want to get off your bike.
"When you do something and you start to get good at it, then it makes you want to do it even more, because you're just getting better and better," says Kramer. "These kids go out there and it's contagious. And they get other kids out there, and it's pretty cool. It's really cool."