Photo courtesy of the author.
When I lived in Bushwick, lurking on street corners puffing joints out of my cupped hands was just part of my daily routine—and I thought I was being surreptitious even if the whole block could smell what I was up to. Because I could also roll shatter-sprinkled spliffs on roiling rave dance floors, I considered myself a pretty advanced stoner.
But this past summer, when I moved from New York to Los Angeles, I quickly came to two conclusions: Californians are consuming weed through every body part or orifice available, and the best parties in LA aren't going down in warehouses or nightclubs, but in staggeringly opulent Hollywood mansions, where everything is paid for by brands who want nothing more than to bury you in Scarface-ridiculous mountains of pot.
The first time I went to a weed mansion party—hosted by Snoop Dogg at Helen Mirren's peacock-covered former residence in the Hollywood Hills—I noticed a table staffed by tan blonde models by the pool. When I realized that their only job was to roll endless free blunts for me, I screamed and collapsed into hysterical tears. (OK, I was on acid, but regardless it was the closest I've come to heaven.)
Since then, I've wormed my way into every invite-only weed bacchanal I can find. On Halloween, I hit one thrown by acclaimed weed party girl Katie Partlow at a mansion designed to resemble the gaping mouth of a Mayan tomb. Walking into the party, I gravitated towards a duo of very chill-looking Asian women. They offered me a hit from their purple amethyst pipe, and told me they like to meditate with their crystal pieces before doing stoned yoga.
I grew up in Singapore and Tokyo, two cities with draconian policies towards weed, and the stoners I sometimes snuck out of school to get high with liked to call themselves "bad Asians." Lighting up back then felt like a "fuck you" to the tired stereotype of Asian kids as straight-A, career-chasing students. But this crew was different. It was the coolest feeling to hit a bowl in a circle of professional Asian women who together run the website Dank Gals, where they sell everything from from Sriracha bottle dab rigs to weed honey.
---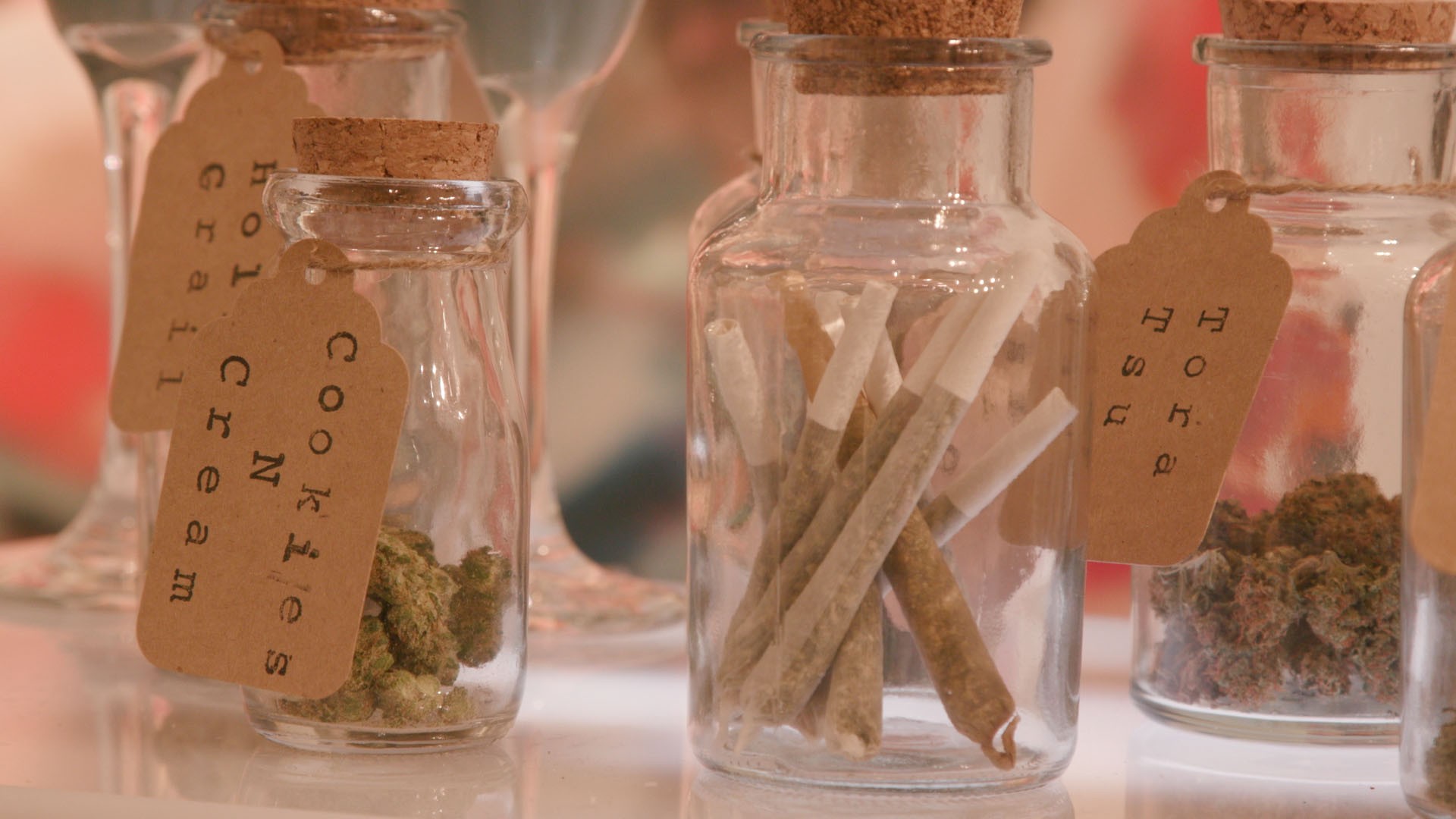 ---
"Asian women aren't even supposed to smoke, let alone smoke weed," Dank Gals founder Janice Buu told me. "I think my ethnic identity encourages others to look on the other side of the stigma." Despite society's increasingly relaxed attitudes towards pot, Asian-Americans remain the lowest of all racial groups in support of legalization, according to a 2016 UC-Berkeley poll of California voters. A large generation gap also leaves many younger Asian-Americans stuck in a "green closet," unable to talk openly with their parents about their pot use.
Buu launched a weed-enhanced Korean sleeping mask called KANA Skincare in November. Its key ingredient is CBD, the second most abundant cannabinoid in weed after THC. Early studies at USC, King's College London, and other research institutions over the past decade have suggested that CBD may be able to help treat a wide range of conditions, ranging from epilepsy to cancer, anxiety, and schizophrenia. Because it's also non-psychoactive, and seems to combat anxiety and pain for many, stoners I meet in California rave about CBD because it can help you relax without getting "high."
The best way to describe CBD legality in the US is "confusing." The DEA ruled in December, 2016 that marijuana extracts are a no-go, but an entire industry exists around hemp—the (legal) plant that CBD can be derived from. Thanks to this legal grey zone, you can buy all kinds of CBD products on the internet, including creams that contain hemp-derived CBD. But KANA may be the first cream that merges the anti-inflammatory properties of CBD with Korean skincare.
Korean beauty products are beyond trendy right now—and for good reason. "Korea is to skincare as Paris to fashion, everyone knows that," Buu told me, referencing a Marie Claire article that claims South Korean skincare brands are at least seven years ahead of their Western counterparts, due to recent technology breakthroughs fueled by investment from the Korean government. This year, per market intelligence agency Mintel, South Korea's beauty industry was worth over $13 billion, making it one of the world's biggest.
But merging Korean skincare with cannabis wasn't easy, Buu explained, because every company in Korea she approached shrank away. "The label 'cannabis' just scares them," she lamented. She finally found a Korean entrepreneurial grandma who produces skincare for some of Korea's biggest department stores. Together, they came up with an entirely organic and natural formula that includes CBD, cannabis sativa hemp seed extract, and 28 other botanicals—including soothing lavender and chamomile oils, moisturizing hyaluronic acid, and wrinkle-fighting beta-glucan.
KANA comes in a sleek glass jar with stickers you can easily peel off (which was helpful for me on my flight to Asia). My skin was also going haywire after my 18-hour flight; salt-soaked airplane food coupled with a lack of sleep left dry, red patches and painful zits sprouting all over my face. As soon as I landed, I went a little overboard and started slapping on the cream twice a day, ignoring the website's warning that it was only for night use.
Buu, who is certified as an aromatherapist and skincare formulator, told me that Korean sleeping masks are meant to be between a gel and a cream, so she and the skincare grandma worked hard to achieve the right texture. KANA has a light and milky consistency that honestly reminded me of lavender-scented cum—not a bad thing, since I've always half-believed that the protein in cum is good for your complexion. Thankfully, it's way less sticky; the cream slides on your skin as a thin film, and feels like a refreshing spurt of moisture.
Within three days, my dry, inflamed splotches chilled out and eventually faded away. But the cystic zits were getting nastier, probably fueled by my vacation binge on high-fat, oily foods (no regrets!). I decided to start following instructions—slathering on the mask only at night—and waited to see if my skin became less enraged. A week and a half went by without any changes I could notice. On my eleventh night, I hit the club, and wound up staying up too late swigging sugary cocktails, smoking cigarettes, and chatting up some random cuties—all things that are probably bad for my health.
When I woke up the next morning with a sleep-deprived headache, I looked into the mirror, and was baffled to see my skin radiating an all-over glow. It was like something had finally clicked between my skin and the cream. Even the dark circles under my eyes seemed less sunken than they should have been. Other people seemed to notice—when I walked into a Korean eyewear store later that day, a man kept shooting glances at me, despite the fact that I was wearing zero makeup and had my hair in the same disheveled braids from the night before. (Sadly, I was too much of a zombie to sustain a coherent conversation and scuttled away.)
So there you have it: a CBD Korean face mask can chill out your skin, and might even help you recover from a night of bad decisions. In retrospect, putting weed on your face seems like a no-brainer. Why didn't we all do this sooner?