Kelly Olynyk drills buzzer-beater in Crown League game. Photo courtesy Nike Toronto
It's the middle of July and it's been over two months since the Raptors were swept by the Cavaliers and a month since the end of the NBA Finals. But in what is normally a down period for basketball, over 1,200 fans have packed the Kerr Hall Gymnasium at Ryerson University in downtown Toronto on a Friday night.
Inside the gym, two pro-am teams—1 Love T.O. and ACE—are facing off in a tightly contested game. With the scored tied at 90 and 1.7 seconds left, Kelly Olynyk—just days after signing a 4-year, $50 million contract with the Miami Heat—receives an inbound pass and banks in a game-winning 3-pointer as the buzzer sounds, sending the crowd into a frenzy and 1 Love T.O. into the semifinals as teammates mob him in celebration. For many, the clip of Olynyk's game-winner will be their first exposure to the Crown League, a pro-am league now in its third season in Toronto.
Aside from Olynyk's game-winning shot, there was considerable anticipation for last Friday's Crown League Finals, with fans lining up outside Kerr Hall over an hour and a half before doors opened at 6 PM. Brady Heslip—who played for Raptors 905 in the D-League last season—scored 26 points in the third-place game. Young Raptors guards Norman Powell and Delon Wright teamed up and led M.A.D.E. to a championship victory. Wright and Powell—who finished with 22 points and was named the player of the week—electrified a packed house with breakaway dunks and no-look passes.
This year, the league—which has been newly sanctioned by both the NBA and the NCAA, allowing Division 1 student-athletes to participate—consisted of six teams, with many players coming from the NCAA, along with professional players from overseas, and ones with experience playing at the collegiate level in Canada.
The five-week event that took place every Friday evening was free to anyone who registered for a spot on league-sponsor Nike's website. The presentation value of the event was top-notch, from promo videos for each team that played on a giant screen in the middle of the gym before teams tipped off, to the hip-hop music and streetball emceeing that accompanied each game, to the food and merchandise vendors available outside of the gymnasium.
As a pro-am, the quality of basketball (even with NBAers like Olynyk, Pascal Siakam, and Dwight Powell dropping in to play) will never approach the pros, but almost all of the fans packing the gym get a courtside view of the action. Scanning the crowd, there are fans of all different ages and races, a true indication of the basketball populace in Toronto that is often not reflected in the more corporate and less accessible world of professional sports.
Still in its infancy stage, Crown League is hoping to establish itself as part of the basketball ecosystem in Toronto. The timing appears perfect. The Raptors—after toiling in mediocrity for the better half of a decade—have established themselves as a top-tier NBA franchise, and renewed interest in the sport with four consecutive playoff appearances. The NBA All-Star Game was held in Toronto in 2016 and the weekend was met with rave reviews (except for the cold weather). Andrew Wiggins, Tristan Thompson, and Jamal Murray are among the many Canadians around the league who are making their mark.
Internationally, Canada's under-19 basketball team just won the FIBA World Cup earlier this month, including a semifinal upset of the United States. The U19 team, which includes budding star prospect RJ Barrett, was in the building to witness Olynyk's game-winner. Roy Rana, head coach of the U19 squad and Ryerson's men's basketball team, took special joy in seeing the Crown League being held in a gym where he coaches.
"Eighty percent of the guys [playing] here I've coached at some point in time. It's like a big reunion," Rana said. "[Crown League] has a lot of great energy. It's all about the right things. It's about the celebration of our city. It's about pride and about who we are as a basketball community."
---
---
Above all else, Rana appreciates what some of the lesser-known pros at Crown League are doing to keep their careers going. "We've got a lot of guys out here that have put in a lot of years and grinded it out and are still grinding it out," Rana said. "They're still playing all over the world and that's not an easy thing. I don't think people understand how difficult pro life is. It's not glamorous for the most part unless you're in the NBA."
Aside from being a community event for fans, Crown League is also helping local players hone their basketball skills and to create a network where players and coaches can assist one another. Meshack, Chadrack and Abednego Lufile have all participated in Crown League over the past two years, while Elijah, who is 19 and the youngest of the four brothers, plans on playing next year.
"We're just four hungry boys trying to ball out and get some money for our parents," Meshack said.
The Lufile brothers, from Burlington, Ontario, have taken different paths to pursuing their professional careers. Chadrack played at Wichita State and made the Final Four as a junior and played professionally for the Cape Breton Highlanders of NBL Canada (where former first-round NBA pick Royce White revitalized his basketball career). Meshack attended the University of Cape Breton and is playing professionally overseas in the Netherlands. Abednego attended Eastern Tennessee State and Arkansas Tech University and is hoping to start his own pro career in Europe next season.
---
VICE Sports Explains How Allen Iverson's Signature Style Changed Basketball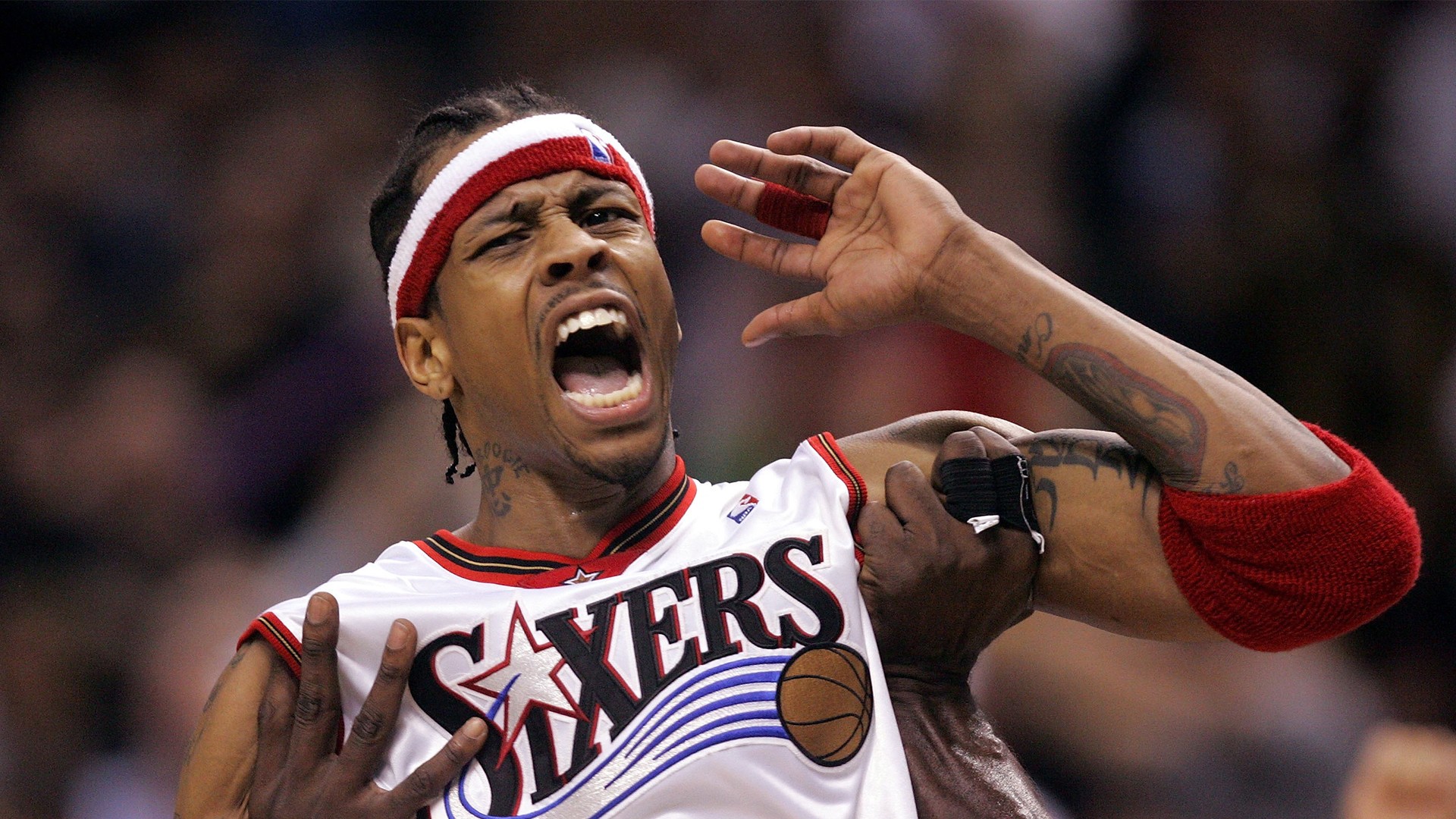 ---
The Lufile brothers are among many who have carved out their own basketball path, without a professional environment to train and play in the summer. For them, and many others, Crown League is more than just a few pickup games, it's a chance to showcase their skills, and also to pick the brains of those in the gym, whether it's asking Myck Kabongo about his experience of working out for an NBA team, or getting pointers from Tony McIntyre, the father of Tyler Ennis who runs the prestigious CIA Bounce program.
Spend a few hours at Crown League, and it's a theme that resonates from everyone you speak to: there's a communal aspect to the proceedings, from fans, players, and coaches. It's a grassroots effort to make basketball in the summer a staple for Toronto, and that togetherness is likely what will drive the success of this pro-am league.
Olynyk, who grew up playing games at the University of Toronto where his father coached, and competitively during his youth for the Scarborough Blues alongside Cory Joseph, marvelled at what he's witnessing in the city. "To come back and see how much the city has developed in terms of facilities and growth of the time, it's pretty special," Olynyk said. "It's a great time to be a young kid who is passionate about basketball."
Abednego Lufile believes this is the perfect time for a pro-am league to succeed in Toronto. "It's a very vital time right now," Abednego said. "We're showing people that Canada is a [basketball] powerhouse, that we're no longer second class to the United States." Abednego referred to Crown League as a replica of the popular Drew League, a pro-am league based out of California that was originally established by Alvin Willis in 1973.
Nike became an official partner of the Drew League in 2003, and the pro-am has drawn plenty of headlines. Past pros who have participated include LeBron James, Kevin Durant, and Kobe Bryant. This summer, James Harden, DeMar DeRozan, Nick Young, and Lou Williams are among the names who have dropped by to play. Like Crown League, the Drew League originally started with six teams, and has now expanded to 26 teams today.
The Crown League may eventually earn itself a place among the best pro-ams in North America. For it to succeed, it will need a combination of competitive basketball, an elevated entertainment aspect, and star power to create a word-of-mouth buzz around the city.
That the Crown League is even a concept that can have staying power is a testament to the growth of the sport over the past two decades in the city of Toronto. If it succeeds and becomes a permanent staple of summer in Toronto, it will be a reflection of the continuing growth of this sport in the future. There are many, including Olynyk, who are betting on that vision to come to fruition.
"It brings a passion and love of intense basketball to the city in the summer which is rare," Olynyk said. "You don't really have that in a lot of cities in North America during the summer. This is real basketball with real professional athletes. For kids to come and be inspired and watch and learn and grow, and to give them something to do, it's an opportunity that is second to none across Canada."