Jack Gruber-USA TODAY Sports
Timor-Leste is not a country traditionally associated with alpine sports. In fact the tiny Pacific island nation, just south of Indonesia, has never seen snowfall. The very concept of winter sports is so alien to the population that the local dialect of Tetum, does not even contain a word for snow. Instead on the rare occasions when such a phrase is needed, they borrow the Portuguese—neve.
As such, one would not expect Timor-Leste to feature on the list of competitors at this year's Winter Olympics in PyeongChang. But in the slalom competition in the mountains of Yongpyong, they are represented for the second time in the history of the Winter Olympics.
The athlete in question, 23-year-old Yohan Goncalves, is one of several competitors in South Korea representing nations with little track record of competing in winter sports. Kenya has an alpine skier at the Games in the shape of Sabrina Simader, while Togo, a country known more for its palm-lined beaches than its ski resorts, managed to field an entrant in the cross-country skiing, 24-year-old Mathilde-Amivi Petitjean.
One thing all of these athletes have in common is relatively weak ties to the countries whose flags they fly. In contrast to the Summer Olympics, where talented athletes growing up in lesser developed nations have tended to repatriate themselves to sporting powerhouses, such as Great Britain, France or the USA, in pursuit of a better life and more financial support, the reverse trend seems to be true at the Winter Olympics.
Here, a number of athletes choose to deliberately turn away from an established sporting nation, with all its funding and resources for helping athletes train and compete, to represent a nation with virtually no history in their chosen discipline, which they have barely even visited on vacation.
Goncalves, who is eligible to represent Timor-Leste through his mother, was born in Suresnes, a suburb of Paris and learned to ski in the French Alps, going on to compete for France in junior events. But despite first representing Timor-Leste at the Sochi Olympics, until 2015 he had never even lived in the country. "From 2015, I lived there for a year or so," he told VICE Sports. "Before that I'd only been back for the occasional holiday to visit my uncles and cousins."
"The Timor-Leste skiing federation was created by me and my mum."
Similarly, while Simader has spent most of her life in Austria, Petitjean grew up and learned to ski in Haute-Savoie, an alpine town on the French border with Switzerland and Italy. Like Goncalves, she also used to race for France, only switching nationality when the fledgling Togolese ski federation tracked her down on Facebook.
"I was in the junior French ski team for two years and competed for them in European Cup races or events like the Olympic festival for young athletes," she told VICE Sports. "But one day, I got a message on my personal Facebook account from the Togolese federation saying they wanted to build a team, they needed me, and they would be very happy if I could join. I didn't answer at first because I thought it was a joke, a federation trawling through Facebook to find its athletes. But they were really persistent, they tried and tried again, and finally one day I answered, and agreed to join them."
But like Timor, Togo has no snow, and the concept of winter sports is non-existent to the majority of the population. While Petitjean says she enjoys flying the flag for West Africa in winter sports, and tells journalists of her desire to put Togo on the map, she admits that most Togolese have not even heard of skiing, and the Winter Olympics hold little relevance for them. "There's little snow in Africa in general," she says. "So, it's very different for Togolese people to identify with me because I practice a sport they can't do or they don't really know exists."
So what persuaded her? The answer is certainly not money. Prize money, even at the elite World Cup level, the top echelon of international skiing, is fairly minimal. A World Cup finish inside the top 30, guarantees a skier just $800, with most riders being either bankrolled by their federation or large sponsors. But when you compete for a minor nation, such sources of funds tend not to be available. In addition, the responsibility of logistics and scheduling, waxing skis, and all the roles usually assigned to technicians or assistants, fall on the athletes themselves.
"Finance is a struggle because when you ask the Timor sports federation or local businesses for money to do a sport that they've never heard of, they don't want to give out that money," Goncalves says. "So I've never received any funding from Timor, it comes entirely from money I've saved through working, family, friends, and a small grant I get from the International Olympic Committee which goes towards my training and equipment, because I'm competing for a small nation."
However, crucially, the qualification procedure for big events such as the Olympics and the World Championships is substantially easier, as highlighted by the controversial American skier Elizabeth Swaney who managed to reach the Games as a slopestyle competitor despite performing no tricks, by agreeing to represent Hungary by virtue of her grandparents' passports and then accruing the qualification points at minor events where established athletes fell over.
Unlike Swaney, Goncalves and Petitjean are at least remotely competitive on the global stage, but by representing Timor-Leste and Togo they too are virtually ensured free passes into the Games. If they were vying for spots on the highly competitive French team, they would have to prove themselves as being among the world's elite. Instead, all they have to do is trawl the lower reaches of the circuit until they achieve the Olympic points quota. Goncalves achieved his quota through small FIS events, the bottom rung of the international skiing ladder, in Montenegro and South Africa.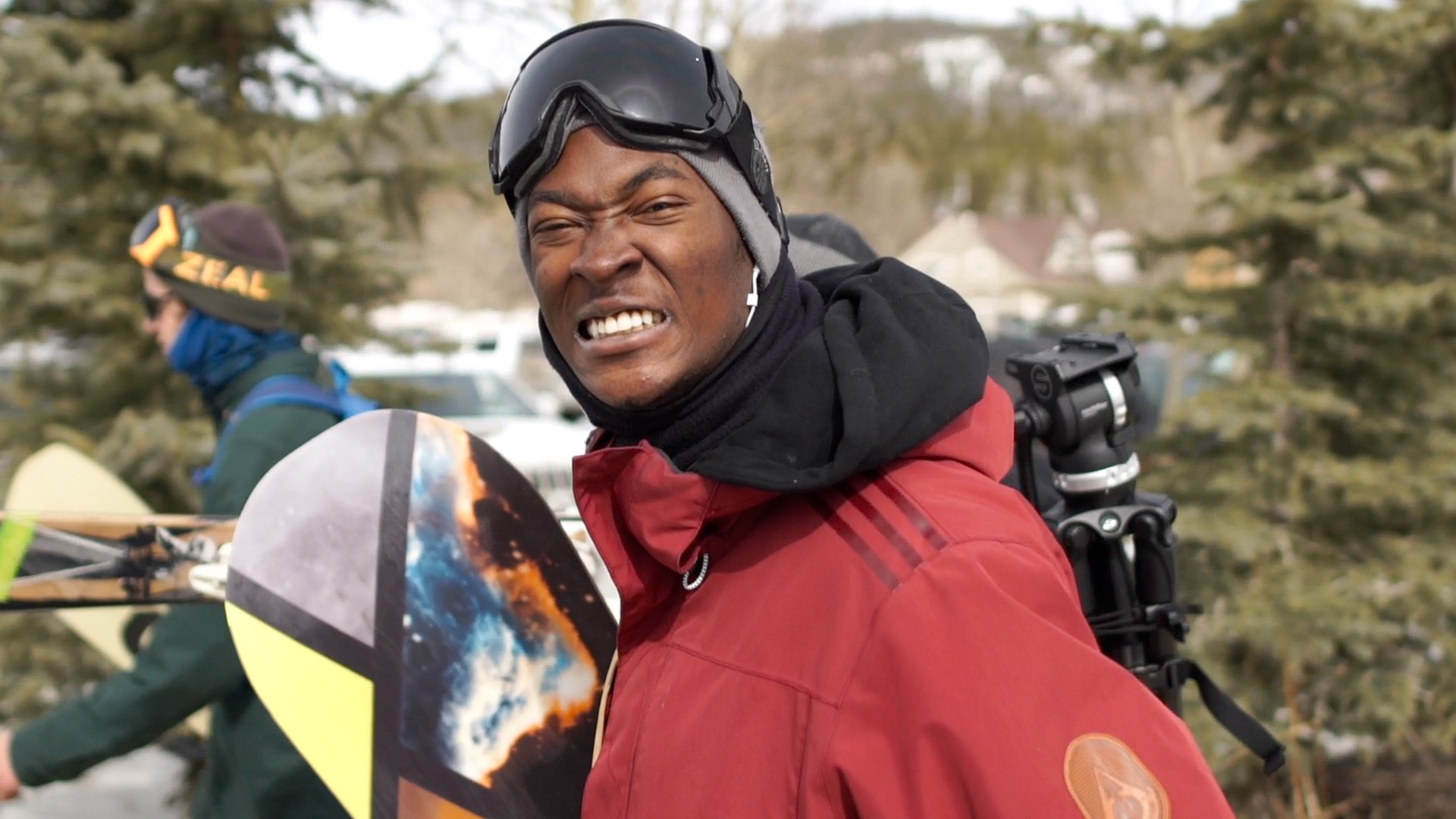 They also avoid the somewhat complex politics which can govern which athletes are selected to compete in the major events for the most established winter sports nations. "It's not always straightforward to get started on the international skiing circuit when you compete for these countries," Goncalves says. "Even if you have the required points quota to compete in World Cup events, you might not be invited as the federations want to make sure it's only the highest quality athletes that represent them, so they'll only take guys capable of making the podium."
For Goncalves, it's undeniably more straightforward. "The Timor-Leste skiing federation was created by me and my mum," he says. "So that immediately allowed me to compete in the World Championships as there's no qualifying criteria at all for that, it's just the best from every nation."
In addition, as a lone athlete from a little-known nation, these athletes have the chance to generate considerable media attention for themselves, which can prove a launching pad for other opportunities. The case in point is Pita Taufatofua, the Tongan cross-country skier who has self-proclaimed ambitions of making it to Hollywood, and after finishing 114th in the men's 15km freestyle race, held more press conferences than the gold medalist.
Despite placing 83rd in the ladies 10km freestyle race, and failing to qualify in the ladies sprint class, Petitjean also held an entire post-race press conference dedicated just to herself, receiving as much coverage as Norway's Marit Bjoergen, who became the most decorated Winter Olympian of all time after winning bronze in the 10km freestyle.
"I've had attention from media all over the world," Goncalves says. "People in Timor have heard about me more through international newspapers than local ones. When I went there after Sochi, I got received in the VIP part of the airport, there were ministers waiting to meet me, Miss Timors greeting me."
However, while Goncalves, Petitjean and others claim to be promoting Timor-Leste, Togo and the small nations they represent, to the rest of the world, it remains to be seen whether there really is a wider benefit outside of mere self-interest.
"In the past when I've tried to explain to my family over there, what I'm doing, it's been complicated," Goncalves says. "Most of them, they say, 'We don't know what you're doing,' and it's a bit like, we don't really care."