The room was just big enough to fit a musty double bed and a wardrobe. There was a small bathroom in the corner and that's about it. But this space, a room more than an apartment, was home to Abussari Hussen and his family of five.
The room, in the Indonesian capital of Jakarta, has been their home for the past four months. It's an uncomfortable existence that was supposed to be temporary as Hussen and his family, all Iraqi asylum seekers, waited for potential resettlement abroad. But in the wake of US President Donald Trump's ban on new arrivals from seven countries, including Iraq, asylum seekers like Hussen are now trapped in an extended limbo, stuck in countries like Indonesia where they are barred from legally working and face an increasingly shrinking hope of resettlement.
"I can't go anywhere because I have finished all my money," Hussen told VICE Indonesia. "So I am waiting, waiting, waiting."

Hussen is from Iraq's Samawah city—a place of some 150,000 people about 280 kilometers south of Baghdad. He fled his hometown last year as security worsened. The city was one of the first to be handed over to the Iraqi government as US coalition forces pulled out of the country. In 2006, the violence returned as Shia militias hit the city. Hussen, a Shiite himself, cared little for the Iranian-backed Badr Organization's sectarianism. His wife was Sunni after all. But when he spoke out against the group, they responded with violence. A man arrived at Hussen's home and shot him. He quickly realized it was time to leave.
"After he shot me, my brother said 'Leave [Iraq], do not stay any longer,'" Hussen said.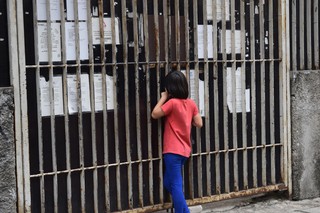 He flew to Doha, Qatar, with his wife, eight-year-old son and two daughters—both of whom suffer from severe brain disabilities. They left Doha for Kuala Lumpur, a popular waypoint in the Southeast Asian asylum seekers route. There are some 150,669 registered asylum seekers in Malaysia, according to the United Nations High Commissioner for Refugees (UNHCR). It's one of UNHCR's busiest and best-staffed offices in the region. In the past ten years, more than 100,000 refugees have be resettled to a third country. But for many, the wait in Kuala Lumpur is too long.
Hussen was convinced, like most of the asylum seekers living in Indonesia, that waits were shorter in Jakarta. He paid a people smuggler $2,700 USD and boarded a boat with his family to make the treacherous journey to Indonesia—making landfall in Medan, North Sumatra.
People smugglers often prey on the fears of asylum seekers in Malaysia, convincing them of better chances and an easier life in Indonesia. One asylum seeker from Somalia we met was told UNHCR didn't even exist in Malaysia. But when they make landfall they find a much smaller operation, and significant waits. Hussen was told he wouldn't have a meeting with a UNHCR representative until July of 2018. Until then, he has little to do but wait.
Hussen offered us cups of sweet tea. His hospitality remained unbroken despite his grim situation. His daughters were paralyzed from the waist-down. His son had a broken arm, the injury haphazardly wrapped in a makeshift cast. Our conversation routinely turned dark, with Hussen asking himself, "maybe it is better that I die now."
They have three options. Wait until 2018 and see if his family was approved for resettlement, find enough money to board a boat back to Malaysia, or repatriate to Iraq, where the situation in his hometown has gotten even worse. In May of last year, the Islamic State (ISIS) set off two car bombs in Samawah. More than 30 people were killed. Another 75 were injured.
"Look at Iraq now," Hussen said. "All war, war, war, war. You can't live in Iraq with the war. Everyday it brings four, five deaths."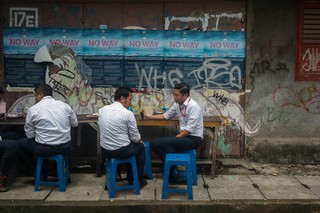 But resettlement is a long shot. There were 14,405 registered asylum seekers in Indonesia as of last year, according to UNHCR data. The US has long been the primary resettlement country for refugees in Indonesia. Last year, the US took 790 refugees from Indonesia, said Febi Yonesta, the chairperson of the Indonesian Civil Society Network for Refugee Rights Protection, or Suaka.
But most of the refugees in Indonesia are from countries listed on Trump's so-called Muslim ban. They fled some of the worst violence known, braved open ocean, and dangerous people smugglers, to arrive in Indonesia and find an increasingly closed world.
Australia has closed its borders to all refugees who arrived in Indonesia after 1 July, 2014. Last year, hundreds of refugees with valid claims applied for resettlement in the US, Febi said. Most now face an uncertain future.
"There are currently 862 refugees who applied for the US resettlement and they will be directly impacted by the ban," Febi told us.
Neither Indonesian nor Malaysia are signatories of the refugee convention. Febi said that "although Indonesia is not a signatory to the refugee convention, Indonesia could develop a system that enables refugees to integrate locally, e.g. to open access to work, education, and other access of livelihood."
For Hussen, the options are limited. He told VICE Indonesia that all he wants is a country that's safe for this family and provides the opportunity to give his children a better future.
"I will go to any country that can give me a good life, give me freedom," he said. "Because we are here for my son's future, for my daughters' futures. Allah now gives me time, gives me power — tonight I won't sleep because if I die now, this world is gone for my children."