In Indonesia, PETA cares about smashing capitalism, not animal rights. We're talking about the organization Pembela Tanah Air, meaning "national defender," that is spreading anti-capitalist messages through the best internet-friendly medium of our time—memes. When I met him, he tried to convince me that PETA is so much more than a joke.
If you live in Indonesia and pay attention to the country's meme culture, you must have seen a series of images of depicting a man dressed in military uniform and inspirational quotes about the fate of our nation. He calls everybody from his genuine followers to amazed observers "sahabatku" or "my pal."
The man in those images calls himself Pangbes, short for Panglima Besar or Commander-in-Chief. But his real name is Muhammad Saleh Karaeng Sila. Saleh was a major the Indonesian Army (TNI) until he left in 2012. He founded PETA three years later. Everyday, on the PETA Facebook page, he asks his 68,000 followers to join him in his fight against the system of capitalism, which he thinks is the the root of Indonesia's problems. Some people see him as a joke, or one of the many cult leaders in Indonesia, but others actually believe that Saleh will "save" Indonesia's economy from foreign influences.
The charismatic man built PETA slowly on Facebook. Saleh took the name of his organization from the paramilitary group in the Japanese occupation era. Under the command of a "hero" known as Supriyadi, the group attempted a rebellion in Blitar, East Java, in February 1945 but failed miserably. No one has seen nor heard about him since, but some people believe that he died and reincarnated into their present day savior, Saleh.
"The Indonesian economy is dominated by foreign countries," Saleh tells me. "Our assets are sold to foreign countries, now is the time for us to reclaim and manage our own natural resources."
In a day, Saleh uploads up to seven posts ranging from comic-strips style posters to social commentary on hoax or national economic issues. If his supporters leaves a comment, Saleh's response is always the same: "Thank you, pal." He refers to his supporters as Sigurjel, short for "Si Gundul Rakyat Jelata", or the hoi polloi.
PETA has tried to bring their movement from Facebook to the streets, but it hasn't succeeded so far. The organization drew attention in early 2016 for planning on holding a military training in North Sumatra. At the end, it never happened because TNI denied them the permit. The military commander of Sriwijaya at the time, Maj. Gen. Purwadi Mukson, told local media that the Saleh was a "lunatic" they needed to "get rid of."
Former Chief of National Intelligence Agency (BIN) Sutiyoso also said that Saleh had a "bad reputation" when he was still in the army. Then people speculated that Saleh left the army because he couldn't get the promotion he wanted, and that PETA was linked to radical organizations like ISIS. At this point, PETA has started to be associated with keywords like "paramilitary training" and "anti-Pancasila" (meaning five principles that represent Indonesia's national ideology—accusations that Saleh has denied.
"We are not affiliated with any organizations, NGOs, or even political parties," Saleh tells me.
He tells me that he's the child of a civil servant, and at first he was ignorant about the struggles of Indonesia's poor. But after joining the army, he started to learn about the economic injustices in this country. He then read books, a lot of them. He came to the conclusion that if Indonesians help one another, its economy could improve from the grassroots level. It's simple, he says.
PETA doesn't only use Facebook to spread its message. This organization slowly made a name for itself after Saleh asked his friends, neighbors and eventually people from other cities, to join his joint savings program. The money from the program is used to build stores for staple foods, with PETA representatives on the village level acting as managers. The profits from the stores are distributed to all PETA members. The stores only sell PETA products made by its members, from cigarettes, coffee to detergents. Of course, those products are sold without certifications from governmental agencies like the National Agency of Drug and Food Control.
So PETA is basically a co-op. It's not groundbreaking at all—Indonesians have practiced this model for a long time, and Saleh admits that. But the organizations' promotion strategy on Facebook and Saleh's charm offensive are turning villagers from Riau Islands to South Sulawesi into PETA believers. Every member can start their own co-op in their village, he said.
Saleh says that the main requirement to join PETA is to save up a certain amount of money in the village-level PETA co-op. Once someone has a saving account, a saving book will be given to them and they are encouraged to shop at official PETA stores. Otherwise, it means they are not 100 percent supporting PETA, Saleh says.
To this day, PETA is not a legally registered organization. Every organization that collects money from people has got to have an operational permit as well as be legally registered to avoid financial risks and dispute. At least it has to be registered and monitored by Financial Services Authority (OJK). But Saleh told me that he has yet to see the need to register his organization.

"Perhaps later, when we've become a LLC," Saleh tells me.
Saleh's anti-capitalist venture is a risky business. Hasbur Peridia, the head of OJK Micro Finance Development, says that financial organizations that are not legally registered can face legal consequences. Peridia says that starting January 2016, all financial organizations are required to be registered so embezzlers can be held accountable.
"If they keep collecting money from people, they can face criminal sanctions according to the existing laws," Perida says.
But Saleh is not worried with embezzlement. All of the savings are monitored by the customers everyday, he says. Saleh also encourages the customers to report any suspicion of embezzlement to the police. If that doesn't solve it, they can always do it the hard way, he says.
"If it's hard to solve legally, then we can just use the rule of the jungle, under the condition that it's quiet and neat," Saleh wrote on Facebook. "If we misuse the customers' money it means a betrayal to their trust."
Like Karl Marx who divided people's socio-economic stages toward utopia, Saleh has set five stages until the state can fully be owned by the people. It starts with collecting capital, then followed by building PETA stores in villages, producing staple foods, building industries, and then managing the state's assets and wealth.
It sounds too good to be true—but why are people buying into this idea? An economic observer said that its simplicity is what attracts people.
"It's only normal, people are joining to gain profit," says Suroto, an observer from a socio-economic strategy association Akses. "Because the co-op system is mutualistic it has got to make profit for it to sustain."
So is PETA a creative attempt to promote the co-op system? Suroto doesn't think so. He said that while the concept sounds harmless, he can't dismiss the possibility Saleh and his followers are exploiting people.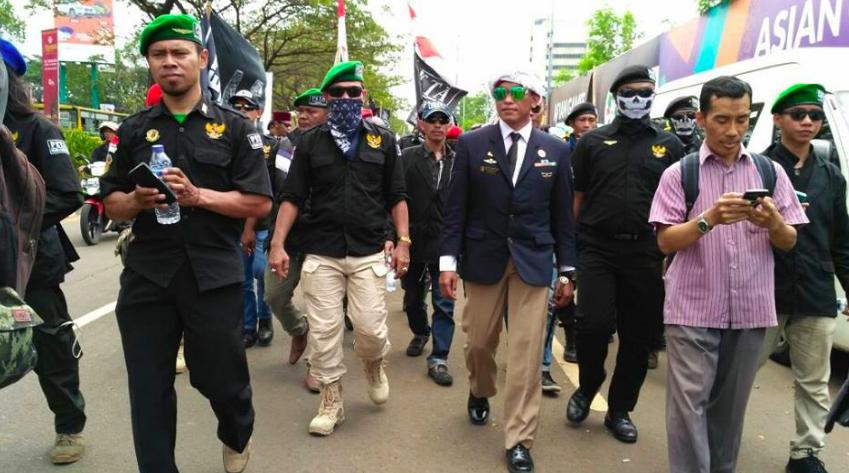 "Now there are my crowdsourcing systems, but many of them are eventually dominated by minority tyrants," Suroto says. "So it doesn't mean that he believes in the co-op values. Is he democratic in the way he runs the business? Or is it regulated by a certain people? At the moment, co-op is seen as a micro business, not a system applicable in the macro economic setting. This paradigm is what needs to change."
According to Suroto's records, after 69 years, the co-op system in Indonesia hasn't shown significant progress. As of 2015, the contribution of 209,355 registered co-ops to the country's Gross Domestic Product is only 1.7 percent, or around Rp 187 billion.
"At the moment, the co-op model is seen as a micro business, not a system applicable in the macro economy setting," Suroto tells me. "This paradigm is what needs to change."
Saleh says that if PETA can't be called a co-op, at least it's not capitalistic. Every decision was taken after its members' consideration, he said. PETA is an effort from the people, for the people, he maintains.
"Those who save up and shop in PETA community stores will gain profit everyday, even in every transaction," Saleh says excitedly.
PETA's commander-in-chief has a long way to go to achieve economic independence. But Saleh says he will never give up, even when people think he's crazy.
"We have to be patient and have a big heart," Saleh says with a smile.