The Best Signs From Women's March Jakarta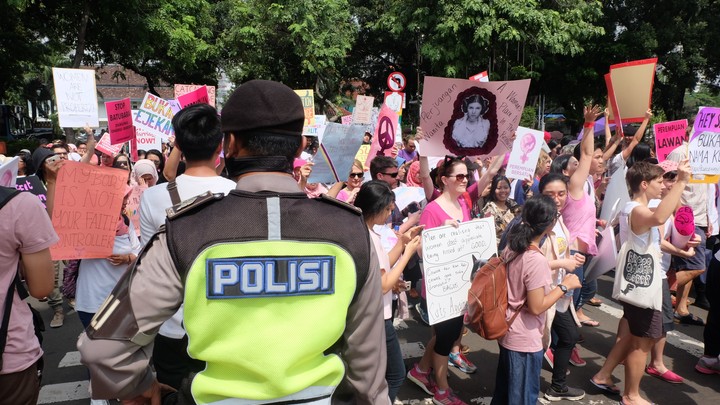 On Saturday about 1,000 people came out to support women's rights and gender equality at Women's March Jakarta. Here are the best signs and the people behind them.
All photos by Arzia Tivany Wargadiredja.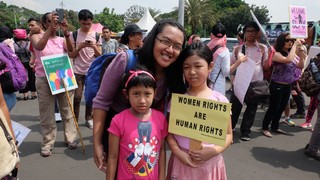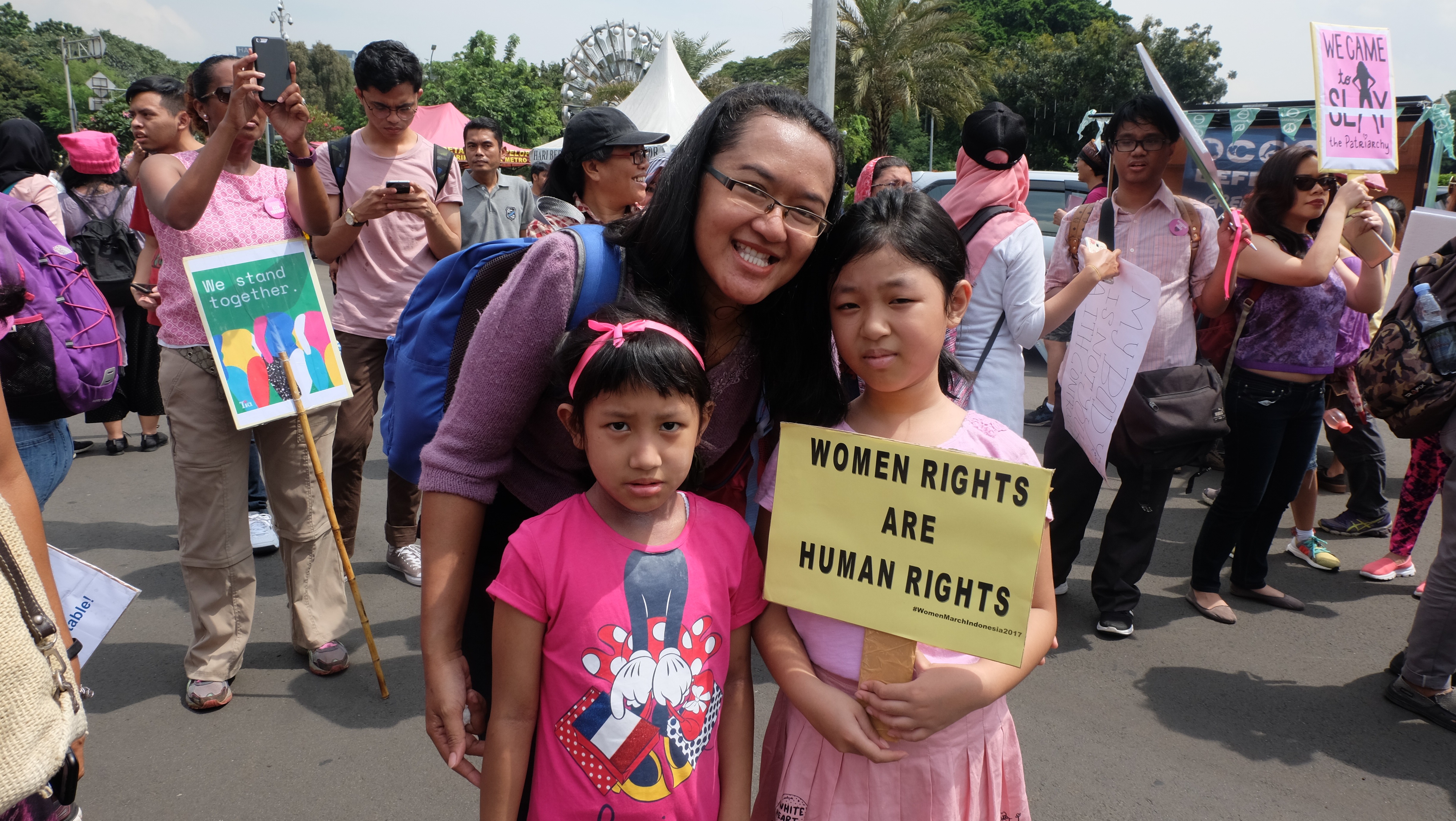 Indi (35), with daughters Kiara (8) and Diona (6)
"While marching my daughters kept asking to explain the meaning behind different signs. It's important for kids to experience this activity because they will live in today's society as women."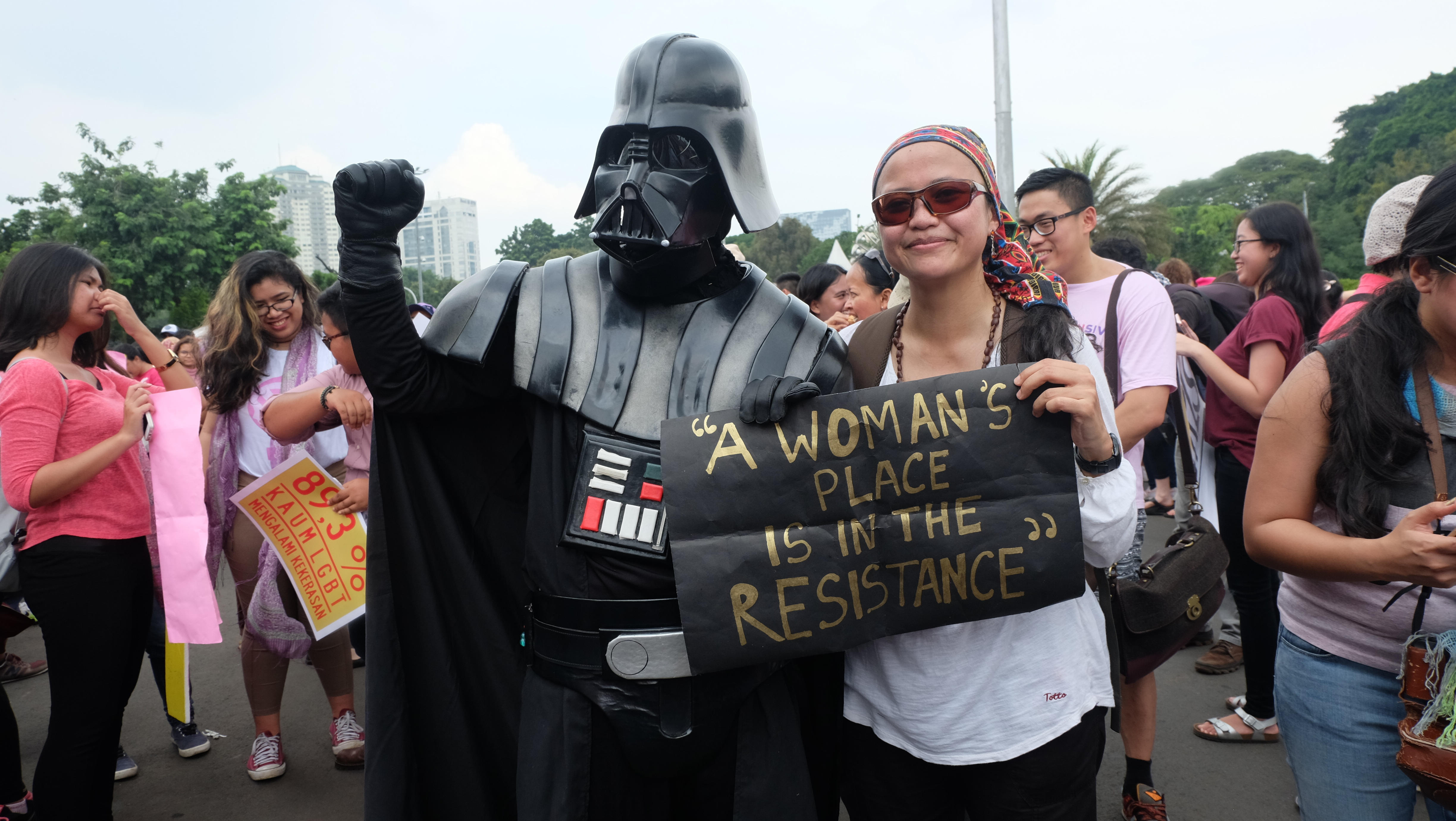 Margianta (23) and his mom
"I'm here because this movement is not only about women, but also respecting human beings themselves. We have to uphold the values of equality and equity. My mom raised me as a single parent since I was three. She was a victim of marital rape, and that's why I'm here. I asked her 'Why did you have me in this world? You never wanted to be married.' She said, I wouldn't be able to be this strong if it wasn't for you, I wouldn't have been motivated to get my doctorate degree in Germany. She's so empowering, my mom is the reason why I'm here."
Priscilla (18), student, "Housewife Is A Career Too"
"This is the first time I've attended a march, the women's march in other countries looked like a lot of fun. I made this poster because a lot of Indonesian men think that a housewife only knows how to take care of children, but they don't understand how hard that actually is. There's still so much a housewife can do, I hope they stop neglecting the role of housewives."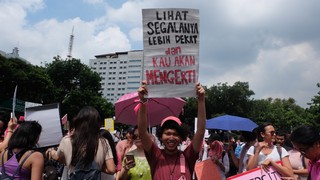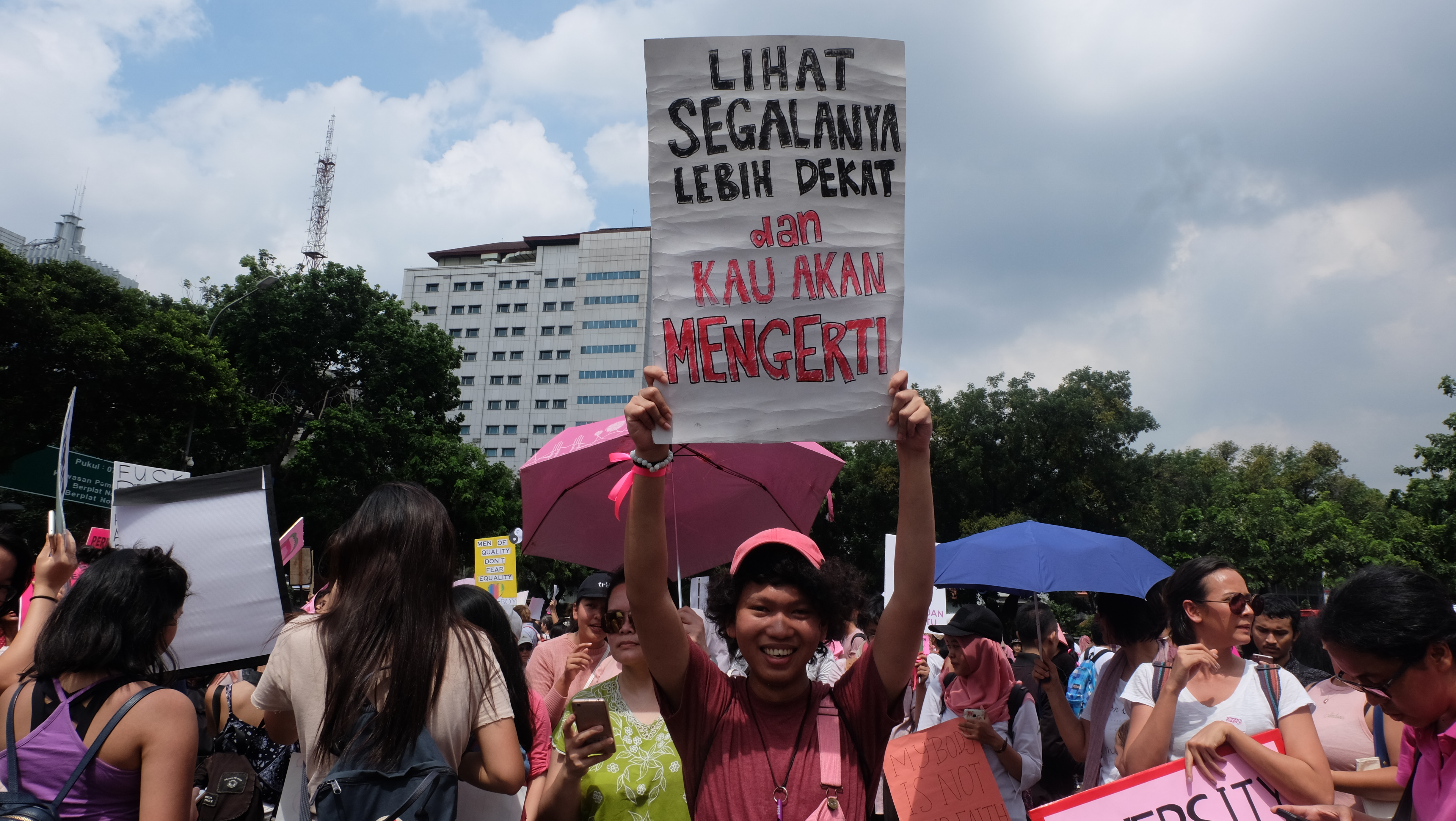 Rastra (21), Volunteer, 'Look closer and you'll understand'
"'Look closer, feminism is not just for women, it's for anyone and everyone who believes in gender equality. Men are also oppressed [by patriarchy]. It forces us to constantly prove our masculinity, that boys don't cry, to be strong and unemotional. It's exhausting."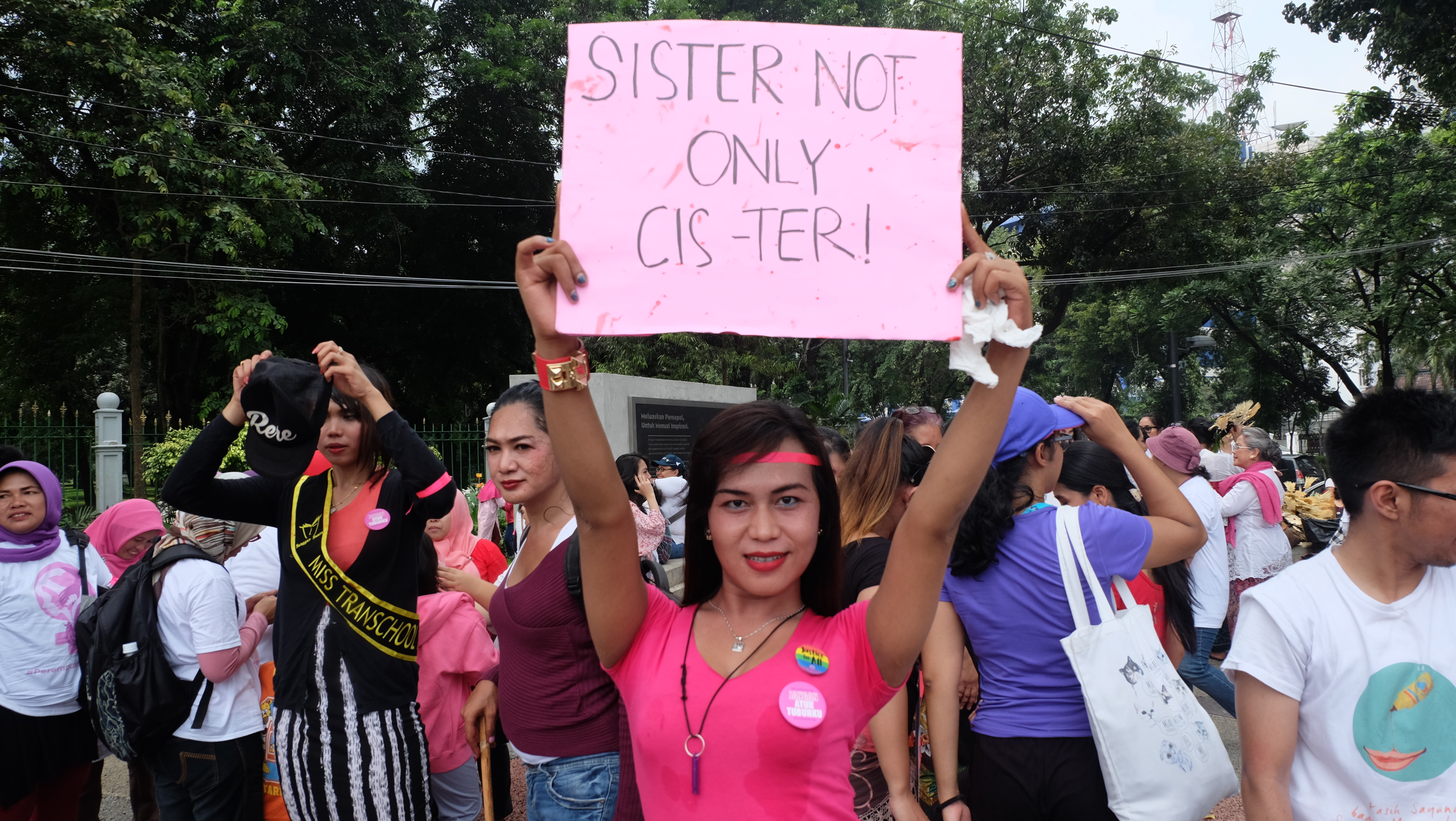 Jihan (26), trans activist
"What transgender women need most is for our identity to be recognized and acknowledged by the government. It's important because our identity is denied by society, there are no laws that protect us from discrimination"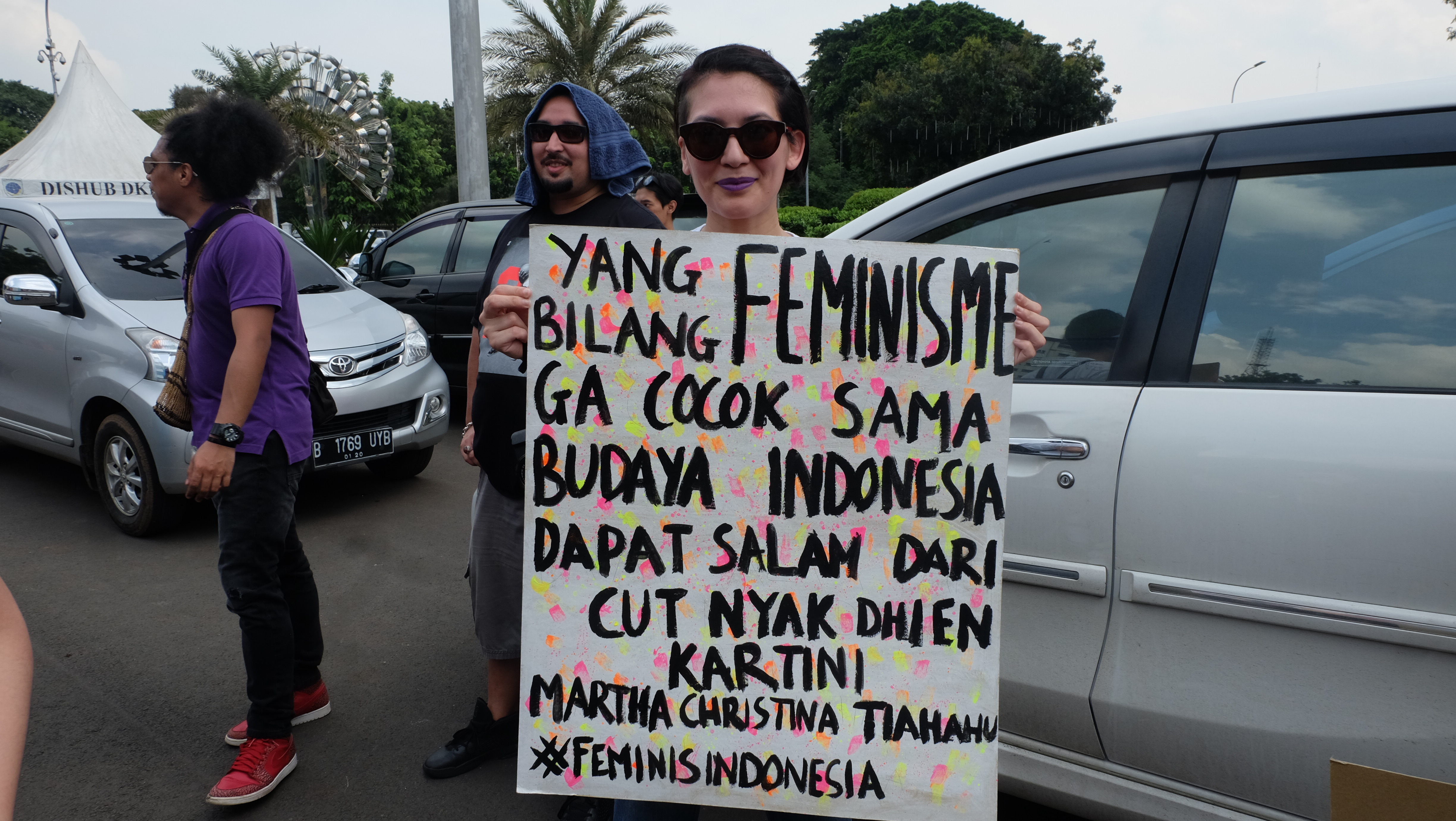 Hannah (31), actress, "For whoever says feminism is not in tune with Indonesian culture, Cut Nyak Dhien, Kartini, and Martha Christina Tiahahu say "Hi!"
"I'm so happy that we finally have a women's march here. Concerning my sign, I wanted something that shows that Indonesia has a strong history of female feminists. Those people who say feminism is not in tune with Indonesian culture, well, Kartini says hi, Cut Nyak Dien says hi, Martha Christina Tiahahu says hi. I hope that the stigma behind the word 'feminism' will slowly disappear. Some of my guy friends, when being asked 'are you a feminist?' they say 'no'. But when asked, 'do you believe in gender equality?' they said 'yes.' So, you're a feminist, dude."