Photo by Premnath Kudva via Wikicommons.
I Tried To Get A Job At Hooters Jakarta
The most famous "breastaurant" in the world is opening its doors in Jakarta. I decided to see if I could become a Hooters girl, but I didn't stand a chance.
Photo by Premnath Kudva via Wikicommons.
It was 9 a.m. and I was on my way to interview for a job I had no intentions of ever doing. The job? To be a server at the infamous US "breastaurant" Hooters' first Indonesian location. The reason? Curiosity I guess. Jakartans have had a morbid curiosity with the restaurant since word first broke that it would be opening a branch in the Indonesian capital. Can it survive in a city currently in the midst of a rise in cultural conservatism? Sure, the city is full of places that make Hooters look tame. But, for some reason, cultural imports tend to raise more red flags in Indonesia. I mean, I can't even visit the company's website because it's been blocked by my internet service provider. So how the hell can the real thing survive here?
There were bigger questions at play too. Is Hooters about more than just T&A? Are the Buffalo wings any good? Are "Hooters Girls" the victims of sexism and objectification or are they feminists empowered by their own sexuality? I figured the best way to figure it out was to try out for the job myself.
I found the job description on Hooters Indonesia's Facebook page. The requirements were easy enough: servers needed to be 19 or older, at least 158 cm tall, and with decent English. I was 26, 159 cm tall, and my English is good enough to sell some hot wings. But then I saw, "good looking with proportional weight." I am what I guess you could call curvier than the average Indonesian. Is this interview going to be a panel of Hooters recruiters body shaming me for having thick thighs? I cringed at the thought, but decided to go through with it. How bad could it actually be?
When I arrived at Kemang Square, in South Jakarta, the mall was dead. There was a big Hooters logo painted on the outside of the building. I felt pretty nervous. My stomach was growling. Anxiety shadowed me like a ghost. I pushed floor two on the elevator and waited for the doors to open. There was a room with a wall of Nike boxes stacked against the window. That had to be the spot.
"Are there any interviews today?" I asked. "A walk-in interview for Hooters?"
"Yes," a woman answered. "Where did you get the information from?"
"Facebook. I Googled it."
She introduced me to a man who quickly told me they weren't doing any interviews that day.
"Sorry, our manager just flew back to Bangkok for a meeting," he explained.
The competition, he told me, was stiff. There were about 2,000 applicants for 18 positions. They had already hired 10 Indonesian "Hooters Girls." There were only eight positions left. He assured me that they were looking to hire a diverse range of women. Some of the candidates were Manadonese or other light-skinned, East Asian-looking ethnicities. Others were Javanese, who have browner skin and rounder eyes. What was I, he asked. He thought I was Chinese Indonesian, or Manadonese.
In reality, I'm mixed race so I just said "Sumatran."
"Are you sure you want to fill this position?" the woman asked as she looked at my photos and CV.
"Um, yeah..I just want to experience something new."
"With your current education, you're best in public relations. We will need that... soon." she said. "You may apply to that position if you want."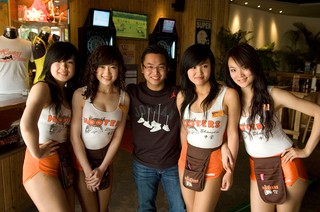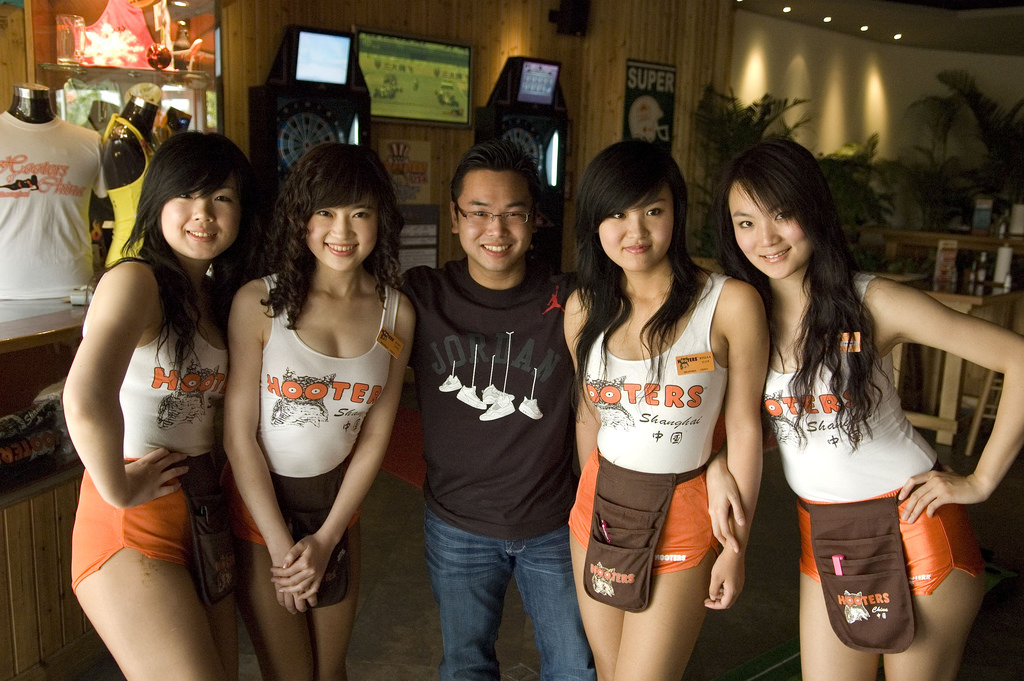 I wanted to know a bit about the other women who applied. What kind of person wanted to work at Hooters? One woman went to school in Australia and was obsessed with the restaurant, he said. She was chasing it all over the world, looking for work. Others were currently working as models, but even those women were rejected. He had no idea why. All the decisions were made the bosses in Bangkok.

They only wanted to hire women with a D3 education or higher (an associate's degree) but most of the applicants only finished high school. Many others couldn't speak English, a requirement at many restaurants, especially at one in an expat-heavy neighborhood like Kemang. Those selected for the job would be flown to Bangkok for four weeks of training. The whole thing sounded way more intense than I thought.
"What's the interview like?" I asked. It would take an hour. I only needed to wear the Hooters uniform and pose for some pictures in the bathroom. Yeah. The bathroom.
"Come back on Monday for an interview," he said. "We're also interviewing bartenders on that day."
It was raining when I pulled up on Monday afternoon. I hadn't bothered to wash my hair and my face was all oily. I was damp from the afternoon rain. I walked into the Hooters office to find a small queue of five men. I assume they were there for the bartender job. The man from before waved me into another room.
"The manager is not here, but we can take your photo and send it to them in Bangkok," he said.
"Were there any other server applicants today?" I asked.
"Yeah, around five people this morning. I think you're the last one today. We got 12 photos today and already sent them to Bangkok," he told me.
He introduced me to a young woman with a boyish style. She will take my photo once I put on the outfit, he said. She handed me a black plastic bag and a pair of white knockoff Nike Airs and told me to go into the bathroom. Once I was ready, she would come in and take some photos.
I walked past the men who were waiting for their interviews. One of them stopped me as asked, "miss, are we going to get Nike Airs if we work here?"
"Umm… I'm not sure. I guess only the servers?" I answered and went on my way.
I entered the bathroom. In the bag were three pairs of orange shorts sizes XXS to S and two white sleeveless shirts with "Hootie the Owl" on the front, sizes XXS and XS. "Whoa, I don't think I'm small enough for this," I thought.
It stung a bit, and honestly I don't know why. I didn't want the job (hell, I already had a job here at VICE), but there is something about being judged on your looks alone that hurts a bit. It's like Tinder, if you were told every time someone swiped left.
I squeezed into the XS shirt. It was tight. Too tight. I could feel it squishing my breasts. I took out the shorts and examined them. The orange was eye-popping. I put on the biggest shorts (size S) and stared at my ass in the mirror. I could see the bottom of butt cheeks in the shorts. You know the pen test? My ass could probably ace that test in these shorts.
The Nike Airs were oddly weightless. They were so light they felt like they were made of paper. Or air, I guess.
I stared at myself in the full outfit. So this is what it felt like to be a Hooters Girl? It felt weird. I wasn't excited, but I wasn't cringing either. Maybe this is what it feels like to be a model, I thought. I studied my reflection and thought, "yeah, I do look pretty sexy in this, but there is still no way in hell I am going to leave the bathroom dressed in these clothes."
A few minutes later, the photographer walked into the bathroom. She had me pose with one leg in front of the other, my hands on my hips. I struggled to look sexy doing this ridiculous pose in front of the hand dryer in a bathroom. She took three photos, front, side, and back, and then we were done. I quickly got changed and went back into the office.
"We will notify you in two or three days," the man told me. "The manager will choose from the photos of all the applicants. Now we have 13 applicants for today. They stick the photos to a wall and choose. I have no idea how they do it. Maybe it is just their personal tastes."
I told him I would message him later, maybe after Maghrib. He said OK. At 7 p.m. I sent him a WhatsApp message. The answer was expected. The manager reviewed my photos and I was rejected. It stung a bit, and honestly I don't know why. I didn't want the job (hell, I already had a job here at VICE), but there is something about being judged on your looks alone that hurts a bit. It's like Tinder, if you were told every time someone swiped left.
He was apologetic and said he didn't know why. Not that it mattered, I guess. There's no way I wanted to wear that outfit in public anyway. But still, being rejected hurts.