Phoebe Taylor and Ash Pierce play in Melbourne rock band Bitch Diesel. They also front a fashion label named after a classic Australian biscuit.
VOVO is about sequins, vinyl, garish colour and vintage prints. It's also becoming the go-to-label for Australian music's cool kids.
Both Phoebe and Ash are alumni of the fast fashion industry but were growing tired of seeing volumes of material consigned to waste. So the vocalist/bassist and drummer committed to starting a label that valued clothes and the time taken to make them.
The approach seems to be working. Despite no official launch, and with only a few hundred social media followers, VOVO have been commissioned to design and craft garments for a range of high-profile Australian artists. Their first gig was costume design for a King Gizzard and the Lizard Wizard music video.
A DIY-attitude binds the band and fashion label, and while Phoebe and Ash admit they're not always sure what they're doing, there's nothing that they won't do or say.
We settled in with the the two at their Melbourne studio, that has been transformed from a once rundown carport, to pop the (imitation) champagne and to talk about the life and times of VOVO.
Noisey: What are the beginnings of the label?
Ash: We've known each other for a few years and initially met out seeing music and ended up working next to each other in fashion roles. We'd joke around and keep each other alive at work when it was dull. We hadn't intended on starting the label but we both happened to resign from those roles around the same time. The timing was great and we love each other.
Phoebe: We call each other life partners.
Ash: We also realised it's now or never. We hope we've had our Saturn return, and we're ready. At the beginning a few fucks were given but not anymore.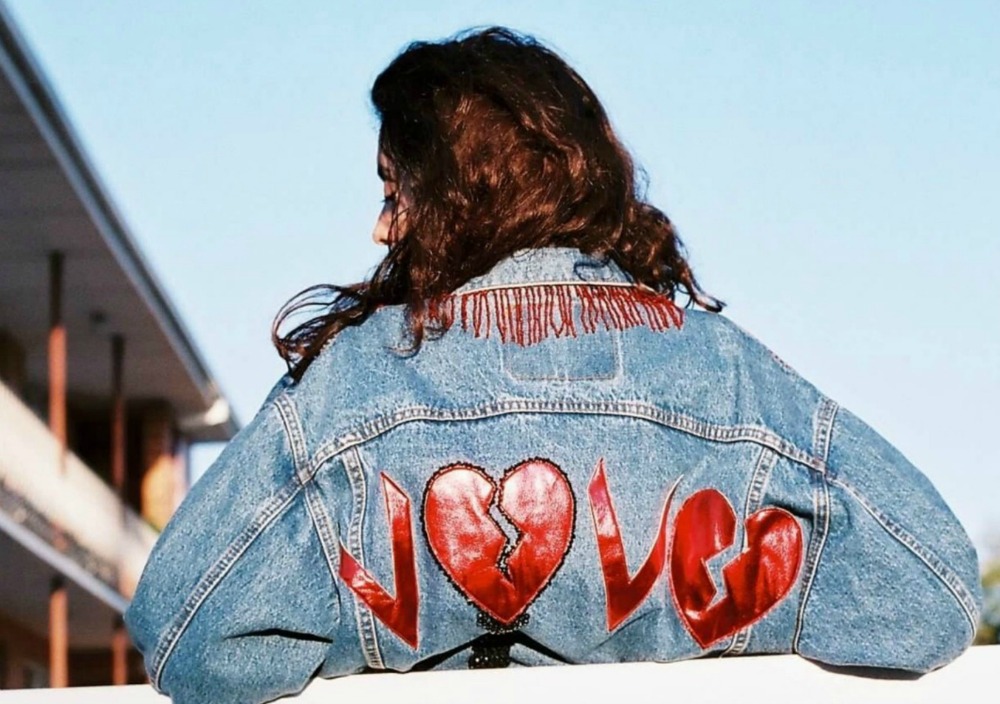 And the name is a homage to one of Australia's great treats?
Ash: Yes, VOVO is a nod to the Australian iced biscuit. It's light hearted, fun and definitely the most sparkly of the Aussie biscuits. We also like VOVO as it's symbolically strong and a pair like us.

Where did the themes and inspiration come from?
Phoebe: We started making basic pieces but we soon realised you couldn't make it look as slick as the mass producers like UNIQLO. We realised that our stuff had to stand out from the masses if we were going to be making it ourselves.
Ash: The fabric or design must be unique. There's no point spending a day making a plain, run-of-the-mill shirt you could get anywhere.
Has Bitch Diesel provided a good platform to launch VOVO from?
Phoebe: Not necessarily. People can be pretty critical of what we do. We're confident and upbeat about music, but we also knew nothing of how to use our instruments, and that may have led people to assume that crowds only come because of how we look or because we're a bunch of chicks – that is, they think we're a novelty. I find that if I really ham up my appearance on stage and take on a stage persona, it helps me overcome my stage fright. This then becomes an amazing VOVO outlet and we all get into the fun of it. Wearing an array of crazy VOVO outfits on stage has sometimes led to people assuming we're loaded and have cash to burn on how we look, but we create it all ourselves on the cheap.

Ash: We started working on VOVO before we started the band it just so happened that the two worked hand in hand. Designing and making is our day job, Bitch Diesel is a fun outlet and also a great platform to utilise our skills. As Phoebe said, we've had to cop a bit of criticism about what we do; people just not taking our band seriously or having a dig for no real reason. The scene tends to be a bit of a boys club and it's tough to be judged when we are just having a go like anyone else. We work fucking hard. And you know what? Everyone can have a go.
How do you manage criticism? Does it bash your confidence around?
Ash: Yeah, I find it really hard. I always want to say that we do work hard. It can stick with me for a while.
Phoebe: I think it's great; people are talking about it. I think you have to be above it. It means we're rustling some old crusty feathers. We're really lucky to have the support of bands like Palm Springs, Time for Dreams and Gaz Liddiard (The Drones) though. They've been amazing. Craigy from Scott and Charlene's Wedding has been so encouraging and helpful too.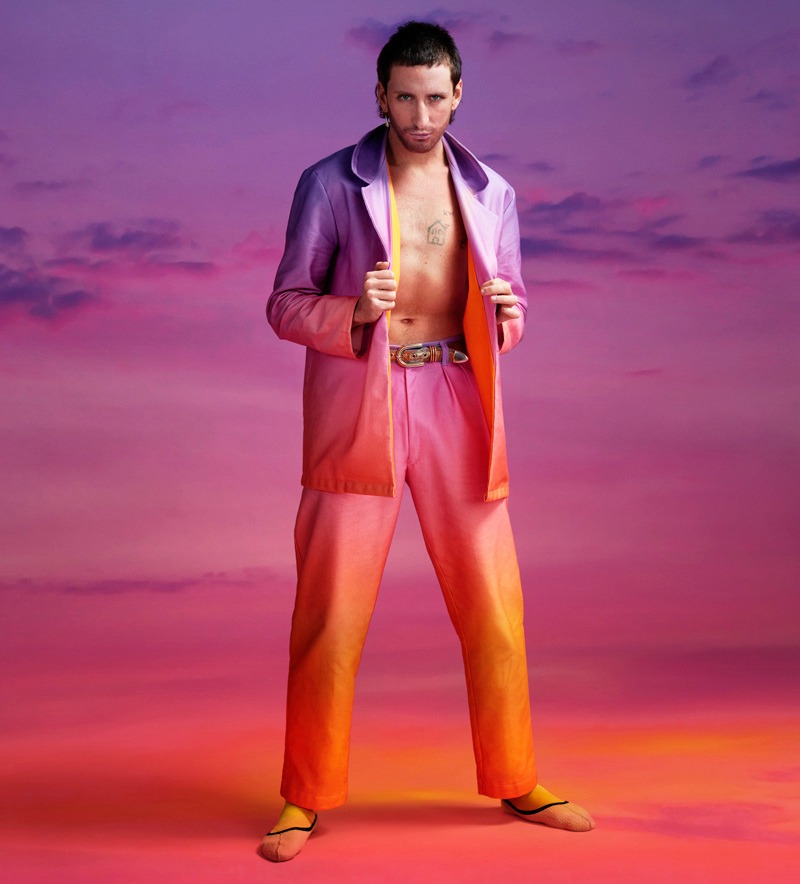 Who have you made garments for recently?

Ash: We made a sunrise-sunset suit for Kirin J Callinan, and a custom suit for Alex Lashlie of Closet Straights, who wanted a new look for the release of his latest album. Then we made some spangled suit pants for Jarrod of Lost Animal. At the moment, we're making a jumpsuit for epic babe Jenny Branagan of Nun.
Phoebe: Oh yeah, and we made suits for The Veronicas! LOL. Their stylist contacted us and saw the suit we made for Kirin, and described what the Veronicas wanted so we madly put it together in three days. They might have even mentioned a collaboration…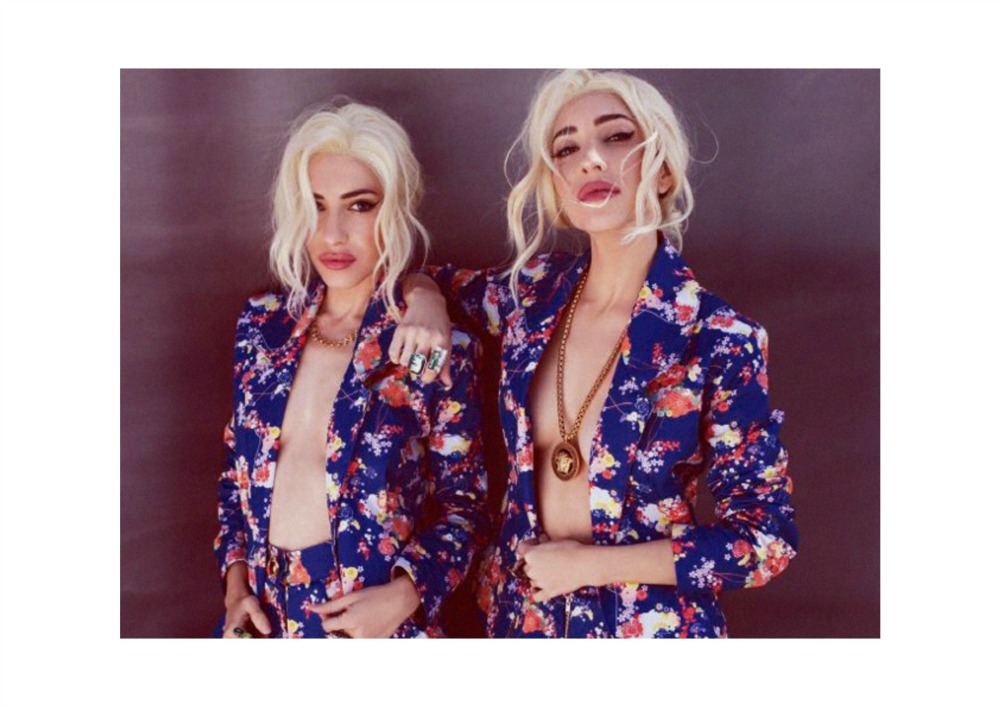 That sounds exciting. Was that the best job you've done so far?
Phoebe: Our first job was pretty sick. It was for the King Gizzard and The Lizard Wizard film clip "People-Vultures".
Ash: We drove out to the You Yangs and worked on set. We had a sewing machine attached to a generator and were fixing stuff as the clip was being shot. We had to make these crazy Power-Rangers-80s-style costumes for our mate Danny Cohen, the photographer who was directing the clip.
Is it difficult managing the demands of Bitch Diesel and VOVO?

Phoebe: One actually helps the other, because it's wearing costumes in Bitch Diesel and making costumes for musicians that have really driven a lot of our work. So many requests come from what we've worn or what we've put on Instagram, so while it's a lot of work, it's really good. We love it, but it has been a massive learning curve. It's been super refreshing using our brains again. And teaching yourself specifically what you need to know. None of the excess or baggage or fluff that you'll never use.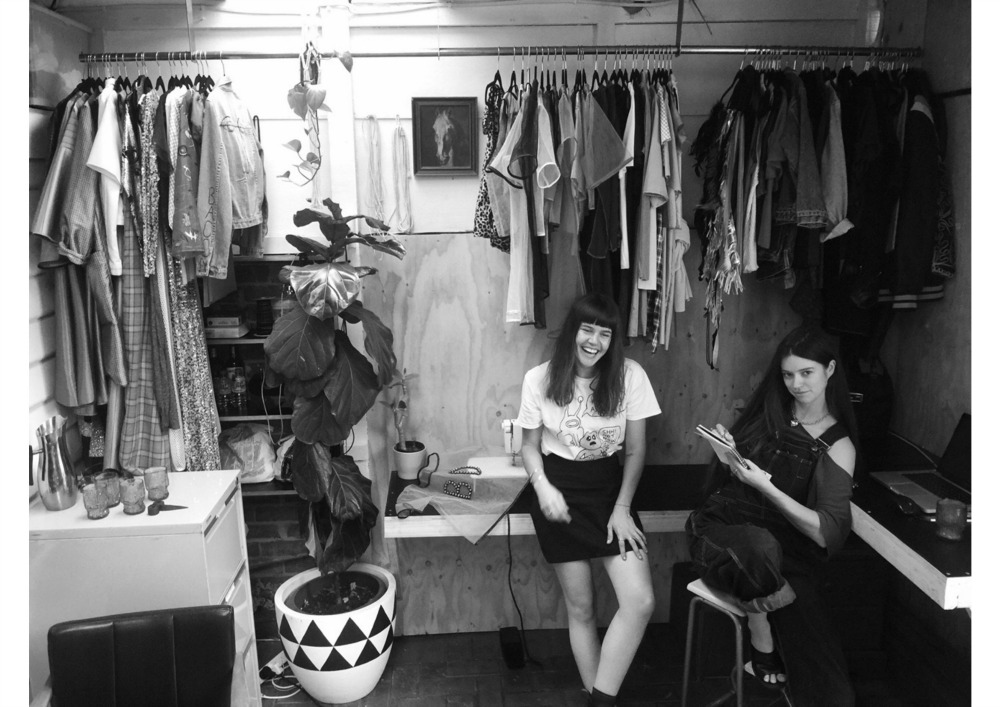 What's the current status of an official VOVO launch?
Ash: Sometimes life, and channels for making an actual income get in the way until we get this baby off the ground. We're just starting out. We can only do what we can do. I've found myself in the hospitality industry part-time and spending the rest of my days working at the studio and trying to get a website up and running. But we take custom jobs and people are always welcome to pop into our studio in Abbotsford and have a peruse of what we've made so far. We are looking to do a full label launch and party in November so keep your ears out and eyes peeled.
Keep up to date with VOVO at their website.