David Walsh, your favourite renegade professional gambler turned art collector and founder of Tasmania's Museum of Old and New Art (Mona) has unveiled his next phase of plans for the museum.

The proposal, which was unveiled yesterday in an address to Tasmania's tourism industry, includes preliminary designs for a five-star hotel on the museum's current site in Berriedale. HOMO (Hotel at Mona) is expected to have 172 rooms suspended above the Derwent River. Rooms will have south-eastern views of Mt Wellington (Kunanyi), and a view of Claremont and Otago Bay to the north.

Entry to the hotel will be integrated with the Mona ferry terminal, and facilities include a new spa treatment centre, restaurant, bar and retail spaces. A state-of-the-art function and events centre will include a multi-purpose indoor theatre which will seat upwards of one thousand people, in addition to an open air concert stage. The amphitheatre will be surrounded by a lawn featuring a large children's sculpture by Tom Otterness and an expansive playground designed by textile artist Toshiko Horiuchi Macadam.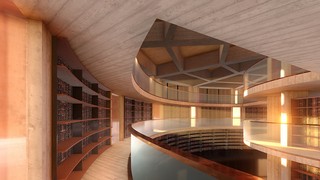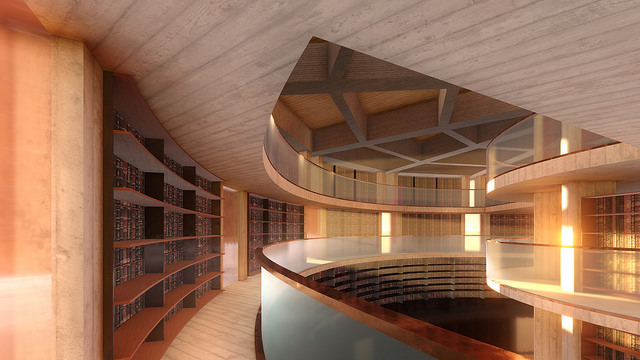 HOMO will also house the new Mona Library. Split across three levels, the library will be open to researchers, staff and guests and will display Walsh's extensive collection of rare books and manuscripts.

Walsh noted in a press release yesterday that "the excavation [for Homo] is more than four times the size of that for the museum…. but we can't rest on our laurels for ever. The heart of Mona is chance."

Three quarters of Mona's annual visitors travel from interstate, and the hope is that the new hotel and extensive facilities will continue to help support the national and international tourism that has been growing since Mona first opened in 2011.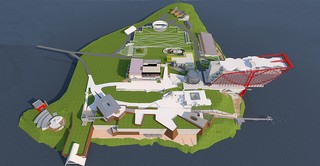 The existing Mona gallery is also receiving an upgrade, with an extension, called "Pharos", on the building's southern side already under construction. Pharos will house four purpose-built James Turrell installations as well as other individual works by Richard Wilson, Jean Tinguely, Charles Ross and Randy Polumbo.

"It's very simple really", Walsh added, "we like building stuff. So far it has gone pretty well for us, and hopefully also for our communities".

The proposed development plan is yet to be submitted to Glenorchy City Council, and Mona says the plans will undergo a comprehensive consultation process with the public. However locals have been quick to note that despite the noble intentions set out by Walsh to increase Tasmanian tourism, the proposed designs conflict with the values laid out when Mona was first built in 2011. The original plans for the gallery garnered support from locals by prioritising a respect for the Tasmanian wilderness and ensure the infrastructure was cohesive with the surrounding landscape, rather than detracting from it.

Further controversies may lie ahead, with the press release hinting that a private members-only casino complex called "Monaco" may be included on the hotel site.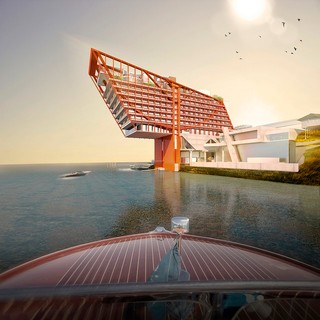 In addition to the on-site developments, Mona has proposed to move the summer celebration of music and art, Mona Foma (Mofo), from its current site at the gallery, just north of Hobart, to Launceston.

"We want to make it bigger, better, more creative, more diverse and more famous (and by famous we mean infamous)", said Brian Ritchie, the curator of Mona Foma. He added that "the festival's original ten-year plan to change the culture in Hobart has come to fruition ahead of schedule". The move to Launceston marks a new chapter and an opportunity to seek new challenges, new collaborations and new audiences.
Mofo is currently in negotiation with the State Government and Events Tasmania and is hoping to make the move to Launceston as soon as possible. Pharos, the new wing of the existing gallery, will be completed in 2017, while HOMO is expected to take approximately three years to complete.
Find out more about Mona's future plans here.

Related links
The Best Things We Saw at Mofo 2016
At The Museum of Everything, Art Doesn't Exist