A 1978 photograph of Voigt/465 playing under the pylons of the Western Distributor at Darling Harbour, remains one of the great images of Sydney's late 70s post-punk scene. Shot shortly before the gig was shut down, the band is dwarfed by what looks like a modern Stonehenge as the city skyline looms in the background.
Though short-lived, Voigt/465's mix of art-rock bravado, punk intensity, free improv, meandering psych and self-funded recordings and gigs came to epitomise the DIY ethic of Sydney's alternative music scene of the late 70s.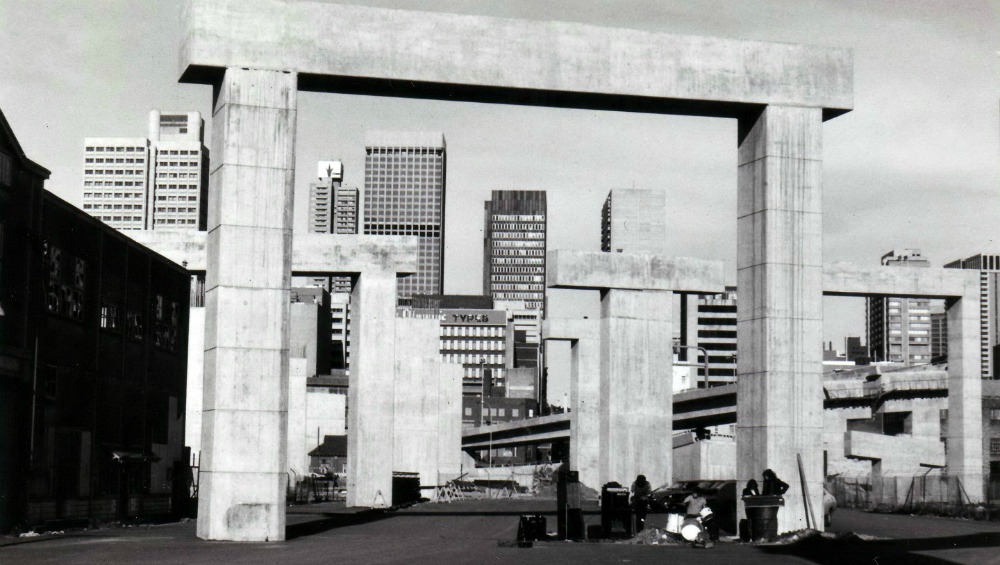 The band formed in 1976 at Sydney Technical Boys High in the southern suburb of Bexley. Vocalist and organist Phil Turnbull and bassist Lindsay O'Meara were a couple of like minded glam rock aficionados into the sounds and styles of the day: Bowie, Roxy Music, even some Slade. Linking up with guitarist Rod Pobestek, whose father had a factory space where they began practising, the band started developing a more freakier Krautrock, psych, and Velvets type sound. The addition of drummer Bruce Stalder completed the lineup.
In his excellent No Night Sweats website that covers Sydney's 70s-90s post punk scene, Turnbull recollects the band's music at the time. "There was a lot of free-form psychedelic/Krautrock experimentation interspersed with art rock cover versions and, eventually, some actual songs with melodies and choruses and such (this disparate approach to influences and style continued until the end)."
Regular Friday night visits to the Oxford Funhouse where they's often see Radio Birman destroy the stage also became an influence on their sound and on August 21 1977 they performed their first self-organised and self-financed show at Liverpool's Bigge Park. "It was a complete disaster in terms of money. Just a few friends to come and watch us," says Turnbull. A few weeks after the gig Rae Macron Cru joined the band on vocals.
The band's first 'proper' gig was at French's in Oxford Street, Darlinghurst where Turnbull remembers "our sub-psychedelic light show and garb garnered us a 'hippy' tag that we never really shook off."
During 1978 the band performed more regularly and began to attract a following. Stalder left in mid-1978 and was replaced by Mark Boswell but the band's notoriety was growing and a mid-week residency at the Sussex Hotel helped the band build a following. Four songs recorded at Axent Studios at Kogarah included "State", a psyched up, accelerated, pop, love song. At the time it was one of the first totally self financed releases in Australia.

In 1979 O'Meara moved to Melbourne to join Crime and the City Solution. With Voigt/465 on the verge of breaking up they decided to record an album as a lasting document.
Again recorded at Axent,Turnbull remembers "long faces, inexpert engineering and desultory ears" and the album Slights Unspoken was released in a limited edition in September 1979. O'Meara moved back to Sydney and later joined Pel Mel while Turnbull later went on to Wild West. The band were done.
With Spanish label Guerssen set to release Slights Still Unspoken (1978-1979), a remastered vinyl reissue of the 1978 LP Slights Spoken, expanded with both tracks from the band's debut 7-inch, we caught up with Turnbull to find out more about the band and recordings.
Noisey: What was the first recording at Axent like?
Phil Turnbull: Axent was a local studio owned and run by a blind guy called Ross MacGregor. It was mainly a place to do advertisements and things. He oversaw the recordings although we did the physical engineering - microphone placements etc under his supervision. We'd never been in a studio before the single sessions but went back there for the album as well. It was cheap! SPK recorded their early singles there (after hearing our single) as did a raft of other punky bands from around Hurstville.

What bands were you listening to at the time?
We all loved prog rock, jazz rock, The Stooges, VU, glam, psych music from the 60s, free improv, Beefheart, Birdman, Saints, the early NY scene - NY Dolls, Patti Smith, Television, Talking Heads. Then as 77 unfolded we heard those early Pere Ubu singles and went wild. We felt an affinity with them, Sex Pistols, Slits, Banshees, PIL.
And how did the residencey at the Sussex come about?
Rod and Lindsay went to see Stella and ask about a mid week night. She was fine as long as we brought in some paying customers. By then we were living in the inner city so every Wednesday evening we'd pile up the van and travel the couple of kilometres to the bottom bar of the Sussex. Entry was 50 cents unless you could convince them you were broke. We set up in the biggest corner space but had to leave a passage for people going to the toilets. It was usually a pretty great, sweaty night. No foldback so my voice was usually hoarse from screaming.
What was your trip to Melbourne like?
We wanted to go to Melbourne as it seemed more of a hot bed of avant music than Sydney. Birthday Party, Primitive Calculators, Tsk Tsk Tsk - it all seemed so open. But we were broke so it was only a week or so. Phil Brophy organised it so we supported Tsk Tsk Tsk at the first gig. The Birthday Party arrived to check us out. There seemed to be some rivalry between Rod / Lindsay and them but I was too clueless to worry. Overall it was another disheartening experience with low crowd numbers and poor receptions.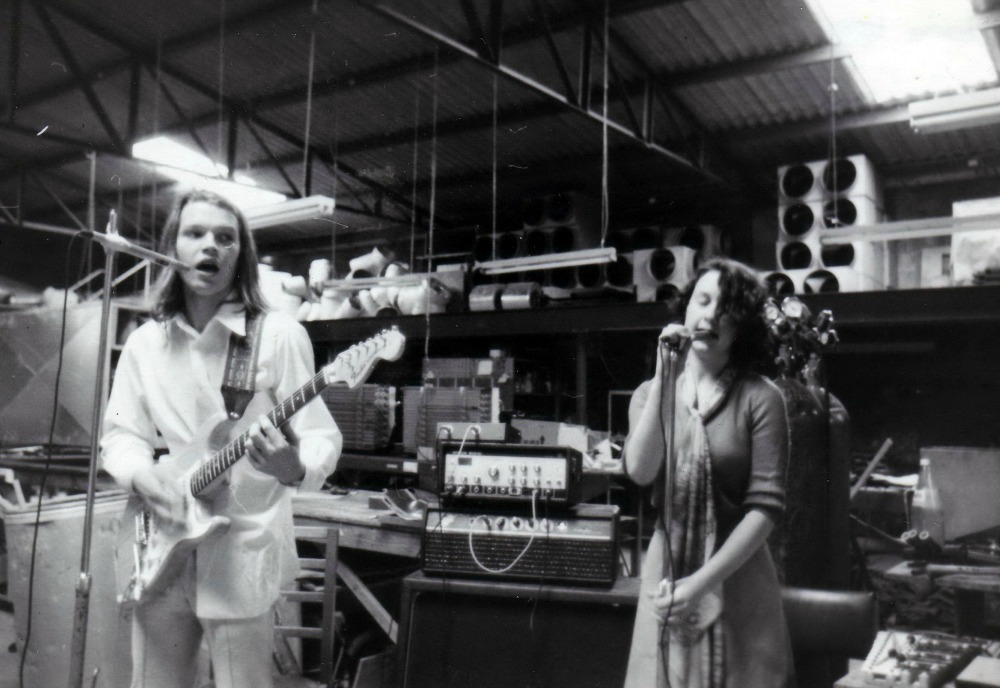 In his book Inner City Sound, influential Australian music critic Clinton Walker crowned you the "band of 79".
It was a nice to be noted, especially by someone who was so non-Sydney focussed. But it all came too late.
How did Lindsay's departure affect the band?
It wasn't Voigt/465 without him. But once he makes a decision he sticks with it - he's done that all his life. It was a great wrench for me - losing the band that defined me as a person to a large extent.
"State" has become your best known song. What was the writing and recording like?
After we'd done a lot of experimental things Rod just came up with this seemingly simple set of chords played with a punky vigour. It was Lindsay's idea to break it down in the middle and then, somehow just prior to recording, we came up with the key changes at the end which fed the shouty 'chorus'. The lyrics are all about my first girlfriend - nothing too awkward there, The "east side" was just our friends who lived in Bondi and where we bonded.
The rhythm on a track like "Red Lock on Sea Steal" is amazing.
"Red Lock" is another piece based on system stuff initially and we followed through with that set of instructions to the very end. Like all these pieces, it grew in strength as we continued to play it until the weirdness of the time signatures became second nature. Overall the main impetus is just one line that most everyone plays with some added beat twists on the pipe and me playing a three quarter underlay.
'Slights Still Unspoken' is available June 15 through Guerssen Records.
Images supplied by band.