When I was 16 I bought my first bum bag from Rebel Sport in Dandenong Plaza. It was a blue and white Adidas waist bag. The first time I saw them I thought they were way too much of a statement, but they became so common in my social circles that it became wack if you didn't have one. So I got one, and instantly realised that bum bags are an incredibly efficient way to store your stuff. Suddenly I didn't have to worry about my iPhone slipping out of my Nike spray jacket and shattering in slow motion over the pavement.
On the downside, I also realised they're a guaranteed way to get stopped and searched by police whenever you're at a train station. This is because they're like a kangaroo pouch for your iPhone and wallet. And your stash.
These days, you see the odd fashion-forward teen subverting bag culture by ironically matching it with a Yamamoto hoodie. But we're not interested in those bum-bag connoisseurs. We want to engage with the purists and the pioneers: basically just my friends, who have always worn bum bags and still rock them with a passion. And we want to give everyone else a crash course in bum bag culture. A course in all the different flavours, and what they stood for.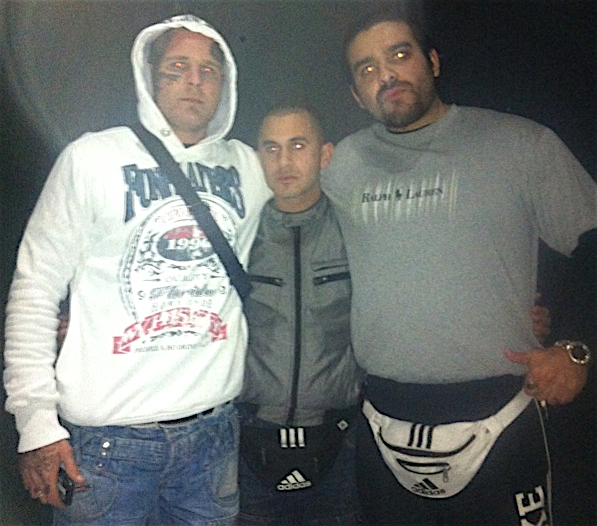 Since the 90s, the Adidas bum bag has been considered a staple and the OG of the bum bag world. It houses one major compartment, and two suspect zips, one tucked conspicuously behind the main zip and another below the logo—which doesn't seem to fit more than a couple of gram bags.
I'll never forget the first time I saw the Villawood Bronx special on A Current Affair. The vibe of that era is inseparable with the classic look of the Adidas bum bag. But sadly the original Adidas designs have been discontinued and are having their last hurrah via hand-me-downs on the waists of wannabe teen crooks and various teen sibling; young hooligans desperately latching onto a fading era of spray cans and skiphop.
The Louis Vuitton bum bags were made of really strong leather and opulent gold trimming on the zips. This "I'm fucking rich" look drew in the Nike Bikies and upper echelon mobsters who felt they'd "made it," that transforming the Louis Vuittons bum bags into a status symbol of the debauched. This only lasted a couple of years until mass-produced replicas popped up all over Asia and hordes of bros returning from their full-moon parties in Thailand ruined their rare value.
The first time I wore a Louis Vuitton bum bag was on a motorcycle run. My friend lent me his because they were a safe way to store your goodies while I woke through traffic. It was also a means of subverting the classic dirt-bag biker look for a more finessed outlaw aesthetic. Also, an honourable mention in this category goes to the Gucci bum bag, which also suffered the same replicant fate of the Louis Vuitton but was sported by a fringe minority of trappers influenced by the Atlanta rap scene.
The Nike bum bags were almost exclusively worn by lads and train station loiterers. I never got into them because they were so long and looked really awkward if you wore them around your waist. They were more of an around-the-shoulder situation, which subsequently made them an extremely aggressive statement. The first time I saw them one was on a weed dealer who managed to stash a few ziplocked ounce bags in there. They were like a fucking wardrobe: somewhere in between a bum bag and a backpack.
Le Coq Sportif is a very western suburbs Sydney thing. They're typically messenger bags with an assortment of little pockets and zips on the inside. I never completely understood it, but the messenger bags were almost always worn by my cousins from Sydney in the late 2000s. Because they were in a mid-tier price bracket they weren't frowned upon and they weren't too loud either. Instead they were perfect for someone who was giving off a classy but street aesthetic. Honourable mention in this category goes to the small G-Star messenger bags that were discontinued after an epic rise in the late 2000s.
Emporio Armani ($300-$600)
My personal favourite have been the Emporio Armani bum bags and messenger bags. They were usually rocked by stylish Asian dudes who frequented seedy karaoke bars across Chinatown. The Armani store in Chadstone would only ever stock like five every season, so they were a rare luxury that got the nod from bum bag aficionados. I always wanted one because they looked classy but didn't carry that Louis Vuitton replica stigma. Also the name and logo printed in black along the strap had an Underbelly flair that set you apart from the flashy show ponies.
And that's everything you need to know about bum bags.
To be honest, these days, my bum bag lays peacefully in my wardrobe—neglected, empty, and forgotten. I do miss the efficiency and holster-esque feel I got every time I slung it across my shoulders. Unfortunately, what was once an emblem of rejected youth trying to make amends by slanging around suburban transport docks has now been reappropriated by fashion dweebs who attempt to sabotage lad culture and jam it into something "cool" or "ironic."
RIP.