It might seem that a relationship between a member of European Parliament and VICE is unexpected (if not a little strange), but here's the story:
The film Heavy Metal in Baghdad is, without a doubt, one of the best that VICE has ever shot. Czech politician Jan Zahradil, being the hardcore rock and metal fan that he is, couldn't let the story behind the hardships of Iraqi band Acrassicauda go unnoticed. With the help of VICE, Mr. Zahradil organized a screening of the aforementioned film on the actual grounds of the Brussels Parliament in the spring, an event that—to put it modestly—was a triumph.
After his Brussels success, Zahradil decided to take Heavy Metal in Baghdad to the Czech Republic, where it premiered at a big metal festival called Brutal Assault. We were there (just like every other year), as was Jan Zahradil and everyone who's anyone in metal.
How did you come to love metal, or did metal come to you?
Like everyone else who was born in the 60s and grew up in the 70s, I was raised on classic hard rock: Led Zeppelin, Deep Purple, Black Sabbath, and the like. From there, it was just a baby step to the new wave of British heavy metal at the turn of the 70s and 80s— in other words, bands like Iron Maiden, Judas Priest, Motorhead. A local watering hole in Prague 6, U Svateho, that I was a regular of in the 80s, was also frequented by quite a few metal musicians, for example Ota Hereš, Vlasta Henych, or those who played in Kreator or Master's Hammer, and others whose names I have unfortunately forgotten. I borrowed my first Slayer and Barthory vinyls from these guys. Then in the 90s, I discovered crossover and doom. I have to say, though, that I don't just listen to metal; I'm a fan of other genres as well, specifically world music, which is why I've recently really enjoyed when they mix metal with things like folklore. I was drawn to bands like Sepultura, the Irish band Wayler, and Czechs Silent Stream of Godless Elergy for similar reasons. In short, I think that metal is a constantly evolving genre that is still full of energy.
What was the first metal record that you ever bought?
Well, it depends whether Zeppelin, Purple, or Sabath could still be considered metal today. If yes, then those were the records. If not, then my first purely metal record must have probably been Number of the Beast by Iron Maiden.
In Brussels, you screened the movie Heavy Metal in Baghdad about the fate of the Iraqi metal band Acrassicauda. Why? And how did it go?
It's important to note that documentaries are screened in the European Parliament in Brussels quite regularly. However, I'm pretty sure this was first focusing on heavy metal. I discovered this film by accident and felt that it was a relevant subject. Thanks to the responsiveness of the creators, producers, and copyright owners, we were able to get the rights for the one screening, which we promoted really well and even got keyboardist Rick Wakeman from the band Yes to perform; though not a metal player, the guy is a music legend. Quite a few people showed up, basically whoever wanted to—we weren't exclusively aiming for a certain crowd. One enthusiastic viewer approached me afterwards with a whole list of bands from the Middle East that play metal and in the most unexpected countries like Egypt, Saudi Arabia, and Iran. I was really surprised by that.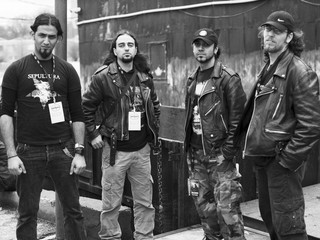 Are there a lot of members of Parliament in Brussels that listen to metal? What is the main musical preference there?
Honestly, I didn't really investigate. Brussels is a really multi-cultural city. There are a lot of immigrants, specifically African French, so I would say that the ethno-style is quite prominent there, which I actually also quite like. Though, my friend, British MEP Syed Kamali (who is, paradoxically, Muslim) is a huge fan of classic hard rock; for example, his favorite band is Black Country Communion, of which Deep Purple's ex-bass player Glenn Hughes is a member.
What was the most favored musical genre between the members of Czech Parliament in the years when you were there?
A few of my friends in Parliament are the truest rockers, like top bass player Walter Bartoš, who could easily support himself with music, or guitar player Tomáš Úlehla. Back when Mirek Topolánek was Prime Minister, we went to the AC/DC concert together. Mirek (a somewhat lippy guy) later actually used the phrase "Highway to Hell" in one of his speeches right in the European Parliament during the Czech chairmanship and it caused a scandal.
In what way do you think, as a European top representative, is the story of the Iraqi heavy metal band Acrassicauda interesting from a Western standpoint on Islamic culture, a culture that we have preconceptions towards?
It's another variation on the same subject—freedom in musical creativity, freedom of opinion, and personal expression in confrontation to an authoritarian regime that is metaphorically strangling them. It's comparable, in a sense, to what we had here in the Czechoslovakia in 1989, when it was about the struggle with communist ideology that was, in ways, prohibiting and suppressive. In Iraq, it's about a radically religious Islamic ideology that does the same, although for other reasons and with different motives. Both, however, are unacceptable.
Do you like Acrassicauda's music?
What I've heard is actually really good, in my opinion. Even the folklore influences were quite apparent. I don't know whether they actually put out a complete album, though. I'm sure that this band would have done well at Brutal Assault—of course, if it had been possible to bring them to the Czech Republic.
Well at least they played on screen at the festival. What message do you think this film delivered to the local metal community?
Message? That might be a strong word. But I believe that the audience realized that, regardless of our problems, we live a very stable and safe-guarded life here in the Czech Republic and Europe in general. No band here had to be subject to the things that the musicians of Acrassicauda did—they risked their lives just by playing their favorite music. Its a great thing that, thanks in part to VICE, we can show this film to a larger audience.
Thanks! What is the t-shirt you are wearing here at Brutal Assault?
Haha, you know, I don't own a proper metal t-shirt. I used to own a Motorhead one, but have long outgrown it. I only have t-shirts of my favorite southern bands like Lynyrd Skynyrd and The Allman Brothers Band, which I bought at their concerts and now where to other concerts. So I made this one!
Check out Jan Zahradil's VICE metal mix below:
Translated by Ksenia Smirnova