What I Learned about Style from Cyndi Lauper's "Girls Just Wanna Have Fun"
Cyndi's style is sick. She knew how to spritz her hair to flammable perfection, she knew that less is not more, and that having the Best Time Ever is everything, and all of this came together here…
If you're a living person, you have definitely heard Cyndi Lauper's "Girls Just Wanna Have Fun." You've probably heard the 80s hit being screamed by a drunken bachelorette party at your favorite karaoke bar, but did you know it's been medically verified that one listen will boost your serotonin levels? One spin and you will instantly feel that the world is full of awesome. In addition to being a radio-ruling pop songstress, Cyndi is also a sick style icon. Back in the day she dressed like a stylish clown with a penchant for classy swag; she shopped vintage way before high-end thrift stores were even a thing. She knew how to tease and spritz her hair to flammable perfection. She knew that contouring your cheeks with excessive amounts of blusher was the finishing touch to any outfit. Cyndi knew that less is definitely not more and minimalism is a major snooze.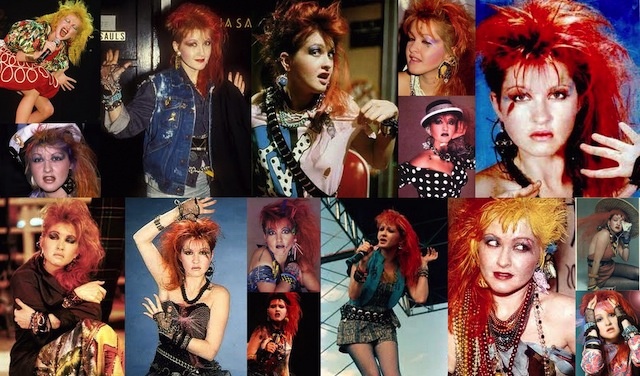 Anyway, this Queens-born singer had more than just style, she had a zany attitude that had her doing high-kicks to (possibly homeless) people in the street. She was doing high-kicks to her parents and doing high-kicks in her bedroom. Basically, there's lot of high-kick action everywhere—which is an excellent health tip—but more importantly, this video is her legacy. Fun fact: Cyndi was 30 when this came out, which gives underachievers across the world hope.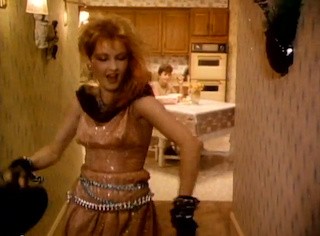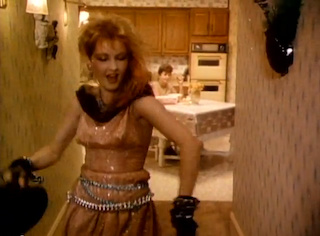 NEVER UNDERESTIMATE THE TRANSFORMATIVE POWER OF CHAINS
Cyndi was the absolute master when it came to balancing feminine cute with rough-around-the-edges, industrial accessories like chains. When I say chains, I'm not talking about dainty links. I'm talking about, she-found-those-at-Home-Depot chains. But it totally works because she's throws together a sequin-smattered, dusty pink prom dress with a haphazardly draped fur collar, while looping three chunky chains round her hips. Seems pelvic crushing. And that's not including the gigantic metal bracelets on each wrist. Also, if we want to get all high school English class right now, it's kinda like she broke free from the chains of being a girl and now she's having fun as a free woman. Whoa, am I right, or am I really reading into this too much?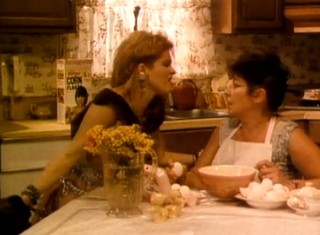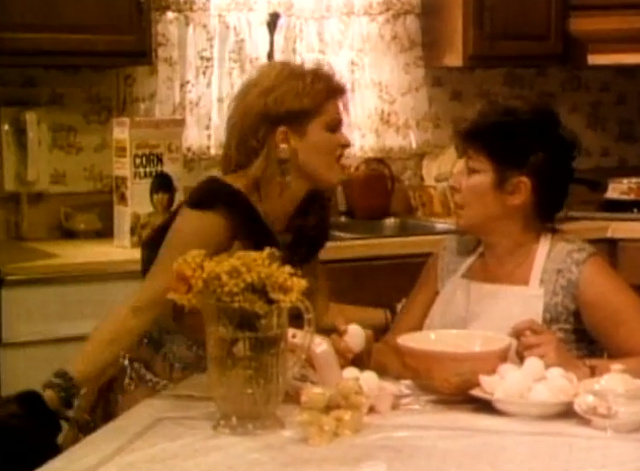 PARENTS DON'T UNDERSTAND ANYTHING BECAUSE THEY'RE THE WORST
Okay, so this isn't exactly a style tip, it's more of a life tip, but that doesn't make it any less useful or true. A good way to tell your parents that they need to chill out and give you your God-given right to the landline monopoly, all-night dance parties, and basically whatever you want, is to sassily sing it to them! If you can't sing it to them, then I guess you're screwed. In addition to telling the universe girls wanna have fun, this is also an anthem calling on you to never listen to your 'rents.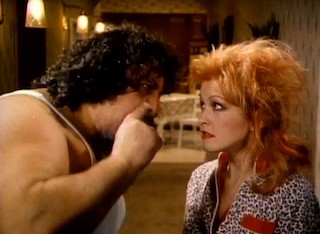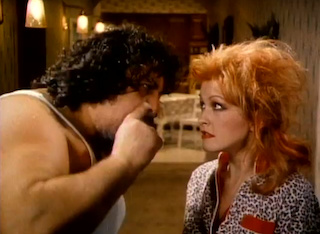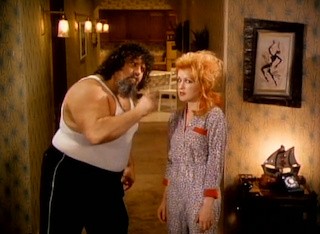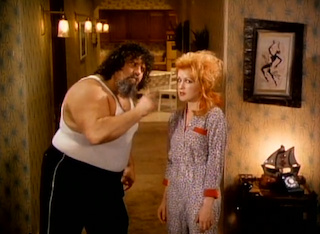 YOU'RE NEVER TOO OLD FOR A ONESIE
Fashionable onesies are sort of in style right now, except they have uppity adult names like "jumpsuit" or "romper." Newsflash: you're wearing a onesie. Nothing will ever change the fact that you're wearing an outfit intended for humans who can't yet go to the toilet by themselves, let alone piece together an outfit in the morning. I am-into this black cheetah print one Cyndi's wearing. Note the red accents and white piping. And the perfectly tousled bed head and glowingly made-up face. Yeah, I totally look like that when I wake up in the middle of the night. Mmhm.




A GIRL GANG IS THE BEST ACCESSORY
Holler at your girls, all your girls, every girl you've ever met in your life (assuming they're awesome), and get your babes together. A righteous group of girls to chill with is the only badass accessory you'll need in life, and chances are you already have that locked down.


CYNDI INVENTED THE "DEAL WITH IT" MEME
You know that meme (I'm cringing at the M word too but, uh, just bear with me) where that smug, pixilated dog puts his shades on and is all "Deal with it"? You know what I'm talking about. Well, Cyndi basically invented that shit right here with her best friends when they all pull on their stylish cat-eye shades as some sort of collective, girl-power fueled "DEAL WITH IT" move. They're all chanting "girls just wanna have fun" and pulling their rad glasses on so they don't have to look at your disapproving lame dad faces. Deal. With. It. In style, duh. The best way to throw shade is to literally have shades.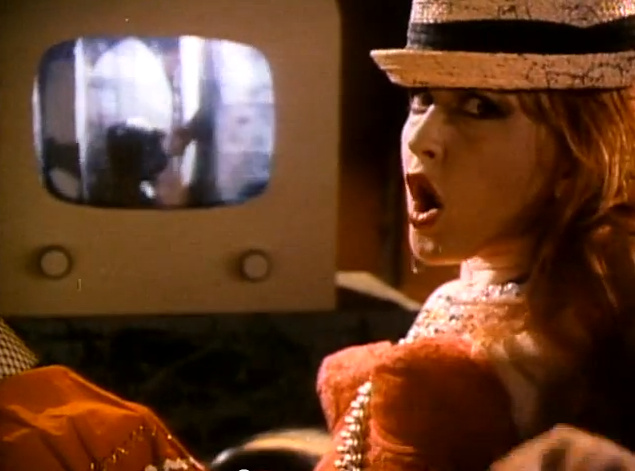 FEDORAS CAN BE COOL, KINDA
But only if you're Cyndi Lauper. Repeat after me: only if you're Cyndi Lauper. Only if you're… Cyndi… oh, wait, I totally just bought a straw fedora.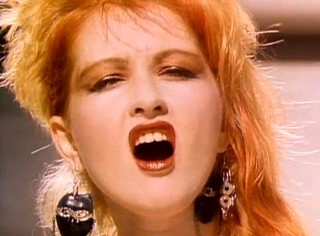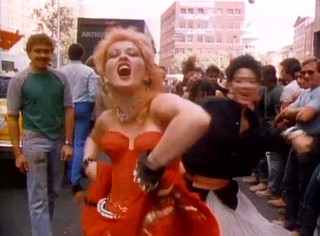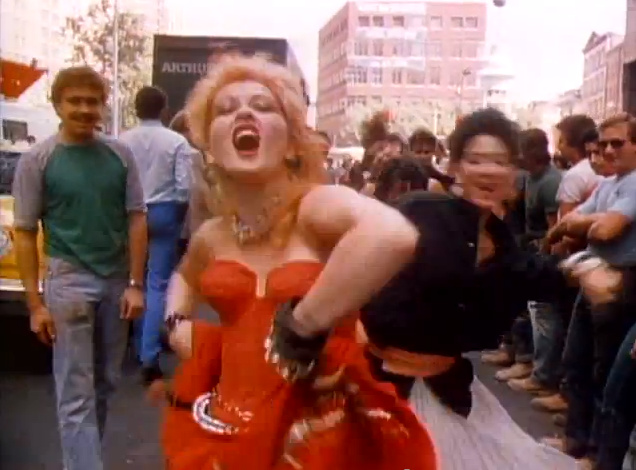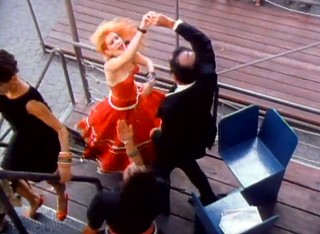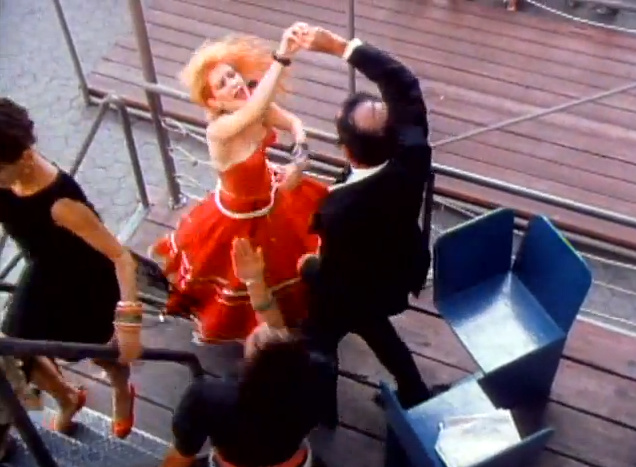 THE BIGGER THE EARRING, THE CLOSER TO GREATNESS
Big-ass earrings are an 80s New Wave wardrobe staple. Here it looks like she's wearing three earrings on each ear. Do you think she cares that in 10 years time her lobes will be so long they'll be skimming her collarbone? No, she does not. Cyndi is living in the moment and that moment says accessorize to the max. Sidenote: what's going on with her hair? Is it some major ginger shag with a shaved undercut on one side? It sorta looks like a mullet. I bet Cyndi just got a bad haircut and decided to play it up with some bronzy makeup in a similar shade. Bravo.


DANCE EVERYWHERE
Does this chick ever stop dancing? Nope, never. Except, of course, to tell people she'd rather be having fun and dancing. The lesson here is that walking places at a normal pace is overrated and boring and it does nothing for your calf muscles. Also, in this scene she does the coolest thing ever where she and her lady gang cha-cha dance down a row of dudes and she shoves almost all of them. I can't tell if she's trying to start a pit, ask them to join in, or she's just aggressively attempting to hurt them. If I could get a line of my least favorite guys together and just hit all of them at once, while in a fire-engine red bustier dress, I'd die, because, how awesome is that?




GIRLS REALLY DO JUST WANT TO HAVE FUN
Yeah, so that's an obvious one, but I mean, we do just wanna have fun. I mean, we don't just wanna have fun, we want to do serious stuff too, like run the world, which is actually a pretty tall order. But we're used to tall orders because being a girl is tough sometimes, and Cyndi recognizes that at the end of a long ass day all ladies want is a dance party that explodes in confetti and chaos, with the best music, the brightest eye shadow, the cutest boys, and even cuter dresses. End of story. Period.
Hazel is having buyer's remorse about that fedora. Should she? Shouldn't she? Let her know: she's on Twitter - @HazelCills.
Style Stage is an ongoing partnership between Noisey & Garnier Fructis celebrating music, hair, and style.