Chairlift's Caroline Polachek has teamed up with director duo the
Harrys
to soundtrack this experimental new mini-doc about the design geniuses behind Proenza Schouler—Jack McCollough and Lazaro Hernandez. Since launching in 2002 the real life couple have emerged as forward thinking fashion innovators. Their PSI and PSII bags are already modern staples (for those who can stretch to the luxury price point, that is. We'll keep eating our greens and writing to Santa in the meantime). Plus PS are firm favorites with the likes of Florence Welch, Liv Tyler, Jennifer Lawrence, Chloe Sevigny, Kristin Stewart, and Miley Cyrus, among countless others.
The above doc explores the dynamic duos orgins and the multifarious influences that come together to make up their collections. The Tumblr colllection, for instance, not only pulls from the chaos of the internet, but also from the pair's time spent in Bora Bora, immersed in the ocean.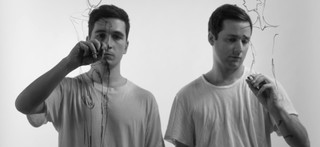 According to the Harry's the doc utilizes "a variety of visual formats to provide details about the designers' evolving inspirations while offering a look into their artistic practice. In presenting moments of suspended reality, the film attempts to capture the elusive creative process behind modern fashion design."
Meanwhile, Polachek has composed an instrumental score rooted in synths and muted modern glitch. It's ominous in places, spacious in others and elegantly yet unobtrusively complements whatever the pair are discussing onscreen. It makes us want more Chairlift. Also! Now everyone can pronounce Proenza Schouler properly. Thanks for the helpful phonetics guys!
Kim is Noisey's Style Editor and she's on Twitter - @theKTB