Andrew Bird: A Seriously Not So Serious Man
The prolific Bird returns with his latest LP 'Are You Serious'—an exercise in balance, emotion, and levity without ever dumbing down.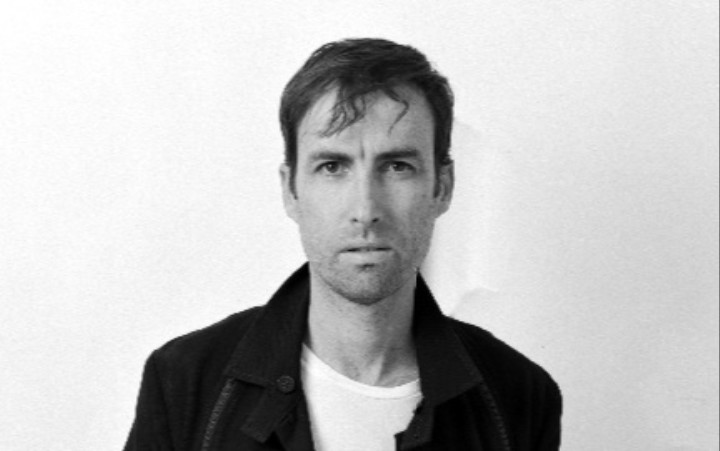 Photo by Reuben Cox
"How's the coffee?" asks Andrew Bird. "It's coffee," comes the flat reply from a server behind the bar in Carroll Gardens, Brooklyn. It's an establishment better known for serving booze than caffeine, but Bird soldiers on: He orders a cup, black, adds some sugar, stirs, takes a small sip. There's no visible evidence of disgust or dislike on his face, but that's pretty much the last time he drinks it. It's indicative of the 43-year-old musician's polite and reserved demeanor, one that at a cursory glance could be mistaken for aloofness. It's a perception that's followed Bird, a professional whistler who, having learned to play the instrument via the Suzuki Method from the age of four, graduated from Northwestern University with a bachelor's in violin performance in 1996. That same year, he self-released his debut solo album, Music of Hair. An erudite and beautiful, emotional yet playful collection of songs, it merged Bird's classical leanings and learnings with folky/singer-songwriter tendencies. There were titles like "Nuthinduan Waltz" and "Rhodeaoh" and "Pathetique," and those songs with lyrics— four out of the 12—contained somewhat abstruse lyrics that seemed more akin to mythological storytelling than confessional truisms. A brief stint with North Carolina swing revivalists Squirrel Nut Zippers followed ("It's too bad there'll never be a Behind The Music on that band," he chuckles, "because they were a rolling rock 'n' roll cliché disaster") before Bird started up his own band, Bowl of Fire.
Three albums later, he returned to solo pastures with 2003's Weather Systems. Now, with the release of Are You Serious, his eighth solo studio album of original material, it's almost as if both everything and nothing has changed. This record is more poppy than anything Bird has made before, yet it's buoyed by the same astute musical and lyrical intelligence that's always pervaded his songs.
"I never understood why I'd have to dumb it down," he smiles, not drinking any coffee. "I always like to give the audience more credit. If you can't get with the lyrics there's plenty of other stuff to latch on to. That's generally been my attitude, though some people have called me out for being a little too detached. But I feel the Holy Spirit onstage! I'm not a detached performer. I am legitimately abstruse sometimes, but I'm always pushing it as far as I am towards being digested."
That's never been more the case than on Are You Serious. By far his most accessible, digestible—some might even say mainstream-baiting—record to date, it sounds like an Andrew Bird album, but with a noticeable infusion of commercial intent woven into its musical fiber. Not that we're talking commercial a la Bieber or Sam Smith, but the songs definitely contain some extra oooomph, especially considering this comes after an experimental instrumental album recorded inside Utah's Coyote Gulch canyon. Before that he released a collection of largely acoustic Handsome Family covers.
"That was the intent," says Bird, matter-of-factly. "Those things were more indulgent projects that I do between record cycles. Those plus [2012's] Break It Yourself were comparatively scrappy affairs. This one, by comparison, is a pretty serious effort. There was a tremendous amount of work and loss of sleep and a real determination to nail something I haven't done before. I still find it infinitely challenging to write a good pop song, and that's kind of what gets me up in the morning. It's still 'Man, I could write a song today that gets America singing.' I wanted something that could play at the skating rink or the roller rink or the public pool!"
Of course, that comes with its own Birdian caveat.
"It still has to be on my terms," he adds. "I can only go so far. I still have to stand by it. But every record, when I think I'm really onto something, is when I'm offending my own sensibilities a little bit, and maybe going further than I'm comfortable with."
That, then, is why Are You Serious—a record that Bird says is the most "overtly personal" album he's ever made—also sees the songwriter delving more deeply into the territory of self-awareness and post-modernism than ever before. Written over the course of four years, it kicks off with break-up song "Capsized." Though now happily married and living in LA with his wife, a fashion designer, and their son, "Capsized" is a song about his previous relationship that he's been writing for roughly 12 years. The super-deluxe edition of the album even contains a bonus 10-inch of different versions of the song as it's evolved over the years, tracking the multiple levels of emotion—sadness, despair, longing, grief, indifference, hope, and more—that each contains. In other words it's the essential Andrew Bird song. Much like the album itself, as well as all those that preceded it, it's comprise of every facet of human emotion, however subtle they may be.
"That's why 'Capsized' has lasted so long," Bird smiles. "Finally I have a single that I've already been doing for 12 years, so it's tested, but the reason it works is that it has elasticity to accommodate for how you feel at that given moment. I sing differently every 15 minutes of the day because I feel differently."
It's precisely that which sets Andrew Bird apart from your typical songwriter. Not only has there always been an (often overlooked) undercurrent of whimsy and humor in his work, but even when he lays his heart on the line, it's not straightforward. You still have to work for it—at least a little bit.
"Every song I've written is personal on some level," he says. "You just don't have to dig as deep to get to it [here]. But the title is also poking fun at myself, a little bit about my relationship with that confessional tradition of autobiographical—'these are my thoughts and feelings through song' kind of thing—which I approached with great suspicion early in my career. Now I find myself processing difficult times through song, and I never thought I was that kind of songwriter."
With all that said, and despite his heart being closer to the surface on these songs than ever before, he still isn't that kind of artist—even when he tries. Take, for example, "Left Handed Kisses," a duet with Fiona Apple that was initially meant to be a straightforward love song, but which soon transitioned, in Bird's typically cerebral manner, into being a song about writing a love song.
"Do you want the long explanation or the short explanation?" he asks, before launching into the former. "On Break It Yourself, I did one song that I didn't write the lyrics to. My friend wrote a beautiful poem and I wanted to set it to music. I wasn't really thinking about who was singing or whose point of view it was and it became the song "Sifters." And then suddenly people started approaching me to say 'I didn't know you felt that way!'—that two people are meant for each other and the whole fate thing. And I was like, 'I actually don't believe that.' But I sing it with conviction and I stand behind it—it created a beautiful piece of music. So then I thought, 'Well, what kind of love song would I write?' And so it began from the point of view of the sceptic.
"I still consider myself a romantic, but it doesn't mean you have to believe two people were meant to be together. I think it's a little more random than that. So it's a love song but it's got qualifications to it. Which is normal for me. It's me laughing at myself, and I even made myself sing 'baby' in the chorus, just to bring it home. And then this other voice came into my head that wasn't buying it, a voice that said 'If you really loved me, you wouldn't be so complicated about it. You'd just come out and say it,' and that voice was what became Fiona's.
"When we perform it, it's like this little, short play: she's strong and demanding and indicting, and I keep having to remind myself who I am in this situation. I'm 80 percent there, but I'm not quite as passionate as she is, because she's all in and I'm still using my brain to fight. It's based on real people but it's still a play."
That separation between reality and imagination, self-awareness, and pure emotion, are immediately clear when, some days before this interview, Bird appeared on the Ellen show with Apple to perform the song. During the performance, the pair assumed their respective roles as dictated by the lyrics: Apple, husky with passion, scowling eyes fixed on Bird, whose refrains in their logic are more tempered and contained. Of course once they finish playing reality takes hold. Ellen DeGeneres wanders over to greet them, and Apple and Bird smile and hug like the friends they are. The world of the song disappears as soon it's over.
"Right," Bird says with a hearty chuckle. "She doesn't storm offstage!"
For Bird, the quintessential ingredient in his music, which "Left Handed Kisses" has in spades, is balance. It can't be too intelligent or serious, but neither can it be too heart-on-sleeve or emotional. That's because Andrew Bird probably isn't exactly the musician or the person you think he is. Neither he nor his songs are as serious as most people think.
"It gets highlighted when I do shows with comedians," he says, "which I do a lot, and I'm following someone like Zach Galifianakis or Eugene Mirman, where the comedy can be very touching and personal sometimes, but there's an inherent irreverence to it. And you wouldn't think that it would be such a shift, but then I come on and I think I'm equally self-deprecating, but the chemistry with the audience is just totally out of whack. They're like 'Here comes the songwriter with his personal thoughts and feelings, heartfelt and sincere,' and it's 'Yeah… no.'
"There's a lot of playfulness. It does often get dark, but when it starts to get to that line I flip it over. There's plenty of levity. That's what I've always struggled with with other songwriters in this tradition I'm supposed to be a part of: where is the levity? Are you serious? Because you're going to have to back that up every night. You need a little something for those days when… I don't know. I did an experiment when I was still in school that became a song on [the first Bowl of Fire album] Thrills. We were studying German Lied music in class and it was these translations of poems that Schiller or whoever had written, and you'd listen to the art song that Schumann did with it or whatever. And reading the translation I was like 'Whoa! These German romantic poets were laughably devoid of any humor of self-awareness. I just think light on light and dark on dark are boring."
Putting aside the wonderful irony of such a scholarly explanation as to why he needs that levity in his songs, perhaps that's why he didn't touch his coffee. When he says goodbye and leaves, Andrew Bird's coffee remains near-full on the table, its thick, dark liquid crying out for a splash of milk, a dash of light. Or perhaps it was just terrible coffee.
Are You Serious is out on Loma Vista now.
Mischa Pearlman wrote this article while moving apartments. He's on Twitter. Barely.