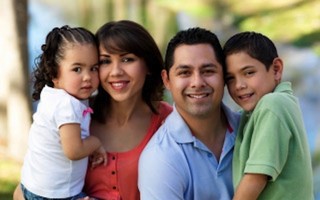 Photo via Jeff Rosenstock

Got your parents worried after that police officer arrested you for getting too immersed in the role with your GG Allin Halloween costume at Fest 14? Tell them Juan Calama has your back.

If you attented Florida's very own PBR-fueled festival this weekend, you may have seen flyers advertising his services on the walls, right between the "DRUMMER NEEDED!!!!!" and "Reward: lost homemade Jawbreaker iPhone case" ads. Jeff Rosenstock posted one of them on Instagram (above).

This 38-year-old Gainesville attorney, who works on all cases from criminal charges to immigration law and traffic citation, put up a bunch of those flyers in food places around the city, suggesting Fest-goers give him a call if they got in any kind of trouble with the law. Calama, who was born and raised in Miami before moving to Gainesville for law school, isn't into punk himself, but was heavily involved in the city's music scene in his twenties.

We reached out to him to know what the police had to say about Fest, what kind of trouble its audience gets itself into, and to check if defending punks is profitable.



Photo via Calama's website
Noisey : When did you move to Gainesville and were you aware of the city's punk background?
Juan Calama, attorney at law: I moved to Gainesville in 2000 to go to law school. At the time, I lived near the band Against Me! and heard them practicing a lot of the time. I was very much into my own music and only knew they were there and saw them loading the van for gigs and what not. Not a lot of interaction but they weren't shy about the volume. So yeah, I was pretty aware of the city's punk background. I also managed a band while I was in law school that was more in the jazz/funk/jam-band type of scene, so I was pretty involved with music in Gainesville generally. Of course, there's Hot Water Music and Less than Jake who even non-punk rock people know about.

What prompted you to put up signs around The Fest's venues?
I got the idea while having breakfast at the Harvest Thyme Cafe, which is right in the center of it all. I know the owner and asked him if he would mind if I put up a flyer. I was thinking about these young kids either having nasty encounters with the police or giving them too much information and incriminating themselves.
Taping photocopied flyers in the streets is pretty much the definition of punk rock promotion. Was that intended?
Absolutely. I'm not a punk rocker, but this is not just a punk rock thing, it actually reminded me of the promotions that I would engage in for the band I managed. This kind of promotion is very effective and it's close to the street, close to the people that you hope to reach. And it's cheap!

Most of the pieces of paper with your number had been taken from the flyers. Did some people call you or come to your office?
Some did, I got a call from the jail that unfortunately I was not able to answer before voicemail got it and then when I went to call back the phone number could not connect. I suspect most people took the tags as a preventative measure, but that's fine. It seems to have at least put people on notice that help was available if they had a run-in. I think that next year I'm gonna print out some note card-sized flyers with a statement that a person could just hand to the police so that they can choose to say nothing at all if that is what they want to do. Of course, I always recommend silence and restraint when dealing with the police, acknowledging that this is not always what happens.

What are the most common law-breaking events happening at Fest or this kind of events?
Open container or possession of alcohol, drug possession, simple battery, DUI charges, disorderly conduct charges, urinating in public or indecent exposure charges, really just about anything can happen when you mix a lot of people and alcohol and drugs.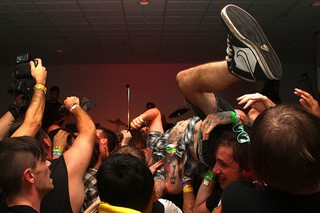 photo via Flickr

Are there a lot of arrests during Fest? Is it generally poorly regarded by the police and/or the people of Gainesville?
It's interesting about Fest and Gainesville really because you're either in the scene or you're not. Local business loves The Fest from as best as I can tell. Festers gotta eat and local businesses feed them a lot. I did happen to speak to a few police officers and they advised that things were mostly calm and polite with very few disturbances. If there were a lot of arrests, they must have hired some other attorneys to take their case because aside from the call from the jail, it was all quiet on my front.

Looks like you can never count on punks to get rich. Do you think the audience from The Fest's social background differ from your other clients?
I have a wide range of clients, so I would say there's a lot of intersection, pretty much anyone can be subject to an encounter with law enforcement and pretty much anyone can have a bad day, so on any given day, a person may need the services I provide.

Have you ever been to Fest yourself?
I haven't, though this year I walked around to get a feel for how the flyers were doing, how busy the streets were, and to go out on Halloween and look at all the people in their costumes, I enjoyed myself for a while and went home.

You said you were active in Gainesville's music scene and worked with bands. Since you're not into punk rock, what kind of music do you listen to?
I am a musician, mostly guitar and slide guitar. I listen to a wide variety of music, even punk, though it's definitely not at the top of my list. My hearing has taken a big hit over the years and punk rock is all about the scene and the energy and the volume and I just can't hang like that anymore.

I was more involved with the music scene in town in my twenties. I've been a roadie at many festivals, a stage hand, managing a band, even promoting some pretty big acts—and taking a bath financially on a couple of them. Most of the bands I promoted back in the day are firmly in the jam band world, like Medeski, Martin and Wood, STS9, Govt. Mule, G. Love and Special Sauce, Keller Williams and others. I had a lot of fun doing that kind of work, but realized I didn't have the grit to make a living at it. I've got a big family now and more responsibility than time. Side note to your readers: rock the shit out of your twenties so you can be free of regret like me.
Romain Jeanticou is a French journalist and Fest-goer. Hit him up on Twitter but not for your public urniation tickets - @romainjeanticou