The Swindie Blog: Meet Holograms!
We spoke to the guys behind Sweden's angry, proto-punk.
|
22 October 2012, 10:16am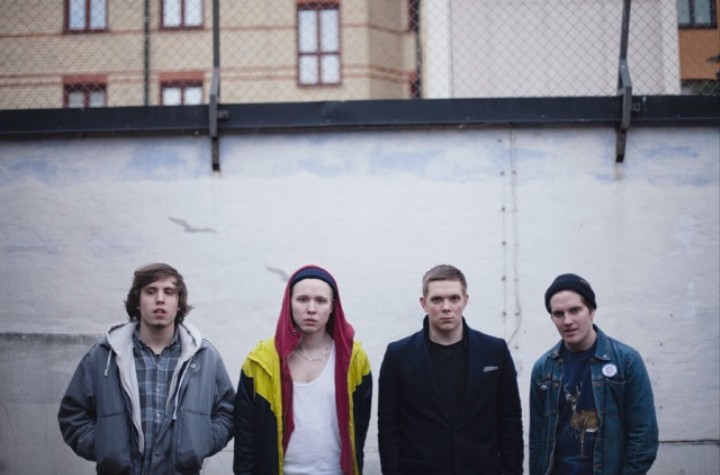 You could theorize, AT LENGTH, about how the indie music scene has gone stale ever since kids started making whole scores on GarageBand, and fans can't even give up $5 for a record. And in Sweden, the Gothenburg Swindie scene has been in a deep lull since acts like Air France and the Tough Alliance broke up. For years, the labels Service and Sincerely Yours made Gothenburg the capital of Swindie, but both labels have gradually become too artsy and less edgy. To quote the Field Mice, "All things have to end, they have to and they do," regardless of the bands and fans intent on clinging and dragging genres out to their last scraping breath.
But lately, Stockholm seems to have picked up the pace in the Swindie tug-of-war, a lot of thanks to the newest addition to their stable, Holograms. Equipped with beat-up old guitars and a Korg MS-10 analogue synthesizer, they inherited from a friend who overdosed, they've broken from the balearic epidemic STILL predominant in Sweden, offering Swindie fans a much needed breath of fresh air. Think Refused minus the pretentiousness and Rancid minus the ska influence. Their intelligent lyricism ripples through their music, poking at the growing racist far-right in Sweden, as well as the frustrations of working labor jobs and still being dirt poor—a prime example of how music can reflect an economy and attitude.
So, I had a chance to have a quick chat with member Andreas Lagerström of Holograms and ask him what's up with Swindie?
Noisey: Hey! So, you're in pretty much the same economic situation as early Factory Records bands, which resulted in an incredible music movement. If there are a lot of young bands in your situation, do you think that could start a new movement in the Swedish music scene?
Andreas Lagerström: I do believe a certain amount of destitution is good for the creative spirit, youth unemployment and difficulty of finding apartments are really prevalent in Stockholm, but I don't see there ever being a new "movement" in Swedish youth music. Swedish society does not lend itself well to creativity outside of the confines of dogma and most people are too uninterested or too fashion conscious to do something different or create a movement that is relevant.
And do you feel in terms of digital VS analogue that the latter brings something more to the sound and stage presence?
I've loved analogue synths since I was a teenager listening to D.A.F, they used an MS-20 (same synth but two oscillators) with a SQ-10 sequencers almost exclusively on their first four records. What I liked about it was the sounds felt organic, like you could touch them in a way. I also truly enjoy that they are uncertain, you'll have a hard time getting the same sound out of the synth that you had yesterday. Sometimes it gets out of tune and that also creates a strange sound of dissonance on stage. I don't want to get in a debate about digital VS analogue as that is lame as fuck.
Fair enough. What role do aesthetics, everything from sounds, album design, stage appearance etc, play with Holograms?
Our aesthetics have not been very calculated. I'd rather kill myself then have some kind of unifying stage outfits. We haven't had the luxury of tailoring our sound to exactly the way we've wanted it. We used the things we had and recorded the album with a friend. I guess we don't really think about what other bands are doing either with looks or with music and just go with our gut feeling.
Sweet. Also, you were pretty excited to tour the States, how's it been so far?
It was wild, we're not used to getting so much attention. All I kept thinking was how weird it was that people actually went to the shows and were excited to see us play. I think we were spoiled a bit.
Lastly, what's next for Holograms?
When we get home we'll probably start recording an album or an EP in the same studio we recorded the album in. We have a bunch of songs ready. Probably have to look for some work too, I don't think we're eligible for the dole.
Thanks guys!
UK DATES
Wed 07 Nov 2012 Brighton Green Door Store – Tickets
Thu 08 Nov 2012 Bristol Louisiana – Tickets
Fri 09 Nov 2012 Birmingham Hare and Hounds – Tickets
Sat 10 Nov 2012 Manchester Castle Hotel – Tickets
Sun 11 Nov 2012 Glasgow Captains Rest – Tickets
Tue 13 Nov 2012 Leeds Melbourne St Studios – Tickets
Wed 14 Nov 2012 Nottingham Bodega – Tickets
Thu 15 Nov 2012 London Shacklewell Arms – Tickets