The future of sharing art might not be through Tumblr or online museums. Culture dissemination might not travel through the Cloud, social media, or digital platforms. Rather, in the future, we might share art with help of a giant cat that shoots lasers projections out of its massive kitty eyes. And it will be epic.
Well, not really. But, if it were up to Barcelona-based creative studio Hungry Castle, cultural exchange would get a lot weirder. In early April, the team debuted a project called Laser Cat at the ADC Festival in Miami and more recently presented it again in Barcelona. Though there were some skeptics, the behemoth is real.
As the name suggests, the installation is an inflatable feline sculpture at 20x20 feet that laser-projects crowd-sourced artwork out of its eyes and on to walls. In Miami, it unleashed a deluge of creativity on to the facade of the New World Centre.
Hungry Castle asked artists and creatives to submit original work through a very funny online video campaign, hyping the cat with tons of "PEW PEW!" exclamations. They received over 15,000 drawings, photographs, paintings, and more, "feeding" the giant cat and making it grow... full of art.
"We wanted to give people an opportunity to reconnect with their inner artist and have the chance for it to be shown the world—by the means of being projected from a huge inflatable cat head," explained Hungry Castle co-founders Kill Cooper and Dave Glass. Why use an LED projector when you could beam work out of the vertical pupils of a massive cat creature?
At ADC, the inflatable cat projected art for 45 minutes straight, forcing it to narrow down all the online submissions. "During the digestion process, Laser Cat thought long and hard about which art pieces to project," Hungry Castle said—committing to the gag that Laser Cat is a living beast throughout all email exchanges. "He was spoilt for choice, but I think he's 'filtered' through his top 50. But all art works will be at some point fired into space."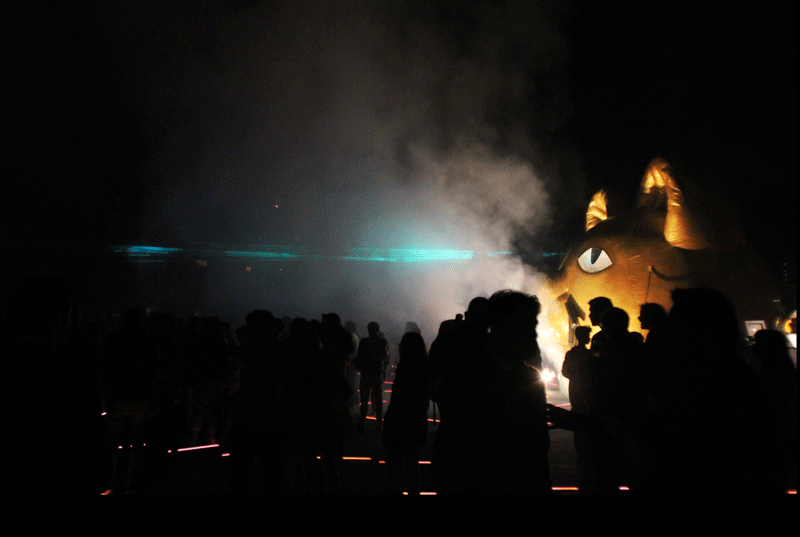 The creative studio said that the response to the project has been amazing, and that "Laser Cat has the potential to take over the world—starting with New York, London, Barcelona, and Dubai." Artists can still "feed" the cat over on the project's website, for when and if it comes to dominate your city with some roaring meows.
"Our goal has always been to make big, playful things of cultural impact and use design thinking in a way that truly engages people," said Hungry Castle. "Laser Cat not only does this, but he also celebrates what inspires us all—art." Andy Samberg would be so proud.
Artwork Credits—George Lois, Stefan Sagmeister and James Victore. And special thanks to Hannah Lamb!
See more about Lase Cat and Hungry Castle over at the creative studio's website: http://hungrycastle.com/
Related:
Matthew Schreiber's "Sideshow" Is A Laser-Filled Fun House
Robert Henke Performance "Lumière" Was A Sensory Thrill Ride
Architecture Installation Makes Infinite Sound And Light Loop Based On Its Own Data