Looking to invest in something with an edge? There are thousands of campsites across New Zealand, but this one doesn't struggle to stand out. A purpose-built Katikati Naturist Park in the Bay of Plenty is on the market, and the business could be all yours for around $380,000, Herald reports.
The beautiful 5.7-hectare spot with a birthday suit dress code includes a cafe, five caravans, eight units, a house, fifty powered sites and twenty double-pitches for tents. The park also includes a range of clothing optional facilities, like a swimming pool, spa and even a mini-golf course.
The park sits in amongst the country's famous luscious greenery and is just ten minutes from a popular nudist beach. The "stable and rising" pursuit was labelled a "unique business opportunity" by Coffeys property brokers and sales rep Matt D'Anvers says there is strong international interest. "There are probably less than ten naturist camps in the country so it really is unique," he said.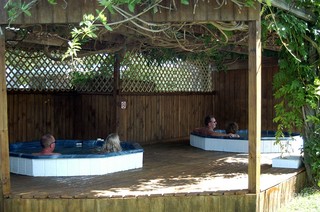 Under the business lease, the new owner must keep the camp running as a retreat for naturists who come from far and wide. The park attracts a bunch of visitors from across the globe but is actually home to a small community of resident nudists, who are looking for an owner that is accepting and supportive of their stripped-down way of life.
If you aren't looking to buy, but are intrigued by naked mini-golf, entrance fees to the clothes-free colony are just $15 for the day, and from $19 to camp overnight. Although complete nudity is not compulsory, visitors should be aware that around 95 percent of campers are committed to the nudist lifestyle.
This article originally appeared on VICE NZ.