A new report from national anti-poverty group Brotherhood of St Laurence (BSL) sheds light on the work situation for young Australians across the country; or rather, the unemployment situation.
The report, titled "An unfair Australia? Mapping youth unemployment hotspots", found more than a third of all unemployed people in Australia are aged between 15-24, with 55 of the 87 regions analysed showing youth unemployment rates above 11 percent.

The national unemployment rate is 5.5 percent, and includes all age groups.

The report also lists the 20 worst "hotspot" regions for youth unemployment. In five regions, all outside capital cities, unemployment among 15-24 year olds sits at higher than 20 percent.
Analysis of Australian Bureau of Statistics data found youth unemployment is at its most extreme—higher than 65 per cent—in a "thinly populated but vast tract of land" in the Queensland outback, including Cape York as well as the mining centres of Mount Isa and Weipa.
The BSL's Executive Director, Conny Lenneberg, said: "Youth unemployment hotspots in outer suburbs and rural areas are carrying the heaviest burden ... To meet this challenge, we need action from governments as well tapping into effort of employers in local communities."
Australia's 20 worst-affected "hotspots":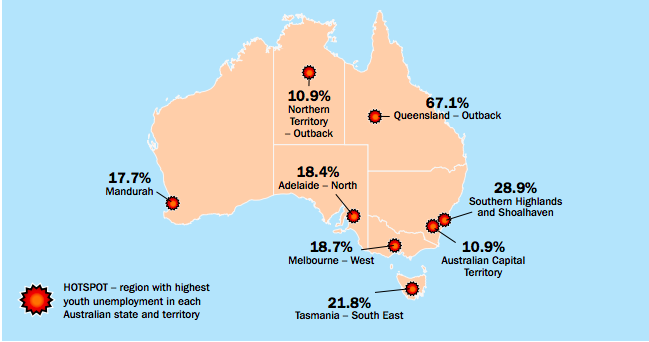 67.1 percent in the Queensland-Outback region, including Cape York, Weipa, Mount Isa, Longreach
28.9 percent in the Southern Highlands and Shoalhaven region of NSW, including Nowra, Mittagong, Ulladulla
27.7 percent in the Wide Bay region of Queensland, including Bundaberg, Hervey Bay, Maryborough
21.8 percent in the Tasmania-South East region, including Bruny Island, Southern Midlands, Derwent Valley
21.5 percent in the Murray region of NSW, including Albury, Tocumwal, Jerilderie, Deniliquin
19.8 percent in the Coffs Harbour-Grafton region of NSW, also including Bellingen, Dorrig
18.7 percent in the Melbourne-West region, including Sunshine, St Albans, Footscray, Melton
18.6 percent in the Central Coast NSW region, including Gosford, Woy Woy, Wyong, The Entrance
18.4 percent in the Adelaide-North region, including Elizabeth, Salisbury, Parafield, Gawler
18.1 percent in the Townsville region in Queensland, also including Ayr, Charters Towers, Ingham
17.7 percent in the Mandurah, WA, region, including Pinjarra
17.5 percent in the Melbourne-North West region, including Keilor, Sunbury, Broadmeadows, Craigieburn
17.0 percent in the Adelaide-West region, including Port Adelaide, Fulham, Henley Beach, Plympton
17.0 percent in the Logan-Beaudesert region in Queensland, also including Beenleigh, Springwood
16.9 percent in the Adelaide-South region, including Hallett Cove, Christies Beach, Morphett Vale
16.6 percent in the New England-North West region of NSW, including Armidale, Moree, Tamworth
16.3 percent in the South Australia-South East region, including Victor Harbour, Mount Gambier
16.2 percent in the Bendigo region of Victoria, also including Castlemaine, Kyneton, Heathcote
16.1 percent in the Shepparton region of Victoria, also including Cobram, Yarrawonga, Echuca
16.0 percent in the Perth-North West region, including Joondalup, Stirling, Wanneroo, Scarborough
These regions, according to the BSL report, have "higher-than-average youth unemployment rates [which] have stubbornly persisted over time. In 19 of the 20 current hotspots youth unemployment rates had worsened from two years ago".