In winning the NBA title this week, the Golden State Warriors didn't just take back their crown from the Cleveland Cavaliers. They tore down the entire castle, obliterating their opposition over 67 regular-season wins and a record-tying 16-1 playoff run, and changing the game of basketball as we know it.
Just a few weeks ago, Cleveland's three-point shooting and spread pick-and-roll attack—all built around a generational superstar in LeBron James—looked like the pinnacle of modern basketball. Now it seems antiquated. Even though they added Kevin Durant, Golden State isn't built on the model of singular role players orbiting a transcendent star; instead they're a collection of interchangeable stars with no center, all orbiting each other.
The challenge for the rest of the NBA will be adapting to the new regime. Dethroning the Warriors might not be possible in the near future—this just might be the most talented team in league history, and under the current Collective Bargaining Agreement, assembling a similar roster won't be possible, not unless all of those players agree to take hefty pay cuts.
Still, the NBA is a ruthlessly competitive place. Championship contenders will be constructing their rosters with the Warriors in mind, and the entire league will be looking for ways to exploit whatever weaknesses Golden State may have.
Let's take a closer look at what it will take to beat this Warriors team in the near future.
Defensive length
Golden State starts three perimeter players who are 6'7" or taller, and pseudo-starter Andre Iguodala—a free agent who may be content to stay with the Warriors—also falls into that bucket. That kind of length is unusual in the NBA. Few teams have more than one or two skill players who can play multiple positions; the Warriors have four, and all of them are deadly on offense.
For instance, a simple double-stagger screen involving Durant, Klay Thompson, and Steph Curry is almost certain to force a switch, and unless you have three defenders who are comfortable against height, your team will face a disadvantage off the Warriors' very first action in the half-court.
Switches that create mismatches are just the start. The Warriors have three of the best three-point shooters in NBA history. With that elite shooting comes elite spacing, and that makes length even more important. If you're going to guard Golden State effectively, you have to cover a lot of ground: help over to take away the roll on one side of the floor, and then fly back to the corner to contest a three on the other side.
If you're Isaiah Thomas, that help-and-recover takes five steps. If you're Giannis Antetokounmpo, it only takes two. Teams will need a lot of active defenders who look more like the Greek Freak than IT3 if they are to have a real shot against Golden State.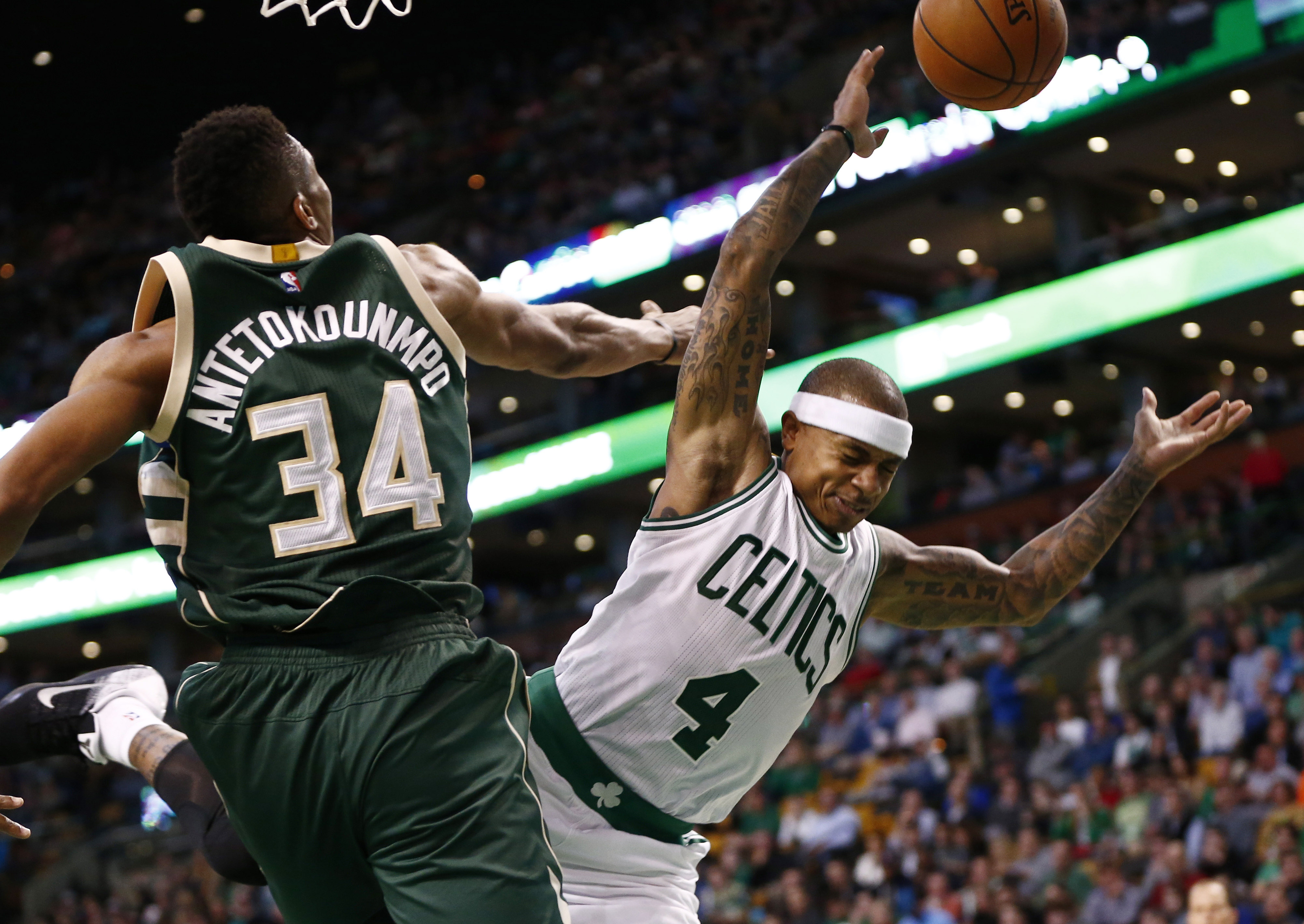 Incredible focus and intelligence on defense
Length alone won't solve the Warriors. The era of toughness and the occasional hard foul being enough to get by as an elite defensive team is long gone. Today's NBA requires precision as much as power. Given how the Warriors play on offense—leading the league in assists, ranking No. 2 in field-goal percentage at the rim, unleashing 48 minutes of constant ball and people movement—successful opponents will need incredible defensive focus, communication, and intelligence.
On this play from the Finals, a single misread by J.R. Smith led to a wide-open dunk for Durant. The Cavaliers' scheme calls for James to switch out onto Curry while Smith is switched onto Durant, but distracted by the half-dozen other things the Warriors have going on and laboring from chasing Curry all over the court, Smith fails to recognize the switch in time.
Almost every slip-up and miscalculation ends up in a wide-open shot, and according to NBA.com, no team made more of those than Golden State. These are the plays where viewers watch and ask, How did he get so open? And they happen several times per game. The Warriors put incredible pressure on defenders to make and communicate several micro-decisions on every possession. Any team good enough to unseat them will have to play nearly perfect defensive basketball, understanding that there's simply no margin for error.
Interior scorers who can guard the perimeter
The Warriors lost just 15 games this season. Eight of those losses came against teams with an elite interior scorer and/or rebounder, including two each to the San Antonio Spurs and the Memphis Grizzlies, both of which are known for their inside-outside style of play.
Unfortunately, we never got to see how the Warriors would have fared against a healthy Spurs team in the playoffs. Almost certainly, Golden State would have won the series, but San Antonio has the low-post talent to reveal some of their weaknesses. The Warriors are vulnerable to teams with a reliable low block or offensive-glass weapon, especially if that player can at least hold his own in pick-and-roll defense against Draymond Green.
The league has seen an influx of these types of players in recent years, but most are in the early stages of their careers and they're still few and far between. Anthony Davis is the prototype; he dropped 45 points on Golden State in the first week of the season. Nikola Jokic notched a triple-double in a win over the Warriors thanks in part to his ability to post up Green and effectively eliminate him as a defensive option, but in a playoff series, he would be a huge liability on the defensive end.
Karl-Anthony Towns has been something of a Warriors killer in his two NBA seasons, mostly because he can punish Green on offense and keep up on defense. Jusuf Nurkic outweighs Green by 50 pounds and is nimble enough to stymie pick-and-rolls. Joel Embid is seven inches taller than Green, and has shown the ability to slide his feet and contest perimeter plays.
Chasing the Warriors might alter the career trajectories for all these players, as their skill sets and roles will be partially molded by how they play against Golden State.
Move the ball
Golden State's defense is predicated on lots of help and recovery. The Warriors pressure the ball, jump the passing lanes, and rely on fast rotations. Opponents play into their hands by being predictable and stagnant, as the Warriors are able to rotate once or twice without consequence.
By contrast, teams that move the ball—particularly from one side of the court to the other multiple times in the half-court—create problems. When the Nuggets obliterated the Warriors 132-110 in February, they did it behind 34 assists on 48 made field goals. The ball was popping that night, and Golden State's aggressive defense played right into the hands of a team that was looking to space the floor and back cut toward the basket.
This level of ball movement also has an auxiliary effect on the Warriors: it makes them tired! According to SportVu, they ranked No. 4 in the NBA in distance covered on the defensive end during the regular season. When you expend that much energy making rotations, every little break in the half-court is a chance to recharge. Make the Warriors work, and those rotations start to break down. Better yet, their fast breaks get slower, and their offense loses a bit of its punch.
Of course, better ball movement is easier said than done, especially against a Golden State defense that ranked No. 1 in opponent turnovers per game. More passes mean more opportunities for the Warriors to pick the ball and score in transition. That's a risk teams are going to have to take.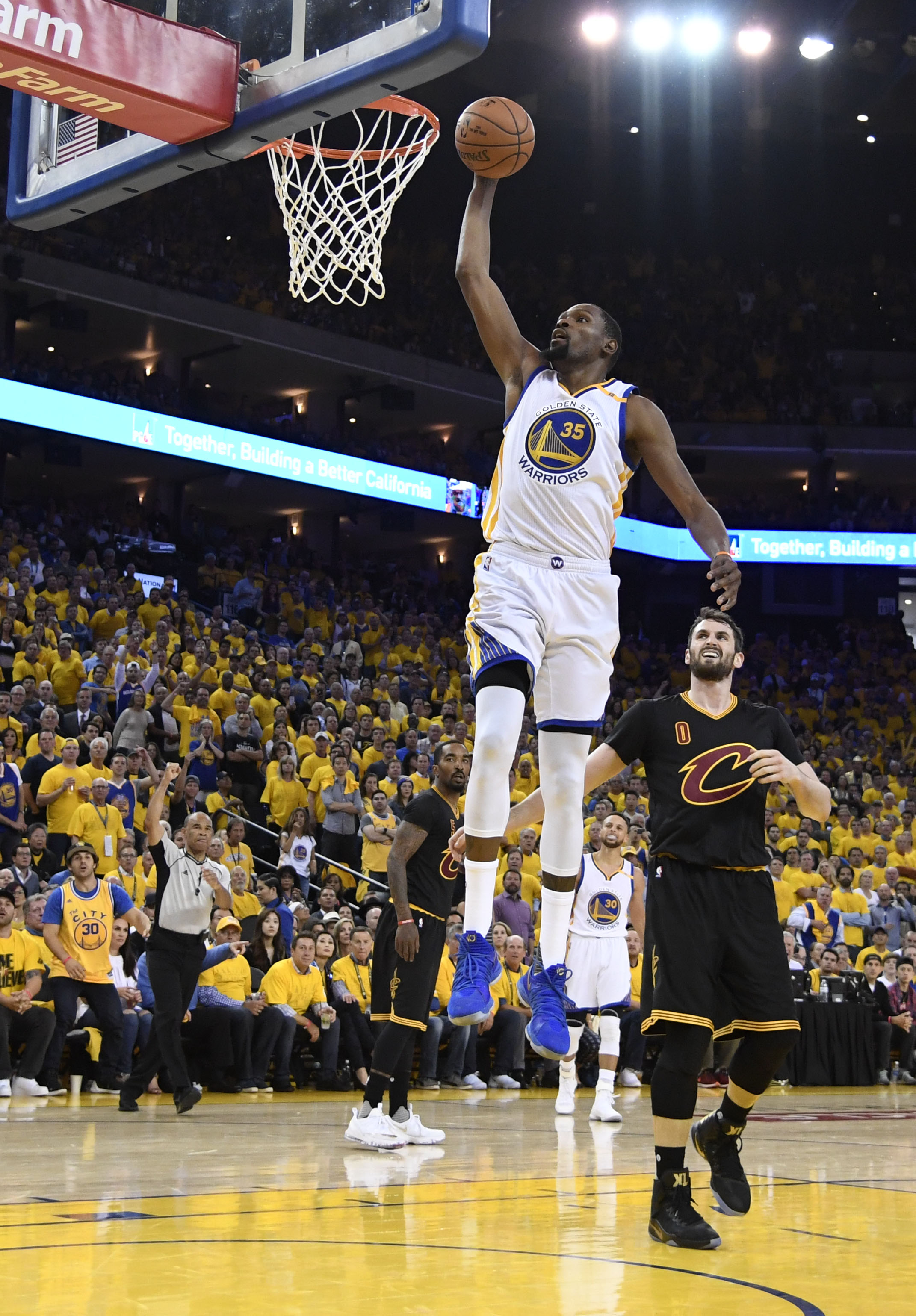 Shooting
The last half-decade of NBA basketball has been defined by the three-point shot and an emphasis on offensive efficiency. Any team that wants to beat the Warriors will need to at least hang with them from behind the arc. This is the one thing—besides James, of course—that the Cavs had going for them. They can flat-out shoot, and in Game 4 that was enough.
Without that skill, things get harder. The problem is math. You need accuracy and volume to keep up. Take San Antonio. The Spurs led the league in three-point percentage, but made three fewer threes per game than the Warriors during the regular season. That's a nine-point spread, which means the Spurs have to be that much more efficient on the rest of their offensive possessions just to stay even.
None of this will be easy. It's possible that other superstars will sacrifice money, comfort, and points to team up against Golden State; it's possible that the biggest challenge to the Warriors will come from a growing luxury tax bill that could reach into the hundreds of millions by 2020.
Still, one thing is certain: other franchises won't sit still. They'll work at it. And over time, the level of skill, talent, and precision required to compete likely will elevate the entire NBA. Golden State has ushered in a new era of basketball, and it's up to everyone else to find their place.