According to the United Nations, more than 220 million tons of plastic are produced each year globally, and very little is recycled or disposed of properly. Plastic doesn't biodegrade, and instead breaks down and accumulates in our oceans as literally millions of tiny particles that are deadly to marine animals and birds. Given how much plastic you're probably consuming either directly or indirectly on a day-to-day basis, it's easy to feel powerless.
A partial solution to this mass-scale environmental issue comes from an unlikely collaboration between Adidas and eco-awareness organisation Parley for the Oceans. Adidas and Parley are working together not only to increase awareness of plastic pollution and its dire effects on the marine environment, but also recycle all that discarded waste into futuristic new footwear. Adidas has committed to completely freeing its facilities of single-use plastic items like plastic bags, and has initiated a mass plastic collection scheme that aims to prevent discarded consumer plastic from entering the ocean––and instead turn it into shoes. Then there's the plastic that has already made its way into the water: in 2016 Adidas and Parley created the world's first shoe upper made entirely of recycled ocean plastic and gill nets, and they're continuing to produce new products made out of these sustainable materials.
VICE was invited to view an Adidas and Parley installation on the Gold Coast last month, which took advantage of the Commonwealth Games crowds to spread its message. Australian artist Jane Gillings had been commissioned to make large scale works communicating the drastic impact that all those single-use plastic containers we carelessly throw away have on our sea life. One of Gillings' works used piles and piles of plastic cutlery, and another gathered mountains of used milk bottles––noting that the average cafe burns through twelve of them daily. The overarching message? We're consuming an overwhelming amount of plastic with little thought for the consequences. And we need to be more careful about where it ends up.
Adidas has ambitious plans for its plastic recycling project. "In 2017, one million Adidas and Parley products were sold," explained Shannon Morgan, brand director at Adidas Australia, at the event launch. "We will make five million in 2018."
But the company has broader aims than just recycling plastic that has already been discarded by consumers. They want to change how we think about plastic in the first place––and maybe find an alternative to it that isn't so lethal to the planet. "To phase out plastic and reinvent material, we need a creative, positive and realistic approach to solutions––one that motivates and unites people," Morgans explained.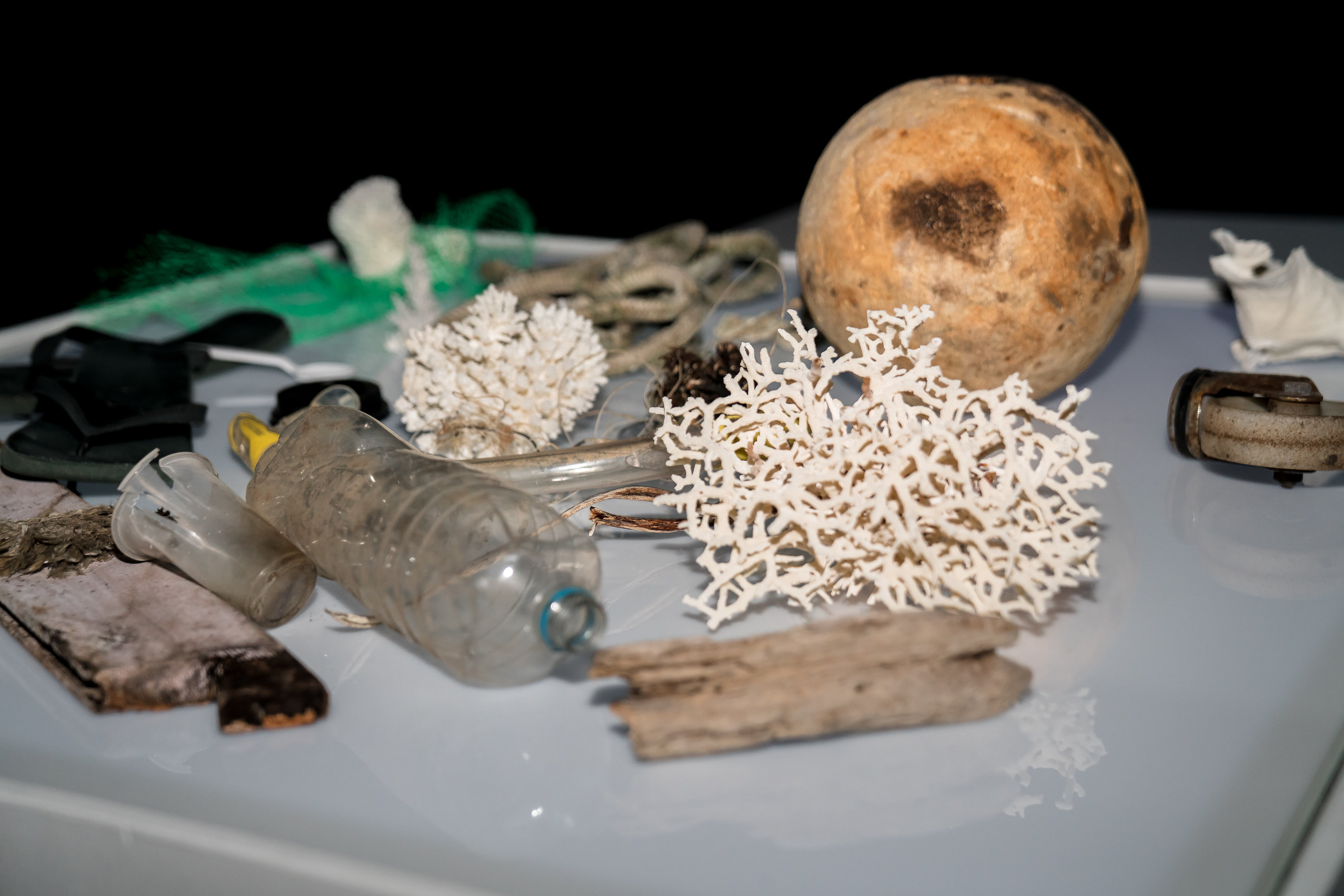 Sneakers aren't exactly the most eco-friendly items of clothing, or at least they weren't in the past, but luckily it would seem times are changing. Streetwear brands are beginning to pursue new environmentally-conscious manufacturing options, and the best of them don't just make tokenistic gestures towards ethical practices. Instead, they take the opportunity to create something that's innovative and intentionally-designed, as well as sustainable.
Probably the most immediately exciting aspect of the Adidas and Parley collaboration is the direct recycling of ocean plastic pollution into sportswear. Ocean plastic and fishnets are collected from coastal areas like the Maldives, then shredded and turned into technical yarn fibers that can be woven into all kinds of products. It's a fun solution to a serious environmental problem. And you know what? The sneakers look pretty good too. Win-win.