You Guys, the New Frankie Cosmos Album Is Really Good
Here are eighteen new tracks and a video that looks like a slime tutorial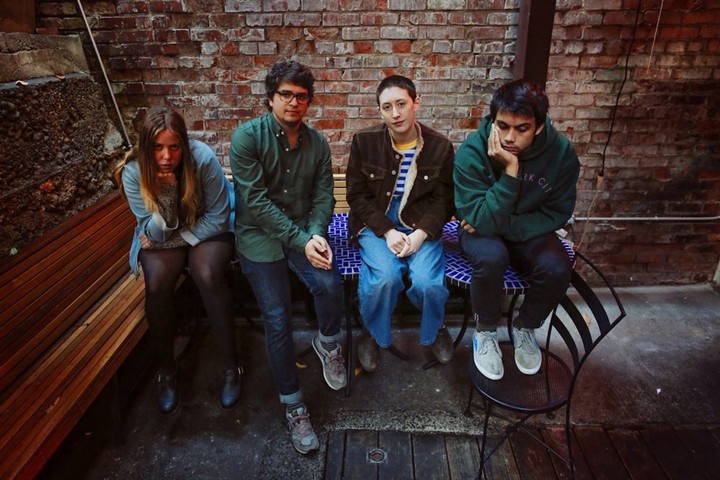 Lead image via PR
Last week, we published an interview with New York artist Greta Kline – better known as the person behind four-piece Frankie Cosmos – and something she said really stuck with me. "The thing that I've learned about romantic love – and all kinds of love and friendships – is that everybody approaches it really differently, and often incompatibly," she begins, before adding: "When someone says 'I love you' you don't know what they mean, you just know what you mean when you say it. It can mean something totally different."
That might sound like such a simple realisation, but I think it's actually quite a complex one, and something that lurks behind a lot of relationships we have and all the shit that can arise from them – in my experience anyway. All which is to say, Frankie Cosmos have released a third album, Vessel, their first release via Sub Pop, and it deals with a lot of these ideas and themes. Consisting of 18 tracks of brilliant, melodic, heartfelt guitar music, Vessel is full of the kind of lyrics that make your chest feel weird and tight, like in "Apathy", when she sings "Looking around at twenty-two, and so tired of myself around you / Maybe I don't fit your ideals anymore, or maybe I just grew up into a bore". Like, fuck, who hasn't had that feeling before at that age?
There's also a video for "Jesse" that has come alongside it, which is basically like a slime tutorial video, but the band are superimposed into the slime. Nice. Stream the full album above and scroll down to watch the video.
You can find Daisy on Twitter.
This article originally appeared on Noisey UK.