Despite rolling to the second-best record in NBA postseason history through the first three rounds of the playoffs, the Cleveland Cavaliers enter their Finals rubber match with the Golden State Warriors as underdogs. Long shots, even. That's no knock on the defending champions—it's a testament to how dominant the Warriors appear to be.
Golden State had the best regular-season record in league history last year; as everyone knows, the franchise has since added Kevin Durant. The Warriors have won 27 of their last 28 games, their lone loss coming in the second-to-last game of the regular season, when the No. 1 overall seed in the playoffs already was wrapped up and Klay Thompson sat out. In the postseason, the Cavs have outscored opponents by 13.6 points per game, but the Warriors are eclipsing that number with an average victory margin of 16.3.
Fortunately for Cleveland, LeBron James is the best player of his generation, and already in the conversation for the greatest player of all time. He can't ever be counted out. Just ask Golden State, which blew a 3-1 series lead to James and the Cavs in last year's Finals. If Cleveland is going to repeat, they'll need to play their absolute best basketball, starting with Game 1 on Thursday night.
The Cavs and the Warriors look like the most talented two teams to reach the Finals in 30 years. We should be in for a treat. Let's take a closer look at five things Cleveland must do in order to once again achieve the unthinkable.
1. Slow the pace
In the 2015 Finals, James slowed every possession down to a crawl, keeping the ball in his hands for an incredible 12 minutes per game—longer than Steph Curry, Andre Iguodala, and Draymond Green combined! This was intentional: by pounding the air out of the ball, Cleveland hoped to lower the variance in each game; fewer possessions would give the explosive Warriors fewer opportunities to get into a healthy offensive rhythm and pull away.
The Cavaliers repeated that strategy last year, but instead of relying so heavily on James, they also gave the ball to Kyrie Irving. Together, the two had the ball in their hands for more than 14 minutes per game, and Cleveland as a team had possession for over two minutes more per game than Golden State.
The Cavaliers offense isn't predicated on excessive ball movement, so it's easy for them to slow the game down on offense and win the time-of-possession battle. The Warriors prefer a more frenetic pace: their 20.7 fast-break points per game average ranks highest in the playoffs by a wide margin.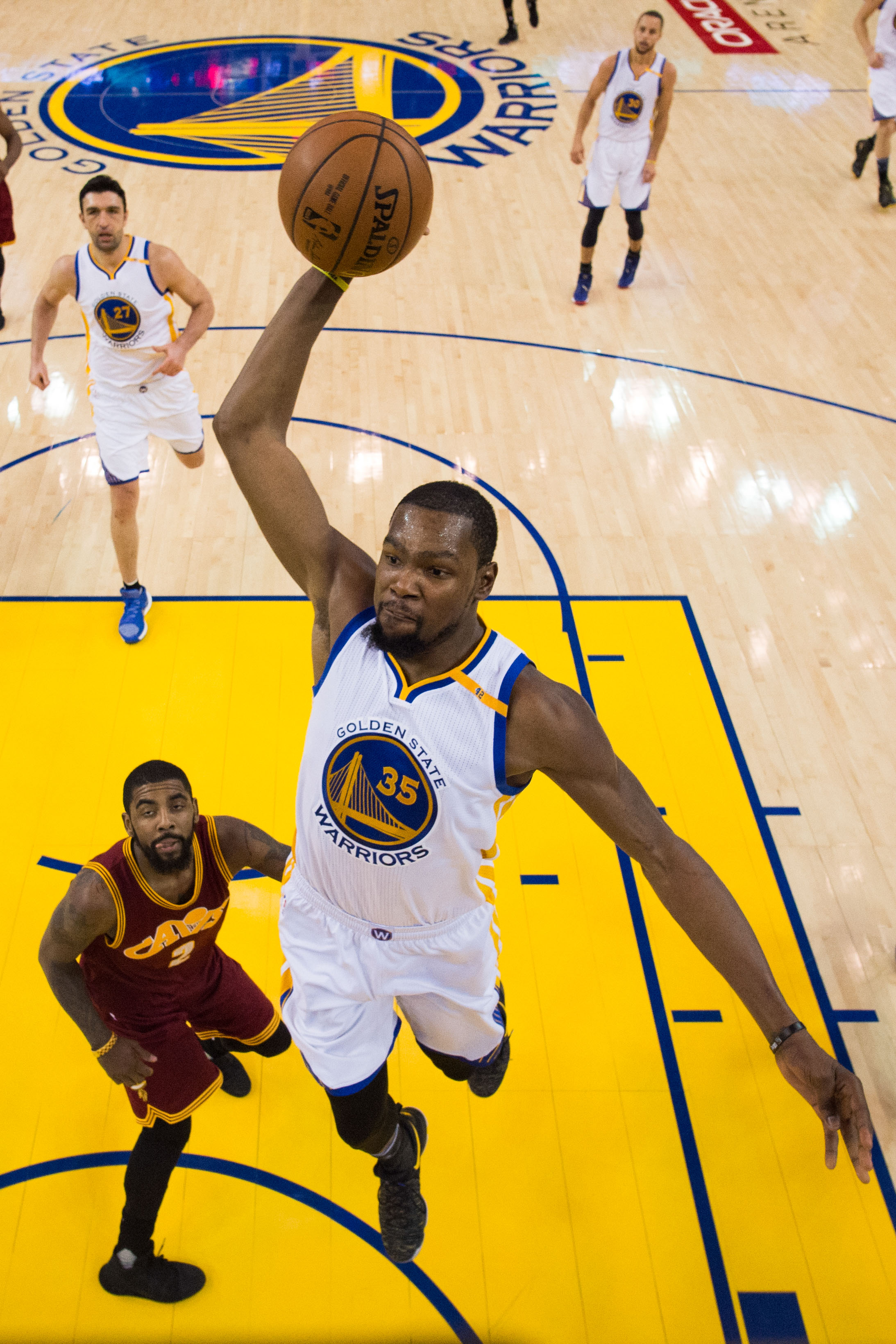 Even when Golden State isn't getting shots in transition, the team still prefers to push the ball up the court, creating mismatches and putting defenders on their heels. Following defensive rebounds, the Warriors have produced a league-best 1.19 points per possession in just 11 seconds, the fastest average possession length of all playoff teams. On possessions following a made basket, by contrast, they've scored 1.14 points per possession in 15.9 seconds.
Both of those numbers are great, but while Cleveland trails Golden State on points per possession following defensive rebounds, they've actually outpaced the Warriors following made baskets.
Overall, the Cavs shouldn't abandon looking for early offense and fast-break opportunities. If easy baskets aren't there, however, they would be smart to take their time, knowing that the more the series slows down, the more it tilts in their favor.
2. Get outside shooting from LeBron
James needs to do everything in this series. Again. During last year's Finals, he led all players in points, rebounds, assists, steals, and blocked shots. Above all, he needs to connect from long range.
So far in the playoffs, James is shooting 42.1 percent on 5.8 attempts from behind the arc per game. That's a positive sign, but historically his jumper has been inconsistent, which means daring James to win games from the outside might still be Golden State's best strategic bet.
This is especially true when James is playing off-ball or with Cleveland's second unit. One of the Cavs' main offensive strategies in this series will be letting Irving attack weak defenders in isolation and on pick-and-roll plays with Tristan Thompson. Curry, Ian Clark, and Patrick McCaw will require help on that matchup, and when Irving gets out on an island against Zaza Pachulia or David West, the entire Warriors team will have to overcompensate. The Cavaliers almost always pair those three guys with two shooters, so expect the Warriors to leave James open and collapse the paint like they did on this possession on Christmas Day.
James making shots also draws the defense farther out on screens and closeouts, something that is essential for opening up the paint. Watch how much padding Durant gives James on this closeout, hoping to keep James from beating him off of the dribble.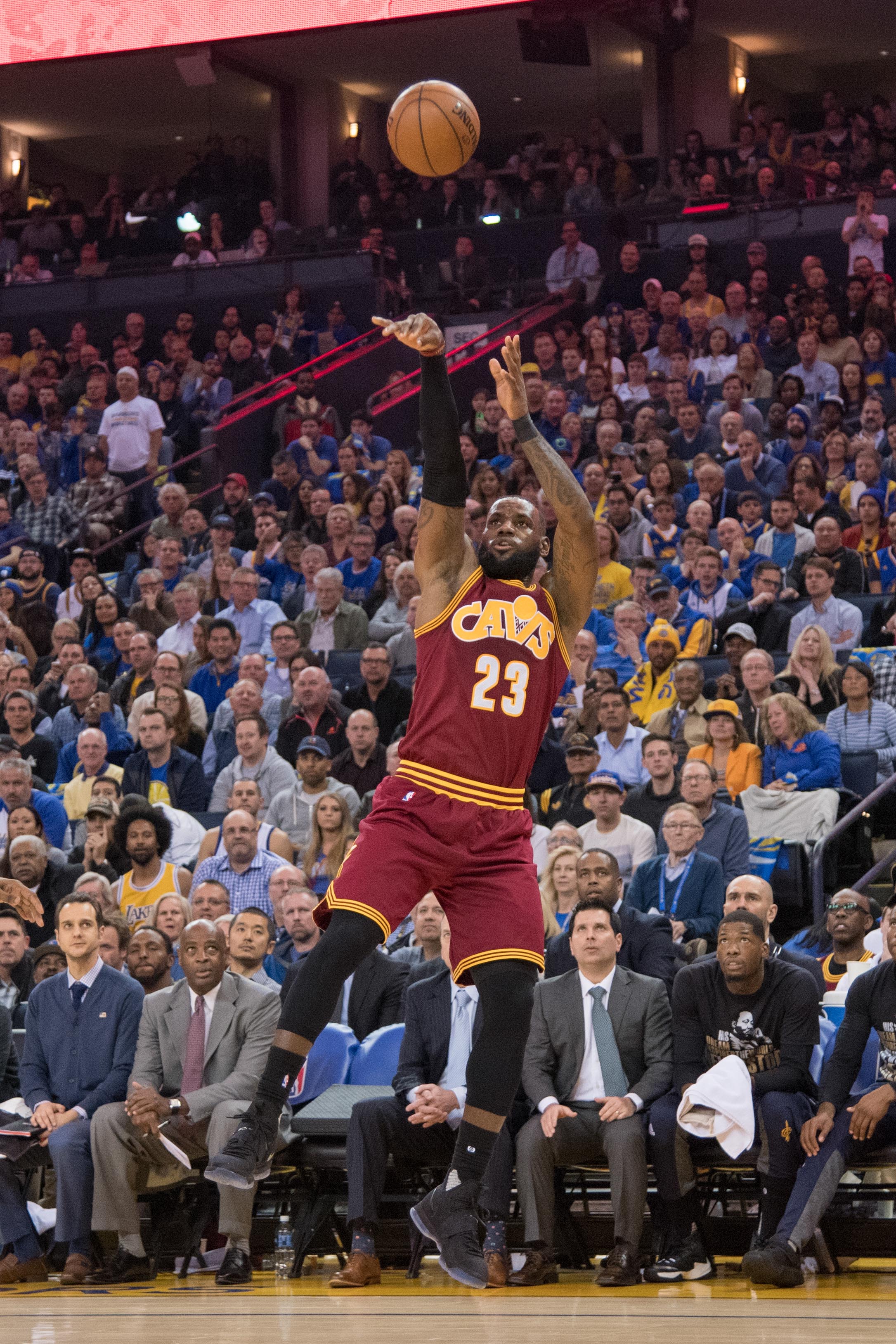 With every inch that the Warriors are forced to expand their defense, their by-committee rim protection becomes more susceptible to penetration and easy buckets. This is especially true when James targets the Warriors' point guards in pick-and-rolls. The Warriors hedged these one-three pick-and-rolls in their two regular-season matchups, and James was able to make them pay by finding ways into the paint.
Golden State will try different looks in pick-and-roll coverage in order to keep Curry from getting switched out onto the ball, and to keep themselves from getting stretched out too far on the perimeter. They'll even try dropping their bigs deep into the paint and having James' defender go well under ball screens. James doesn't have to shoot every time, but he'll need to make the Warriors pay a couple times per game in order to keep the defense honest. Those baskets are huge momentum shifts, especially when the defense dares him to shoot.
3. Draw fouls
The Warriors had an above-average bench throughout the regular season and feature a Sixth Man of the Year candidate in Andre Iguodala. Just like last year, however, Golden State's non-Iguodala reserves might be much less useful against Cleveland than they were against every other team in the league.
The Warriors have exactly five players who don't have at least one glaring defensive weakness. Beyond that? Clark, McCaw, and Shaun Livingston are too small to guard James; West, Pachulia, and Matt Barnes are too slow to guard Irving; and JaVale McGee is too mistake-prone to be effective with either of Cavs star on the court.
Cleveland won't be able to exploit this group every time down the court, but the more they can force at least one of them onto the floor, the more they will be able to attack them on switches and in isolation. And that could make a big difference.

Last season, Marreese Speights was a spark off the bench for the Warriors—but in the Finals, he was James' favorite pick-and-roll target. Maybe the most underrated (and darkly humorous) moment of the series was James forcing Speights into a pick-and-roll despite his best efforts to avoid it.
To make the Warriors bench come out and play this time around, the Cavs will have to be incredibly aggressive getting into the paint and creating contact, especially against Golden State's main defensive anchor, Draymond Green.
Green is probably the Warriors' most irreplaceable player. The defensive drop-off between him and any of Golden State's reserves is extremely steep. Because Green is as good as anyone in the NBA at contesting shots in the paint without fouling—a skill that fuels his team's fast breaks—Cleveland will have to either force Green into fouls or convert their point-blank attempts.
4. Dominate the offensive glass
Both the Cavaliers and the Warriors allowed a lot of opponent second-chance points during the regular season, so on paper that battle might seem like a wash. Nope. Throw out the numbers. Cleveland's ability to control the offensive glass in this series will be a crucial exercise in risk management, and will depend on the relentlessness of Tristan Thompson.
Thompson is a load to box out, and how well he does his job on the offensive glass will create all sorts of ripple effects. First, the Warriors rely very heavily on their ability to cover lots of ground on defense. They lead the playoffs in team distance covered per game at 8.05 miles, according to NBA.com; even when you adjust for pace, the only team remotely close to them in defensive distance covered were the Milwaukee Bucks, another squad that relies on frantic defensive rotation.
That frantic rotation creates vulnerabilities on the defensive glass. When Thompson is killing an opponent with offensive boards, defenders begin to second-guess how early they should help off of him to stop dribble penetration. An extra split second can be the difference between James getting to the rim and finishing with a dunk or being forced to shoot a short floater. That was evident in last year's Game 6. Watch the two highlight alley-oops that James threw to Thompson in the fourth quarter, and how hard it was for Green to time his help.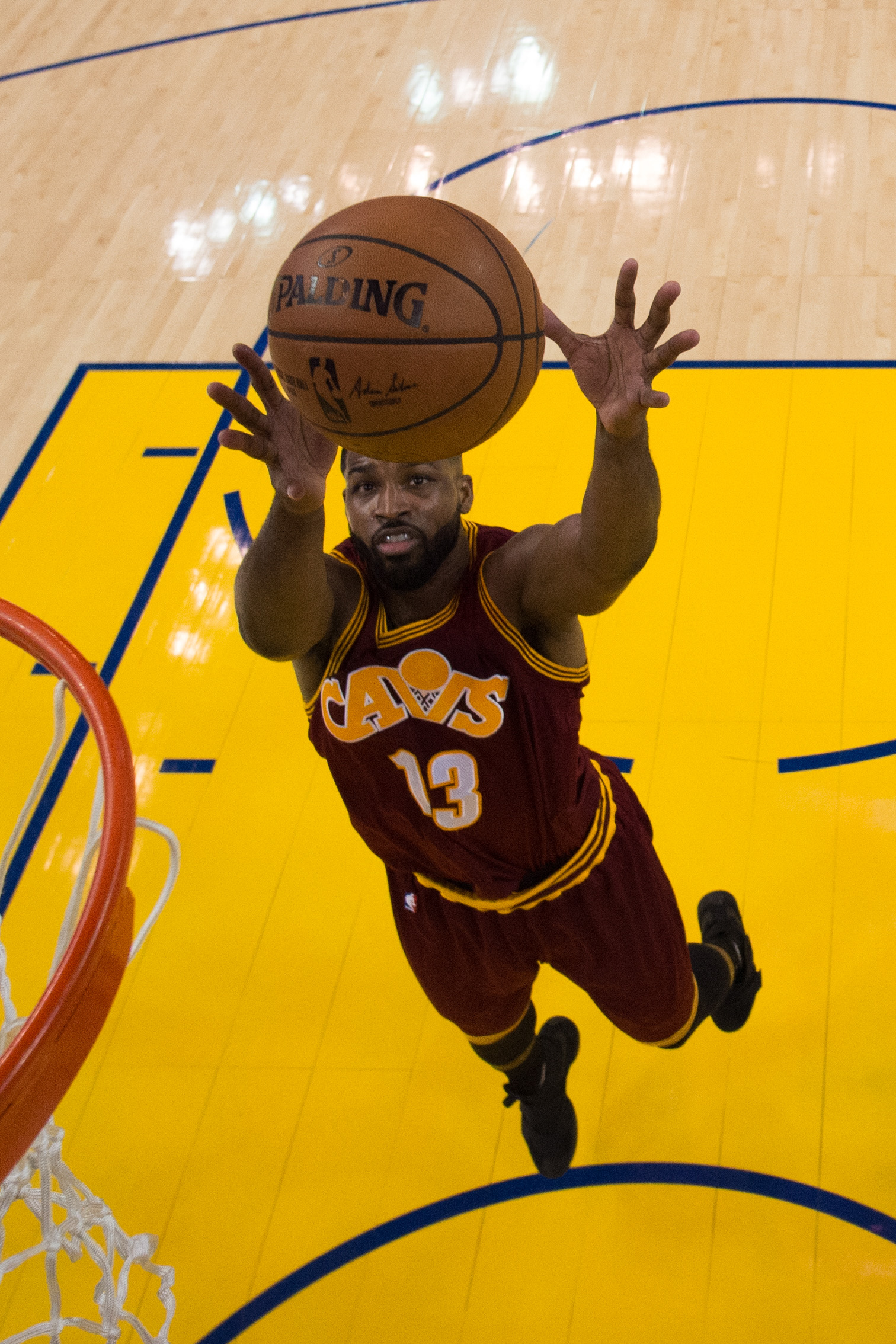 Second, every extra body that the Warriors need to throw on Thompson to secure the ball is someone who isn't leaking out for transition baskets. Thompson grabbed 22 offensive rebounds in the first four games of last year's Finals, forcing Golden State to stick two bodies on him once shots went up. That, in turn, opened up rebounding lanes for Kevin Love, whose four offensive rebounds in Game 7 were a huge difference-maker.
The Cavs will send two, three, and sometimes four defenders back to slow the Warriors in transition, but Thompson can stop the break before it starts by commanding multiple bodies on every box out.
5. Play the best defense they have all season
The Warriors are more talented than the Cavs, and have a wider margin of error. Cleveland could do everything right—on the boards, in transition—get big performances from their star players, and still lose this series unless they find a way to play their very best defense. Yes, the Cavs improved their defensive focus and effort in rounds two and three of the Eastern Conference playoffs, but they need to be better still against a historically potent Golden State squad.
The play that the Celtics drew up at the end of Game 3 of the Eastern finals is an excellent example of the type of mistake the Cavaliers can't afford to make. Boston's play call was simple, and targeted Cleveland's biggest weakness: communication on switches.

The Cavs' defensive scheme called for J.R. Smith and Iman Shumpert to switch all screens, but the switch was made moderately confusing by the fact that the play appeared to be for Jae Crowder to come off a double stagger screen. If that were the case, Shumpert would be responsible for covering Avery Bradley. Only Crowder curled the first screen, which created a double-switch scenario. In other words, Smith should've switched on to Crowder, and then back on to Bradley in quick succession. Or at the very least, he should have communicated with Shumpert that he was going to stick with Crowder on the curl.
That didn't happen. Most teams that advance this far in the playoffs are able to make these types of defensive reads at a high level. Cleveland has only shown flashes of being able to do so—but never for entire games, and not against an elite opponent.
That Game 3 play is also telling because similar double-stagger screens are the foundation of Golden State's offense. The Warriors thrive on this type of action, forcing defenders to make these types of switches and communications several times on each possession. Bradley shot a very respectable 39 percent from behind the arc this season; swap him and Crowder for Durant, Curry, and Klay Thompson, and you realize why even the slightest hesitation or miscommunication will open up enough space to cause Cleveland major problems.
James has erased many of the Cavaliers' defensive mistakes during the previous two rounds of the playoffs by acting as a sort of free safety, protecting the paint and providing help on drives while defending the other team's weakest player. He won't have the same luxury against the Warriors. If James doesn't guard Durant, that means either Thompson or Love will have to, creating a major mismatch.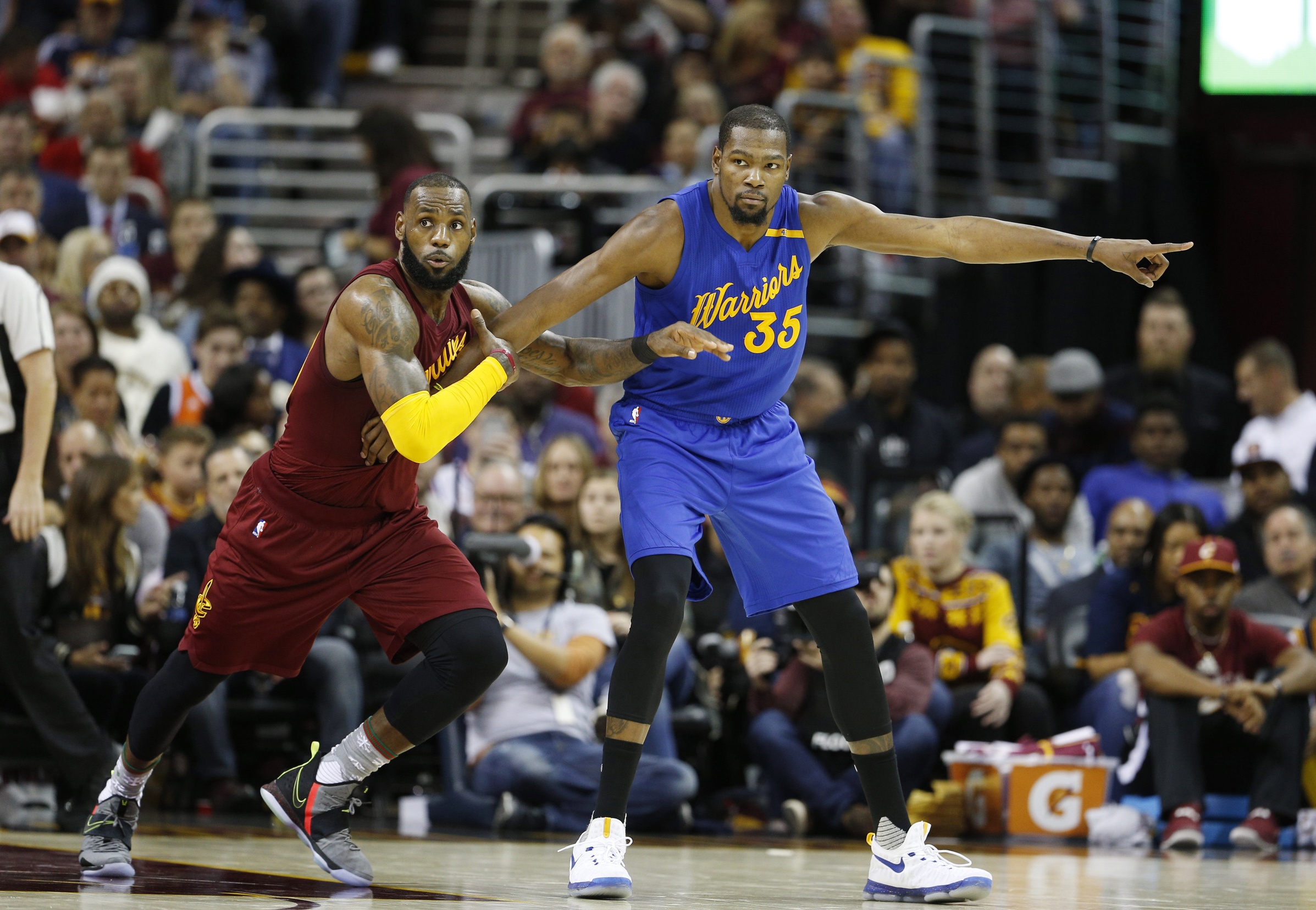 This is the Finals everyone wanted, a series packed with star power, great offense, and, for basketball nerds, what figures to be incredible number of strategic adjustments. There will be cross-matches, tough rotation decisions, and a whole lot of bad blood. Plus LeBron! KD! Steph! The chance that McGee will do something hilarious! Casual and hardcore fans alike can't ask for much more.
The Warriors enter as favorites, but the Cavs have a real shot. In fact, Cleveland has never looked as good from top to bottom: Love finally seems comfortable in his role; Irving is playing with as much poise and confidence as he did in the final three games of last year's Finals; the in-season additions of Kyle Korver and Deron Williams have allowed the Cavs to play with unprecedented floor spacing for 48 minutes a game, making James even better and transforming Cleveland into one of the few teams that can actually trade baskets with Golden State.
If the Cavs can accomplish the five keys above, they have a great chance of pulling off a second straight upset for the ages.
Want to read more stories like this from VICE Sports? Subscribe to our daily newsletter.