Every Saturday, The Creators Project premieres a new issue from net art platform and artist collective, FELT Zine .
Growing up in Italy at the end of the 90s, net artist Franziska von Guten found herself spending hours online in chat rooms that were a lot like archaic versions of the social networks we use today. Von Guten tells Creators over email, "You'd have people meeting online and talking about all kinds of stuff; but mostly the whole thing was about sexting."
It was through the internet that von Guten discovered her sexuality. She dated a virtual boyfriend for about three years but never actually met IRL. It was online forums like Cupido or C6 (spelled "Ci sei", "Are you there") where von Guten was first introduced to sex and romantic relationships, an experience she explores in her new digital compositions for the latest 22nd issue of FELT Zine.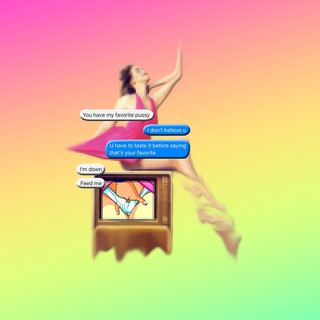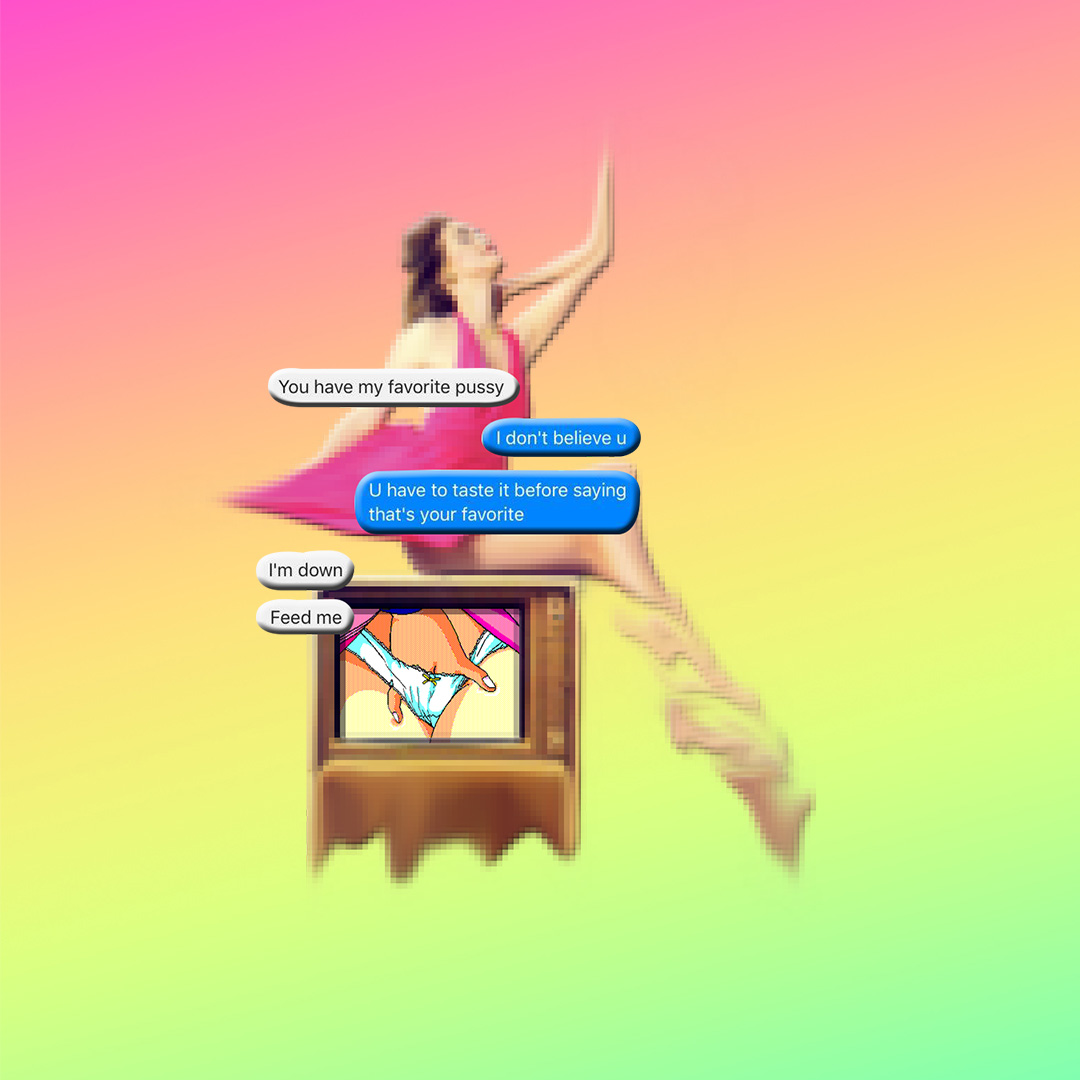 At the same time, von Guten was using Postal Market Catalogues, a print magazine service that allowed people to buy stuff by mail order. The service was really popular in Italy during the early 80s, but struggled to survive in the late 90s. The magazine catalogs had a vintage aesthetic, characterized by a kitschy, erotic look. Covers featured overtly glossy women with poofy hair and heavy make up. "As a result, my memories of teenage sexuality are a peculiar mixture of digital texts and vintage images, with an overall odd sensual feel to them." The works in this issue of FELT attempt to recreate the emotions she was feeling during that period of her life, while reflecting on the relationship between sexuality and computers and how it has evolved.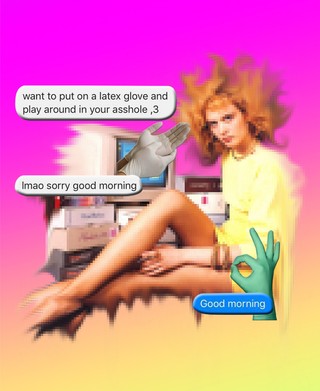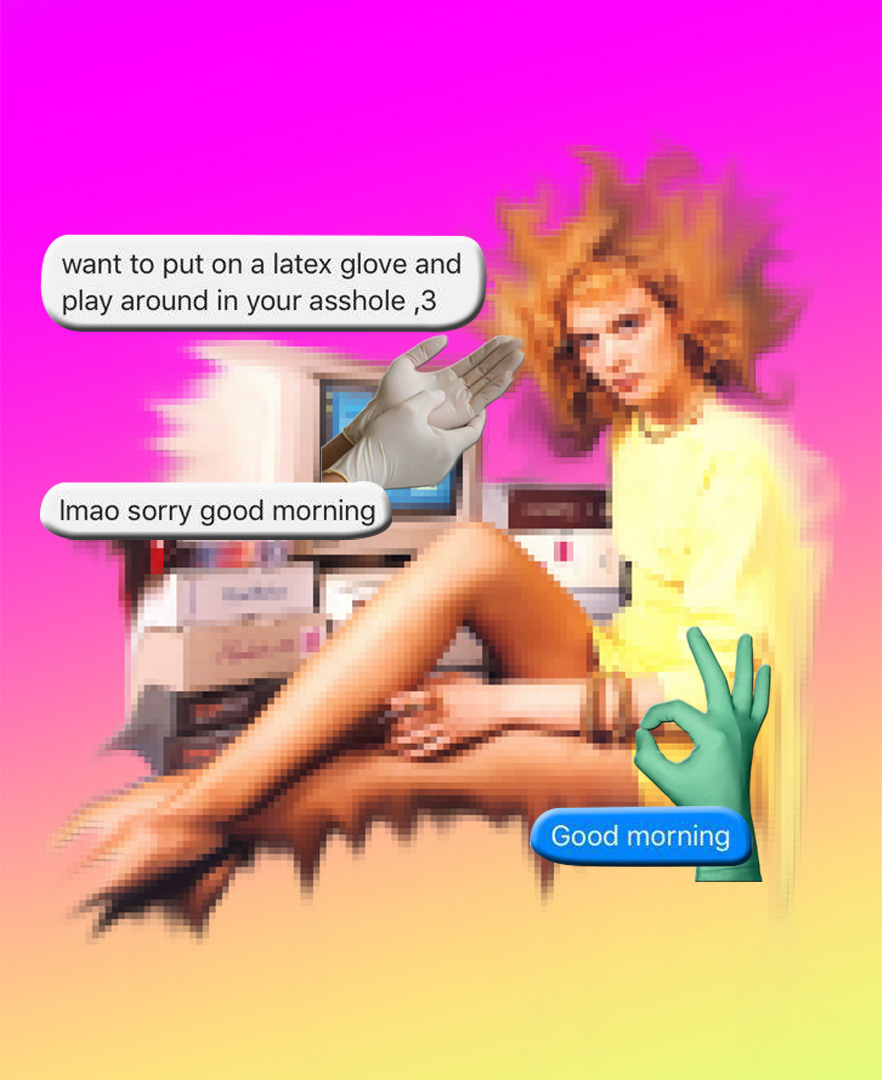 As a teen, von Guten loved to make collages with magazines and print outs from the internet. In many ways, the work she does today with Photoshop is just an evolution of what she was doing back then. "Tbh, I mostly just take stuff I find around, URL or IRL, and use it as I please. I don't think this makes me an artist; I always preferred to think of myself as a 'badass internectual,'" von Guten tells Creators.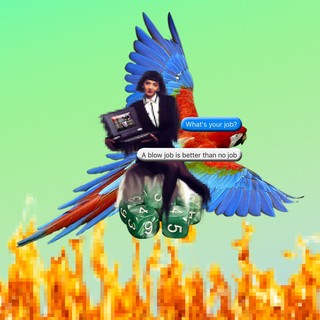 While remaining true to her roots, the nature of von Guten's digital interactions has also evolved. Von Guten uses the anonymity of the internet to conduct social experiments like pretending to be a man. The text screenshots are taken from actual chats with friends on social networks. "I think that sexting, beyond its obvious sexual connotation, has an almost poetic quality to it; that's why from time to time I like to pretend I'm a man and explore this world from another perspective."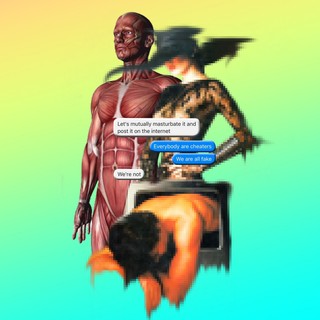 Check out the 22nd Issue of FELT Zine here, and check out more of Franziska von Guten's work on her Instagram.
Related:
[Premiere] Video Game Artifacts Explore the Power of Nostalgia in CGI Zine Format
Net Art Collective FELT Zine Gears Up for an Insane IRL Exhibition
[Premiere] Normcore Meets Net Art in the 18th Issue of FELT Zine