Detainees held on Manus Island woke up in fear today, according to detained journalist Behrouz Boochani, as their standoff with Australian Government entered its second day. The detainees are readying themselves for the Papua New Guinean army to today take over the detention centre. It's not known what they will do to the 600-odd refugees and asylum who have barricaded themselves inside the now-closed centre.
According to Boochani, Australian journalists and politicians have this morning been denied entry to the Manus centre. Immigration officials have brought buses to take the detainees to the main town of Lorengau, but they are still refusing to leave.
Yesterday, all Australian staff evacuated Manus at 5 AM—leaving detainees without access to food, water, or medical care. The controversial offshore detention centre is now permanently closed, after PNG ruled it was unconstitutional. However, amid escalating tensions with Manus locals, detainees don't think it would be safe for them to leave.
Read more: All Hell Is Breaking Loose on Manus Island
Our concern is that the health and safety of the refugees is going to deteriorate very quickly if this situation continues," Amnesty International's Kate Schuetze told VICE via phone from Manus Island. "Both Australia and Papua New Guinea are avoiding any kind of responsibility for them."
Schuetze yesterday visited the centre and spoke to detainees there. "They hadn't had food or water given to them for two days but I think there was a little bit of extra supplies given two days before," she said. "So that's three days ago now."
Images have also emerged of detainees jury rigging pipes to collect rainwater into tanks and wheelie bins.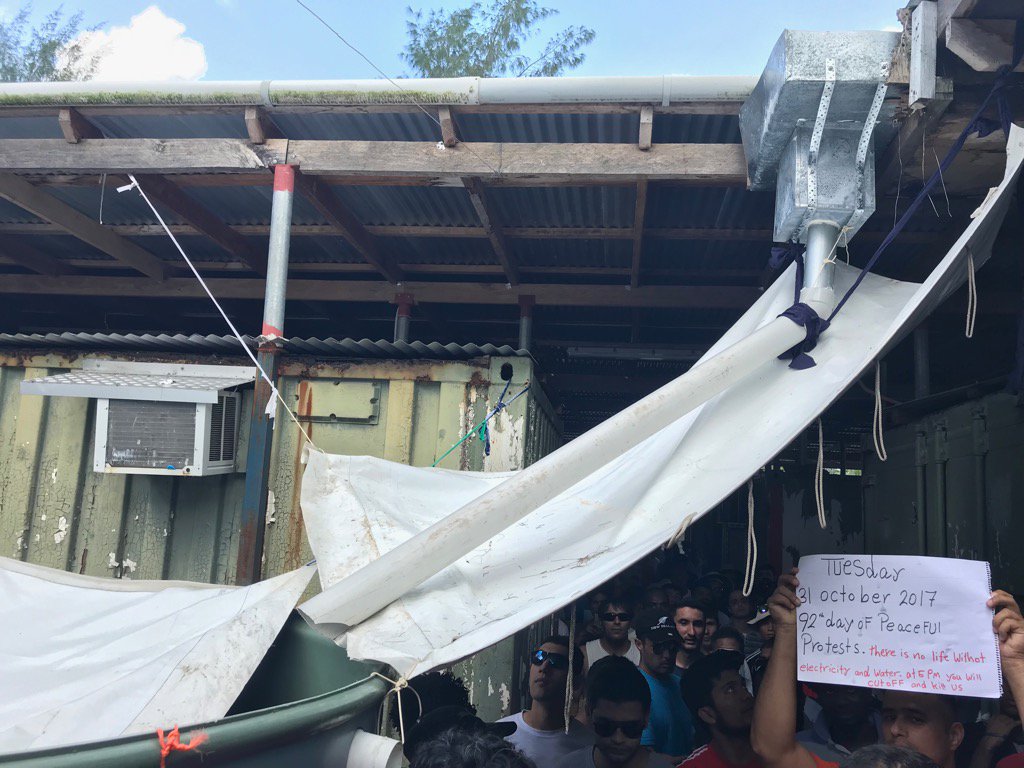 At the centre, Schuetze was told by detainees that those in need of medication were given a month's supply before Australian staff left. However, all the prescriptions are written in English, which has proved dangerous.
"[In the last week] one person who doesn't read English—and has to take around 20 pills each night—took the wrong dose of one of those pills because they couldn't read that script," she said. "They passed out for a few hours, totally unconscious. They called for the guards, no one came to offer them any medical attention, which is pretty alarming."
Greens Senator Nick McKim, who is also on Manus right now, has expressed his own concerns about medical care—specifically for detainees facing mental health issues.
"There are many dozens of people... in the detention centre on Manus Island who have been forced cold turkey into withdrawal from their psychotropic medications that they are being prescribed," he told Lateline last night. "This is a human rights emergency."
Schuetze echoes the concern. "We went and spoke to the director of the hospital in Lorengau," she said. "They have no capacity really to handle mental health issues here on the island."
According to Behrouz Boochani, health issues are already emerging for some inside. This comes as the final generator was removed from the centre this morning, cutting the power entirely. "Even the toilets do not work," Boochani said.
Immigration minister Peter Dutton slammed the detainees refusing to leave the centre, accusing them of trying to "force a change" in Australia's tough refugee policy.
"The constant claims of [illegal maritime arrivals] and advocates about their situation in Manus are nothing more than subterfuge," he said in a media release. "They have long claimed Manus RPC was a 'hellhole'—but the moment it was to be closed they demanded it be kept on."
Acting Prime Minister Julie Bishop has told ABC radio it makes "no sense for them to stay where they are" and denied that the 600-odd men face any danger if they leave the centre. "They have a number of options available to them," she said. "[But] they will not be resettled in Australia."

More to come.