Anyone who has experienced a sleep disorder knows how debilitating and disorientating it can be to struggle against your own consciousness each night. Artist and experimental architect Matthew Bird draws on extensive research, including participating in various hospital sleep tests, to explore the evolution of sleep culture in his latest immersive installation. Dormitorium is currently exhibiting at the McClelland Gallery in Victoria.
Dormitorium is an exploration of our sleep rituals and sleep patterns, and the installation blends clinical aesthetics and familiar comforts. Contemporary technologies such as gently pulsing sleep-inducing lights simulate sunrise and sunset, and visitors are invited to lie on a gently rotating bedframe with friends or strangers, bringing a social aspect to the sleep rituals and patterns which we often experience alone.
Inverting the traditional white washed atmosphere of many contemporary galleries, the room is bathed in a soft pink glow, while fluffy pillows and sheepskin blankets "embody symbolic traces of the everyday". Timber decking brings a touch of humanity rather than institutionalisation, and projected across two screens is a film of a one-off performance collaboration with choreographers and performance artists Phillip Adams and Shelley Lasica exploring the space, captured by cinematographer James Wright. Overall, the calming and intimate ambience of the space both reflects the ideal internal sleep state and helps to induce it.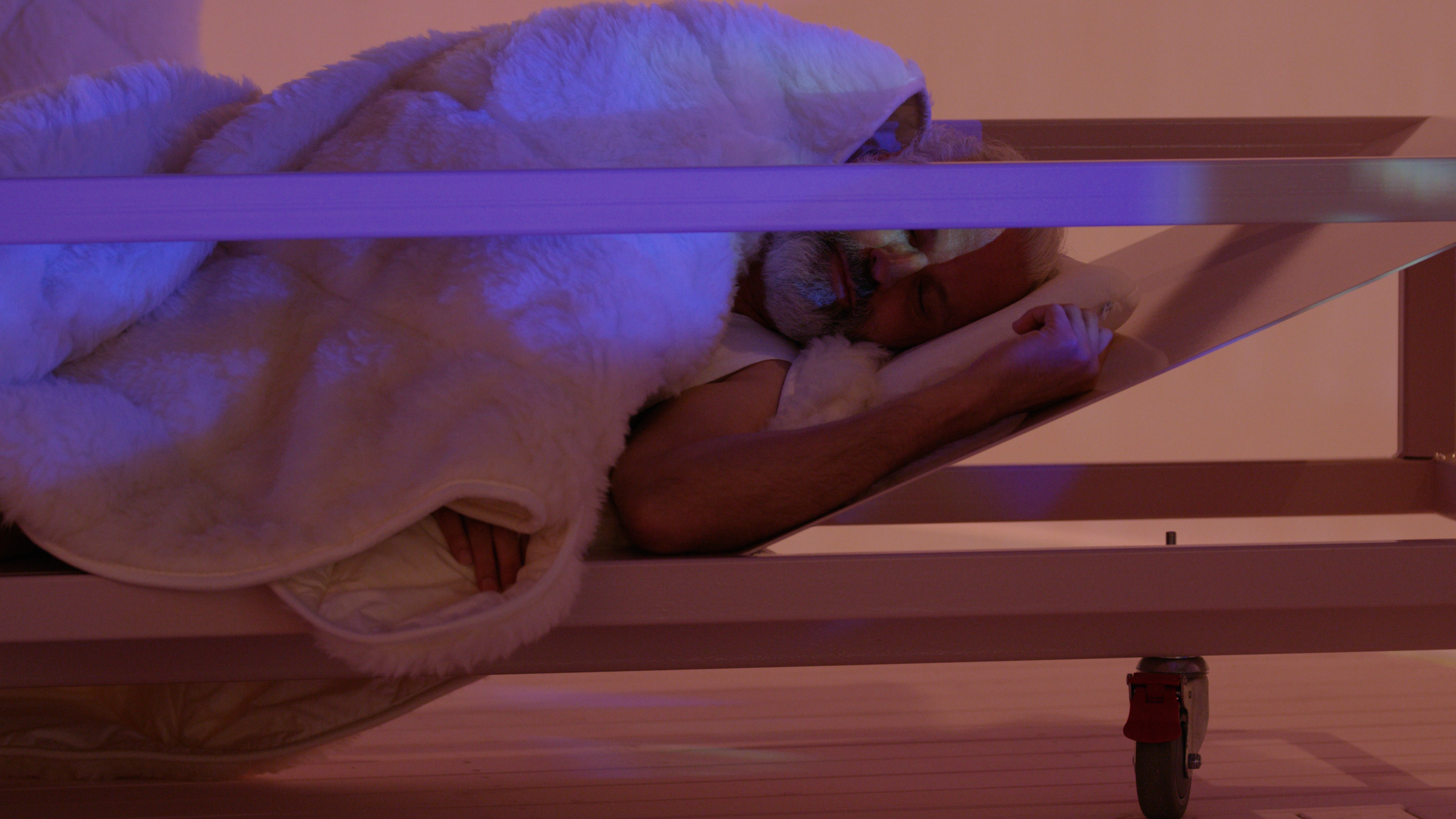 While working on Dormitorium, Bird worked closely with several experts, including sleep clinician Dr Marcus McMahon, as well as researchers from Monash University, Professor Shantha Rajaratnam and Professor Sean Drummond, who work with animating light to influence sleep patterns. Experiencing the intensely clinical landscape of sleep labs in different hospitals while participating in numerous sleep tests, Bird tells Creators he was both "fascinated and creeped out by iron lungs, breathing masks, monitors and other devices.…"

These experiences lead Bird to question the traditional routines and rituals we keep, and through Dormitorium he reframes the experience of sleep into something more surreal, hinting at a futuristic sleep environment.
Bird has long been established as unorthodox. An artist, interior designer and "experimental architect", his work is defined as much by his materials as it is by the empty space within them. Bird creates places in which his audience can be. "I like to think of my created environments as... hyper realities," Bird tells Creators, "curious spaces that splinter, mirror and arouse."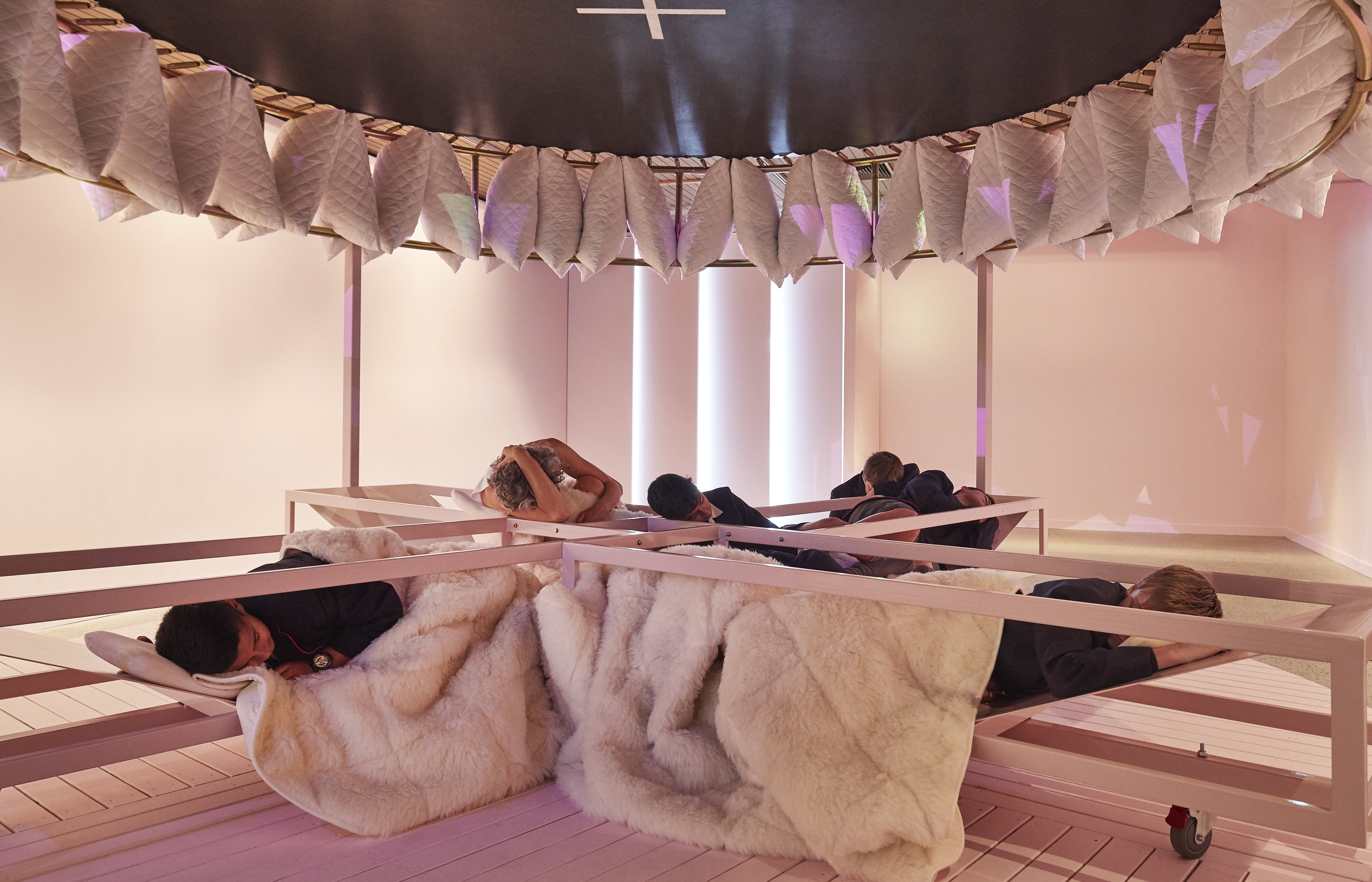 With a background in architecture, Bird began his early work in ideas-led firms which encouraged creative thinking, and in 2008 started his own practice, Studiobird, creating a series of "guerrilla" installations made from reimagined prosaic materials. These immersive projects challenged ideas of inhabitation, and similar concepts have shaped his now well established, unique artistic practice of creating "abstract realities".

Bird notes that he "doesn't aim to direct the experience [of the audience], instead, the spaces are set up to arouse in an abstract manner." The fluidity of the space and the dependence on interaction means that works tend to evolve organically with the experiences of different audiences.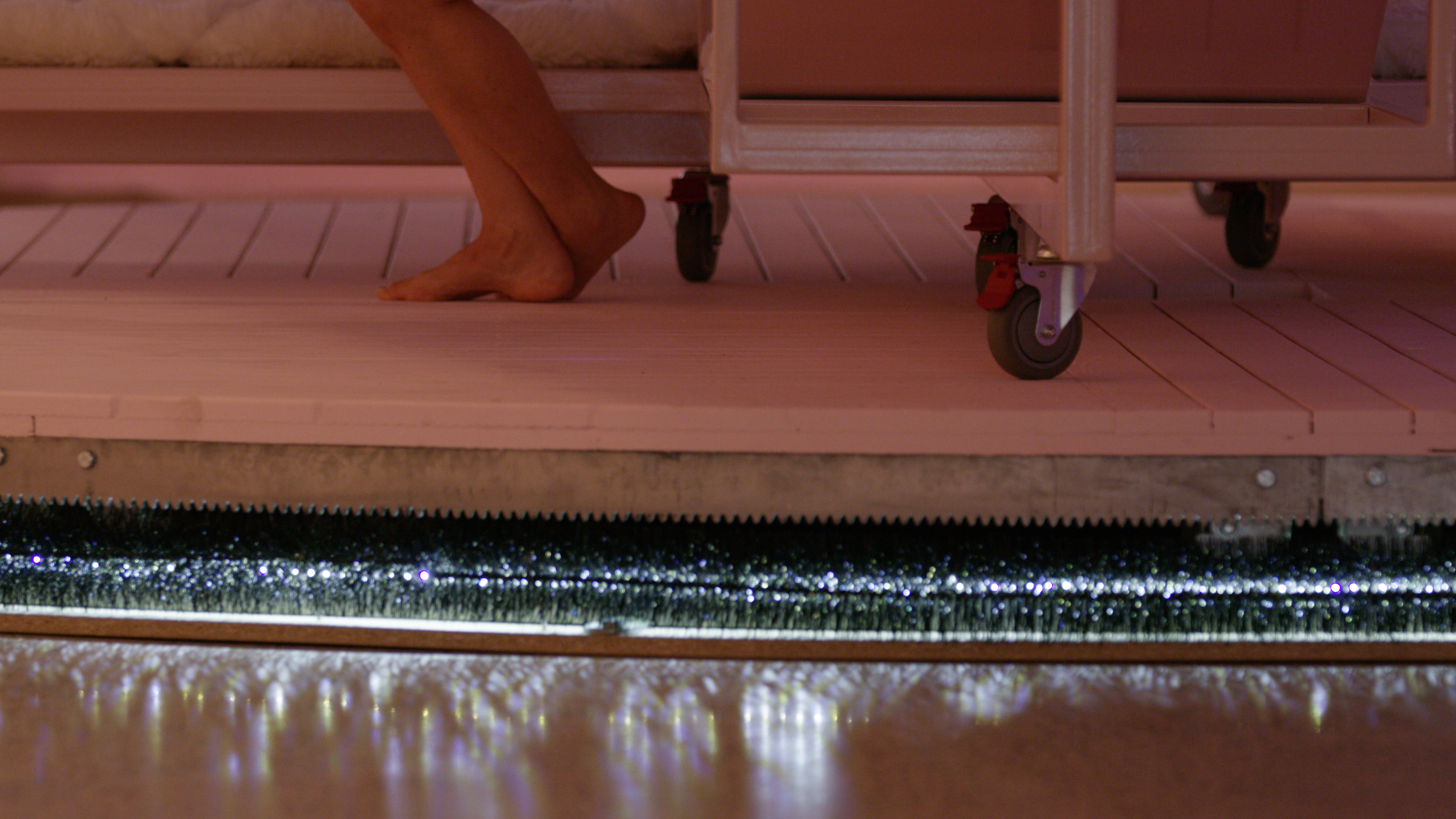 While he hopes initially to create a contemplative space "in which to ponder, and wonder", Bird says he feels that a work only truly comes to life when he "receives feedback from strangers describing their individual associations with the work… extending the project into new possibilities".
Dormitorium is exhibiting until July 9 at the McClelland Gallery in Victoria. Find out more here.
Related:
Cozy Up Inside an Experimental Sleep Lab in Singapore
A Journal of Insomnia Is A Surreal Interactive Documentary Experience