Once you hear Poly Styrene's high pitched, opera-trained warrior shout exclaiming "OH BONDAGE UP YOURS!" on the tail of a sweetly uttered "some people think little girls should be seen and not heard" you're immediately moved by the legendary X-Ray Spex frontwoman. Poly Styrene may have been a small, braces-wearing teenager, but nobody was gonna shut her up, even before she achieved punk icon status. No way in hell.
When I first heard X-Ray Spex, Poly's voice cut right through my disheveled pile of teen-angst and cheap thrift store clothes and shook me to the core. It was the 90's and I was just getting into punk and listening to a lot of cassette tape mixes generously bestowed upon me by my much cooler and more informed friends. I couldn't help but notice how much Poly Styrene's voice reminded me of other punk girls I was getting into at the time, like Kathleen Hanna and Corin Tucker, to name a few. It didn't dawn on me at the time that this voice had come 20 years before the others and why that was significant.
Now, more than two decades later (I'm old now, but who cares) and this obscenely sexist, racist, and idiotic era in our political history seems like the perfect time for a Poly Styrene revival. That's why the crowdfunding efforts for I AM A CLICHÉ, a documentary about Poly co-written and narrated by her daughter Celeste Bell, feel especially prescient. Germ Free Adolescents, the one and only X-Ray Spex album, turns 40 next year and the film is set to be released in time to celebrate.
If you're not familiar with the album or Poly Styrene herself, welcome. It is, as the saying goes, better late than never. While the Sex Pistols were being produced/manufactured by a fetish-wear shop owner/marketing genius (Malcolm Mclaren and Vivienne Westwood's shop was literally called SEX and sold bondage gear among other items), a young Poly Styrene was obsessed with dayglo and plastics, the idea of rebelling against cheap consumerism, and not being (literally) tied down by the man. After seeing an early performance of the Sex Pistols on Hastings Pier on July 3, 1976 (her 19th birthday), Poly—whose real name was Marian Elliot-Said—thought that if those guys could make music, she could too. So she picked her new name from the yellow pages and placed ads in NME and Melody Maker with the header YOUNG PUNX WHO WANT TO STICK IT TOGETHER.
The young girl with a mouth full of braces who had run away from home at 15 to tour the English countryside christened herself Poly Styrene, a cheeky name chosen for being lightweight disposable plastic, and she was about to take the London punk scene by storm. Once she formed the band, the X-Ray Spex played their debut at London's Roxy after only six rehearsals. They quickly gained popularity with Poly's voice and completely unconventional look making a huge impression.
When I started getting into Poly's music in the pre-YouTube years, so I wasn't able to see all the incredible video footage of X-Ray Spex that's out there today. If I had, I probably would've mimicked Poly by rocking pastel, dayglo colors, and crazy headbands, instead of trying to be grunge, and I definitely would have been way less ashamed of my braces and curly hair. And seeing a young woman of color fronting one of the most famous bands in the early punk scene would have been beyond inspiring.
According to Celeste, much was made about Poly's mixed parentage in the tabloids after she became famous. Poly's mom Joanne was white and her dad was a dispossessed Somali aristocrat. Many assumed that the song "Identity" was about race when in fact it was inspired by Poly witnessing a girl attempting suicide in a club toilet. Similar to all the Brexit nonsense of today, England back in the 70's was full of racism and anti-immigrant sentiment. But Poly rose above the prejudice and defied stereotypes, having once said , "I've always been happy, and well, rather intrigued, by a family tree that includes Spanish Princes, Celts, Imams, Ancient Bretons, and Somaliland tribal chiefs that descend from Abraham and Sarah."

People also tried to make a big deal about where Poly grew up. They tried to paint a picture of Poly's supposedly rough childhood living a tenement in South London's ethnically diverse and low-income Brixton district, but Poly wasn't having it. "Mum was forced to leave Bromley because she felt it was too white and judgemental for me to grow up in and that we could never be accepted. That's why we moved to Brixton. But although life was a bit austere, we were always well fed, clean and respectable—mum was a legal secretary, and where we lived that was considered posh!"
Poly refused to be put into a box or labeled by people trying to sell her story. She was a totally different person when she wasn't on stage. As exemplified by this amazing Australian TV interview from 1977, Poly was rather soft spoken and not at all eager to put on a front for journalists.
Similarly, a piece following her around for BBC4 shows a mild-mannered, contemplative Poly gently navigating the London streets and getting ready for shows.

Poly really exploded out of her shell on stage. It's almost as if that voice had to come out somehow and Poly's body was just a vessel. And Poly was not about to dress up that vessel or package herself or play into anyone's notion of femininity. "I said that I wasn't a sex symbol and that if anybody tried to make me one I'd shave my head tomorrow," Poly declared in a particularly candid interview for NME in May of '78. Interestingly enough, she ended up shaving her head at Johnny Rotten's flat a few weeks later.

In this same interview, Poly talks about moving back to the country with her mom and sister after feeling utterly sucked dry. "You feel all the time that people are draining you, draining off your energy all the time until you think, 'Blimey, I haven't got anything left to give. Leave me alone.'" The Spex had just returned from NYC from a two week residence at CBGB where they played twice a night. All of Poly's playful visions of a plastic world had become too real. "For them it wasn't a joke, it was the way they lived for real. For me it was all a joke: play with it, indulge it, have fun with it because there's not really that much of it over here. But when you go there it's so bad that you think, 'God, if that's what it's going to be like I don't want it.'"
America's ultra plastic society as embodied by NYC in the late 70's and the energy vampires of London's Chelsea neighborhood were starting to bring Poly down. And this was before Germ Free Adolescents had even dropped. Poly's ability to put up a front and endure the challenges of fame was coming to an end.
When I ask Celeste about why the Spex only put out one album she replied: "My mother had a big mental breakdown when X-Ray Spex were at the height of their success. This was the main reason—it had all become a bit much for my mum and she wanted to do something more lowkey." Poly had also realized that she had bipolar disorder.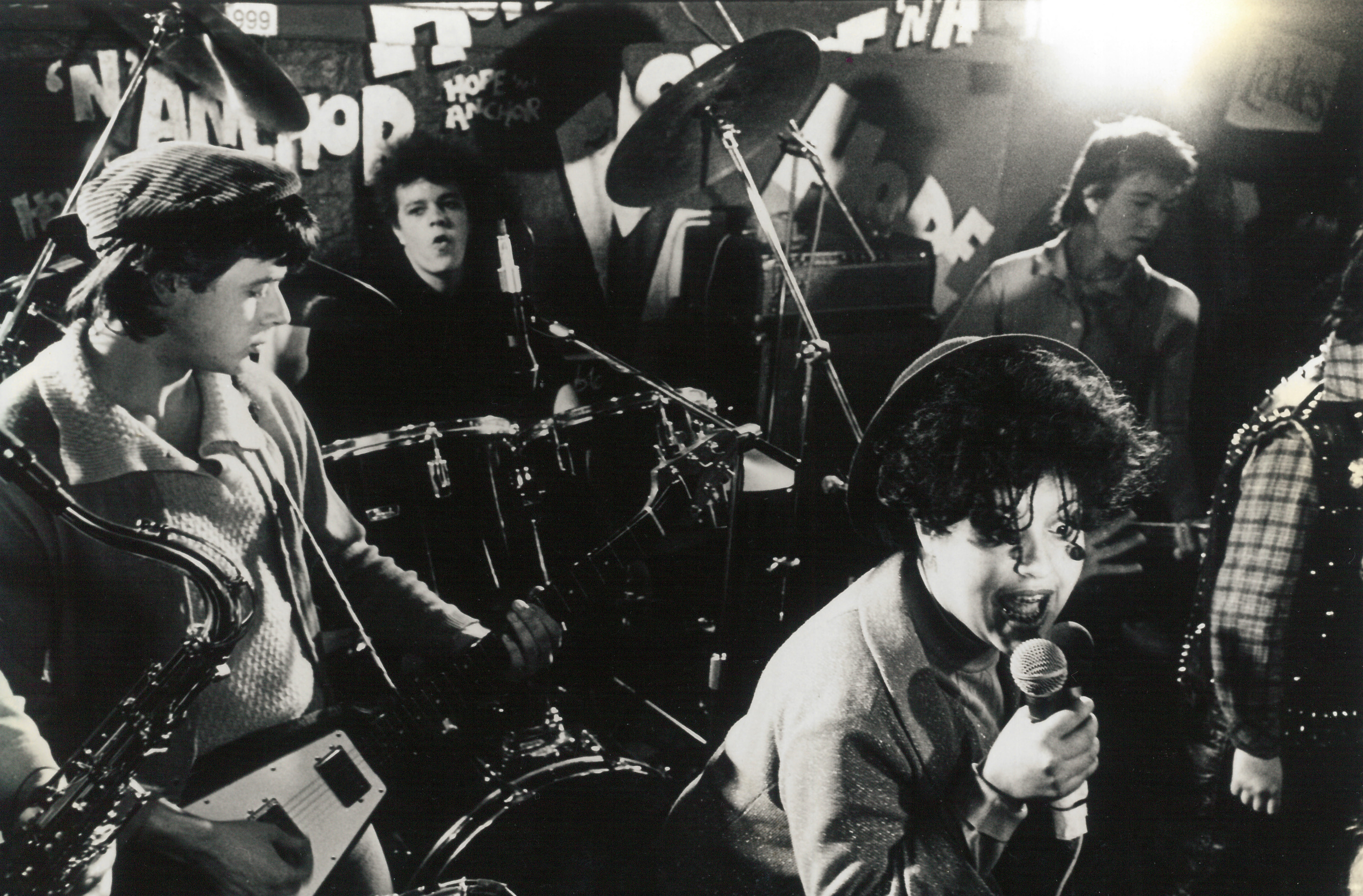 Celeste adds: "She always felt different from other people since she was a kid and had real problems concentrating at school and she had big anger management issues—she was always getting into fights and her moods fluctuated a lot. So she was aware something was not quite right from a young age. But it was not until she was 19/20 that it was apparent she was suffering from a full blown mental illness."
In a parallel to the explosion and quick death of the early punk scene in the UK, Poly was a bright burning flame that had no choice but to extinguish itself. But luckily Poly's spark remained intact. Before her 2011 death at the age of 53 to breast cancer, Poly put out two more albums—the moody, mellow, post-punk Translucence just after she left X-Ray Spex and the spunky, socially conscious Generation Indigo, which she released and promoted just prior to her death.
Up to the end, Poly stayed optimistic about the world and life itself like a true warrior. She told a reporter from the Guardian on her deathbed: "I try not to be negative or cynical. Even though we're in a crazy situation, economically, and with wars, when things go far right, they will have to swing left. We have to become more caring and sharing. Generation Indigo are the people who will protest peacefully, and it's happening already."
She's also quoted as saying ""You remember that old song 'Que Sera Sera, Whatever will be, will be, the future's not ours to see'? I've always felt that. It's been a roller coaster ride, but I wouldn't change a thing."
Lucky for us, Poly's roller coaster ride is getting the cinematic treatment it so deserves. "I think in the documentary you will see that my mother was, apart from being an amazing performer and singer/songwriter she was also a true artist and visionary years ahead of her time," notes Celeste. I can't wait to see the film.
Check out the Indiegogo page for Poly Styrene: I Am A Cliché here.
Rachel Fernandes is a writer, film producer, and programmer living in Southern California. Follow her on Instagram.