This week Elon Musk had to put colonizing Mars, building a Hyperloop, and trying not to mess things up with Grimes aside to deal with an issue of paramount importance: Arguing with some artist's daughter about a farting unicorn on Twitter.
On Tuesday, musician Lisa Prank accused Musk of ripping off her dad's artwork and using it in Tesla's interface, Denver's Westword reports. The masterwork in question, made by Colorado potter Tom Edwards, is a mug that depicts a unicorn farting into what looks like a beer bong, connected to a tube used to power an electric car.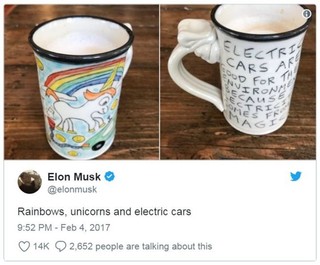 According to Westword, sales of the mug shot up after Musk first tweeted about it, and Edwards was psyched. But then a few months later, Musk used a spitting image of that farting unicorn to demonstrate Tesla's sketch pad function, a feature rolled out back in 2017. Musk used it again on the Christmas card he sent out to Tesla owners, Westworld reports. According to Prank, her dad knew nothing about it, and wasn't paid for the image.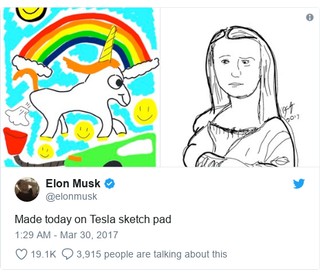 Edwards hired a lawyer to reach out to Musk about getting compensated for his artwork, but apparently Musk never got back to him. And so it was that on Wednesday, Musk found himself in a Twitter feud with Edwards' daughter about a farting unicorn.
In a set of since-deleted tweets, Musk replied to Prank directly, telling her Edwards "can sue for money if he wants, but that's kinda lame."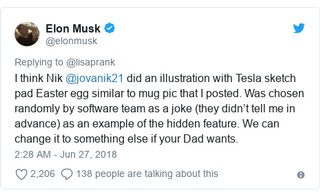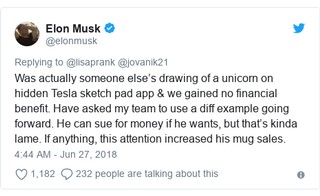 Musk, who's worth $20 billion, has since deleted all of his tweets referencing the flatulent mythical beast and blocked prank. And while Edwards concedes that his farting unicorn isn't "as serious as whistleblowers," he's still hoping for an amicable solution.
"Honestly, it's all about integrity," he told the Guardian. "I'd really like to get on Elon Musk's good side… He's really really interesting. But he isn't above copyright law."
This post has been updated.

Sign up for our newsletter to get the best of VICE delivered to your inbox daily.
Follow Drew Schwartz on Twitter.
This article originally appeared on VICE US.