Led by bruising riffs and the tough vocals of Sash Pozzie, Cell are a newish Montreal band who bleed the edges of hardcore and metal to create their own wall of suffocating sound. There was a lot of reverb and scowling dread found on their three-song demo that was released earlier this year and now, that same demo is getting released on vinyl through UK label Drunken Sailor.
Featuring members of Remwar, Vile Intent, Sek and Terse, the four-piece specialise in a moshy and brooding punk that no doubt makes for an intense live experience. A few nights ago they played a show with crushing and destructive Seattle veterans Iron Lung and I'm sure the place would have shook. Listen to the demo below and read a short interview with Sash.

Noisey: Things seem to have been on the upswing in Montreal. Is this still the case?
Sash Pozzie: It definitely feels like Montreal is heating up recently. There's a lot of solid bands playing regularly, and new sick bands popping up pretty frequently as well. Gigs are consistently well attended, and the general vibe is genuinely nice. I don't write that in a condescending way-people are truly kind and stoked, and it sets a nice tone. I feel like there's going to be another wave of new bands coming soon as well. I know there are things brewing with some new projects. Right now, favourites of Montreal: Gazm, Ultrarat, Faze, Deep Test, Moblish, Parasites, Doggo, Terse, Remwar, Sek, 1-900!
You recently played with 1-900s on their first show. What was is like? Montreal and NYC punk seem to have a pretty strong connection.
We were all really stoked to play the first 1-900s show for pretty obvious reasons. All of the people in band are A+ gems and play in amazing bands including Ursula, Warthog, and Omegas. There's no going wrong with such a power house of people who are both genuinely kind and genuinely talented and invested in the punk scene. The show was solid, and our friends in Beep Test opened, who are a great new lo-fi punk three piece with synth. Montreal and New York connection has long standing ties, and it's exciting to see it amp up again more recently. It makes sense geographically and for a lot of what's pumping out in punk from both cities, especially with hardcore.
Have you always used a lot of reverb in your sound? Was the particular sound you were going for inspired by any band in particular?

Reverb was always an aesthetic that was sought. This is the first time I've done vocals without also playing an instrument so having control over tone and effect helped me curb feeling weird being without a guitar. I've also always really enjoyed aestheticized vocals, and when we started, I had that in mind. I also had a heavy playlist of Gag, S.H.I.T. and Bib going right before Cell started and drew from in certain ways. The song structures don't always draw directly from hardcore though, and there's some nods to bands like Bathory as well. We all draw from a lot of different areas of punk and metal, so it's difficult to name a few that really pin point where we're coming from.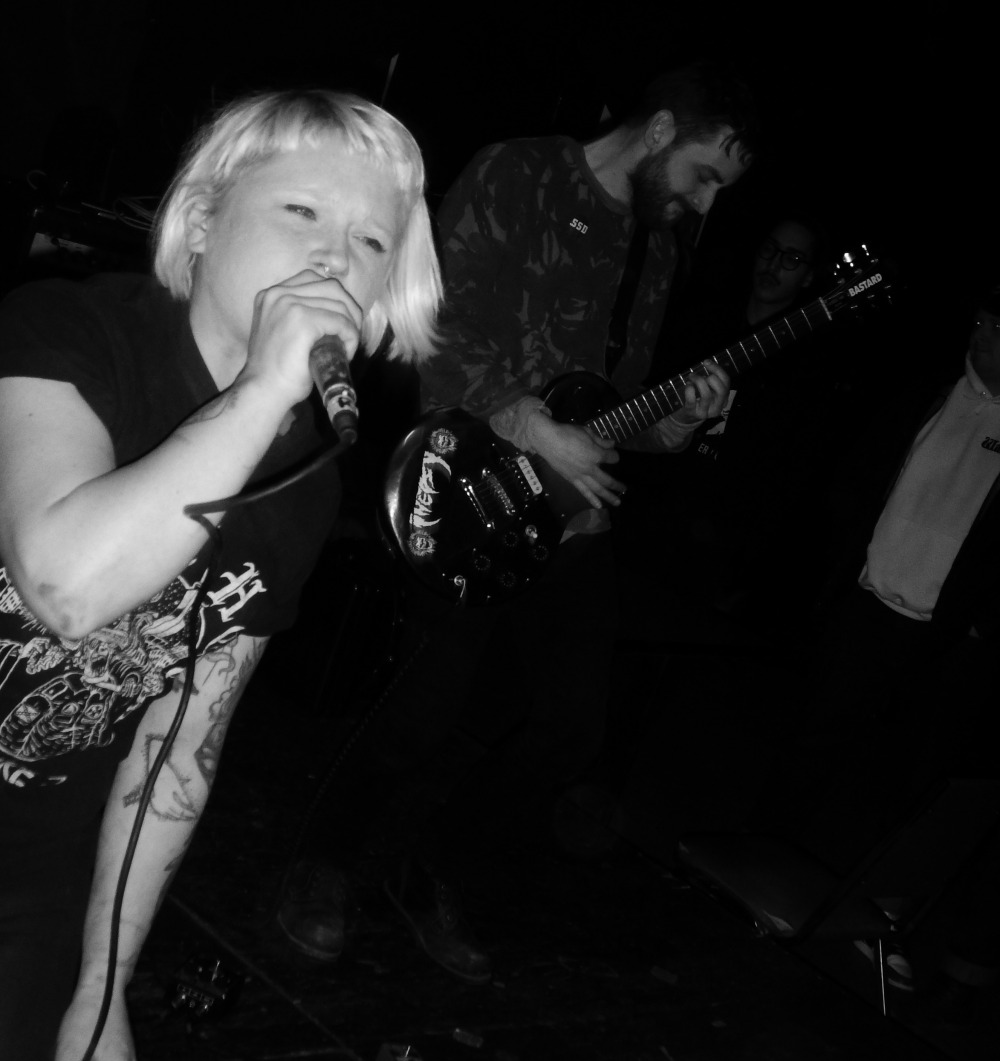 How was your tour with Remwar?
It was so golden! We have a lot of cross over between band members, and are tight in general. Adam plays guitar in both Remwar and Cell, and other members of each band play in separate punk bands together (Vile Intent, Terse, Doggo, Sek). The highpoint was meeting up with Bleeding Gums, Cohete, and Cold Feet in Pittsburgh and blasting off fireworks we got for Martin's birthday after a full day of shows. Playing with friends and new sick bands at a packed show in NYC- Subspace and Rubber are so sick, if you don't know them, check them out. House shows with stoked punks, extra thanks to Kohei in DC and everyone in Guilt Parade. Cleveland was also a blast and Bulsch is one of the most fun bands with the wildest concept I've seen in a second.
Drunken Sailor is about to reissue your demo and you plan to do some more recordings. How different is new stuff?

We're so stoked to be releasing a 7" with Drunken Sailor. Julian has been so kind and easy to communicate with, and I personally have followed the releases on that label pretty diligently in the past few years. A couple tracks from our next recording have been in setlist play, and we have a few more songs we're finishing writing now. They're not wildly different. We're picking up from the same place and have been on a steady writing path. Adam has a lot of riffs built up for this project, and it's exciting to put them all together. New tracks really feels like a continuation of the first demo and some have been around for almost as long. We're taking and building on our favourite pieces from our first songs and sticking with what we've enjoyed most.
I really dig "Contempt". Is it about a contempt for anything in particular?
Lyric writing for Cell for me is like personally processing theoretical ideas. The thematics are always about a tension of interaction, often about power dynamics and failures of communication. "Contempt" is specifically about feeling overstepped and being talked down to about lived experiences and about moving past shit, but also knowing that carrying over anger isn't a weak response. It's a remark on fake allies, but also a statement on how seeing through that behaviour builds stronger relationships between people who care to take a real moment to support each other. Support your friends, support your scene - fully, and actually! Punk is potent and always has been. It's really fulfilling to keep pushing that precedent.
Cell's 7' is available June 9 through Drunken Sailor records.
Images: Ben Pepin