It's Delta Week on Noisey Australia! To celebrate the fifteenth anniversary of her seminal debut Innocent Eyes, we'll be running Delta Goodrem-related writing every day.
One of the really good things about Australia being so isolated is that our 'celebrities' aren't really celebrities anywhere but Australia. There are exceptions to the rule –– Courtney Barnett and Kylie Minogue are pretty famous internationally, and like, Crocodile Dundee, I guess(??) is well known, but for the most part, an artist could be selling out arenas here and not have a drop of name recognition overseas.
Delta Goodrem is absolutely one of these people, a middle-Australia household name who made the highest selling album of the 2000s in Australia but who also, despite best attempts, has never made it in the US. (There's a Daily Mail article about Delta's failed attempts at Stateside success, which includes the tragic fact that Delta bought a 5.8 million dollar Hollywood Hills mansion to live in, which she then had to sell. Full warning, the article is pretty devastating.)
The lack of recognition anywhere but here means that sometimes, Australians become memes! Take, for example, this meme of Jen Cloher at the Grammys from a few years ago: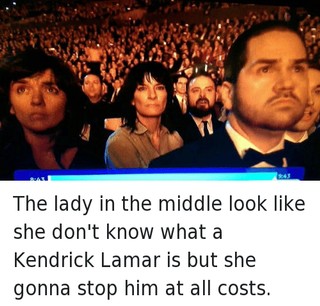 Or when Jimmy Fallon talked about how much he hated that Kirin J Callinan/Jimmy Barnes video:

Back in 2014, Delta Goodrem found herself with more international attention than she'd ever had before, but probably not in the way that she'd hoped. Marlon Wayans, the comedian best known for White Chicks, was at a Beyonce concert and happened to be standing next to a white woman who was dancing quite badly. He did what any well-adjusted social media user would have done: he posted a selfie with the white lady in the background, captioned "Man I got the most UNRHYTHMIC WHITE WOMAN dancing next to me at the jay and bay concert... This bitch dancing to AC/DC".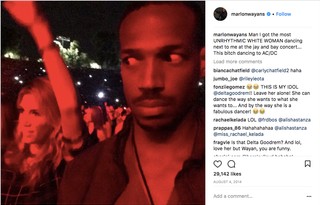 Except said bitch was Our Delta! Of all the memes made of Australians over the years, this is easily one of the best, purely because the likelihood of Delta Goodrem and Marlon Wayans being at the same Beyonce concert in LA is just so small that it feels like a minor miracle.
Delta was very good natured about the Instagram post, tweeting a video of Elaine from Seinfeld dancing with the caption "Had a blast last night." She has such a good sense of humour, Our Delta.
Of course, the saga ended how all Australian media sagas end: with a person of colour called out for being 'racist' against white people, and being asked to apologise. Oh well. At least it was a great meme.
Shaad is the editor of Noisey Australia. Follow him on Twitter.