St Paul's Cathedral is one of Melbourne's most significant landmarks. In a country where buildings are no older than 200 years, it oozes some otherworldliness with its mock Gothic architecture and lanky spire. A monolith in a land of weatherboard bungalows, it majestically looms over the city.

The last time I visited St Paul's Anglican Cathedral was as a tourist guide for my devoutly religious parents. Visiting from the UK, and keen to take in the usual church tour, I traipsed dolefully around sacred walkways, infected by day-trip fugue.
Far from being just a tourist attraction, it's a fully functional church too. A place of worship, servicing the Anglican community, staffed by the usual ministerial hierarchy, from Priest to altar server.
DJ Hell holds a different iconic status. A wide-shouldered German techno alpha with a long and industrious career as a DJ, label owner and, judging by his straightened peroxide-blonde mullet, a seasoned 80's porn star. Or techno's very own Peter Stringfellow.
St Paul's and DJ Hell are two bastions of different worlds. One a religious institution, the other a highly decorated DJ. They have no commonality; no overarching business, no overlapping remits, no shared interests - but somehow they've been combined in strange matrimony by a Melbourne festival (Melbourne Music Week).
Melbourne Music Week is an annual event that celebrates local and international artists. As flagbearers for local art and music culture, they pride themselves on holding events in unlikely places. Last years was the State Library. This year they upped the ante and attempted something much hairier: St Paul's Cathedral.
So how did they pull this off? Yes, Melbourne is a thriving community of culture vultures and art bureaucrats, all well attuned to the processes of bringing a creative idea to life. Tailoring the pitch to circumnavigate the policies, the red tape, the permits, and amplify the benefit to the community requires a certain language - corporate lingo dressed in skinny jeans and turtle rimmed Tom Ford glasses.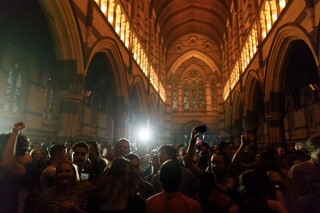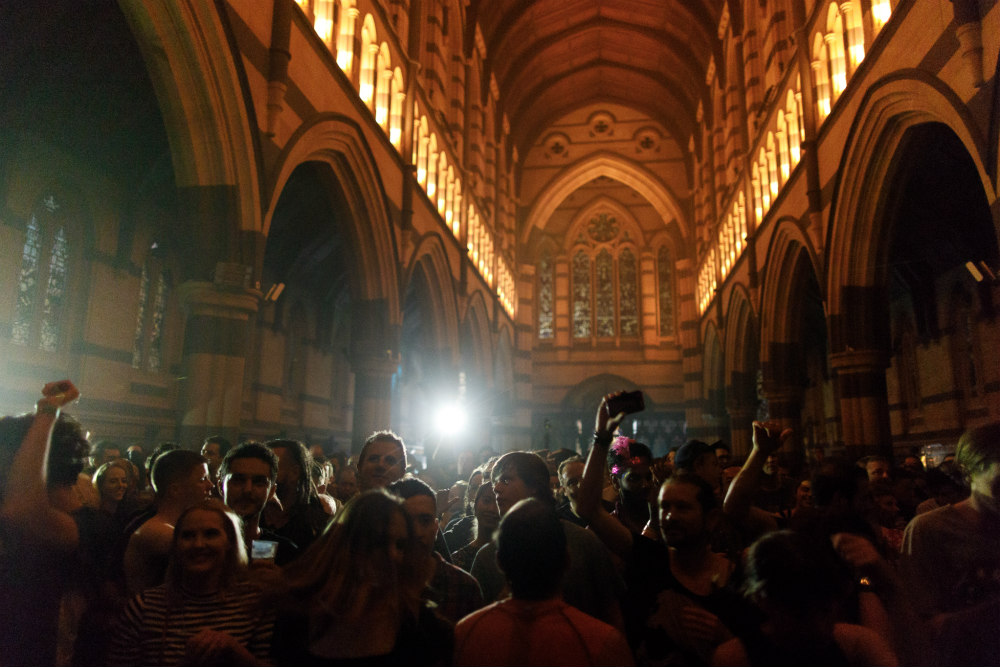 Over the years Melbournians have honed their fluency in the creative pitch, and as result we've seen many unlikely public spaces cleverly repurposed. It's not uncommon to turn a corner and be accosted by a council-commissioned art installation, a wall of sanctioned graffiti or a government approved street performance.
But the Lord's very house... The place of deep worship. The haloed statues, the holy pews, the Stations of the Cross - everything's blessed and sacred, steeped and ordained in the most solemn religiosity. Surely these couldn't be bastardised by a rave.
I'd love to have witnessed the official submission. Convincing the clergyman to allow such an event on their premises is surely one of the heists of the century. In the eyes of most councillors and rule makers a rave event is not high on their inner city entertainment programme. Shrouded in noise pollution, drugs and fodder of lower socioeconomic groups, they're widely deemed a nuisance. One can only marvel at their artistic license and sheer audacity. It's a piece of artwork in itself to repackaged a full-blown dirty rave into a youth art installation with an acclaimed musical composer from Germany. And one must assume this acclaimed composer's name was tactically hidden; 'DJ Hell' would have been a guaranteed false start.
So what to expect? My imagination raced to some colourful scenarios. Revellers strewed across the haloed pews, dehydrated ravers gulping holy water, topless munters sweating like sinners and ketamine being snorted in the confession box.
This wasn't far from the truth.
The night was in full swing when we entered. Blink and you could've been in Berghain. The clattering industrial acoustics reflecting off the stone archways, coiling into the high ceiling and dispersed in a disorientating downpour. A red laser pierced the full length the church, which formed precise triangular formations. The symbolism unclear, but as the night wore on I assumed it must be satanic.
We set up shop in pew 23, near the baptismal fonts. I scanned the crowd and spotted a small man who quite clearly didn't belong in this caldron of decadence. He was about retirement age and wore pleated chinos, a cardigan, pastoral sandals and sensible gold-rimmed glasses - bifocal most likely. He stood in an alcove moving nervously from side to side as if the kick drum kept nudging off balance. He seemed to be confused, processing a lot of information, all whilst watching his house burn down.
Perhaps the dupe was dawning on him; that Usual Suspects moment when all the clues merge and the horror unfolds.
When DJ Hell took to the decks it must have felt like his ministerial duties had been passed to a man more akin to bedlam than Bethlehem. Indeed, DJ Hell's remit is to make people lose the plot, throw off the shackles and elevate them into a state of absolute hedonism.
A sermon of jagged basslines and asymmetric rhythms ricocheted off the sandstone walls and marble floor. Sensing the atmosphere thicken with the headliner's appearance, the small clergymen retreated further. The angelic purity of the Lord's house - bestowed under pious stewardship - had been repurposed as an industrial munt fest.
Young males punched the air, dungaree wearing e-heads shouted like they'd be temporarily afflicted with Tourette syndrome, two glamourous club chicks tongued each other provocatively in the makeshift dancefloor, above which DJ Hell marched tirelessly to his own banging hymns, upon his altar, wearing a tee-shirt that brandished the slogan 'FUCKING TECHNO".
Surely this wasn't the youth art exhibition the clergyman been sold into.
But perhaps it's not that simple. Perhaps this event wasn't a clever sleight of hand by the promoters and the real motive a little deeper. Perhaps the church knew exactly what was on the agenda, complicit in the perceived blasphemy. After all, enrollment into western religions is at an all-time low, especially in non-secularist Australia. It's not entirely impossible to imagine this was a collaboration between the church and promoter - the church seeing it as an opportunity to expose youngsters to the House of God, framed through their own lens, preached to by their own leader, all in the hope that some ambient religiosity might seep into their psyche, embedded like an advertising pop-up.
Amen.